This auction is for a Digidesign D Command Mixer and the Optional XMON monitor controller. For a detailed explanation of what the XMON does in relation to the D Command and your studio set-up read below.
Includes original bound manual, package and Power cords for both units.
Condition 8.5/10 Excellent. Very Clean and works perfectly. All faders track smoothly and evenly. All lights work and the unit does not have any major marks or scratches. Used in smoke free/pet free professional recording studio. There is a reddish colored blemish or stain near the right side middle of the unit. Not sure what it is but it is nothing that affects performance. All controls and buttons work like new.
Price: 14500 RM
Contact: bailey.john12@yahoo.com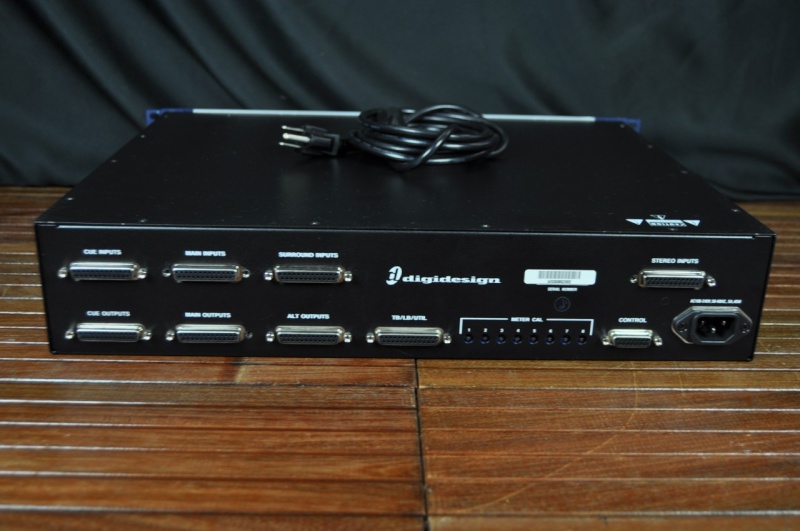 XMON
The XMON is a 2U monitoring controller that looks exactly like a 192I/O box without anything on the front panel except for the power switch, a mute button and indicator (to mute all audio output), and a MIDI activity light to show when the XMON receives control data from the surface. Both D-Control and D-Command contain controls that can select inputs and outputs, make level adjustments, and so on, for an attached XMON. It's important to note that this monitoring system operates independently of Pro Tools, meaning that the monitoring part of the console is always active even if a Pro Tools Session (and thus mixer) isn't open. This is useful if you have a CD player connected through the XMON, for example, but it does mean that XMON settings aren't stored in a Pro Tools Session and the XMON itself can't interact with Pro Tools.
The XMON audio signal path is purely analogue, so you'll need converters and interfaces, such as Digidesign's own 192I/Os, to get audio out of Pro Tools into the XMON. On the back of XMON are four D-Sub connectors for inputs: a Main input for your main stereo or surround output from Pro Tools, a Surround input for a second stereo or surround input such as a CD/DVD player, a Cue input that provides three stereo cue feeds into XMON (useful for headphone monitor mixes), and, finally, a Stereo input that provides four additional stereo inputs. On the monitoring section of the Main Unit, you can select any of these inputs (with the exception that D-Command can only address three stereo inputs from the Stereo input) as the input source, or you can sum the selected inputs together if the Sum button is enabled.
Moving onto the outputs, there are three D-Subs: a Main output, for attaching your main stereo or surround monitor speakers, a Cue output, to output the three Cue stereo cue feeds along with a stereo pair of studio loudspeakers (in a live room), and an Alt Speaker output, to connect an alternative set of stereo or surround monitor speakers. The D-Control's monitoring section features three separate encoders for the output levels of the Main, Alt and Mini outputs, though only one can be active at any time. D-Command has just one encoder which is switchable between these functions.
As you would expect, the output section also includes a calibration mode, along with master Mute and Dim buttons (the D-Control offers a separate encoder for setting the Dim level), and a Mono button. As with the dynamics and EQ sections of the surface, the monitoring section offers Channel switches to mute or solo a given output channel; again, the D-Command supports up to six channels (for 5.1) and D-Control handles nine channels (for 8.1).
For cue mixes, you can adjust or mute the incoming cue inputs independently via three separate encoders and switches on the D-Control, though once again this functionality has been condensed on the D-Command, which only addresses two cue inputs. Cue inputs basically pass straight through this gain stage in the monitor, along with any talkback input, and are routed to the Cue outputs.
Finally, there's also a Utility D-Sub providing external talkback and listen-back mic inputs, AFL inputs (if you have an AFL solo buss set up in Pro Tools), a stereo 'mini' speaker output for connecting a pair of nearfield reference monitors, such as Auratones if you're doing TV work — some people still use them — and a talkback/slate output. Plus, in addition to the control lead that connects to the Main unit from the XMON carrying MIDI/RS422 information for communication with the Icon's monitoring section, there's also a stereo headphone output signal to drive the headphone output on the Main Unit, along with a talkback input signal from the talkback mic built into the Main Unit. The D-Control offers separate encoders and switches for the headphone, studio loudspeakers (useful if you want to slate the talkback into the live room, for example), and AFL/PFL solo options, while the D-Command condenses all of this functionality with the Cue encoder.
Contact: bailey.john12@yahoo.com

bailey.john

New Member





Number of posts

: 1


Age

: 36


Location

: Malaysia


Registration date:

2011-07-12




Similar topics
---
Permissions in this forum:
You
cannot
reply to topics in this forum