Got some rather amateur caps changing stuff I did like to share~
How long can one keeps their old faithful going on and on and on..? Best equipment will also have a life span.. it will eventually fail.
It fails even faster when the circuit has been modified.
Look at those copper rich coating~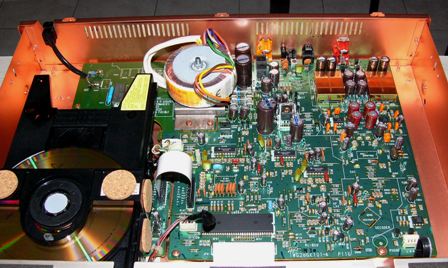 Well this is for my case of my beloved Marantz CD63KI. Have been a year or so that I did this SPDIF stealing direct from the  SAA7435, I believe that I didnt do it correctly where I shut too much current to ground. Gradually the player starts to skip music more and more often, up to a stage where nice melody started to sound like hip hop.
To my horror, when I open the top casing and found carbon like deposit around most of the noise filtering caps.
Have anyone seen this kind of phenomenon before? Suppose failing caps should have bulging top or side, instead this is leaking carbon from the bottom.
Time to search from replacements online. Went on with the best Elna can offer, Silmic II, and was expecting to cost a tons, but it was rather cheap. Certain values are not available with Elna Silmic II were replaced with Nichicon Fine Gold or other range of Elna caps. Generally, the Silmic II is bigger in size compare to Elna from another range, could be due to the silk fibers inside.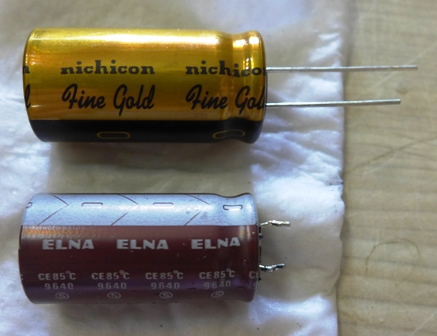 Now that's done, I finally manage to change 70% of the total capacitors in the player, The analogue output stage caps are un-touch because those do not suffer from the weird phenomenon and neither do I use the player as a player, but rather a transport; it isnt the best candidate for a transport, but for being a cheap ass, I havent have got much spare cash to change to a proper one

And I am glad when I turn on the power again, everything works and no more hip hop. I can't clearly say there is a sound improvement; as I only use it as transport, but I did have a better peace of mind knowing my baby now has an extended life span.
Thanks for reading; below is the before and after photo.

adrian4454

Frequent Contributor





Number of posts

: 691


Age

: 41


Location

: Melaka


Registration date :

2009-02-03




 interesting. With steady hands and a soldering iron, life of most electronic equipments can be extended...n great for the environment.

scwong

Frequent Contributor





Number of posts

: 211


Age

: 55


Location

: jb


Registration date :

2009-03-06

Character sheet
Source(s): cd format
Amplification: pre/pwr
Speakers: bookshelf


good effort in documenting with shots of the works done. Silmic II & fine gold are indeed excellent caps without breaking the bank. Another is panasonics fc & fm range, got good results with them. Btw, from which site did you get them elnas? might wan to stock up some values myself to recap my aging/antique hifi....

boxer

Frequent Contributor





Number of posts

: 564


Age

: 56


Location

: KL


Registration date :

2009-03-05



Hi sc, thanks. Steady hand alone won't do it. Need a lot of trial n error. Did quite some soldering before this, learn a lot from mistake, luckily those were of cheap pcbs. Otherwise I don't have the gut to do it.

Hi boxer, I got all those from part connexion. I also got 2 pana FC caps, as I miss out during my 'intense' study of which caps to change.

adrian4454

Frequent Contributor





Number of posts

: 691


Age

: 41


Location

: Melaka


Registration date :

2009-02-03



Hi Adrian, nice work...I have the same CD player, but mine got different problem with it probably I have kept it too long !!! it wont open, play etc..... the gear also worn out so I have decided to send to a friend shop to do it.....hope it can be safe....I will keep it update....cheers

mike126

New Member





Number of posts

: 2


Age

: 50


Location

: Sleangor, Malaysia


Registration date :

2016-08-14



Similar topics
---
Permissions in this forum:
You
cannot
reply to topics in this forum