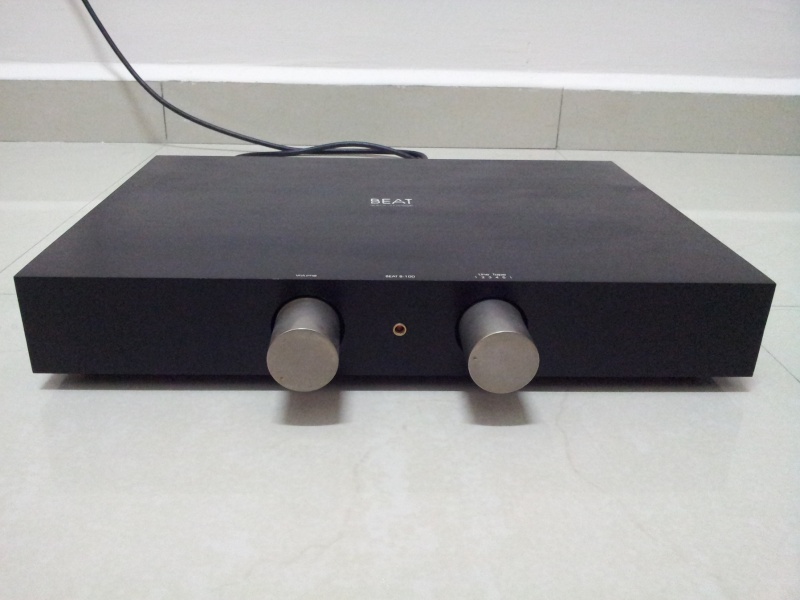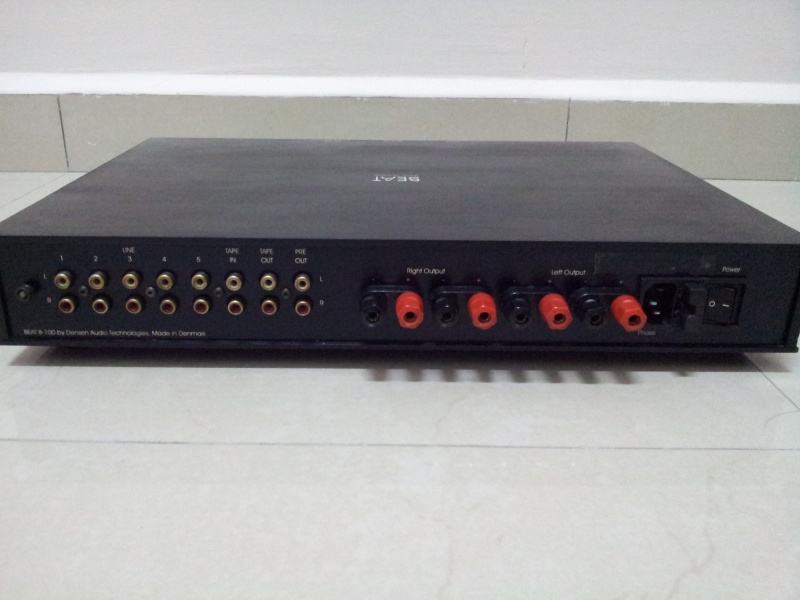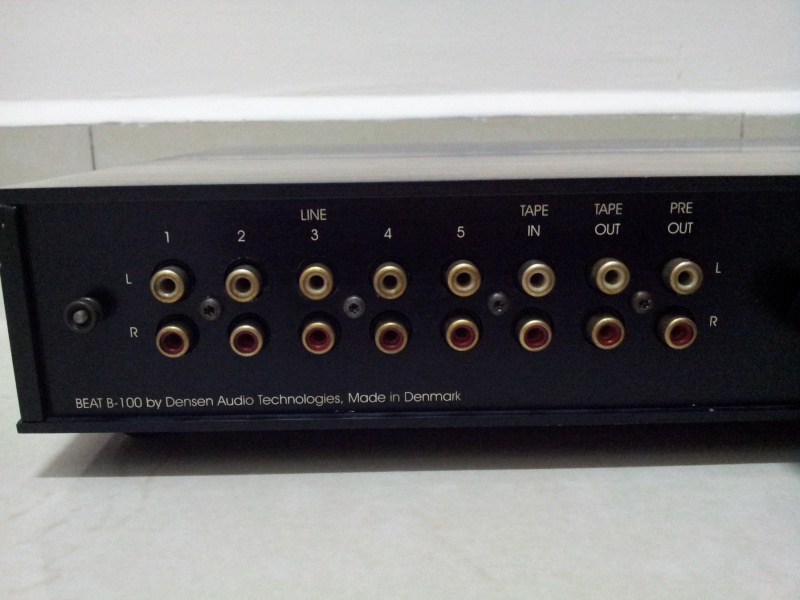 Made in Denmark
Description:
Solid-state integrated amplifier with 6 line-level inputs (but no tape loop)
Rated output Power: 60Wpc into 8 ohms (17.8dBW);
100Wpc into 4 ohms (17dBW)
Frequency response: 2Hz-200kHz, -0.3dB
Input sensitivity: 280mV.
Input impedance: 22k ohms THD 0.01% at 1kHz.
Dimensions: 17" (440mm) W by 2.7" (68mm) H by 11.7" (300mm) D.
Weight: 21 lbs (9.6kg).
the Beat 100 from the Danish manufacturer Densen
truly elegant, compact, integrated solid-state amplifier:
Delivering 60Wpc, the 100 stands out from the common herd through its designer's belief in circuit simplicity and low overall negative feedback.
In fact, this design process has continued to its logical conclusion: zero loop feedback.
While there is a "preamp" output, this is a passive facility without gain, and suitable only for power amplifiers of high sensitivity, typically 500mV for rated output. Two sets of gold-plated, 5-way speaker terminals are provided, including 4mm sockets,All inputs are gold-plated SE phono sockets
Technology
The Beat 100 features a class-A/B direct-coupled complementary topology, all bipolar solid-state. Heat sinking is internal and part of the casework; the B-100 shouldn't be covered by a magazine or other equipment. It runs at a very low idle power of 10-15W, and is slow to warm up; ideally, it should be left on semipermanently, ready for instant use. The input signal is directed by a high-quality switch to the power-amplifier section. There is no preamplifier as such, no balance control, no mode selector, or anything else that could detract from sound quality.
A big 360VA toroidal power transformer accounts for a good part of the amplifier's 21 lbs. That oversize toroid -- up to three times larger than is theoretically required for this power delivery -- feeds two generously proportioned reservoir capacitors, 40,000uF in all. (Lesser designs often feature 10,000uF or 20,000uF.) In their literature, Densen discusses the qualities of listener involvement, including aspects of rhythm and dynamics, and notes that these often accompany good design when based on low or zero feedback.
It's more usual to find such a philosophy expressed in the context of tube electronics; it's refreshing to see it at work here, in moderately priced solid-state equipment. In a zero -- loop-feedback design, the designer may decide to largely ignore factors such as distortion and output impedance. However, if the distortion is greater than 0.1 -- 0.2%, it may affect the subjective quality. Likewise, the output impedance is partially responsible for the amplifier's load-driving and load-matching abilities. When an engineer designs a loudspeaker, adjusting the crossover network and system tonal balance, and aligning the low-frequency range, damping, and the like, it is generally assumed that the amplifier output impedance is below 0.5 ohm. If more than that, then the loudspeaker's balance will be affected, and not for the better.
"Densen's Beat 100 offers the low distortion and low source impedance of a typical high-negative-feedback amplifier"
Despite its lack of negative feedback, Densen's Beat 100 manages to offer the low distortion and low impedance of a typical high-negative-feedback amplifier. It achieves this by dividing the amplifier topology into two. The front end features a linear voltage amplifier of wide bandwidth and low distortion. This drives an output section that has local feedback only, plus good input characteristics, high current linearity and intrinsically low output impedance. Good circuit design is required to achieve this Krell is doing similar work in its Full Power Balanced series, though at much greater cost.
Listening Test Review
The Densen Beat 100 sounded decidedly lean and bright, with significant grain and sheen in the high treble. Though slow to warm up, an hour's use put it in far better aural shape; the sound had less of a tendency to strip paint, and there now seemed a chance of putting together a balanced system around the amplifier. Bright cable, bright speakers, and rough CDs produced an unacceptable result with the Densen. Choose ancillary components wisely -- such as van den Hul's The First interconnect and Epos ES12 loudspeakers -- and all will be well. Certainly the Densen could never be accused of romanticism. Rather like the Audiolab 8000S, musical images arrived unvarnished, strongly lit; this kind of solid-state character would never be confused with tube sound. Such a sonic signature might easily become potentially fatiguing. Not so with the Beat 100: This character formed part of its fast, lively,and open totality, its airy expressiveness. Once run in and warmed up, the Densen rewarded the listener with good transparency and a pure, open treble devoid of the grain usually found in this price range. In this respect, it was reminiscent of the YBA Integre (Reviewed by Sam Tellig in December '96 (Vol. 19 No. 12, p.49). Bass was pretty good, though certainly not to the Krell standard, not even that of the KAV-300i. Rut it drove a presentable beat, with pleasing articulation. Rhythm and dynamic expression were above average. Given the relatively generous power supply, the bass did not go as deep, nor did it have the degree of firmness, as I'd expected. The midrange sounded open, tactile, well focused. Image depth and width were better that the moderate price would suggestÆ more layered, and with better perspective than that fine Audiolab 8000S integrated.
Conclusion
In the Beat 100, Scandinavian design flair has created a distinctive amplifier at a relatively moderate price. Densen has produced a fine integrated amplifier that, in a well-matched system, can create a good musical experience. The Beat 100 sounded clear and lively, grain-free and spacious. Build quality was very good. The B-100 is recommended, provided that you use "twin"-type speaker cable, moving-coil speakers of 4 to 8 ohms, and that you leave it powered up semipermanently.
Price : RM 2850
Contact Simon Ting 012-3612507

HiFiLab

Dealer\Reseller\Trader\Service Provider





Number of posts

: 2508


Age

: 39


Location

: klang


Registration date :

2011-03-12

Character sheet
Source(s):
Amplification:
Speakers:



HiFiLab

Dealer\Reseller\Trader\Service Provider





Number of posts

: 2508


Age

: 39


Location

: klang


Registration date :

2011-03-12

Character sheet
Source(s):
Amplification:
Speakers:



HiFiLab

Dealer\Reseller\Trader\Service Provider





Number of posts

: 2508


Age

: 39


Location

: klang


Registration date :

2011-03-12

Character sheet
Source(s):
Amplification:
Speakers:



HiFiLab

Dealer\Reseller\Trader\Service Provider





Number of posts

: 2508


Age

: 39


Location

: klang


Registration date :

2011-03-12

Character sheet
Source(s):
Amplification:
Speakers:



HiFiLab

Dealer\Reseller\Trader\Service Provider





Number of posts

: 2508


Age

: 39


Location

: klang


Registration date :

2011-03-12

Character sheet
Source(s):
Amplification:
Speakers:



HiFiLab

Dealer\Reseller\Trader\Service Provider





Number of posts

: 2508


Age

: 39


Location

: klang


Registration date :

2011-03-12

Character sheet
Source(s):
Amplification:
Speakers:


Similar topics
---
Permissions in this forum:
You
cannot
reply to topics in this forum