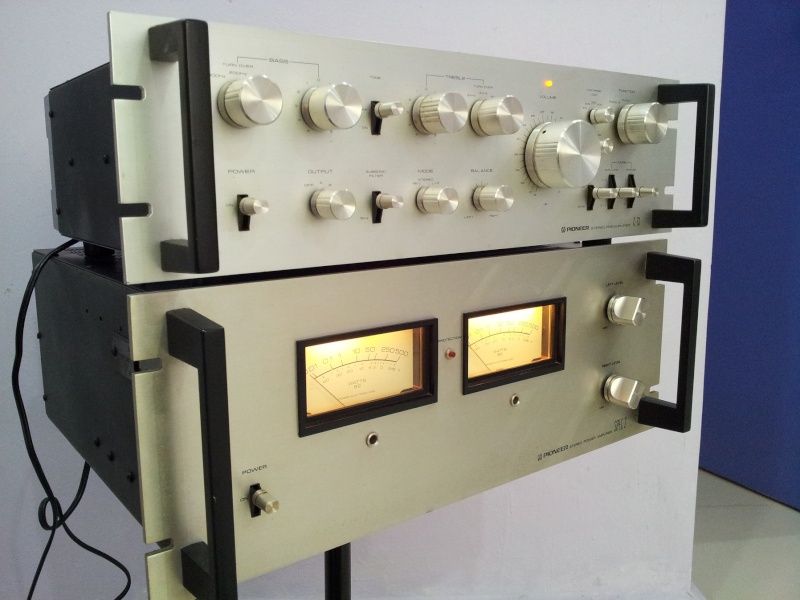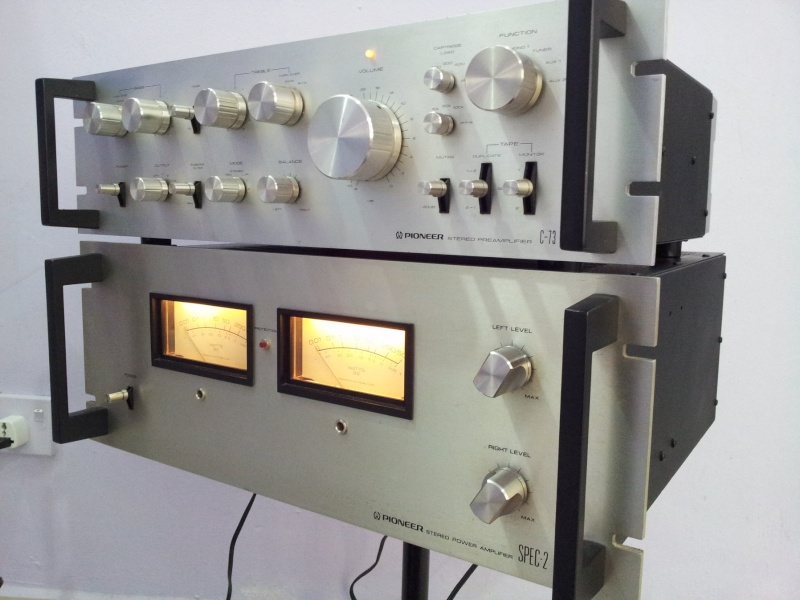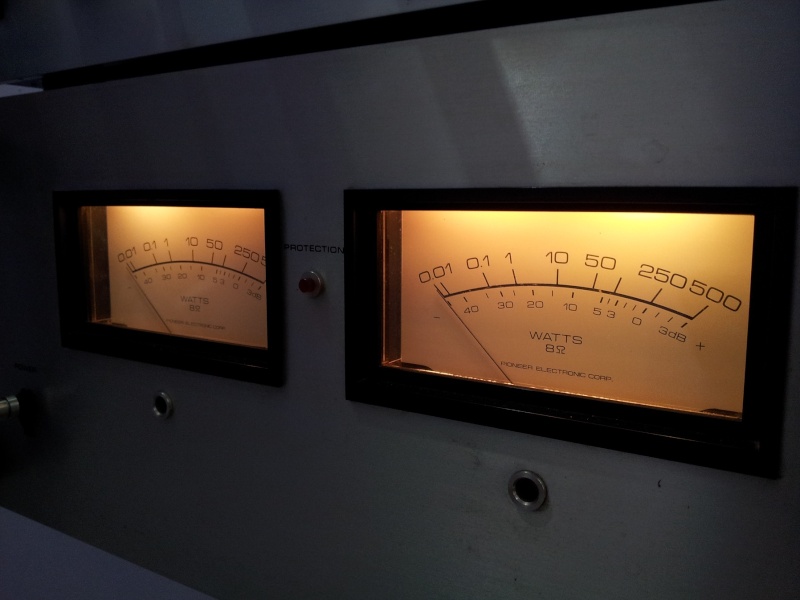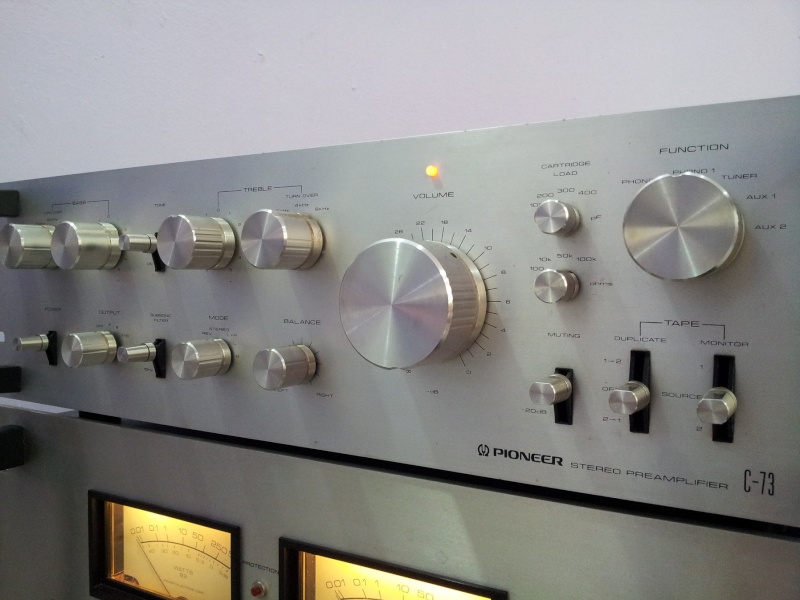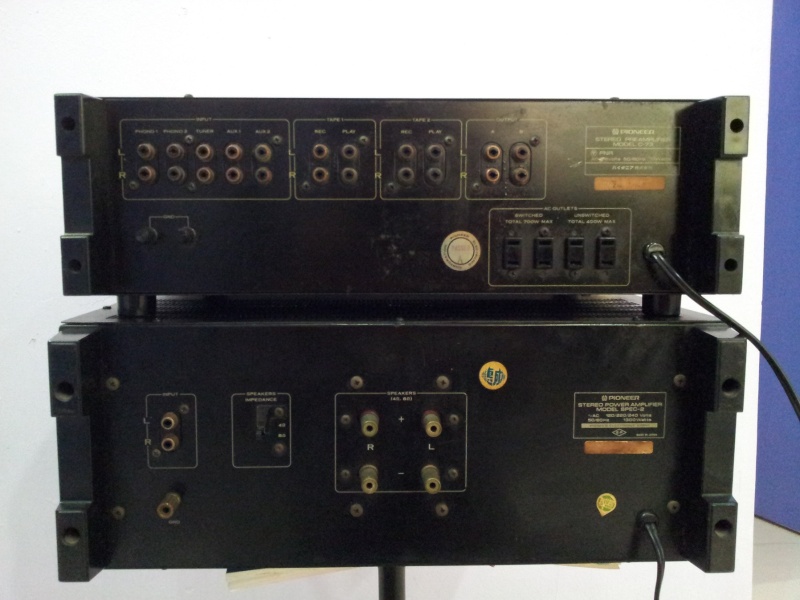 Made In Japan
PRE-AMPLIFIER
C-73 (SPEC 3) PRE AMP
Here is one piece of audiophile equiptment from the "SPEC" line of PIONEER, the C-73 aka SPEC 3 outside Japan.
Made in the golden era of Hi-Fi, the SPEC series, in my opinion, is the silver style at its best!
They really are handsome gears! Beautiful layout, beautifully designed and made knobs and switch handles! And the beauty doesn't stop just there...
A little brother and a simplified version of the C-77 SPEC 1 pre amp, the C-73's circuitry is actually a step forward from the SPEC 1 with improvements in varies areas and is in fact quieter.
Some of the not-so-audiophile features of the SPEC 1 was taken away, like the MIC input and mixing function, while all the key features are there. Under the hood,
I was amazed when I saw it the first time...it is really neat as a pin, nicely spaced chassis, very nice circuit board layout, selected parts, and fully sealed enclosure to keep dust and smoke away from the pots and switches...it is just impressive and very healthy, which is a rare feature for gears from that era.
Sound wise, Very quiet on the back ground, smooth but detailed and dynamic. Spot on 3-D image and very open sound stage, beautiful extension on both high and low...it is just top class performance!
SPEC 2 Power Amplifier
SPEC-2 Power Amplifier — In an era when electronics was rapidly evolving, the SPEC-2 had a long market life, being available from 1975 up to 1980. This 54-pound brute put out 250 watts per channel, featured large front panel meters, and had an advanced internal protection system that would shut down the amplifier if something went wrong with the amplifier circuitry or the speakers. Given that the SPEC-2 was designed to be rack mounted, it was popular in recording studios as well as home sound systems.
Description
The Spec-2 is a 250W rack mount stereo power amplifier featuring a current limiter circuit, peak level meters, protection circuit, power switch on/off and impedance selector muting and a temperature detector.
This high power design employs a cascaded differential amplifier first stage, push-pull drive, and darlington triple push-pull circuit with all stages direct coupled (OCL).
Specifications
Power output: 250 watts per channel into 8? (stereo)
Frequency response: 5Hz to 80kHz
Total harmonic distortion: 0.1%
Damping factor: 50
Input sensitivity: 2V
Signal to noise ratio: 110dB
Speaker load impedance: 4? to 8?
Semiconductors: 55 x transistors, 75 x diodes
Dimensions: 480 x 186.5 x 445mm
Weight: 24.3kg
Year: 1976
Price : RM 4800
Contact Simon Ting 012-3612507

HiFiLab

Dealer\Reseller\Trader\Service Provider





Number of posts

: 2433


Age

: 39


Location

: klang


Registration date :

2011-03-12

Character sheet
Source(s):
Amplification:
Speakers:



HiFiLab

Dealer\Reseller\Trader\Service Provider





Number of posts

: 2433


Age

: 39


Location

: klang


Registration date :

2011-03-12

Character sheet
Source(s):
Amplification:
Speakers:



HiFiLab

Dealer\Reseller\Trader\Service Provider





Number of posts

: 2433


Age

: 39


Location

: klang


Registration date :

2011-03-12

Character sheet
Source(s):
Amplification:
Speakers:



HiFiLab

Dealer\Reseller\Trader\Service Provider





Number of posts

: 2433


Age

: 39


Location

: klang


Registration date :

2011-03-12

Character sheet
Source(s):
Amplification:
Speakers:



HiFiLab

Dealer\Reseller\Trader\Service Provider





Number of posts

: 2433


Age

: 39


Location

: klang


Registration date :

2011-03-12

Character sheet
Source(s):
Amplification:
Speakers:



HiFiLab

Dealer\Reseller\Trader\Service Provider





Number of posts

: 2433


Age

: 39


Location

: klang


Registration date :

2011-03-12

Character sheet
Source(s):
Amplification:
Speakers:



HiFiLab

Dealer\Reseller\Trader\Service Provider





Number of posts

: 2433


Age

: 39


Location

: klang


Registration date :

2011-03-12

Character sheet
Source(s):
Amplification:
Speakers:



HiFiLab

Dealer\Reseller\Trader\Service Provider





Number of posts

: 2433


Age

: 39


Location

: klang


Registration date :

2011-03-12

Character sheet
Source(s):
Amplification:
Speakers:


Hi,
i`m interested but I live in Europe, Estonia, Tallinn. Do You do international delievery and how can the payment be organised.
Toomas

Tapukas

New Member





Number of posts

: 2


Age

: 55


Location

: Tallinn, Estonia


Registration date :

2017-11-20




HiFiLab

Dealer\Reseller\Trader\Service Provider





Number of posts

: 2433


Age

: 39


Location

: klang


Registration date :

2011-03-12

Character sheet
Source(s):
Amplification:
Speakers:


Similar topics
---
Permissions in this forum:
You
cannot
reply to topics in this forum