Denon AVR-X2300W 7.2ch Dolby Atmos AV Receiver brand new, now selling at RM3399.
Hifi4sale friends please call for best price..
We have Denon full range av products.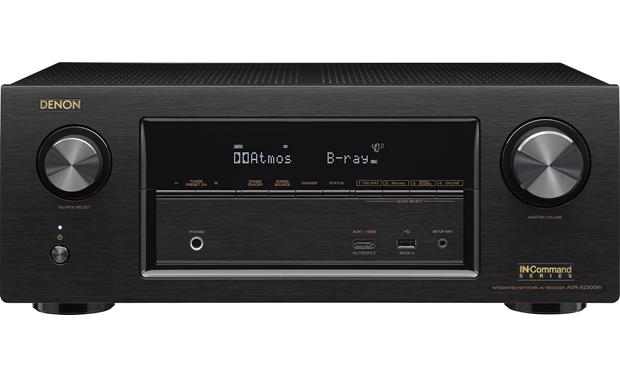 Features - AVR-X2300W
7.2 Channel Full 4K Ultra HD Network A/V Receiver with Wi-Fi and Bluetooth
Overview
Fully loaded with the very latest audio and video technologies, the AVR-X2300W delivers incredibly immersive surround sound, optimised via extensive sound tuning – not to mention plenty of amplifier power. It has Dolby Atmos decoding and processing, for the same revolutionary 3D surround sound found in premium movie theatres and – via a future firmware update – will be able to decode DTS:X soundtracks, for complete three-dimensional surround compatibility.
For high-resolution video to match this immersive sound, and to ensure it's future-proof, AVR-X2300W's advanced video section is fully compatible with the latest HDMI 2.0a and HDCP 2.2 specifications on all eight of its HDMI inputs. With 4K Ultra HD 60Hz video, 4:4:4 Pure Color sub-sampling, High Dynamic Range (HDR) and 21:9 video, 3D, and BT.2020 pass-through support, the AVR-X2300W is ready for the next generation of Blu-ray disc players, set-top boxes and other 4K Ultra HD sources. Advanced video processing provides for 4K Ultra HD full rate, and can upscale the digital SD and HD video to 4K UHD, while the AVR-X2300W is also HDCP 2.2 compliant, a requirement for 4K Ultra HD copy-protected content.
The powerful amplifier section features discrete high current output devices on all seven channels, with each of identical design and delivering 95 watts (8 ohms, 0.08%THD, 20Hz~20kHz). Meanwhile, the high-current design gives the AVR-X2300W has the ability to drive lower impedance 4 ohm speakers on all channels, and multiroom capability means you can enjoy different sources in two different rooms at the same time.
Full wireless connectivity is provided (Wi-Fi and Bluetooth), with dual antennas to ensure robust signal transmission and reception. You can stream your favorite music through AirPlay, Spotify Connect or from local network storage drives, while high resolution audio formats are fully supported from USB storage or network drives for incredible fidelity.
And to keep all this potential under control, the new "Denon 2016 AVR Remote" app can control the receiver from a smartphone or tablet. It's available from the Apple app store, Google Play, and the Amazon appstore.
Dolby Atmos
Dolby Atmos: Dolby's revolutionary Dolby Atmos technology dispenses with the channel-based surround sound coding used for decades, in favour of advanced object-based coding, giving the sound designer the ability to place sounds precisely anywhere in the three-dimensional soundspace. Now you can enjoy this award-winning technology at home with the AVR-X2300W, which features the ability to connect a 5.1 surround sound speaker system and 2 additional overhead speakers or 2 additional Dolby Atmos elevation speakers for the ultimate home theater experience.
DTS:X
The latest immersive surround sound system, DTS:X features similar object-based audio coding, and provides for overhead speakers to deliver a stunning surround sound experience. (DTS:X will be enabled via future firmware update: for more info, please visit
[You must be registered and logged in to see this link.]
The AVR-X2300W also features Dolby TrueHD and DTS-HD Master Audio decoding and other Dolby Digital and DTS audio decoding and processing. This includes both Dolby Surround and Neural:X upmixing: users with a '3D' sound speaker set-up are able to get an enhanced surround experience from conventional Dolby- or DTS-encoded content, or even music in stereo, using the full set of speakers installed in the listening room.
High Resolution Audio
Discover the incredible fidelity of high resolution audio tracks with the AVR-X2300W's ability to decode up to 24-bit/192-kHz lossless files (AIFF, FLAC and WAV; ALAC/Apple Lossless to 24-bit/96kHz), as well as DSD 2.8MHz (the audiophile format of SACD) and now 5.6MHz. Play them from memory devices via the front panel USB, or from network sources – the AVR-X2300W will also play lossy file types such as MP3.
Latest HDMI 2.0a Connectivity; HDCP 2.2 Compatible; ISF-Certified
With no fewer than eight HDMI inputs (including one conveniently located on the front panel), along with dual HDMI outputs, the AVR-X2300W's advanced video section features the latest HDMI specifications, including 4K Ultra HD 60Hz video, 4:4:4 Pure Color sub-sampling, High Dynamic Range (HDR) and 21:9 video, 3D, and BT.2020 pass-through support on every input.
The AVR-X2300W also features HDCP 2.2 compatibility, a requirement for 4K Ultra HD copy-protected content, ensuring ready for the next generation of Blu-ray disc players, set-top boxes and other 4K Ultra HD sources. In addition, the video processor can also upscale digital SD and HD video to 4K Ultra HD.
Certified by the Imaging Science Foundation, the AVR-X2300W features a full suite of video calibration controls (for use by an ISF technician), along with ISF Day and ISF Night video modes.
Built-in Bluetooth & Wi-Fi
Featuring Bluetooth and Wi-Fi wireless streaming connectivity, the AVR-X2300W is equipped with an advanced dual antenna system for robust and error-free streaming even in congested urban environments. Connected to the Internet through your home Wi-Fi network (or with a hard-wired connection via the RJ-45 Ethernet LAN port), it allows you to enjoy your favorite tracks from streaming music services such as Pandora, Spotify Connect and Sirius XM (depending on local availability). You can also choose from thousands of Internet radio stations from around the world, and enjoy music and speech entertaiment of virtually every genre.
AirPlay lets you play your favourite tracks wirelessly from your iPod touch, iPhone or iPad, and via network streaming you can listen to music files stored on your home PC or Mac, or NAS devices.
The all-new Denon 2016 AVR Remote App lets you control the AVR-X2300W with your smartphone or table over a network connection: it's available for both Apple iOS and Android devices.
Denon 2016 AVR Remote
With the free "Denon 2016 AVR Remote" for iOS and Android, available from the Apple appstore, Google Play or the Amazon appstore, you can control the receiver's operation, as well as accesing its set-up menu, from a smartphone or tablet. The app also gives you quick access to the receiver's status display, option menus, Denon Blu-ray player control, and an online owner's manual for your convenience, while the new queue management feature means you can browse and add new tracks to the playlist on the fly.
Powerful 7 Channel Discrete Amplifier with Eco Mode
Featuring high current discrete power output devices on all seven channels, the AVR-X2300W is rated at 95 watts per channel (8 ohms, 20 Hz~20 kHz, 0.08% THD). It's also equipped with high-current low impedance drive capability, for compatibility with the widest range of loudspeaker models (down to 4 ohms).
The Eco mode adjusts the power amplifier's output according to the volume level to reduce power consumption, with an on-screen Eco meter providing real-time monitoring of the power-saving.
Dual Subwoofer Outputs
A single subwoofer can give an uneven bass response at the main listening position, with audible peaks and dips. The AVR-X2300W provides for two subwoofers: positioned in different locations, they will even out the low frequencies, for more accurate bass anywhere in the listening area.
Smart TV Connectivity
Using the HDMI CEC (consumer electronics control) functionality provided on some Smart TVs, it's possible to control Denon receivers with the TV's remote handset. Set the receiver's "HDMI control" to ON, choose the "Smart Menu" receiver control functions on the TV, and the Smart Menu home screen allows direct access to a range of receiver functions including source and surround mode, the main setup menu, and the Quick Select 'one-touch' presets.
Audyssey Silver
As the first AV receiver manufacturer to embrace Audyssey's advanced DSP audio algorithms, Denon brings to the AVR-X2300W the Audyssey Silver suite of DSP functions, which includes MultEQ XT, Dynamic EQ and Dynamic Volume.
Audyssey MultEQ XT automatic room acoustic measurement and correction system uses athe supplied microphone and a test-tone sequence to match your speakers to your room's acoustics, giving the smoothest, most natural tonal balance. The MultEQ XT system here provides greater filter precision for the main and satellite speakers, with eight times the resolution of the base MultEQ system, at for up to 8 measurement locations to ensure the best sound for the whole family, not just one ideal 'sweet spot'.
Audyssey Dynamic EQ uses advanced psychoacoustic algorithms to continually adjust tonal balance to deliver full range sound, even at lower volume levels; Audyssey Dynamic Volume smoothes out those annoying volume jumps - especially from loud commercials - for an easier viewing experience.
Multi-Source/Multi-room
With the AVR-X2300W it's possible to enjoy 5.1-channel surround in one room, while another 'zone' plays another source - such as CD or streaming audio. You can simply connect a pair of stereo speakers to the multi-room amplified outputs. Or, connect a separate stereo amp and speakers to the Zone 2 pre-outs, allowing full 7 channel surround sound in the main room with stereo in the second.
Convenient USB Port
The convenient front panel USB port provides a digital connection from music from your iPod touch, iPhone and iPad, while also charging the device. You can also connect a USB drive and listen to files from MP3 all the way up to high resolution DSD (2.8/5.6 MHz), and lossless FLAC lossless (up to 24-bit/192-kHz).
Color Coded 4-Way Speaker Terminals
The high quality multiway speaker terminals handle a number of cable terminations including banana plugs, and are also color-coded for correct first-time hook-up; color-coded speaker cable labels are provided.
Easy To Use Quick Select Functions
The four Quick Select Function buttons on the front panel and the remote control let you choose your preferred input set-up and sound mode for your favorite sources. You can even set up your favourite Internet radio station on a Quick Select button.
Easy to Setup, Easy to Use
A clear, easy to understand graphical on-screen display guides you through the set-up process to ensure the correct configuration. The exclusive Setup Assistant and the included Quick Start guide together provide easy setup instructions,leading the user step by step to optimise critical settings for the best possible sound and video quality with the rest of your system.
External Control and IP Control Capabilities
The AVR-X2300W is part of Denon's range of IN·Command series of custom integration friendly A/V components, equipped with a range of features to provide enhanced control capabilities and compatibility with 3rd party and custom integration solutions.
It can be set up and operated by a home computer on the network via IP control, either via wired LAN connection or Wi-Fi, and also features Control4 SDDP (Simple Device Detection Protocol) certification for quick and easy integration with Control4 home automation equipment. For direct connection to external home automation and control equipment, it's also equipped with an RS-232C serial port.
For simpler integrated control set-ups, the AVR-X2300W features an IR (infrared) remote control input on the rear panel, allowing remote control compatibility with other components in your home theatre system.
Please visit our website to find out more products FOR SALE AT VERY SPECIAL PRICE                                
[You must be registered and logged in to see this link.]
Interested please feel free to contact Lee 017-3116863
Business hour:
MONDAY - 10AM-8PM
TUESDAY - 10AM-8PM
WEDNESDAY - CLOSED(PASAR MALAM)
THURSDAY - 10AM-8PM
FRIDAY - 10AM-8PM
SATURDAY - 10AM-8PM
SUNDAY - 1PM-6PM
PUBLIC HOLIDAY - 1PM-6PM
location:
STYLE LASER AUDIO SDN BHD
No.148, Jalan Cerdas, Taman
Connaught, Cheras 56000 Kuala Lumpur
( NEXT TO ALLIANCE BANK )
We buy in your old items in CASH!!
Got something keep at home but seldom use or planning to upgrade?
Items that we buy:
BRANDED led tv
amplifier
speaker
cd player
Please Whatsapp the item photo to me and get the price immediately, once confirmed the deal, we will pick up your item from you and pay you in cash.
Specs - AVR-X2300W
Multichannel Surround
DTS HD Master / DTS:X
/
(update)
DTS Neo:X / DTS Neural:X
/
(update)
Dolby TrueHD / Dolby Atmos
/
Dolby ProLogic Ilz / Dolby Surround
/
Auro 3D
Audyssey DSX
Multichannel Stereo
Max Number of Processing (Preamp) Channels 7.1
Sound Enhancements
Mono Block Power Amp Construction
Discrete Power Amplifier 7
D.D.S.C. HD Digital
Pure Direct
High Grade Audio Components
Gold Plated RCA Terminals
Clock Jitter Reducer
Alpha Processing
Denon Link HD
Audyssey MultEQ XT
Audyssey Dynamic EQ / Dynamic Volume
/
Audyssey LFC
Compressed Audio Restorer
Network
Lossy Formats: MP3 / WMA / AAC
/
/
Lossless Formats: FLAC / ALAC / WAV
/
/
Lossless formats: FLAC HD 192/24 / WAV 192/24 / ALAC 96/24
/
/
DSD Audio Streaming up to DSD5.6
Gapless playback
(FLAC, WAV, AIFF, ALAC, DSD)
AirPlay Audio Streaming
Internet Radio vTuner
Spotify Connect / Pandora / SiriusXM*
/
/
Compatible with Remote APP for Smart Phones Android / iOS
Compatible with Remote APP for Tablets Android / iOS / Amazon Kindle
Ethernet Ports
Wi-Fi
Bluetooth
HDMI
HDMI Inputs: Back / Front 7 / 1
HDCP 2.2 support
HDMI Outputs: Main / Zone 2 /
Video Conversion Analog -> HDMI
Analog to HDMI Scaling
HDMI to HDMI Scaling up to 4k 30/25/24
GUI Overlay on HDMI
HDMI: 3D / 4K / CEC / ARC / INSTAPreview
/
/
/
/
3D Signal Pass-through
4K Signal Pass-through / Scaling / GUI Overlay
/
/
HDMI Pass-Through in Standby Mode
Picture Adjust / Noise Reduction
/
CEC
DSD Audio Capability
Audio Return Channel
Auto LipSync
Multi-room / CI
Multi-Room Zones 2
Zone Audio Source: HDMI / Opt, Coax / Network, USB / Analog
/
/
/
Zone Audio Output: Speaker / Preout
/
Zone HDMI Output from HDMI Source
IP Control / RS232 Control / Web Control / App Control
/
/
/
Remote In / Out
/
DC Trigger Output
Others
Auto Speaker Setup by Microphone Audyssey MultEQ XT
FL Display 1 Line
Graphic User Interface - GUI Advanced
ISF Certification
GUI Languages 9
Setup Assistant
Quick Select Plus / Quick Select
/
Firmware Update by: Network / USB
/
Variable Cross Over
Optimized Bass Redirection
Bass Sync
ECO Mode
Auto Power Off
Sleep Timer
Inputs/Outputs
Composite In / Out 2 / 1
Component In / Out 2 / 1
HDMI In / Out 7+1 / 2
Multi-room Video Out: Video / HDMI
/
Analog In / Out 4 /
Phono (MM) In
Digital In: Optical / Coaxial 2 / 0
Multi-room Out: Analog / Digital 1 /
Multichannel Preout
(0.2)
Subwoofer Out 2
7.1 Multichannel Input
Speaker Terminal: Gold Plated Screw / Regular Screw
/
Number of terminals 7
Speaker A/B / Bi-amp Drive / Multi-Room Speaker Assignable
Speaker A / B Assignable
Bi-amp Drive Assignable
Multi-Room Speaker Terminal Assignable
Front Inputs: Audio / Composite / Digital (Opt) / HDMI / USB
/
/
/
/
USB Audio / Made for iPod / Made for iPhone
/
/
AM/FM Tuner
Specifications
Number of Poweramps 7
Power Output (8 ohm, 20 Hz - 20 kHz, 0.08% 2ch Drive) -
Power Output (6 ohm, 1 kHz, 0.7% 2ch Drive) 125 W
Power Output (6 ohm, 1 kHz, 10% 1ch Drive) 185 W
General
Available color: Black
Metal Front Panel
System Remote Control RC-1192
Pre-programmed / Learnable / LCD Display
/
/
Power Consumption in W 500
Power Consumption No-Sound (ECO On / Off) in W 35 W / 75 W
Standby Consumption in W 0.1
CEC Standby Consumption in W 0.5
Network Control On Consumption in W 2.7
Maximum Dimensions (W x D x H) in inches 17.1 x 13.3 x 6.6
Weight in LBS 20.7
Thanks for viewing.

alfredce6333

Dealer\Reseller\Trader\Service Provider





Number of posts

: 296


Age

: 41


Location

: cheras


Registration date :

2016-04-08

Character sheet
Source(s):
Amplification:
Speakers:


---
Permissions in this forum:
You
cannot
reply to topics in this forum