Musical Fidelity flagship DAC. 
Selling price is
RM6,000
 - New price is RM4500
Retail price was RM11,000 
Item in excellent condition. 
Comes with remote. 
INPUTS
1 AES/EBU
2 coaxial
1 optical
1 USB
1 bluetooth module 
OUTPUTS
1 RCA 
1 XLR 
With filter and de-emphasize function. 
Self collect only either in KLCC on weekdays or Sungai Buloh on weekend. 
Payment by cash upon collection. To reserve, non refundable deposit is required.
Please whatsapp/SMS at 012 2261708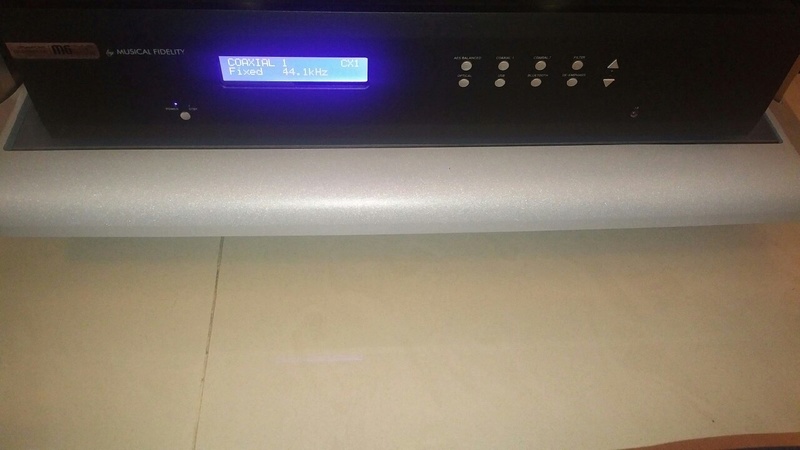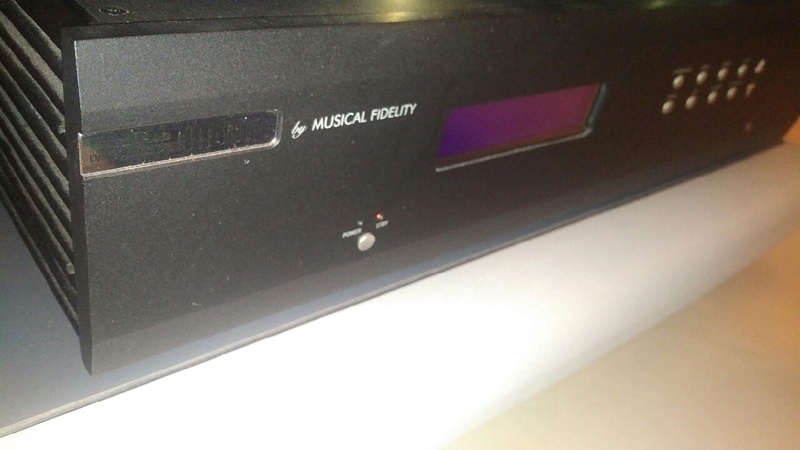 Last edited by elhefe on Sat Jul 15, 2017 3:03 pm; edited 3 times in total
_________________

elhefe

Moderator





Number of posts

: 1354


Age

: 41


Location

: Sungai Buloh, Selangor


Registration date :

2010-02-13

Character sheet
Source(s): ClearAudio and Lenco L78 TT, MF M1 ViNL, SONY MD, Oppo HA-1, SONY HAP Z1 ES
Amplification: MF M6i Integrated Amp, KW500 Supercharger
Speakers: ProAc Response D18, PMC Twenty LCR, SVS Sub, Denon X6200W AVR



elhefe

Moderator





Number of posts

: 1354


Age

: 41


Location

: Sungai Buloh, Selangor


Registration date :

2010-02-13

Character sheet
Source(s): ClearAudio and Lenco L78 TT, MF M1 ViNL, SONY MD, Oppo HA-1, SONY HAP Z1 ES
Amplification: MF M6i Integrated Amp, KW500 Supercharger
Speakers: ProAc Response D18, PMC Twenty LCR, SVS Sub, Denon X6200W AVR


_________________

elhefe

Moderator





Number of posts

: 1354


Age

: 41


Location

: Sungai Buloh, Selangor


Registration date :

2010-02-13

Character sheet
Source(s): ClearAudio and Lenco L78 TT, MF M1 ViNL, SONY MD, Oppo HA-1, SONY HAP Z1 ES
Amplification: MF M6i Integrated Amp, KW500 Supercharger
Speakers: ProAc Response D18, PMC Twenty LCR, SVS Sub, Denon X6200W AVR


_________________

elhefe

Moderator





Number of posts

: 1354


Age

: 41


Location

: Sungai Buloh, Selangor


Registration date :

2010-02-13

Character sheet
Source(s): ClearAudio and Lenco L78 TT, MF M1 ViNL, SONY MD, Oppo HA-1, SONY HAP Z1 ES
Amplification: MF M6i Integrated Amp, KW500 Supercharger
Speakers: ProAc Response D18, PMC Twenty LCR, SVS Sub, Denon X6200W AVR



elhefe

Moderator





Number of posts

: 1354


Age

: 41


Location

: Sungai Buloh, Selangor


Registration date :

2010-02-13

Character sheet
Source(s): ClearAudio and Lenco L78 TT, MF M1 ViNL, SONY MD, Oppo HA-1, SONY HAP Z1 ES
Amplification: MF M6i Integrated Amp, KW500 Supercharger
Speakers: ProAc Response D18, PMC Twenty LCR, SVS Sub, Denon X6200W AVR



elhefe

Moderator





Number of posts

: 1354


Age

: 41


Location

: Sungai Buloh, Selangor


Registration date :

2010-02-13

Character sheet
Source(s): ClearAudio and Lenco L78 TT, MF M1 ViNL, SONY MD, Oppo HA-1, SONY HAP Z1 ES
Amplification: MF M6i Integrated Amp, KW500 Supercharger
Speakers: ProAc Response D18, PMC Twenty LCR, SVS Sub, Denon X6200W AVR



elhefe

Moderator





Number of posts

: 1354


Age

: 41


Location

: Sungai Buloh, Selangor


Registration date :

2010-02-13

Character sheet
Source(s): ClearAudio and Lenco L78 TT, MF M1 ViNL, SONY MD, Oppo HA-1, SONY HAP Z1 ES
Amplification: MF M6i Integrated Amp, KW500 Supercharger
Speakers: ProAc Response D18, PMC Twenty LCR, SVS Sub, Denon X6200W AVR



elhefe

Moderator





Number of posts

: 1354


Age

: 41


Location

: Sungai Buloh, Selangor


Registration date :

2010-02-13

Character sheet
Source(s): ClearAudio and Lenco L78 TT, MF M1 ViNL, SONY MD, Oppo HA-1, SONY HAP Z1 ES
Amplification: MF M6i Integrated Amp, KW500 Supercharger
Speakers: ProAc Response D18, PMC Twenty LCR, SVS Sub, Denon X6200W AVR


_________________

elhefe

Moderator





Number of posts

: 1354


Age

: 41


Location

: Sungai Buloh, Selangor


Registration date :

2010-02-13

Character sheet
Source(s): ClearAudio and Lenco L78 TT, MF M1 ViNL, SONY MD, Oppo HA-1, SONY HAP Z1 ES
Amplification: MF M6i Integrated Amp, KW500 Supercharger
Speakers: ProAc Response D18, PMC Twenty LCR, SVS Sub, Denon X6200W AVR



elhefe

Moderator





Number of posts

: 1354


Age

: 41


Location

: Sungai Buloh, Selangor


Registration date :

2010-02-13

Character sheet
Source(s): ClearAudio and Lenco L78 TT, MF M1 ViNL, SONY MD, Oppo HA-1, SONY HAP Z1 ES
Amplification: MF M6i Integrated Amp, KW500 Supercharger
Speakers: ProAc Response D18, PMC Twenty LCR, SVS Sub, Denon X6200W AVR


Similar topics
---
Permissions in this forum:
You
cannot
reply to topics in this forum