Item: DHlabs Swivel HDMI 2.0A - 2m
Condition: 8/10. Item in good working condition
Price: sold
Contact: 012-3816611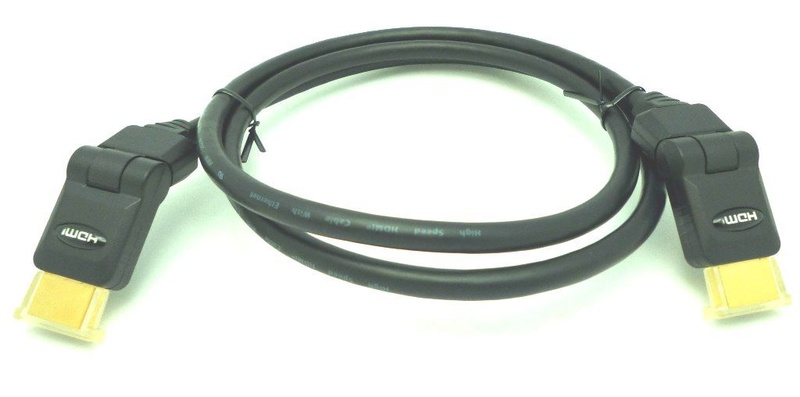 The DH Labs Swivel HDMI cable is the leader in its class, and unsurpassed at this price point.   HDMI 2.0a Certified for 2160p, 4k, 2k Ultra HD, & 3D TV.   The unique machined swivel connector is ideal for today's low-profile monitors, and provides ultra tight contact/fit for maximum quality signal transmission.  Available in 0.5 Meter, 1.0 Meter, 1.5 Meter, 2.0 Meter and 3.0 Meter lengths.  USA shipping only via USPS Priority Mail Small Flat Rate Box (if ordered separately).
***************************************8
Item: Supra HD5 Standard High Speed HDMI with Ethernet Cable - 2m
Condition: 8.5/10. Item in excellent condition. Few months old only.
Price: RM300
Contact: 012-3816611
http://www.futureshop.co.uk/supra-hd5-met-sb-high-speed-hdmi-with-ethernet-cable-2m-p-8637.html#.WWiEp4SGPIU
SUPRA launched its first HDMI cable in 2004. 9 years of continuous product development has resulted in the Supra HD5 HDMI, which (according to Supra) is the best HDMI cable on the market, offering HDMI High Speed with Ethernet & 4K resolution. They guarantee that the cable can handle all HDMI signals up to 32m. SUPRA HD5 is tested and approved in compliance with the latest test provisions by HDMI´s Accredited Testing Center in the USA. A secure quality guarantee of there HDMI cables. The bandwidth in the HD5 (used in all of there HDMI/DVI cables) is 1100MHz, almost four times the spec of HDMI High Speed (340MHz). There are some interesting cables out there claiming to do the job but only a few are actually approved for it. SUPRA HDMI is a safe choice.
High resolution picture and sound 
We often meet scepticism when we talk about HDMI cables. "Does it really matter?" "I mean, it's only a data stream? Yes, it is a stream of digital bits. Yes, it does matter. Unfortunately there is an intermediate state before the signal is so corrupt it cannot be read and blanks out. Many claim that if the screen shows, the signal is good enough. There is circuitry in the receiver which tries to repair broken data stream by buffering and error correction, but this is based on best possible estimates and is not necessarily what was sent. You might experience sync problems (delays), distorted colorations, insufficient blackness, noise and unexplainable audible pops during which the hardware is working overtime trying to repair the fragile bitstream. Do your precious hardware the best possible favour you can by connecting it using SUPRA HDMI cables and both you and your equipment will fully enjoy the show.
SUPRA HDMI Features & benefits: 


Transmits today's challenging formats flawlessly


Future proof - Meets today's HDMI standard and known requirements of tomorrow


Sturdy design - Withstand the normal installation abuse


23AWG leads - For minimum losses


Triple screen technology - Provides for long distance clearance hence freedom of installation with maintained signal integrity


Made in Sweden, three step quality plan - Unsurpassed quality and reliability



Features:


Supra HD5 Standard High Speed HDMI with Ethernet Cable


Length: 12m


Signal Bandwidth: 340 MHz


TMDS Bandwidth: 10.2 Gbit/s


Colour Depth: 48 bit/px


4K x 2K Resolution support: Enables video resolutions far beyond 1080p. 3840 x 2160 24Hz/25Hz/30Hz 4096 x 2160 24Hz


Deep Colour, x.v.Colour


Auto Lip Sync


Dolby TrueHD, DT-HD Master Audio


3D over HDMI


Audio Return Channel


Ethernet Channel



Specifications:


Cable SUPRA HD5


Standard HDMI 2.0, High speed with ethernet


Connection Config: Single-Link


Connectors: HDMI-HDMI


Signal Direction: <->


Application Examples: DVD/Projector/TV


Max Resolution: 4K


Solder Tin: Almit SR-34 Super


Cable clamping: Molded


Cross section Area: 5xTMDS 0.26/23 (mm2/AWG)


Wire Material: Solid OFC


Insulation: PE Foam


Inner Screen, Coverage: Alu/PET Foil, 100%


Comm. Conductors: 5xAWG 26 PE


Outer Screen, Coverage: Alu/PET Foil & Braid, 100%


Jacket: Heat & Ageing Resistant PVC


Cable diameter: 9.5 (mm)
Electrical Performance: 

Resistance: 82 (Ohm/km)


Capacitance: 42 (pF/m)


Char. Impedance: 100 (Ohm)


Velocity Factor 0.8c



********************************************
Item: AudioQuest Vodka HDMI Digital Video Cable - 2m
Condition: Item is in excellent condition
Price:
 RM550
 RM390
Contact: 012-3816611
Thank you.
Last edited by raymond88 on Mon Jan 15, 2018 6:04 pm; edited 1 time in total
Similar topics
---
Permissions in this forum:
You
cannot
reply to topics in this forum