Item: Naim Nait 5i-2 Integrated Amplifier
Condition: Item is in excellent condition. No scratches or dents. Comes in original box packaging, power cord, manual and original remote control (brand new unused)
Price: sold
Contact: 012-3816611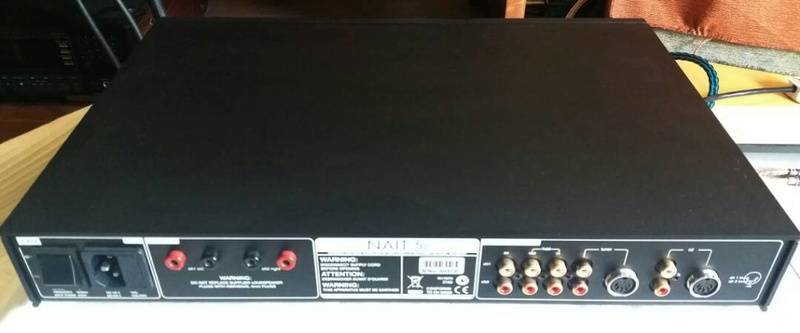 The new NAIT 5i is the latest iteration of Naim's fabled entry-level amplifier bringing enhanced performance and usability over its highly regarded predecessor. The most noticeable change is perhaps the addition of a convenient iPod/MP3 player input on its front panel.
Within its incredibly sturdy chassis numerous design upgrades elevate its musical performance to even greater heights. These include improved ceramic heat sinking, restructured cabling, and circuit changes to lower distortion and improve RF rejection. All these add up to provide a substantial improvement in this amazing amplifier's already class-leading performance.
The NAIT 5i naturally forms a wholly synergistic partner for the CD5i CD player. Together they provide the perfect and most cost-effective introduction to Naim system ownership.
There's a long Naim tradition of the NAIT Integrated Amplifier punching above its weight. It began with the original NAIT in 1983 and continues now with the NAIT 5i. Although the recent introduction of the SUPERNAIT represents the current state-of the-art for integrated designs, the NAIT 5i remains a superb and cost-effective introduction to the Naim sound for those who don't require the SUPERNAIT's advanced features and capabilities.
Features:
50W continuous output into 8-Ohm loads, 500W peak into 1-Ohm.
Zinc and aluminium anti-resonance casework.
DIN and RCA phono inputs.
Can be used with a wide range of interconnect and loudspeaker cables.
Programmable unity-gain audio-visual input.
NarCom remote control handset.
The NAIT 5i delivers fifty Watts into real loudspeaker loads, each Watt with the legendary Naim rhythmic drive and musical integrity. Entry level it may be, but the music it makes is detailed, engaging and recognisably Naim. It borrows many of the latest Naim amplifier innovations to become the finest sounding integrated ever to carry the logo.
Versatility is vital for an entry level amplifier. The Nait 5i makes integration with existing systems easy by incorporating phono socket inputs alongside the traditional DIN sockets, and offers the possibility of use with a wide range of speaker cable types. Integration with audio visual systems is handled through a programmable "unity gain" input. The 5i is intuitive in use too. A true plug and play product.
The 5i's construction and aesthetic borrow directly from the acclaimed 5 Series. It features zinc die-casting, combined with aluminium extrusions and covers, which together result in a rigid case that offers great immunity to the effects of external vibration.
The NAIT 5i establishes a new entry-level reference point of natural musical reproduction, flexibility and reliability.
Specifications
Analogue inputs
4
Input sensitivities
225mV, 20kOhm
Output level, tape
225mV, 100 Ohm
Power output (into 8 Ohms)
50W per channel
Overload margin, all inputs, all audio frequencies
35dB
Mains supply
115V, 230V
Dimensions (H x W x D)
70 x 432 x 301mm
Finish
Black 
  What the Hi-Fi press says...   
Hi-Fi Choice - April 2008
"The idosyncratic NAIT has finally matured and become a genuine all-round proposition"
What Hi-Fi? Sound & Vision - April 2008
"We were stunned at how much it sounded like we were in a room with a piano"
Hi-Fi World - February 2008
"Unerringly musical and dynamic performer with impressively rich tone. Superb ergonomics and sound too"
Hi-Fi World - December 2006
"The Naim pinned us against the back of the sofa with its low end transients and and dynamic presentation!"
Hi-Fi News - June 2006
"this amplifier still has the 'get up and go' quality that many enthusiasts wont want to live without" 
 Thank you
Last edited by raymond88 on Tue Oct 31, 2017 11:04 am; edited 1 time in total
Similar topics
---
Permissions in this forum:
You
cannot
reply to topics in this forum