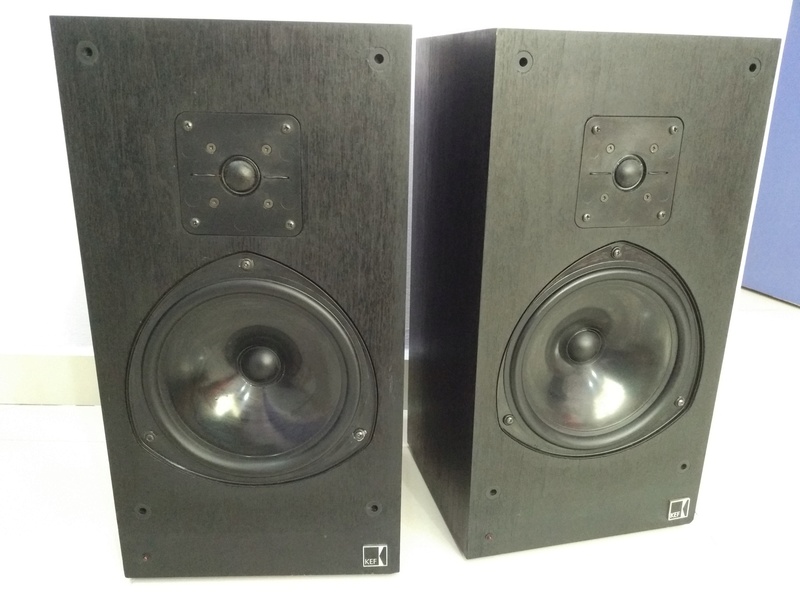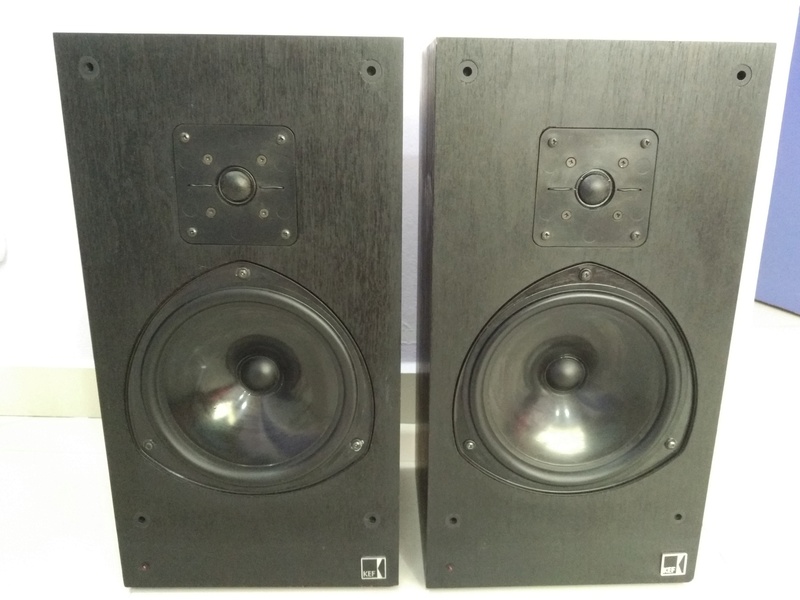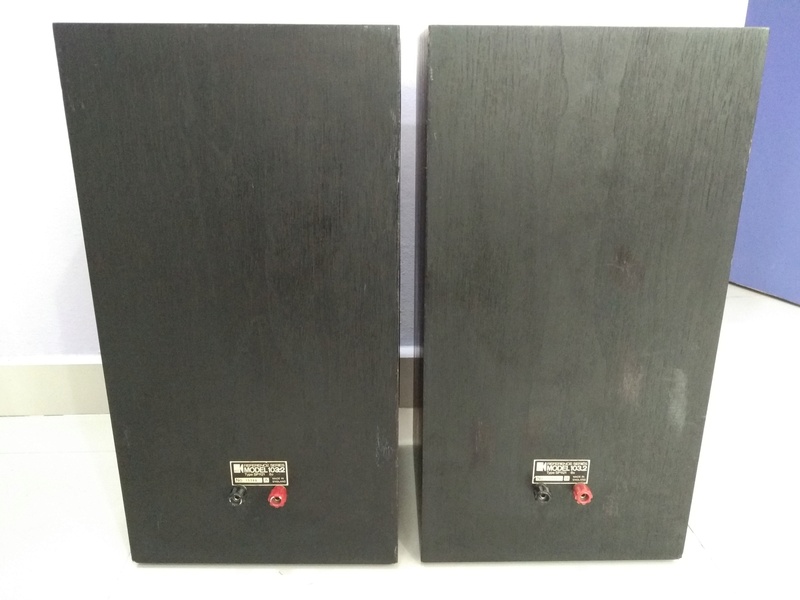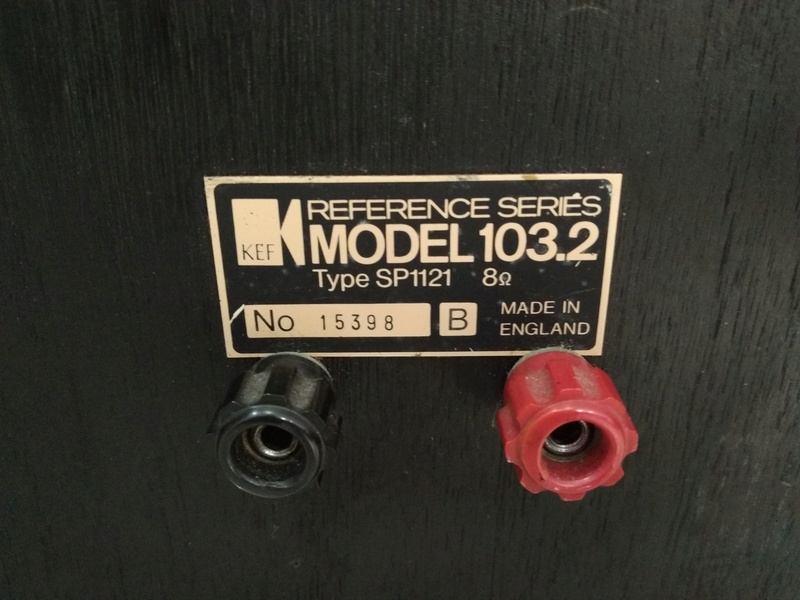 Made In England
Reference Series Model 103.2 (1980-85)
Model 103.2 was the successor to the highly regarded 103, and continued with the same two-way closed-box format, using an 8" bextrene coned bass driver which used the new three mounting-point chassis to allow mechanical decoupling from the cabinet.
It was designed using KEF's 'total system design' approach where drive units, filter networks and enclosures are studied and developed together to achieve a targeted response. The result was a loudspeaker which achieved a broad frequency response with optimum efficiency and yet a surprisingly small enclosure of just 19 litres.
Consistent with all models in the Reference range, 103.2 included S-Stop protection circuitry, and all production systems benefited from KEF's Reference methodology which matched the response of every system to within 1dB of the design reference, with each pair matched to within 0.5dB of each other.
Specification:
Model 103.2
System Type: Two-way, bookshelf/stand-mount
Enclosure type: Closed box
Size: 50.6 x 26.5 x 24.9cm (20 x 10.5 x 9.8 inches)
Weight: 8.6kg (19 lb)
Nominal Impedance: 8 ohms
Rated maximum power: 150W programme
Frequency response: 60-20,000Hz +/-2dB at 2m on design axis (-10dB at 37Hz and 30kHz)
Sensitivity: 86dB at 1m for a pink noise input of 1W (anechoic conditions)
Maximum output: 106dB on programme peaks under typical listening  conditions
Finishes:   black ash veneers
Grille: Black cloth
System: SP1121
Drive units: B200 bass unit (SP1075), T33 tweeter (SP1074)
Crossover: SP1143 and SP1144 (SP2011 from 1983 onwards)
The KEF 103.2 is part of that company's Reference Series of speaker systems, which is headed by the refined and highly regarded Model 105.2.
Externally, the 103.2 appears to be a rather small "bookshelf' speaker with a handsomely finished wood-veneer cabinet and a black grille cloth.
Behind the grille, on a surface finished like the rest of the enclosure, are mounted its two drivers: an 8-inch Bextrene-cone woofer and a 1-inch soft-dome tweeter. The crossover is at 3,000 Hz.
The sealed enclosure has no user-adjustable controls, and the spring-loaded input connectors are recessed into the rear of the cabinet.
In the 103.2, KEF engineers sought to achieve the well-recognized spatial (imaging) qualities of their 105.2, as well as its smoothness and overall sonic balance, in a much smaller and less expensive system that would be suitable for rooms where larger speakers would be unacceptable.
Like the other Reference Series speakers, it has the "S-Stop" electronic protection system that prevents damage to the drivers even under severe overload conditions.
One of the basic factors behind the performance (and price) of the KEF Reference Series speakers is the extraordinary quality control (plus special driver and component measurement and matching) that goes into their manufacture.
The 103.2 (and its still smaller relative, the 101) undergoes the same rigorous process as the 105.2, which includes a computerized response measurement of each driver and the subsequent matching of drivers within each speaker and between pairs (they are sold only in matched pairs).
The crossover-network components are also matched to the individual drivers in each system, assuring the amplitude and phase-response characteristics that KEF has designed into the speakers.
The anechoic frequency response of the KEF 103.2 is specified as 60 to 20,000 Hz ± 3 dB on axis, with the output down 10 dB at 37 and 30,000 Hz. The off-axis response is also specified: within 1 dB of the axial output over a ± 5-degree vertical-angle change up to 20,000 Hz and over a ± 20-degree horizontal-angle change up to 10,000 Hz. This ensures that the full performance of these speakers will be heard throughout a typical home listening area.
The rated sensitivity of the KEF 103.2 is 86 dB sound-pressure level (SPL) measured at a 1-meter distance for a pink-noise input of 1 watt under anechoic conditions.
Its maximum output under typical listening conditions is 106 dB SPL on program peaks. The KEF 103.2 is rated to handle up to 150 watts of program power or a continuous-sine-wave input of 20 volts between 100 and 2,500 Hz, falling to 8 volts maximum between 4,000 and 20,000 Hz. The nominal impedance of the system is 8 ohms.
The S-Stop protective system (the acronym stands for "Steady State and Transient Overload Protection") is powered by the audio signal itself. It monitors both the instantaneous program peaks (which could damage the tweeter) and the integrated long-term power input (which could overheat the voice coil of either driver). Should the input exceed safe limits, a relay instantly reduces the drive level to the speaker, simultaneously lighting a red LED on the front of the cabinet.
When safe levels have been restored, the speaker automatically returns to normal operation. The level reduction is designed to protect the drivers against any continuous or intermittent fault signals up to 60 volts peak, from d.c. to 50,000 Hz, without affecting the speaker's normal operation.
The KEF 103.2 measures 20 inches high, 10-1/2 inches wide, and 9-1/2 inches deep.
It weighs about 19 pounds.
The available cabinet veneers : black ash.
Laboratory Measurements
The KEF 103.2 is designed for upright (vertical) mounting, preferably at least 20 inches from a wall and about 3 feet high, which places the tweeter close to ear level for a seated listener. It can also be installed against a wall, in the conventional "book-shelf' placement, as we did for our measurements and much of our listening.
Although our live-room measurement method cannot be expected to correlate with the anechoic measurements used by KEF to derive their specifications, it did show the averaged energy response in the reverberant field of the room to be very smooth, with no sign of any drop in output up to our 20,000-Hz measurement limit. In fact, the output rose steadily from 4,000 to its maximum at 20,000 Hz.
The close-miked woofer response was maximum at 100 Hz, falling off at both lower and higher frequencies. When we spliced the close and distant miked curves, the composite response curve was within ±3 dB from 57 to 20,000 Hz, closely matching the KEF specifications. At a 1-watt input the bass distortion was well under 1 per cent down to 70 Hz, reaching 2.2 per cent at 50 Hz and only 8 per cent at 30 Hz. At a 10-watt drive level the distortion was higher, but still quite low for a system of this size. It rose from about 1 per cent at 100 Hz to 2.3 per cent at 70 Hz and 7.5 per cent at 40 Hz.
The system sensitivity was very close to the rated value, measuring 87 dB at 1 meter with 1 watt of random-noise input in an octave centered at 1,000 Hz. The system impedance reached its minimum value of 8 ohms at about 40, 175, and 4,000 Hz. Its maximum values were 20 ohms at 75 Hz (the bass-resonance frequency) and 50 ohms at 1,200 Hz.
Comment
Our first reaction on hearing the 103.2 speakers (in a wall-mounted position) was that we had forgotten to switch the comparator to them and were therefore listening to the 105.2 just in front of them. A check confirmed that we were hearing the 103.2s, however. Repeated comparisons with careful level matching showed that the tonal quality and general sound of the KEF 103.2 were so similar to those of the KEF 105.2 that we could never be sure which of the two pairs of speakers we were listening to without checking the setting of the comparator switch!
They did not sound identical, of course. Still, they were so similar that non-comparative listening could not disclose which was which. The differences were principally in the mid-bass. To our surprise, the 103.2 seemed to have a heavier and slightly warmer quality than the larger 105.2. Later, when we had made our measurements, the reason was apparent: a slightly emphasized output from the 103.2 in the 80- to 150-Hz range. The 105.2 was flatter in that octave as well as going down another octave into the deep bass. With most program material, the bass extension of the 105.2 was not obvious, but the mid-bass emphasis of the 103.2 was.
To anyone not familiar with the sound of the KEF 105.2, this comparison may convey little information. We can say about the 103.2 that its sound is unusually smooth, balanced, and utterly easy and unstrained. You can pick almost any favorable adjective and it would apply equally to the sound of this speaker. The imaging was certainly excellent, although this quality can be appreciated only with suitably recorded program material, and we prefer to judge a speaker with all kinds of programs including ordinary "multi-miked" records and FM broadcasts.
Like its big brother, the KEF 103.2 can handle large power inputs without damage or distortion. Although we tend to be cautious when driving small speakers with large amplifiers, previous experience with S-Stop led us to cast caution to the winds and see what it took to activate the circuit in the 103.2. Well, it took everything a 200-watt-per-channel amplifier could deliver, and more. The amplifier was clipping before the S-Stop lights came on. Just short of that point the sound was clean, completely listenable, and not nearly as loud as one might expect.
Even when the S-Stop lights came on, we heard no obvious change in volume level or any other speaker characteristic. The action of the S-Stop is apparently subtle to the point of being undetectable under most conditions, but it does save the speakers. This is a very important consideration with speakers as costly as these.
Youtube Video for reference:
https://www.youtube.com/watch?v=wCda3RkNskY
https://www.youtube.com/watch?v=LstLf1nHWyU
https://www.youtube.com/watch?v=oOkTkLRZcvo
https://www.youtube.com/watch?v=Fy_t0iuJa5A
Price : RM 1680
Contact Simon Ting 012-3612507

HiFiLab

Dealer\Reseller\Trader\Service Provider





Number of posts

: 2426


Age

: 39


Location

: klang


Registration date :

2011-03-12

Character sheet
Source(s):
Amplification:
Speakers:



HiFiLab

Dealer\Reseller\Trader\Service Provider





Number of posts

: 2426


Age

: 39


Location

: klang


Registration date :

2011-03-12

Character sheet
Source(s):
Amplification:
Speakers:



HiFiLab

Dealer\Reseller\Trader\Service Provider





Number of posts

: 2426


Age

: 39


Location

: klang


Registration date :

2011-03-12

Character sheet
Source(s):
Amplification:
Speakers:



HiFiLab

Dealer\Reseller\Trader\Service Provider





Number of posts

: 2426


Age

: 39


Location

: klang


Registration date :

2011-03-12

Character sheet
Source(s):
Amplification:
Speakers:



HiFiLab

Dealer\Reseller\Trader\Service Provider





Number of posts

: 2426


Age

: 39


Location

: klang


Registration date :

2011-03-12

Character sheet
Source(s):
Amplification:
Speakers:



HiFiLab

Dealer\Reseller\Trader\Service Provider





Number of posts

: 2426


Age

: 39


Location

: klang


Registration date :

2011-03-12

Character sheet
Source(s):
Amplification:
Speakers:



HiFiLab

Dealer\Reseller\Trader\Service Provider





Number of posts

: 2426


Age

: 39


Location

: klang


Registration date :

2011-03-12

Character sheet
Source(s):
Amplification:
Speakers:


---
Permissions in this forum:
You
cannot
reply to topics in this forum