NAD T163 7 channels AV PREAMP with build in DAC (for stereo)
"Quality of the build in DAC sound akin to that of the Marantz CD player, warm and detail."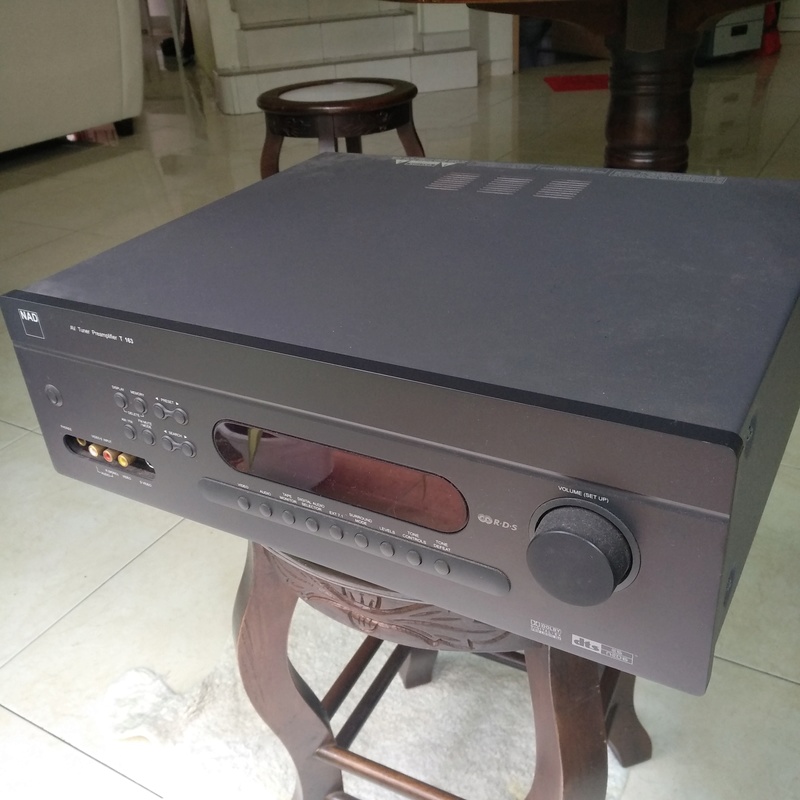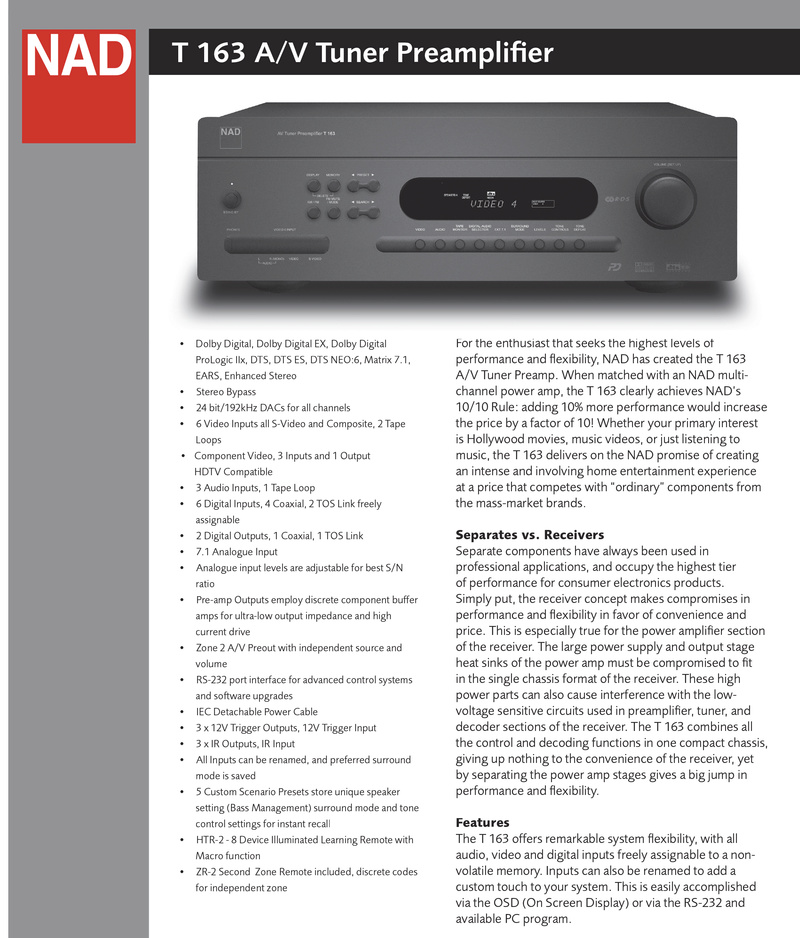 REVIEW:
The NAD T163 Preamp processor is one of a very few seperates available that can do what it does for a street price of around $1300 or less. There are receivers out there that have as many or more bells and whistles, but each are succeptable to any negative effects that might be caused by an amplifier being housed under the same hood. If receivers are your preference, then buying the NAD probably doesn't make much sense, but if seperates are your game then the NAD T163 should be on a short list to consider.
The NAD is a hefty unit for a prepro, for all its guts it is a robust 18 lbs. The cosmetics are what you might expect from any NAD product, no glitz or glam, just a simple gray face that is reserved and to the point. The display reads well with its large, blue characters which can be read easily from typical listening postions. The volume knob turns fluidly in 1db increments.
The T163 shines most with its stereo performance, which seemed to be the largest single improvement over the receiver that I had been using in the very same setup previously. The sound is very neutral, lacking any hint of the brightness that the Sony DA4ES exhibited. Typically you know when a unit can do stereo well, it's going to to perform well with movies also, this unit is no exception as movies sound great. The typical array of dts and dolby decoding is complemented by NAD's proprietary EARS decoding which sounds more natural than most DSPs typically used, and is great for casual TV viewing. A 7 channel stereo mode is also included.
Another most impressive thing about the T163 is the ease in which it can be used. The thought process that went into making the menus and functionalitly of this unit shows, and the people responsible for designing it deserve kudos. It is truly "user-friendly superior" to anything else I've ever layed my hands on, which so far includes SONY, ONKYO, HARMON KARDON, YAMAHA, ONKYO and JVC receivers. No more digging deep into some hard to find feature menu to try and find a particular setting as each of the NAD's menus are well identified and very intuitive. I mastered every aspect in the control of this unit is less than a days time, so you can expect a high WAP in this area.
The T163 has 5 fully customizable settings that are stored in non-volatile memory. So say you have a DVD Combi player where you use both the optical and 7.1 analog outputs, one for DVD playback, and one for SACD playback respectiively. You could use the customizable settings to quickly switch between your saved settings and allow for proper level adjustments, and input assigment with a touch of a button. This is just one of many examples for this extremely flexible feature.
The customizable naming of the input devices is possible, so you can name the VCR input a Tivo, or what have you, if you prefer.
Often overlooked by manufacturer's is the tuner section. It is nice to see that NAD didn't skimp on quality here. The unit can interpret off air RDS data and scroll the station name, song playing etc. on the display. Also the tuner plays very cleanly and has truly solid reception capabilites. Station presets can be custom named like that of the input devices
The T163 includes a learning, back lit remote. Some of the buttons are a little on the small side, but overall it has a nice clean look and feel. I prefer my MX-500 to this remote, but I could say that about just about any remote out there. Also included is a credit card sized 2nd remote which operates all the 2nd room/zone functionality independent of the main room.
Another nice feature is the ability to make on the fly adjustments for the Center, Surrounds, and Subwoofer levels. So if the bass in U-571 is a little much for your wife she can just tap it down under control, and then later you can go back to your preset or just tap it right back up again.
Pros
Stereo Sound is clean, natural, and unaltered
Movies are great too
Ease of use is astonishing
On the fly Level Adjustments
Nice Readable Display
Excellent tuner section
Few prepros cost this little
RS-232 Upgradable
Cons
No DTS 96/24 or Pro Logic IIX
Low Pass Xover is global
SPECIFICATIONS:
Dolby Digital EX, Dolby Digital, ProLogic II, DTS, DTS ES,
DTS NEO:6, Matrix 7.1, EARS, Stereo Enhanced Surround Modes,
HDCD Decoding, Stereo Bypass
192kHz/24 bit DACs for all channels
6 Video Inputs all S-Video and Composite, 2 tape loops
HDTV Compatible Component Video on 3 Inputs and 1 Output
3 Audio Inputs, 1 Tape Loop
6 Digital Inputs, 4 Coaxial, 2 TOS Link freely assignable
2 Digital Outputs, 1 Coaxial, 1 TOS Link
7.1 Analog Input
Analog input levels are adjustable for best S/N ratio
Pre-amp Outputs employ discrete component buffer amps
for ultra-low output impedance and high current drive
Zone 2 A/V PreOut with independent source and volume
RS-232 port interface
3 x 12V Trigger Outputs, 12V Trigger Input
IR Input, 3 x IR Output
All Inputs can be renamed, and preferred surround mode is saved to input location
5 Custom Scenario Presets store unique speaker setting (Bass Management) surround mode and tone control settings for instant recall
FM/AM tuner with 30 station preset memory and RDS display
HTR-2 - 8 Device Illuminated Learning Remote with Macro function
ZR-2 Remote with unique Zone 2 commands
Analog Performance:
Dynamic range 95dB
Analog channel separation 70dB
Crosstalk 70dB
Maximum output level 5V rms
Output impedance
Tape out 330 ohms
Multi room output 330
Tone control:
Bass (@20Hz) ± 10dB; Treble (@20kHz) ± 10dB
Video:
Input and output impedance 70 ohms
Dimensions (W x H x D) 17 1/8" x 6 5/8" x 16 1/2"
PRICE:  1,350 (nego) (transport included or COD Penang)
CONTACT:  012-40 nine nine nine eight eight

kleew

Dealer\Reseller\Trader\Service Provider





Number of posts

: 68


Age

: 49


Location

: Penang


Registration date :

2013-10-02



Similar topics
---
Permissions in this forum:
You
cannot
reply to topics in this forum