After paying so much time and attention to the integrity of your sound system,
why degrade its performance by neglecting the last few inches of crucial
cabling.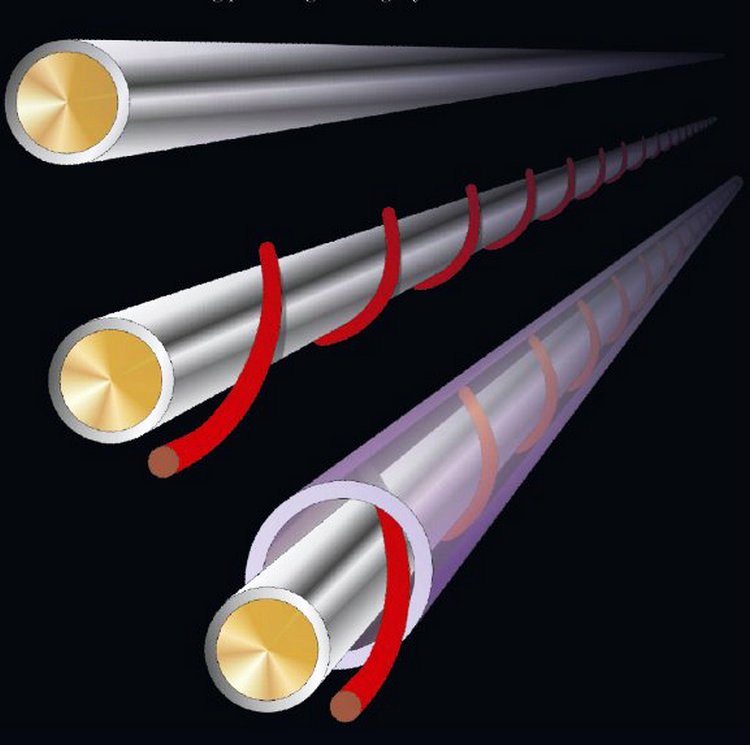 This Bi-Wire Jumpers are the perfect solution for achieving exceptional sound
by replacing the standard, bent metal plates and generic wires supplied with
most bi-wire loudspeakers. 
This jumper uses a silver-plated, solid core OFC conductor which is wrapped in
a precise spiral of Micro Mono-Filament before being covered in an outer layer
of FEP insulation and cut at a specific, mechanically tuned length. This
dedicated design provides a straight-line, low-loss jumper that ensures
optimum results. The difference that a well-engineered jumper makes in sound
quality is astonishing, and these improvements are magnified that much more
when maintaining the same core cable technology throughout.
This product uses the level of aviation transparent Teflon sheath.
Air insulation is an insulator, the use of micro-space technology to make 85%
of the conductor is not in contact with Teflon, the use of negative air
insulator prevents the limits of electronic interference. 
The inner conductor using 99.99999 percent purity single crystal copper,
silver outer cover 35 microns, and now can grasp the micro space technology
wire manufacturers are very few, and some also astronomical.
SPECIFICATIONS
Insulation: Fluorinated Ethylene Propylene (FEP)
Construction: Mechanically tuned spacing, length and Micro Mono-Filament
design
Conductors: 1 x 16 AWG
Material: Silver-plated 99.99999% solid-core OFC
Termination : Gold-plated Spade
Length : 6 inch
Condition : Used 8/10 as good as new
Only 1 set available
Price : SOLD (set of 4 pcs of jumper)
Item Location : Bandar Kinrara, Puchong
Contact : (Whatsapp or SMS) : 012 211 1470
Last edited by kk_key on Wed Jul 11, 2018 12:58 am; edited 1 time in total

kk_key

Frequent Contributor





Number of posts

: 105


Age

: 51


Location

: Bandar Kinrara, Puchong, Selangor.


Registration date :

2009-05-27




kk_key

Frequent Contributor





Number of posts

: 105


Age

: 51


Location

: Bandar Kinrara, Puchong, Selangor.


Registration date :

2009-05-27




kk_key

Frequent Contributor





Number of posts

: 105


Age

: 51


Location

: Bandar Kinrara, Puchong, Selangor.


Registration date :

2009-05-27




kk_key

Frequent Contributor





Number of posts

: 105


Age

: 51


Location

: Bandar Kinrara, Puchong, Selangor.


Registration date :

2009-05-27




kk_key

Frequent Contributor





Number of posts

: 105


Age

: 51


Location

: Bandar Kinrara, Puchong, Selangor.


Registration date :

2009-05-27




kk_key

Frequent Contributor





Number of posts

: 105


Age

: 51


Location

: Bandar Kinrara, Puchong, Selangor.


Registration date :

2009-05-27




kk_key

Frequent Contributor





Number of posts

: 105


Age

: 51


Location

: Bandar Kinrara, Puchong, Selangor.


Registration date :

2009-05-27




kk_key

Frequent Contributor





Number of posts

: 105


Age

: 51


Location

: Bandar Kinrara, Puchong, Selangor.


Registration date :

2009-05-27



---
Permissions in this forum:
You
cannot
reply to topics in this forum