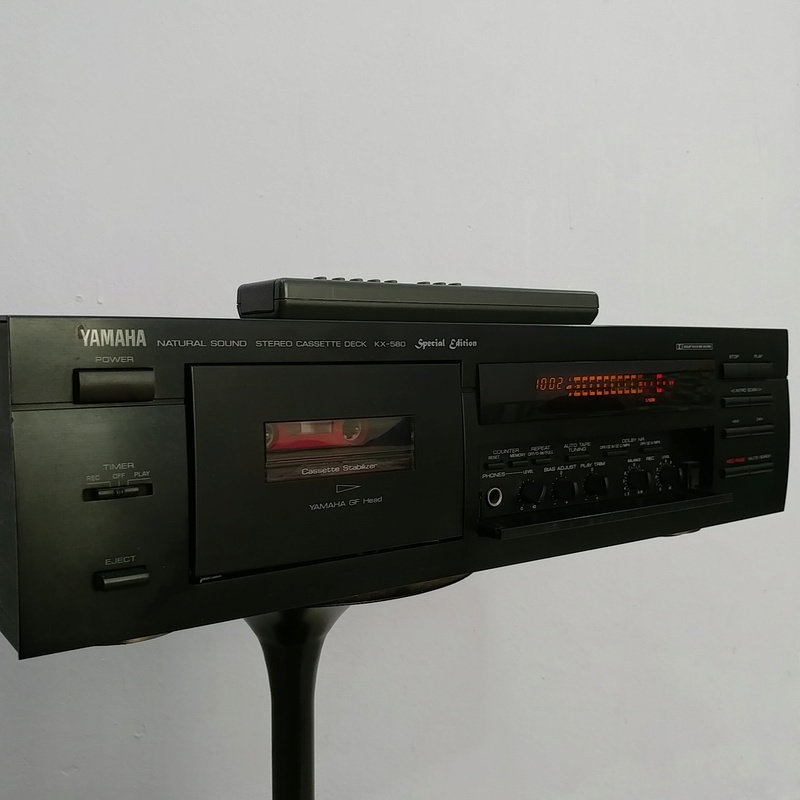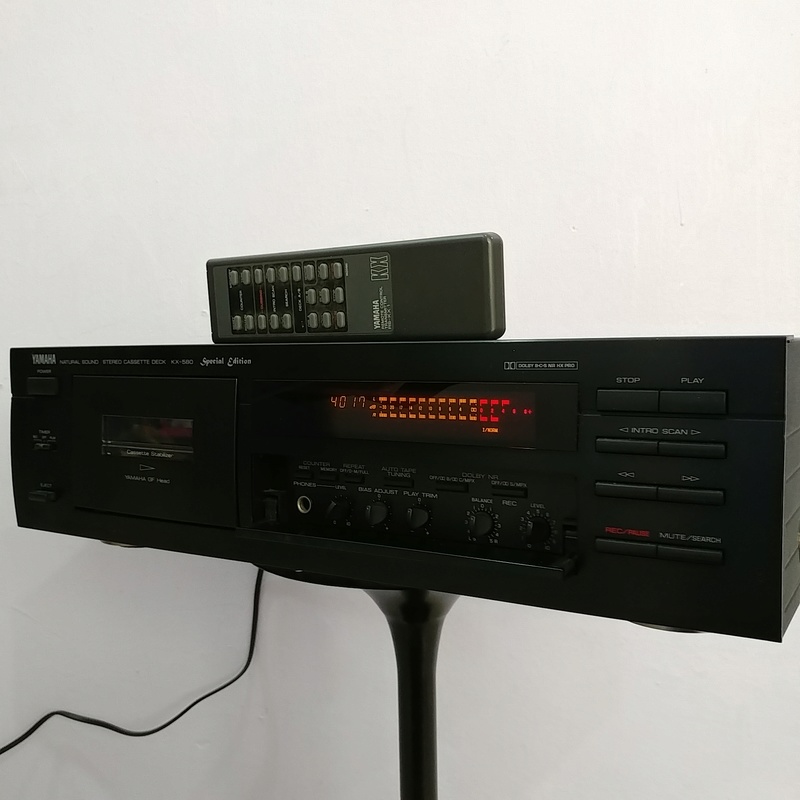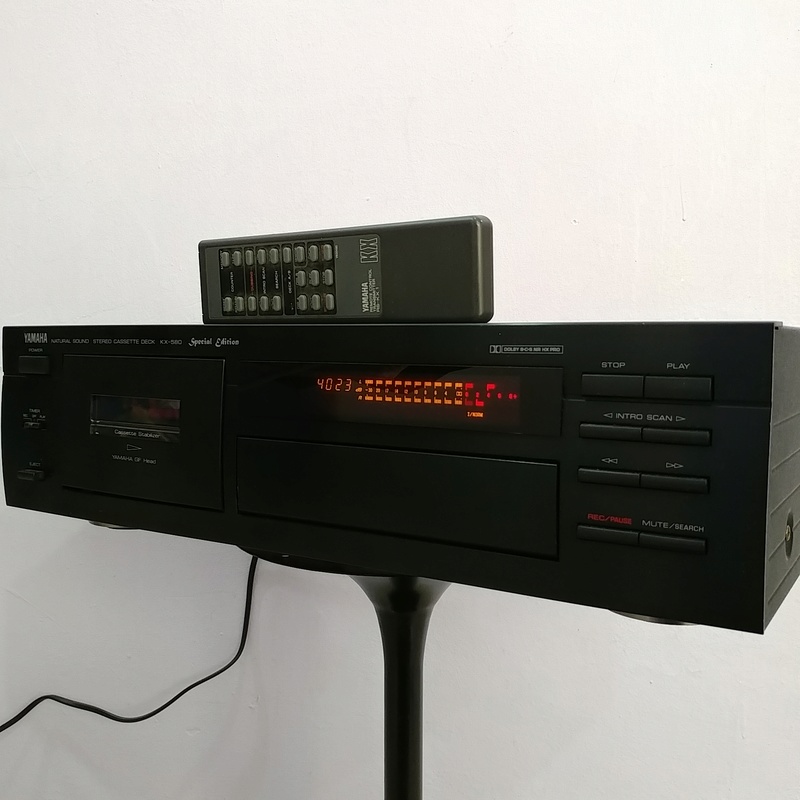 The Yamaha KX-580 is a single cassette, 2 head, single capstan cassette machine. It features Dolby B, C and S noise reduction, Dolby HXPro, Auto Tape Tuning and Automatic Tape Type recognition. It also features manual tape bias tuning and um, that's about it. That's the way I like it,
Not that Yamaha are blameless when making space for a button or knob that they don't know what to do with.  Take the aforementioned manual bias tuning, for instance.  The KX-580 will recognise automatically whether you are recording on normal, chrome or metal tapes, and set the bias accordingly, with no user input required.  Not only this, but the user can easily trigger the Auto Tape Tuning function.  In the manual, Yamaha explain this feature in pigeon English, illustrated by an incomprehensible graph, but let me tell you that, simply put, this function not only tells the deck that a chrome tape is about to be recorded onto, but it also detects differences in formulations between different brands of chrome tape (TDK, BASF etc…) and sets itself up accordingly.  Therefore (and Yamaha admit this) the manual bias tuning is totally superfluous.  I'd much rather a knob that made the coffee.
However, Yamaha make the process of recording onto a blank cassette easy in a number of important ways.  Firstly, unlike the NAD deck I used to possess, which eschewed auto tape type recognition for manual bias tuning only (not even a button labelled Type I, II or IV – how Flat Earth is that?!), the KX-580 will display the tape type in the level meter window, under the point, beyond which, distortion will occur.  Thus, the Type I light is under the 0dB point, indicating that if you set the levels to creep above this point too often, you'll end up with a distorted recording.  Type II (Chrome) tapes will become distorted at just over 3dB and Type IV (Metal) cassettes will distort if you record over 6dB.  Given the KX-580 meter's tendency to over-react to peak levels, indicating a level slightly higher than is actually being recorded to tape, it virtually guarantees distortion-free recordings every time.

Sound Quality
The first cassette I played on the KX-580 was a pre-recorded album, Madonna's True Blue, from 1986.  It was one of the bargains I picked up for 30p.  It thrilled from the moment I put it on.  Yes, I had to turn the volume up slightly louder than I would the vinyl (which I also own) in order to get a satisfactory sound, but Papa Don't Preach pumped along nicely, with smooth but detailed treble (with Dolby B switched in) and luscious mid-range.  It was slightly less convincing in the bass, but I wonder if that's because pre-recorded albums in the 80's were deliberately mastered to cater for those with machines that simply couldn't do bass properly anyway.  However, I've made a number of recordings with this machine, and I conclude that although the KX-580 can produce the notes, they're not delivered with the same authority as my Rega RP8 turntable, from whence the recordings were made.  Wow and flutter, with a good, non-deteriorated cassette (count out most EMI recordings, sadly), is negligible, even with solo piano music, courtesy of the Brahms Hungarian Dances on Decca.  Stereo separation was good, but again, just slightly veiled, so that the finer detail that places the performer right there in front of you was absent.  Never mind.  Performances sound natural, detailed and involving.  I've had to stop typing this article numerous times, because I've found myself tapping my hands along with the music delivered by this fine machine.  It sounds far more engaging and natural than any download or iDevice that I've heard. Its qualities remind me of my old Goldring-Lenco GL75/1042 vintage turntable/cartridge set-up.  Praise indeed
In Good working condition, just plug and play..
Come with remote control
Price : RM 580
Contact Simon Ting 012-3612507

HiFiLab

Dealer\Reseller\Trader\Service Provider





Number of posts

: 2239


Age

: 38


Location

: klang


Registration date :

2011-03-12

Character sheet
Source(s):
Amplification:
Speakers:


Please check your whatsapp. Thanks.

samn

Frequent Contributor





Number of posts

: 146


Age

: 46


Location

: Malaysia


Registration date :

2009-02-15

Character sheet
Source(s): Rega RP3, Audiolab 8200CD, Marantz CD6003, Teac W790R & Teac V5010
Amplification: Audiolab 8200Q & Audiolab 8000M
Speakers: Mission Volare V63


Similar topics
---
Permissions in this forum:
You
cannot
reply to topics in this forum