Ultimate ground box for your hifi sound-tuning . Serve as virtual ground to suppress bad harmonics,Offering "Black-Hole"to trap unwanted noises and passing the purest musical signals to be processed. hearing is believing. Very hot item no joke!
Improvement to darker musical back ground. 
Have extra unopen box to let go-Rm450
Best Sound tuning gadget money can buy.
物品介紹
歡迎試聽,地址:觀塘成業街成運工業大廈6/F,609室 YS AUDIO(觀塘廣場後面),問題可電92158923林。

使用注意事項:

· 一:接地盒是不需要接電就能使用的。接地盒有接在電源上的使用方法,也只是吸收電源雜波,並非說需要電源接地盒才能工作。 
· 
· 二:接地盒不能取代真正接地線,他只是能提升音質畫質,它的作用主要是用來吸收雜訊,並不能如真正接到大地的地線一樣,萬一家中漏電能把所有的電引入到大地。 
· 
· 三:接什麼地方效果最好?,因為每個人的器材電路不同,家中的電源佈局、條件不一樣,這沒有定數,需要多嘗試,那個地方效果最明顯,就接那個地方,這也是這個接地盒好玩的地方。 
· 
· 可以接的地方有主機殼的金屬部分(注意機殼或是機殼鏍絲上有漆,鋁板外表做過氧化,或是有繡都會接觸不良,影響效果,需要打磨掉表面一層在接) 、RCA蓮花座負級(也就是RCA蓮花插座插頭銅質外殼部分)、音箱的負級(一般是音箱黑色的接線柱)、電源的地線(火線,零線,地線的那個地線)為了防止萬一,接上電源後請勿觸摸電源盒接線柱的金屬部分,切記。有必要的話把露出金屬部分用絕緣膠布纏好。 
· 四:各種配件,燒友可根據實際情況,靈活選擇! 
· 
· 五:接一個設備建議用一個接線盒效果更好一些,可以一台設備接多台接地盒,不建議一個接地盒接多台設備,因為會互相干擾影響效果!
~~~

在接地盒數量少於設備本身數量的時候,建議先從音源(CD、唱機、數位轉盤等)->解碼器->前級->後級->音箱從前到後的優先順序接地盒,之外建議電源插板和家中電摯箱也使用一個接地盒。

買家對此類型接地盒的評價
~ 
接上解碼數字口後,越聽越順,最明顯的是背景漆黑,音場後移,聲音乾淨而不失豐滿。

整體變換很大,就像換了功放一樣,高頻顆粒圓潤了,泛音更多,背景寧靜很多。最關鍵的是寬鬆感出來了,聲線結構沒有改變,變化的是音質。非常超值的。

確實可以降低系統的失真度。延伸打的更開,背景稍微再黑一點。

試聽人聲感覺聲音位置會比以前靠前了一點,而且細節豐富了好多,音場也感覺立體了。

我現在只接過信號輸出端和機殼,總體來說都是表現為背景安靜,中低頻改進也比較明顯,細節增多,都是比較正面的改進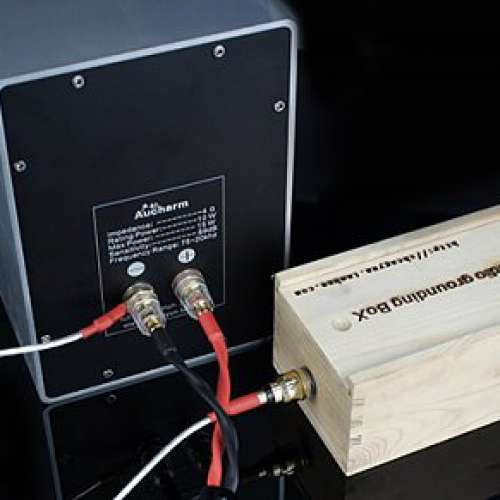 Ao-Ao Yeh

Regular





Number of posts

: 98


Age

: 47


Location

: Taman Bayu


Registration date :

2012-11-09

Character sheet
Source(s): Cd 63
Amplification: Sony
Speakers: Technic


---
Permissions in this forum:
You
cannot
reply to topics in this forum