Focal Chorus 726 3 Way Floor Standing Speaker 
Used In Excellent Condition. 
Now Selling At RM6,350.
 Free Shipping Within West Malaysia.
Please visit www.stylelaser.com.my to find out more products for sale at very special price...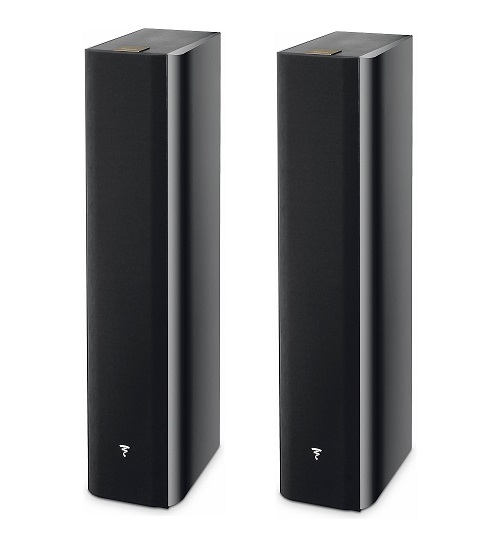 THE TRADITIONAL AFFORDABLE HIGH-END LOUDSPEAKER
THREE-WAY FLOORSTANDING SPEAKER 
The Chorus 726 embodies the affordable traditional high-end loudspeaker: the restyled cabinet, combined with the  new  design of  the cloth frames give these speakers a modern and slender look.  Very technologically advanced, the 3-way design combines the exceptional definition of the midrange and the power of the two 6.5" (16.5cm) woofers. 
PERFORMANCE
FOCAL DNA
Polyglass cone
A RICH MIDRANGE
---
Polyglass technology, exclusive to Focal, consists in applying molten glass microballs on a cellulose pulp cone. This process combines an excellent paper damping with glass rigidity. The mass/rigidity/damping ratio adjustment results in outstanding linearity of the frequency response curve, all from the inherent design of the cone. This innovation also greatly increases definition in the midrange.
TNV2 tweeter
A PRECISE AND SMOOTH SOUND
---
The TNV2 tweeter features a structure of the suspension which directly comes from the speakers of the reference Utopia line! The material used is very light which means that the suspension will not become damaged or compressed with time, the distortion will be reduced and the frequency response will be improved. The result is a sound which is soft and precise and which offers improved harmonics richness and a more precise soundstage. 
DESIGN
CHORUS HERITAGE
Chorus design codes
MODERNISED AESTHETICS
---
You will find the elements which enabled the success of this range, such as the flawless cabinet-making techniques, the non-parallel side panels, the thick front and the many efficient reinforcement. You will then appreciate the subtle reinterpretation of the original design: The vivid and prominent lines have been replaced with smoother, more fluid curves to keep up to date with current trends. The quality of the assembly smoothens out the creases, and the choice of materials gives the speakers a sense of harmony and elegance.
Finishes
FRENCH ELEGANCE
---
Made in France, the Chorus 700 line is available in Black Style or White Style finishes which The combination of the leather-covered enclosure and the black or white high gloss side panels. The extremely appealing design has an elegant and timeless look. For those who are fans of more classic finishes, the Chorus 700 range is also available in Walnut finish.
Focal  Chorus 揚聲器
今年Focal將其大改款,推出全新的Chorus 700系列,使用新的高音單體,改換新的造型與新的塗裝,是Focal繼續在全球市場攻城掠地的重要利器。首先,Chorus 700系列所用的高音是全新開發的單體。振膜採用鋁鎂合金,形狀則是Focal慣用的內凹振膜。鋁鎂合金是Focal十年前便已開始使用的振膜材質,到現在已經是非常成熟的技術了。鋁鎂合金振膜的剛性優於鋁、鈦與絲質軟半球振膜,非常適合製作高音單體。Chorus 700系列用的是TNV2高音,有別於之前的TNV1高音,TNV2最大的不同是使用了一種稱做Poron材質的懸邊。Poron是一種特殊泡棉,用於許多工業領域,包括航太工業,之前第一次用在音響上頭是Utopia系列,現在Focal將其下放到Chorus 700系列上,使用釹磁鐵,高頻可達28kHz。
Poron的特性是不論你如何地對待它,他都能回復到原來的形狀,而且極度耐用,數十年都能保持原來的特性。Poron懸邊的鋁鎂合金振膜有何厲害之處呢?它在2kHz至4kHz頻段變得更平順,而且降低了遮蔽效應,並擁有更為豐富的諧波特性。反應在聲音上,就是不需要開的更大聲,就能聽到更豐富的細節,而且因為暫態反應提升了,進而降低了鈴振現象。更棒的是,使用了全新高音單體的Chorus 700系列,價格並沒有提升,依然容易負擔。
音與低音單體則繼續使用Polyglass振膜。這是Focal的獨門技術,是在傳統紙盆上加上一層超細玻璃纖維。優點就是保留了紙盆阻尼特性佳的優點,又提升了振膜的剛性,因此細節表現更好。更棒的是,全部的Chorus 700系列還是在在法國Focal原廠製造,因此你能夠用實惠的價格,買到歐洲製品。在塗裝方面,Chorus 700系列在原有的玫瑰木與胡桃木之外,增加了一款新塗裝,兩側是黑色亮面烤漆,頂板與面板則是仿皮革質地,看起來極具奢華風。目前Chorus 700系列的型號已相當齊全,包括705與706兩款2單體2音路的書架喇叭、714與716兩款3單體2.5音路的落地喇叭、4單體3音路的726落地、3單體2音路的CC 700中置,以及SR700環繞喇叭,絕對可以滿足各種用家的需要。
Focal Chorus 726
系統規格 3音路低音反射孔 
單體規格
2x6.5"Polyglass低音
1x6.5"Polyglass中低音
1" TNV2鋁鎂凹盆式高音(Poron懸吊支架)
-----------------------------------------------------
頻率響應 49Hz-28kHz 
低頻切點 39Hz(-6dB) 
靈敏度 91.5dB (2,83V/1 m) 
輸入阻抗 8Ω 
最小阻抗 2.9Ω 
承受功率 50-250W 
分頻點 300/3000Hz 
-----------------------------------------------------
尺寸 990 x 222x 343mm 
重量 23.5Kg 
Specifications
Made In France
Type 3-way bass reflex floorstanding loudspeaker
Drivers Two 61/2" (16.5cm) Polyglass woofer
61/2" (16.5cm) Polyglass midrange
1" (25mm) TNV2 Al/Mg inverted dome tweeter
Frequency response (+/- 3dB) 49Hz - 28kHz
Low frequency point - 6dB 39Hz
Sensivity (2.83V / 1m) 91.5dB
Nom. impedance 8 Ohms
Minimum impedance 2.9 Ohms
Recommended amplifier power 40 - 250W
Crossover frequency 300Hz / 3000Hz
Dimensions (HxLxP) 382/2x83/4x131/2" (990x222x343mm)
Net weight 51.7lbs (23.5kg)
Interested please feel free to contact:

Peter  012-2536225

Fong   016-3098668



Business hour:

MONDAY - 10AM-7PM

TUESDAY - 10AM-7PM

WEDNESDAY - CLOSED(PASAR MALAM)

THURSDAY - 10AM-7PM

FRIDAY - 10AM-7PM

SATURDAY - 10AM-7PM

SUNDAY - 1PM-6PM

PUBLIC HOLIDAY - 1PM-6PM

Style Online Store 24Hous



location:

STYLE LASER AUDIO SDN BHD

No.148, Jalan Cerdas, Taman

Connaught, Cheras 56000 Kuala Lumpur

( NEXT TO ALLIANCE BANK )



We buy in your old items in CASH!!

Got something keep at home but seldom use or planning to upgrade?

Items that we buy:

BRANDED led tv

amplifier

speaker

cd player
Please Whatsapp the item photo to me and get the price immediately, once confirmed the deal, we will pick up your item from you and pay you in cash.


Please visit www.stylelaser.com.my to find out more products for sale at very special price..
Thanks for viewing.

stylelaser.com.my
Last edited by stylelaser.com.my on Tue Jul 03, 2018 9:47 am; edited 1 time in total (Reason for editing : ( SOLD ))

stylelaser.com.my

Dealer\Reseller\Trader\Service Provider





Number of posts

: 531


Age

: 41


Location

: Cheras


Registration date :

2018-01-20



---
Permissions in this forum:
You
cannot
reply to topics in this forum