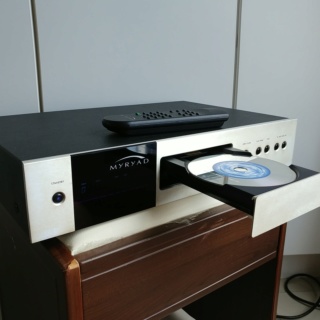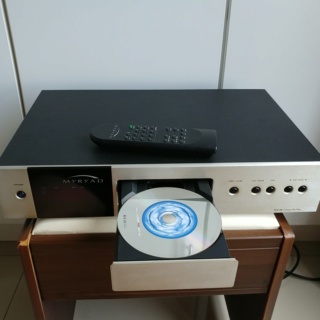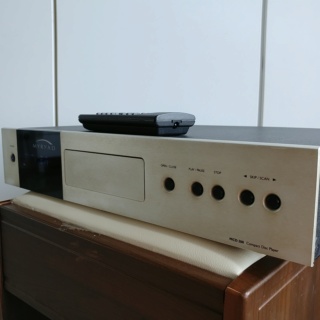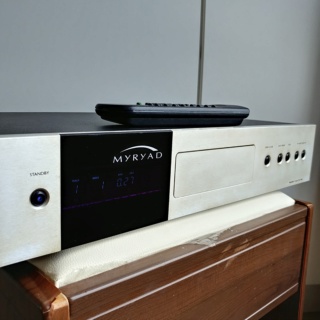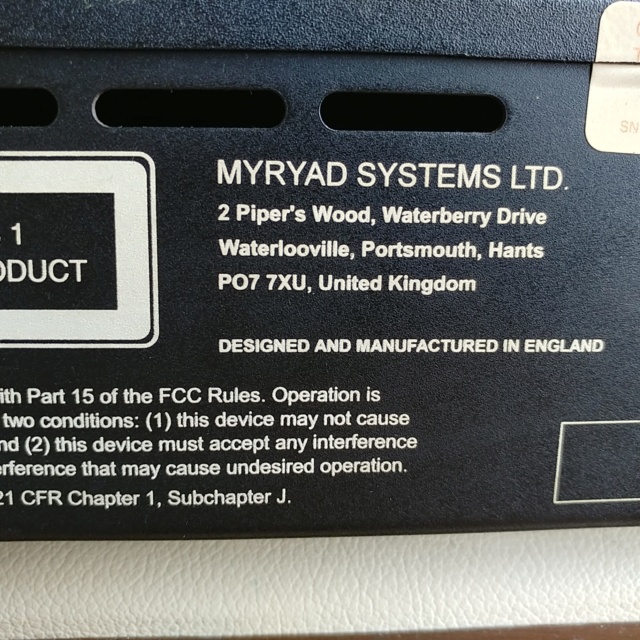 Made In England
Description :
Myryad is UK based manufacturer of high end audio. Primairly built in the UK as opposed to some UK gear built offshore.
The Myryad MCD 200 cd player was one of the genesis products from Myryad and was a part of the M series. Myryad Systems came together in the partnership of Chris Short, former owner and managing director of Mordaunt-Short, Chris Evans, a founder and director of Arcam, and David Evans, a veteran of NAD. The M Series components are their top of the line components, and put forth a luxury look and feel,that far surpass the competition. These are not entry level audio components. The Myryad MCD 200 is an exemplary redbook cd player which is solidly built to a very high standard. Though the Myryad is not in the league of a Classe, Krell or Mark Levinson cd players, it is nonetheless more than acceptable. Critical acclaim by the European audio journals put the Myryad MCD 200 on the map.
The Myryad MCD 200 exhibits a musical signature free from grain and edge. It has a wonderful midrange and one of the most well defined bass signatures heard at its price/performance range. Make no mistake this is a thoroughly modern single chassis cd player of exemplary build and sonic signature, that is not often found. The MCD 200 does not dissappoint and more than delivers its price/performance ratio. Its outright musicality is nothing short of mesmerizing and it is very hard not to get spoiled by the sonics of this player. If Classical or Jazz music is the user's preference, then he has found the cd player. If it is Rock music, the cd player may be a little laid back in overall presentation. As far as UK designed and built CD Players the MCD 200 is clearly a top five contender. The MCD 200 stands alone on its own merits and is a solid consideration for anyone seeking an exceptional redbook CD player.
Specifications :
Disc Capacity..................................120 or 80mm
Programming Capacity.....................24 tracks
Digital to Analogue Converter............24-bit dual differential outputs
Digital Filter.....................................128 times oversampled, linear phase
Analogue Filter.................................6 pole active
Frequency Response.......................20Hz - 20kHz +/-3dB
De-emphasis Error...........................20Hz - 20kHz +/-2dB
THD................................................0.0025% (1kHz)
Signal-To-Noise-Ratio.......................104dB (A-weighted)
Channel Separation..........................>100dB (20Hz-20kHz)
Output Level at 0dB..........................2.4Vrms
Output Impedance............................240 ohm
Digial Code Output...........................Coaxial 75 ohm to SPDIF standard
Dimensions(w x d x h)......................44 x 29 x 9.5 cm
Weight............................................6kg
Miscellaneous :
Remote...........................................Yes
Made In...........................................UK, England
MYRYAD是英国CD队伍中独树一帜,其产品获得良好的解析力,对音色的处理就更考功力。MYRYAD售后特约服务单位粤胜音响维修告知广大音响爱好者:喜欢英国声的朋友,美丽安CD是值得考虑产品。MYRYAD MCD 200的声音没有什么甜味,用冰清玉洁来形容可谓恰到好处。粤胜音响维修指出在听感上,MCD 200声底是圆润的,具有一种水灵灵的感觉。MYRYAD不是英国大牌,但美丽安产品相对同行业而比较其是追求精致典雅的外观及中性准确的声音,有自己的独特风格。


Price : RM 2350
Contact Simon ting 012-3612507
Last edited by HiFiLab on Wed Oct 17, 2018 10:18 am; edited 3 times in total

HiFiLab

Dealer\Reseller\Trader\Service Provider





Number of posts

: 2508


Age

: 40


Location

: klang


Registration date :

2011-03-12

Character sheet
Source(s):
Amplification:
Speakers:



HiFiLab

Dealer\Reseller\Trader\Service Provider





Number of posts

: 2508


Age

: 40


Location

: klang


Registration date :

2011-03-12

Character sheet
Source(s):
Amplification:
Speakers:



HiFiLab

Dealer\Reseller\Trader\Service Provider





Number of posts

: 2508


Age

: 40


Location

: klang


Registration date :

2011-03-12

Character sheet
Source(s):
Amplification:
Speakers:



HiFiLab

Dealer\Reseller\Trader\Service Provider





Number of posts

: 2508


Age

: 40


Location

: klang


Registration date :

2011-03-12

Character sheet
Source(s):
Amplification:
Speakers:



HiFiLab

Dealer\Reseller\Trader\Service Provider





Number of posts

: 2508


Age

: 40


Location

: klang


Registration date :

2011-03-12

Character sheet
Source(s):
Amplification:
Speakers:


---
Permissions in this forum:
You
cannot
reply to topics in this forum