NAIM Audio system (Display Set)
Following Naim's recommended system configuration, need not much description this time...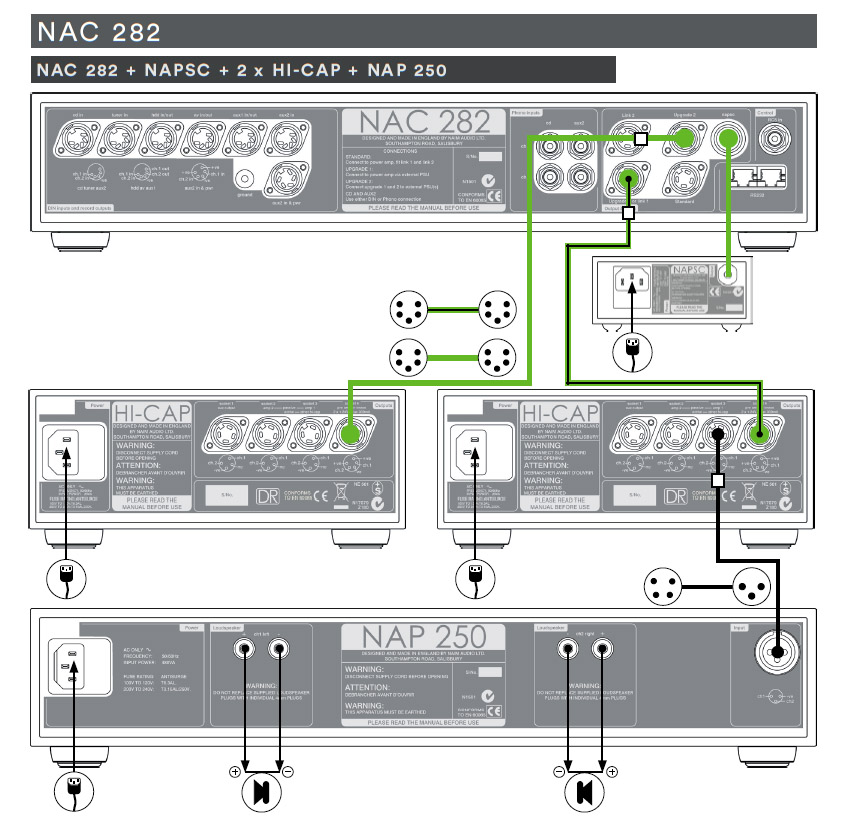 i) Naim NAC 282 Preamplifier, with NAPSC


Support for both DIN and RCA inputs to facilitate connection into a wider range of systems

Silent microprocessor control that sleeps during listening

Precision rotary potentiometers with precious metal wipers

AV bypass mode for simple connection to an existing AV system

Powered input for use with StageLine or SuperLine phono stages

The NAPSC independently powers the NAC 282's digital and control circuits, leaving its audio circuits to either the power supply of a NAC 155 XS or NAP power amplifier, or to the standalone power supplies.
The result is even greater transparency and superior musicality plus, of course, all the flexibility you'd expect from the preamplifiers.
Display set, like new condition,
view to believe.
Comes with remote control, user manual and cable (No Box)
S/N: 236xxx
RM14,000
---
ii) Naim HiCap-2 Power Supply (Non-DR)
A compact power supply partner for almost all of the Naim preamplifiers plus phono stages and active crossover components, its large toroidal transformer and generous, high-quality smoothing capacitors ensure excellent performance and value.
NAC 282 preamplifier performs even better performance by adding an additional, second HiCap to their system.
In short, HiCap's talent for maximising your system's musicality should not be underestimated.
Display set, like new condition,
view to believe.
Comes with cable (No Box)
S/N: 236xxx
RM3200, 2 units LAST unit available.
---
iii) Naim NAP 250-2 Stereo Power Amplifier
NAP 250 uses a new circuit design with improved earthing arrangements, built on a very high quality, anti-resonance main audio circuit board.
The NAP 250 uses the same 007 transistors that were custom-designed for the NAP 500.
These outstanding components each provide up to 80 amps and 350 Watts, negating the need to use parallel pairs of transistors (which always have a negative effect on sound). Additional 007 transistors are used in the fully regulated power supply, ensuring the very best performance.
A new top-quality transformer is used providing the ability to deliver more than 15 Amps and swing a massive 400VA on transients. The NAP 250 is stable into any load and able to drive a 2-Ohm load for long periods of time.
The newest Naim NAP 250 delivers speed, power and agility providing exceptional detail and musicality in a package built to swing for another 25 years.
Display set, like new condition,
view to believe.
Comes with cable (No Box)
S/N: 244xxx
RM10500
---
iv) Naim CDX-2 CD Player
The latest incarnation, CDX2 has incorporated some useful new enhancements, including a switchable digital output and extra low-noise clock regulation.
It is different from the motorised assemblies used by other players, but undoubtedly better, with superior isolation and resistance to resonance.


Suspended transport with low-mass magnetic clamping mechanism to resist resonance

Anti-vibration resonance-controlled feet plus cast and extruded anti-magnetic chassis to further counter vibration

Fully double-regulated power supply with 20 low-noise, regulated voltages on the main circuit board, plus separate supplies on the servo control and display boards

User-selectable DIN and RCA analogue outputs, plus digital output (only functions when analogue outputs are disabled)

Display set, like new condition,
view to believe.
Comes with cable, remote, user manual (No Box)
S/N: 249xxx
RM13500
---
v) Naim Audio NDX Network Player
The world's first audiophile network music player, the NDX remains an exceptional streaming solution, surpassed only by the NDS.
Its performance-oriented design retains the single-component convenience of the ND5 XS, but includes a significantly improved power supply with a custom-designed toroidal transformer plus four separate windings for its digital, DSP, clock and analogue output stages.
The full spectrum of Naim Audio's uniquely advanced digital signal handling and processing techniques is deployed in the NDX.


UPnP-enabled to allow streaming of audio files at up to 24bit/192kHz resolution from Naim Audio hard disk servers, network-attached storage (NAS) devices or any home computer

Supports a broad range of music formats: WAV, FLAC, DSD (single rate), Apple Lossless, AIFF, AAC, Windows Media-formatted files, Ogg Vorbis and MP3. Gapless playback on all lossless file formats and on most compressed music

Three 24bit/192kHz capable digital inputs (S/PDIF) to support optimum connection to external sources

Spotify Connect built-in to stream millions of songs from the world's most popular streaming service

Native support for TIDAL streaming service with free 90 day trial of lossless HiFi tier

Front-panel USB port for replay of MP3 player and USB-stored audio

vTuner 5* full-service internet radio

Optional DAB+/DAB/FM radio module

Multiroom & Party Mode compatible

iOS and Android Naim Audio app for intuitive control

Bluetooth connectivity with aptX codec for quality audio playback

New set in box
Complete set
S/N: 379xxx
RM14000
---
vi) Naim Power-Line Mains Cable (SOLD)

Power Cord, is the new stage in Naim's optimization process.
A smooth, stable, low-noise supply is critical, it's absolutely fundamental to performance.
---
vii) Naim Hi Line Interconnect DIN Cable
5 pin DIN to 5 pin DIN
The Hi-Line Air-PLUG (patented) is designed as a decoupling device to prevent vibrations from one product being transmitted, through the cable, to another product and to stop airborne vibrations picked up by the cable being transmitted to the products to which it is connected.
The cable section of the Hi-Line also benefited from a complete re-think. It had to be low capacitance, low resistance and flexible. It had to work superbly in DIN to DIN connections but it also had to perform when used in other configurations.
The cable, exclusive to Naim, is manufactured from twisted pairs of 80 Litz conductors surrounded by PTFE, Kapton and PTFE tape all then enclosed within a semi conductive shield to reduce static charges. This is then wrapped by two spiral wound copper shields and lapped PTFE tape. Two of these assemblies side by side are then wrapped in layers of PTFE tape and finally a rubber outer covering.
This gives a two-channel cable where the signal and RF grounds are held in a static position relative to each other negating any difference in field between them
Clean, good, 100% perfect working condition
No box
RM3300
---
viii) Siltech Classic Anniversary Model, 220i 5-Pin DIN Interconnect for Naim
Classic Anniversary Series
brings you ultra-low distortion, lack of coloration, untouched transients, rich details and a fantastic soundstage.
The Classic Anniversary Series
are developed to commemorate 25 years of Siltech and its persistent efforts for perfection.
It performs even better in terms of magnetic insulation and electrical shielding. Cutting-edge research in magnetic behaviour has led to truly silent cables. Siltech uses precision micro-engineering to achieve the quietest cables ever made. Electromagnetic inductance and radio frequency interference pose an ever-increasing problem in today's technology driven world full of transformers, cell phones, computers and other electronics.
This new Classic Anniversary Series
cables to be up to 10,000 times quieter than the most expensive, best-tested contenders.
Uses the unique G7 silver-gold conductors. This seventh generation silver-gold material reduces low-level distortion even further.
1M length
Less than a year, comes with box.
RM1000
Welcome for audition @ Subang Jaya ss14
*Credit cards accepted.
Contact 01 26116917
https://actsessory.com/pre-owned-used/
Last edited by actsessory on Sat Aug 18, 2018 11:56 am; edited 4 times in total
ii) HiCap left last unit,

vi) Power Line left last unit,

ix) CD5i sold
is the cdx2 still available?

salahu

New Member





Number of posts

: 4


Age

: 61


Location

: kuala lumpur


Registration date :

2014-06-15



PowerLine sold, others still available/
Why your CDX 2 looks different then the first picture?

wahlauyeh

Regular





Number of posts

: 89


Age

: 47


Location

: taman bayu


Registration date :

2012-11-09

Character sheet
Source(s): Pioneer
Amplification: Sony
Speakers: Technic


Thanks wah...lauyeh.
Guess it's the earlier batch/version.
Refer to real item picture as reference ya.
Similar topics
---
Permissions in this forum:
You
cannot
reply to topics in this forum