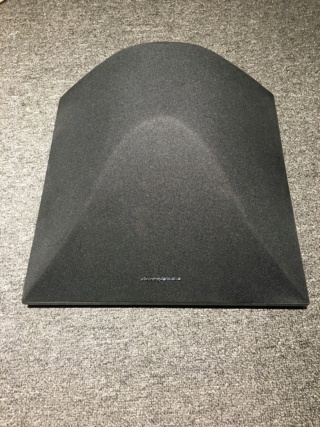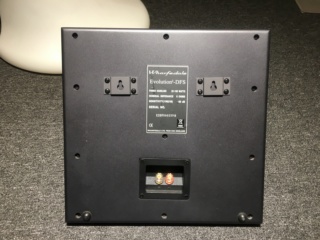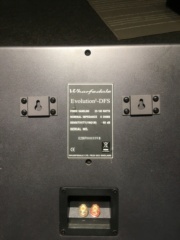 Wharfedale EVO2-DFS Surround Speaker(used)
The ideal surround speaker never calls attention to itself, either visually or sonically. A good surround speaker disappears, chameleon-like into the background, allowing the on-screen action to fully envelope the listener and when required delivering the fully engulfing experience which comes only from a well designed speaker. Tough task, luckily 

Wharfedale 

engineers created the 

Evo2-DFS

, a surround speaker which so seamlessly matches both the sound and performance of the front speakers they draw virtually no attention to themselves. Finished in a simple and light absorbing black matte cloth, the 

Evo2-DFS 

can be unobtrusively used for both side and surround duties.
Wharfedale 

has always been at the leading edge of development in acoustic science. New technologies and materials create new opportunities to push the boundaries of music reproduction. The loudspeaker is often regarded as the weakest link in any system, 

Wharfedale 

develops loudspeaker systems capable of extracting the best from any hi-fi - loudspeakers that will continue to improve as you upgrade the rest of your system. 

EVO2 

is the successor to the highly acclaimed evolution series of loudspeakers. Although the lineage is obvious, every internal component has been updated and improved to create a loudspeaker series which can justifiably be called state-of-the-art' in every respect.
Improvements to both high-frequency response and bass dynamic attack have been allied with an overall improvement in cohesion between all the drive units. The resulting performance is nothing short of breathtaking. Engineered to the very highest standards and finished using real wood veneers, 

Evo2 

will deliver a consistently high standard of reproduction for many years. Something generations of 

Wharfedale 

owners have grown to appreciate.
Evo2 Features:


•  Refined cones and surround materials for highly matched performance
•  Improved resin structure suppresses transverse waves on the cone reducing distortion and improving sound stage and imaging
•  Larger voice coils and magnet structures for higher dynamics and power handling
•  Cast aluminum heat sink / chamber for tweeter to improve power handling and lower Fs for midrange blending – smoothness
•  Silk Soft Dome tweeter for increased speed and bandwidth
•  Larger gauge OFC internal speaker cable for better electron transfer
•  Air core inductors on all mids and tweets for less saturation at high power for life like sound
•  Real wood veneer for supreme quality fit and finish
•  Large curvature and rigid internal bracing for rock solid performance
•  1" thick front baffle for excellent driver isolation and added rigidity
•  ¾" MDF based on Eucalyptus, very hard and dense natural wood
•  Plinths on all floor standing units for better cabinet to floor isolation



Materials and Performance


One of the most inert and resonance free enclosures of its type, every internal component in the 

Evo2 

has been improved and updated to enhance performance. The type of material used in each component of the speaker system plays a big part in the overall performance. 

Wharfedale's 

team of research engineers is constantly reviewing each and every material used to see if improvements can be made.
Wharfedale 

emphasizes four properties for their cone materials:


Ultra Light: 

Drivers must start and stop on a dime, creating huge dynamics with excellent resolution


Ultra Stiff: 

Eliminates distortions at all volume levels created by woofer "flex"


Ultra Damped: 

Eliminates cone resonance so the driver does not add its own "flavor" thus coloring the sound


Ultra Consistent: 

Ensures all drivers have the exact same performance characteristics, regardless of model

Kevlar is used for the mid-range and bass drivers. Woven into a three dimensional lattice, raw KEVLAR
is resin-impregnated to form a structure which is both stiff and light. This minimizes distortions of the cone even under extreme dynamics. A new resin has been developed which helps to suppress the transverse waves which ripple out from the centre of the cone on impulse and can lead to distortion. A new textile for the dome tweeter, which is faster and lighter than previous materials, means the capacity of wider bandwidth. Combined with an improved voice coil and stronger, shielded magnets, the result is a more open soundstage and improved imaging.
Wharfedale 

uses fully shielded magnet assemblies making them completely safe to use next to conventional televisions and monitors. High-gauss neodymium is used in the tweeter because of its exceptional field strength and compact size.
Build Quality




Evo2 

uses a curved cabinet design that has been inherited from its predecessor - although new production techniques mean that it is now stronger than ever. Heavily braced internal, using transverse, oblique and longitudinal beams, this cabinet has extremely low resonance, so remaining sonically neutral at all times.
The internal curves and an oblique brace mean there are no parallel sides within the cabinet, In conventional speakers, the parallel sides cause standing waves which add a 'drone' to the sound. The curves of the 

Evo2 

cabinets prevent these standing waves from forming and lead to a tight and tuneful bass - removing the 'single note' effect.
Wharfedale 

makes everything in-house, from the cabinet to the PCB's of the crossover, so they are able to ensure the quality of every single constituent part. For example, each bass and mid-range driver in the series uses and open-back cast alloy chassis optimized to its particular frequency requirements.
The attention to detail is complete: even to the extent of the gold plated, offset and shielded bi-wire terminals. Internal cables are all high-grade multi-strand oxygen-free copper. The tweeter plate, terminal plate and driver trim-rings are all cast alloy. Even the spikes are mounted using a clamping method which effectively decouples them from the cabinet - minimizing the energy transfer.
High Frequency Accuracy


A new tweeter with an aluminum voice coil has been developed for the 

Evo2

. With a wider bandwidth than the previous model, the new unit is capable of extracting the best from the latest high-resolution audio formats. Because of its improved thermal properties, the new tweeter is also capable of higher output. A cooling heat-sink has been added to ensure the tweeter can be driven hard, yet always remain within the optimum operating temperature. The maximum excursion of the tweeter had been increased, largely because of the improved control capabilities of the magnet assembly and voice coil. Acoustically this provides a distinct performance advantage - specifically producing better leading-edge detail and crisper, faster response.
The entire tweeter is then decoupled from the cabinet, housed in a cast alloy mounting plate which itself is curved to provide an optimum dispersion characteristic.
Crossover


Possibly the most radical overhaul of the original Evolution has been in the area of the crossover. In 2004, 

Wharfedale 

began to produce capacitors in-house - designs which meet the highest standards of audiophile performance yet which, when produced in-house, add nothing to the overall cost of the products. 

Wharfedale's 

philosophy on crossovers however, is consistent. Because every drive unit and cabinet is manufactured under one roof, every product is designed with perfect synergy. There is no need for complex electrical correction which could upset mid-range performance. Instead 

Wharfedale 

uses as simple a configuration as possible.
This philosophy ensures the signal path is clean and free from artifacts and is largely responsible for the cleanliness of the mid-range and wide, open soundstage 

Wharfedale 

products are famous for. To maximize the performance of the new capacitors in operation, they are partnered with high quality air-cored chokes and mounted on the PCB in a way to minimize magnetic interference between components. Furthermore, the bass and treble portions of the crossover are separated - again to further reduce the effects of magnetic interaction. The boards are tee-nut mounted onto wooden runners in the cabinet which ensures square placement and minimal vibration.
Conditions: 7/10 (USED)
Price: SOLD inclusive postage to West Malaysia
Postage Method: Citylink Courier or Poslaju
Whatsapp: Choy 012-5685484
Last edited by choyaudiovisual on Tue Jan 01, 2019 10:14 pm; edited 1 time in total

choyaudiovisual

Frequent Contributor





Number of posts

: 279


Age

: 37


Location

: Perak


Registration date :

2012-07-11

Character sheet
Source(s):
Amplification:
Speakers:



choyaudiovisual

Frequent Contributor





Number of posts

: 279


Age

: 37


Location

: Perak


Registration date :

2012-07-11

Character sheet
Source(s):
Amplification:
Speakers:



choyaudiovisual

Frequent Contributor





Number of posts

: 279


Age

: 37


Location

: Perak


Registration date :

2012-07-11

Character sheet
Source(s):
Amplification:
Speakers:


---
Permissions in this forum:
You
cannot
reply to topics in this forum