PS Audio HCA-2 Hybrid Class A Stereo Power Amplifier, USA
PS Audio states that the sound of the HCA-2 combines the best of both tubes and solid-state.
The output transistors are MOSFETs, two pairs per channel.
The HCA-2 is
fully balanced
from input to output.
A pair of WBT five-way speaker binding posts, of very high quality.
Both balanced XLR and single-ended RCA input jacks are provided.
AC input is via a built-in high-current Ultimate Outlet, which PS Audio sells separately for
USD399
.
2x RJ45 jacks for connecting the HCA-2 to other PSA components, such as the forthcoming 8.0 preamplifier.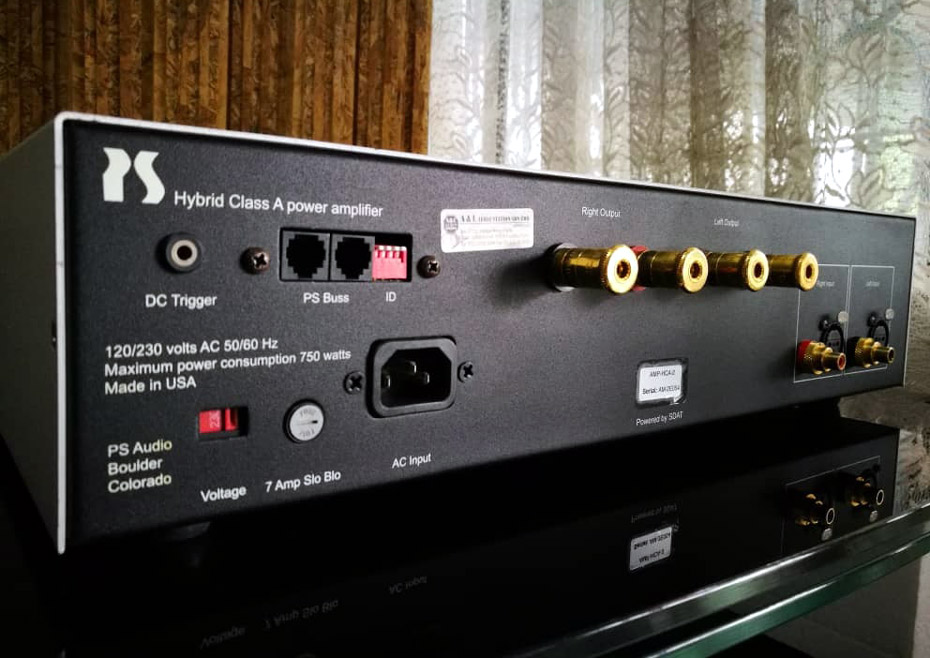 PS Audio uses a large, custom-wound toroidal transformer that was designed for a typical class-A/B 150Wpc amplifier. PS Audio claims that this is one of the reasons why the HCA-2 sounds "so big, so alive."
PS Audio's Super Digital Amplification Technology to deliver 150Wpc into 8 ohms; 225Wpc into 4 ohms, and 275Wpc into 2 ohms
95% efficient and produces almost no heat.
The HCA-2 also has a DC trigger for preamp or A/V use.
Grounded AC socket (a must for balanced designs)
Made in USA
"The amp seemed both natural and neutral. Tubelike? Okay. I heard no harshness or edginess.
The sound was uncommonly smooth. It was also fast."
The HCA-2 did not sound bass-deficient—far from it. But it also didn't sound bass-heavy.
The amp just let go of the notes. This quality of bass, coupled with the extraordinary smoothness through the midrange and treble, made for a bracing, crisply articulated sound.
The HCA-2 was "tubelike" in that it managed to avoid sterility. It did not sound neutral to the point of being overly lean and harmonically thin. The sound wasn't lean like Jack Sprat, or fat like Sprat's wife. It was nicely balanced in between.
If you're in the market for a power amplifier at any price, I urge you to give it a listen, even if you're a big fan of tubes. Even if you're thinking of spending much more money.
I bet the Classic 250 will sound different—more authoritative, perhaps, more weighty—but I doubt it will sound more musical than the HCA-2.—
Sam Tellig (www.stereophile.com)
When faced with the choice between analog or digital sources, the majority of the time I'll choose analog. Wow, was I pleasantly surprised by the HCA-2, which did not sound anything like what I have come to recognize as digital. ...
Tom Lyle (www.soundstage.com)
The sound is satin smooth. Warm and fuzzy.
The HCA-2 is so efficient, it is rated into a full 2 Ohms. I tested this idea by using the HCA-2 with planar speakers, which are a difficult load for amplifiers.
The HCA-2 performed flawlessly. A big power transformer in the HCA-2 may be the reason. They can handle reactive load problems.
The drummer goes along each of the tom toms, and I could see them follow across the stage perfectly. There was no gap in the middle. Plenty of detail. Plenty of staging.
It has the sound of a fine tube amplifier, but without all the heat, and certainly with more power. It seemed capable of driving tough speakers. I cannot recommend it more highly.
- John E. Johnson, Jr. - (https://hometheaterhifi.com)
An amp with gobs of detail, smooth highs, most natural mids, slamming bass, and most of all accuracy
The HCA-2 performs like one that costs much, much more. This is a very unique component, one I predict that will be much imitated. One of the very best amplifiers I've heard at any price.
John Zurek (https://positive-feedback.com)
Dimensions: W432 x H114 x D356 mm
Weight  : 15.0kg
Great clean condition, flawlessly working.
RM3880
Welcome for audition.
*Credit cards accepted.
Subang Jaya ss14
Contact O12 61169 17
Similar topics
---
Permissions in this forum:
You
cannot
reply to topics in this forum