Triode Wire Labs High Power Digital American Power Cord US Plug 5 Feet (1 mth Old) (Used)
Condition:  1 Month Old, Mint with Packaging (9/10)
RM 2,800
Contact: Cheah, 0122010263
Reason For Sale: Downsizing to fewer components so have an extra power cord. Rarely available used, especially not in Malaysia
A very musical and analogue sounding power cord. Compared to the Cardas Golden Reference, I have also listed, it is more extended at both extremes, with sparkling, sweet highs and more bottom end slam, all the while maintaining a full midrange.
Pics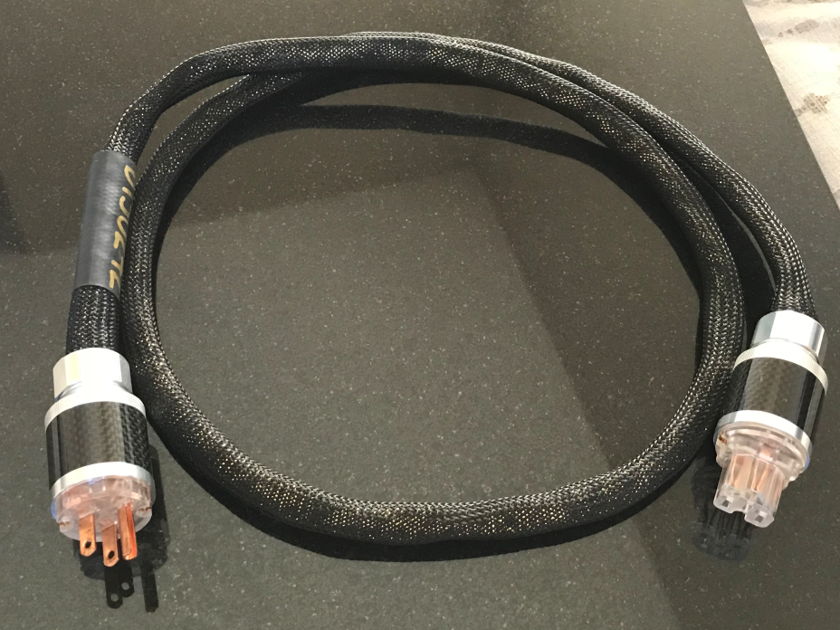 Details:
The newer "High Power (HP) Digital American" power cable is designed for higher power consuming electronics, such as amplifiers, power conditioners, regenerators and power bars / strips. It provides great dynamic contrasts with slam & authority!
Designed for all digital and Class D devices, it produces the most natural, organic balanced reproduction with perfect PRAT!
Reduces the high frequency noise associated with digital gear, both in audio & video.
Slightly different dielectric utilized as compared to the TWL "Plus" series of power cables.
Both mains and C13 IEC employ highly conductive alloy copper contact surfaces that are hand polished.
Custom CNC-milled aluminum / carbon fiber shell connector bodies contribute to the high performance. Designed in the USA by Ted Paisley (Wavelength Audio / Video), these connector bodies provide a very solid foundation that damps mechanical vibration and isolates electrically as well. Manufactured by Furutech's OEM contract manufacturer
Utilizes conductive gold mylar as well as patented conductive carbonized external sleeving to assist in maintaining clean signals as well as providing interference & RF filtering.
Reviews
Stereophile, Gramophone Dreams #23 by Herb Reichert
With the Triode Wire cord, Schiit's new Yggdrasil Analog 2 DAC sounded more transparent and felt more relaxed. I really liked that.
The same thing happened with the Mytek Brooklyn and the Triode Wire cord: The Mytek's sound became simultaneously more solid and relaxed. Its best traits were enhanced.
I'd raved about the literalness of [the Spring DAC's] transparency, how many subtle textural and dynamic intricacies it revealed, how much digital artificiality it eliminated, how "un-mechanical" it sounded. When I finally played it with the cheap black cord, I realized how much the Triode Wire Labs cord was supercharging the Spring's inherent virtues.
Positive Feedback
the Digital works splendidly on digital, but it also works solidly on analog taking the Sutherland Duo to a place that makes our analog system really sing with slam and bam, like that of the digital system.
Clean and articulate with a similar presence of the oomph and warmth along with the intrinsic quality of musicality and fun), simply put… they are quite stunningly good.
A no brainer for anyone looking for music at an affordable price—regardless of the expectation that the price brings to the table. The TWL line of cables are what I would consider references on so many levels. Again, Highly Recommended.
https://positive-feedback.com/audio-discourse/audio-ramblings-triode-wire-labs-cables/
Positive Feedback
Bottom line, this wire is the bomb. Rarely have I heard such a wonderful combination of warmth, texture and dynamics. Bass performance was as deep and muscular as anything else that I have experienced in my listening room. Mids were absolutely delicious with plenty of liquidity and seduction. Highs were well extended with considerable speed and agility.
There was an urgency and flow to the music that exploded with a life like presence. Soundstage was spot on—never truncated or exaggerated. Imaging, spatial cues, and ambiance continued to surprise and delight even on the most familiar recordings.
There was something particularly addictive about the midrange and bass. Call it a sense of proper weight or timbral purity or just plain magic, but I was quickly hooked.
On the first night after a week of burn in, my wife walked into the listening room while the music was playing. Her eyebrows, reading glasses and chin lowered in unison as she peeped over the glasses and looked straight at me, then looked at the speakers and then looked at me again. She smiled from ear to ear and was soon sitting next to me without saying a word. She barely moved the rest of the night. My thoughts were validated. I knew then that something was different about these cables.
https://positive-feedback.com/reviews/hardware-reviews/triode-wire-labs-cables/
Mono & Stereo
This powercord combines all the desirable traits a true music lover seeks and appreciates most: a very immediate and open sound with proper harmonic structure, a balanced frequency response and top to bottom coherency that serves a highly organic sonic presentation that is very dynamic and alive sounding - on top of it all. The resolution across the whole spectrum was very impressive and what is more important: it served the musical message in a most convincing manner.
http://www.monoandstereo.com/2015/10/triode-wire-labs-powercords-review.html

mikey8811

Frequent Contributor





Number of posts

: 1390


Age

: 49


Location

: Kuala Lumpur


Registration date :

2010-01-21




mikey8811

Frequent Contributor





Number of posts

: 1390


Age

: 49


Location

: Kuala Lumpur


Registration date :

2010-01-21




mikey8811

Frequent Contributor





Number of posts

: 1390


Age

: 49


Location

: Kuala Lumpur


Registration date :

2010-01-21




mikey8811

Frequent Contributor





Number of posts

: 1390


Age

: 49


Location

: Kuala Lumpur


Registration date :

2010-01-21



Similar topics
---
Permissions in this forum:
You
cannot
reply to topics in this forum