Item: B&W LCR600 S3 Centre Speaker
Condition: 8/10
Price: RM1800
Contact: 012-3816611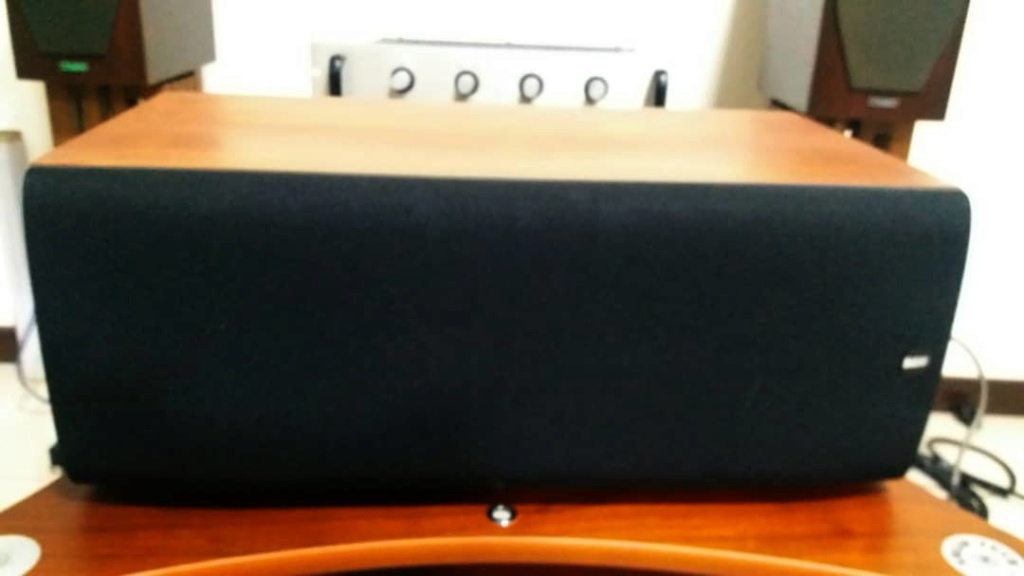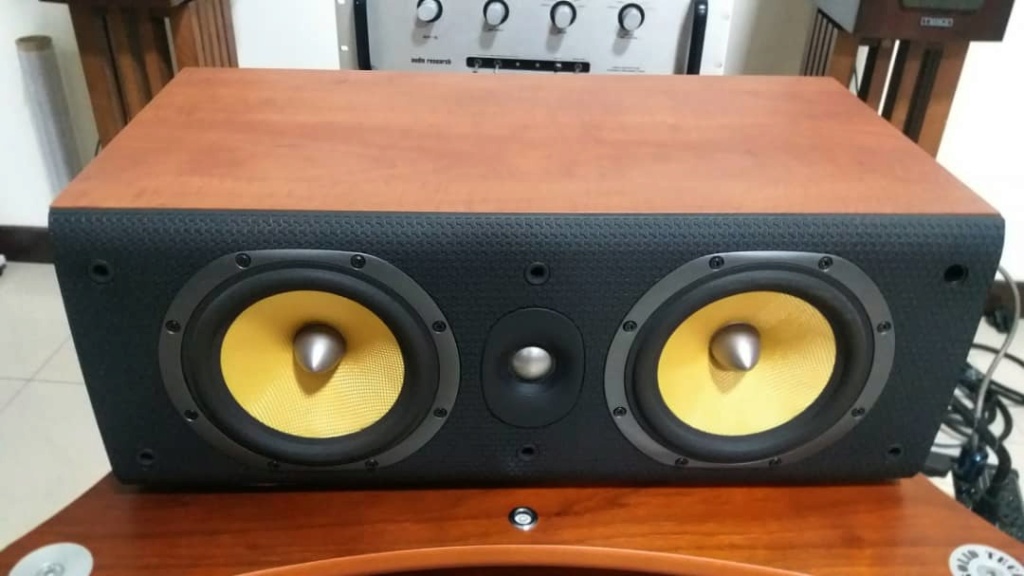 **********************************************
Item: PMC TB2MCi Center Speaker

Condition: New Old Stock (NOS). Item was in sealed original box. Opened for checking and take picture (Please refer below pictures)

Colour/Finish: Walnut

Price: RM3500 RM2900 or swap/topup

Contact: 012-3816611



OVERVIEW
The PMC TB2M-Ci Centre Speaker is based on the PMC TB2i Monitor Speakers. With the latest series upgrades the PMC TB2MCi Centre Speaker pushes the boundaries of what can be achieved from a small monitor. No other compact centre channel has the ability to stun the listener with such deep controlled bass, huge sound staging and dynamics, which would normally be the preserve of a speaker, twice its size.
With its new PMC designed 6 1/2 inch bass unit it allows for higher volume levels, increased bass extension and dynamics, making it suited to both large and small listening rooms. It has the same tonal balance and wide dispersion characteristics, as with all PMC designs, providing a room filling audio picture outstanding for both stereo and surround configurations.
A system comprising of PMC TB2M-Ci Centre Speaker plus PMC TB2i Speakers teamed with the TLE1 active subwoofer provides a spectacular hemispherical sound image, where sense of space, clarity and the depth of bass is truly breathtaking.
The proof of the PMC TB2MCi Centre Speaker 's ability to relay the true essence of the music is found not only in its Hi-Fi awards but also in its various professional guises, where it is relied upon by leading studios and broadcasters such as the BBC, BSkyB®, Metropolis Studios, Fluid Mastering, and many more worldwide.
The combination of size, ease of drive and performance has made the PMC TB2MCi Centre Speakers a favourite amongst not only audiophile but premier broadcasters such as the BBC TV & radio, ITV, BSkyB® & Formula One racing. The PMC TB2MCi Centre Speakers resolves information as a perfect professional monitor should and presents it with grip and speed. In short, they 'rock'.
FEATURES
– PMC ATL
 (Advanced Transmission Line) with 3 folds.
– Phenomenal bass response down to 40Hz.
– PMC/SEAS
, 27mm SONOLEX
 soft dome tweeter, ferro fluid cooled.
– PMC designed 170mm Doped LF driver with cast magnesium chassis.
– Suitable for bi-wiring or bi-amping.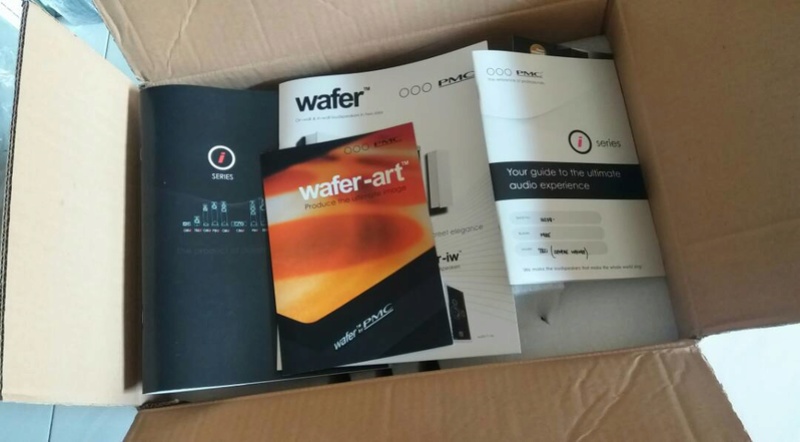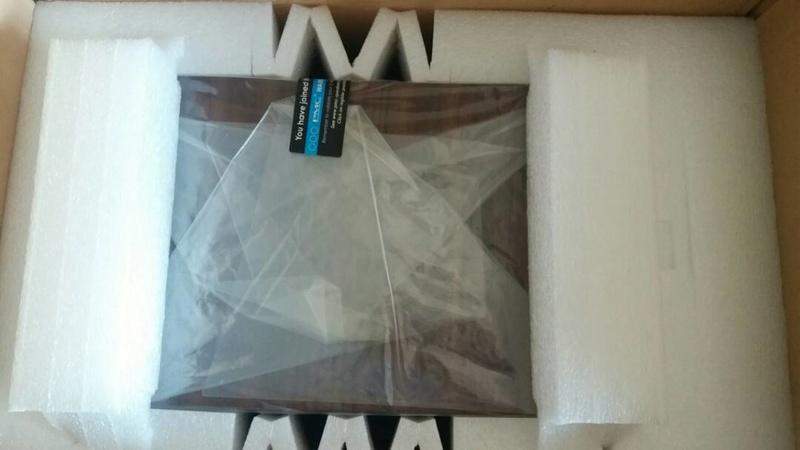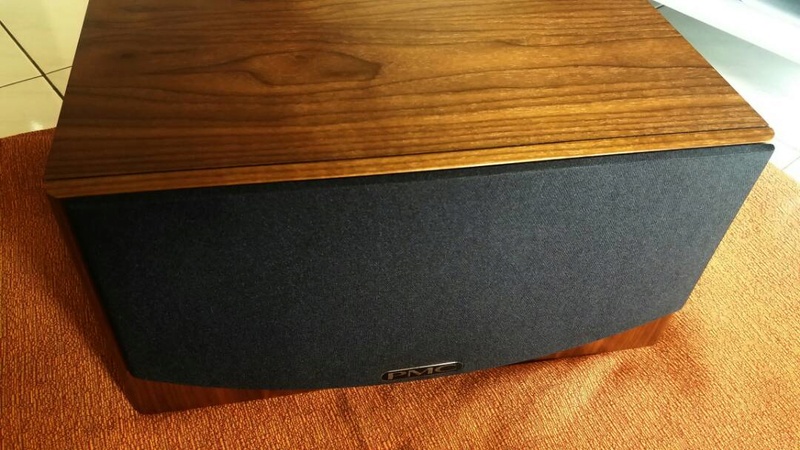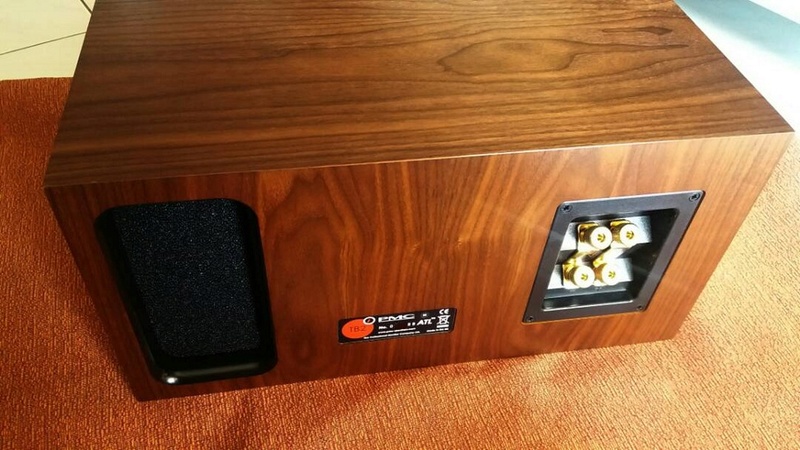 https://www.hifix.co.uk/pmc-tb2mci-center-speaker
[url=https://pmc-speakers.com/sites/default/files/attachments/PMC iSeries TB2i Data Sheet.pdf][url=https://pmc-speakers.com/sites/default/files/attachments/PMC iSeries TB2i Data Sheet.pdf[/url]][url=https://pmc-speakers.com/sites/default/files/attachments/PMC iSeries TB2i Data Sheet.pdf[/url][/url]][url=https://pmc-speakers.com/sites/default/files/attachments/PMC iSeries TB2i Data Sheet.pdf[/url][/url][/url]]https://pmc-speakers.com/sites/default/files/attachments/PMC%20iSeries%20TB2i%20Data%20Sheet.pdf[/url][/url][/url][/url]
http://audioekspert.ee/en/studio-monitors/542-pmc-loudspeakers-tb2m-ci-center-each.html
http://www.benl.ebay.be/itm/PMC-TB2M-Ci-Centre-Speaker-Ex-Display-/111365253621
Item: Xavian Scena XN Centre Speaker

Condition: 8/10. Item in very good condition. 

Price: RM1600 or swap/topup. New was RM5500

Contact: 012-3816611

Description:

An "evergreen" for classic home cinema systems. Great care for sound reproduction on the whole spectrum up to 40 khz. Ideal for systems based on mia and duettos. Compact size make the installation particularly easy. Scena is available also in the special black veneer "nero". Drivers are not magnetically shielded. technical specification: mid-bass frequency unit: 2x149 mm vifa-peerless premium line, paper membrane high frequency unit: 25 mm vifa/scan-speak, treated fabric soft dome, wide surround system type: 2,5 way damped bass-reflex. cabinet: 22 mm mdf handly crafted. frequency response: ( -3 db on reference axis ): 55 - 40000 hz connection: 1 pair of singly mounted xavian binding posts nominal impedance: 6 ohm crossover frequency: 3000 hz sensitivity ( 2,83v / 1m ): 87 db recommended power amplification: 30 - 120 w dimensions (hxwxd): 180 x 450 x 270 mm net weight (1 unit): 9,1 kg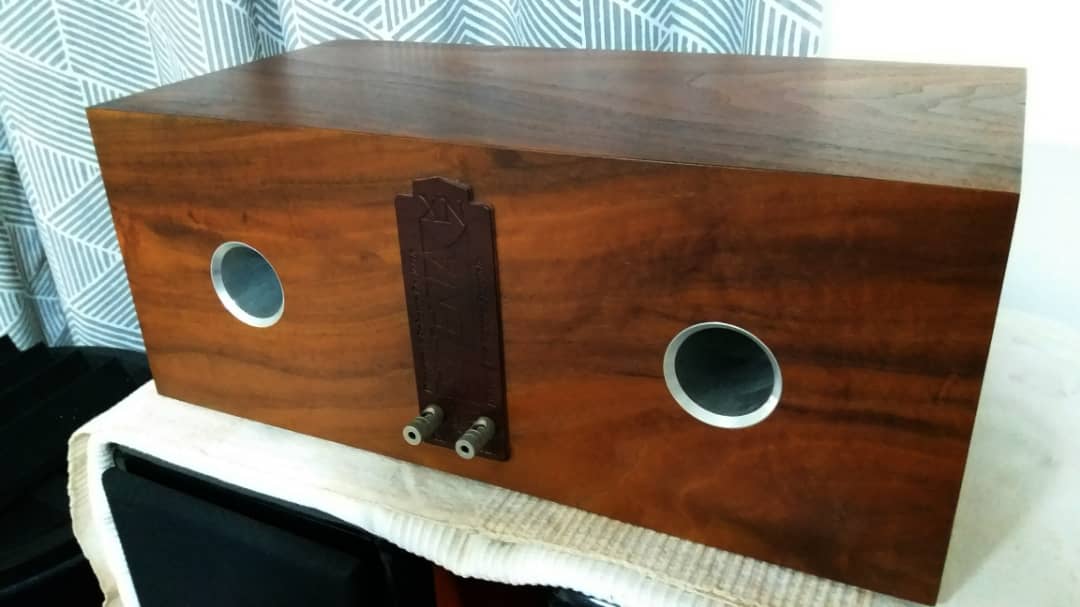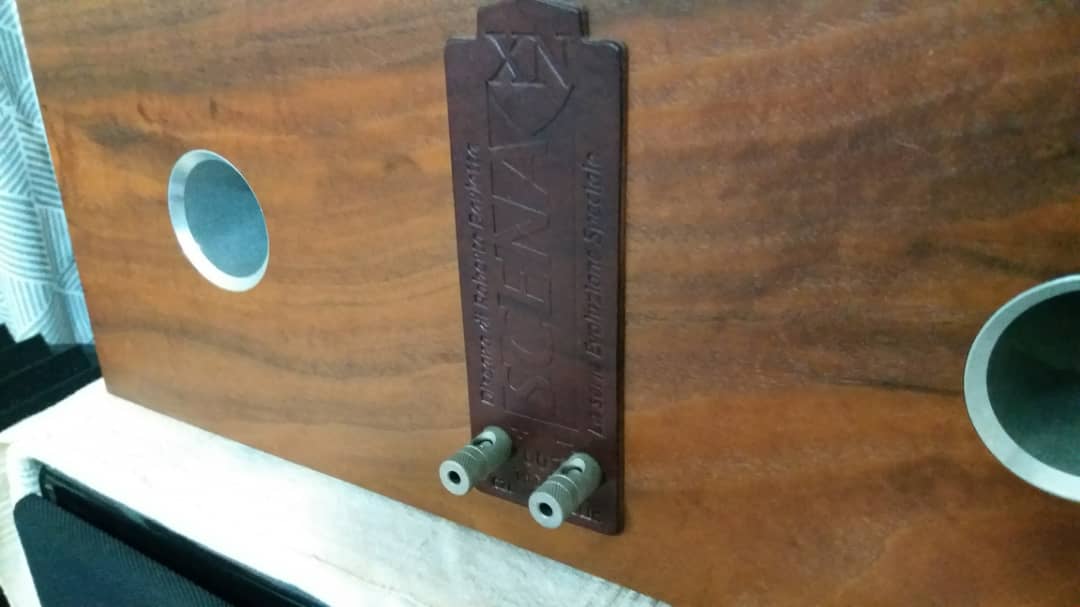 SEE ALL MY ITEMS HERE:
http://www.hifi4sale.net/st/raymond88
Thanks for viewing
******************************************
Item: Harbeth HL Compact 7ES-3 Loudspeaker Tiger Ebony Finish
Condition: 8.5/10. Item is in PRISTINE condition. Comes with the original boxes and packaging, manual and certificate. 
Price: RM8500 for speakers including the speaker stands.
Contact: 012-3816611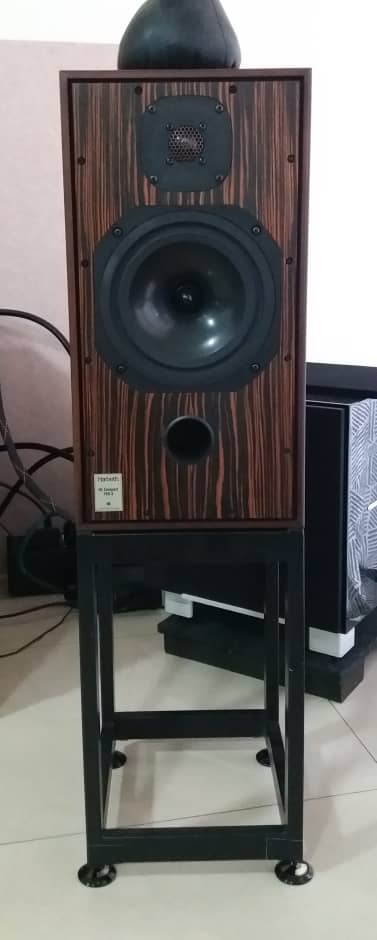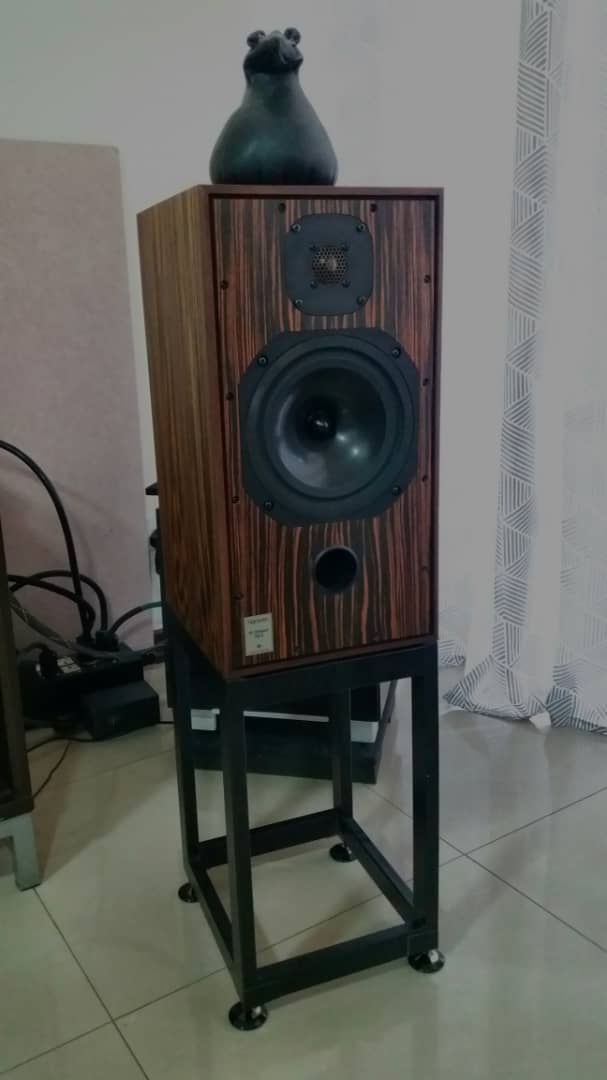 *************************************************
Item: Wilson Benesch Square 2 Floorstand Speakers with Burr Walnut Gloss Finishing

Condition: 8.5/10. Item in excellent condition. Comes complete with original box, manual and tool.

Price: RM7800 or swap/topup

Contact: 012-3816611

[size=22]WILSON BENESCH SQUARE 2 FLOOR STANDING LOUDSPEAKER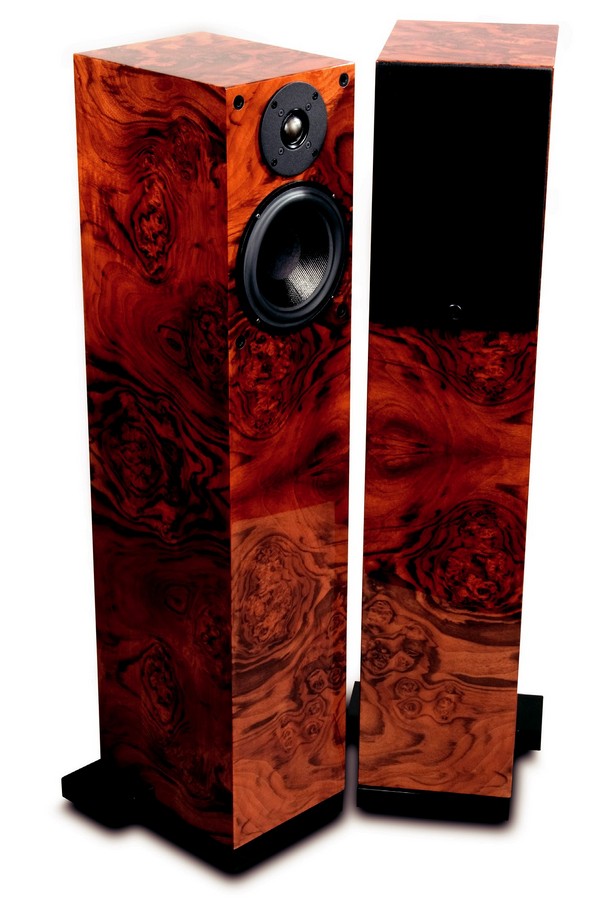 The tweeter enjoys the benefit of its own chamber, as in the A.C.T. This detail improves the response of the tweeter, whilst also protecting the sensitive crossover components from the energy of the main driver. The chamber itself is of course a strong part of the cabinet, being a small enclosed structure. As in all Wilson Benesch designs, the bass driver is precisely tuned, to provide a natural low frequency roll off, that is supported by the precisely vented port at the bottom of the cabinet.
All the Square designs benefit from the Wilson Benesch Tactic drive unit, crossover components, internal wiring and terminal provision. It follows that the character of the Square two, is very similar to the more exotic siblings in the Wilson Benesch marque. Transparent, free of boxy characteristics, fast and accurate.
The New Square Two is a 2-way, floorstanding loudspeaker. The beautifully handcrafted cabinet is extended to give the Square Two a larger air volume to provide more authority and presence.
The latest incarnation of the Square Two sees important developments over it's predecessor. New wood veneer options sourced and finished in the UK reside beneath the new low profile grill, which is laser cut from two sheets of steel and finished with turned metal links, offering the lowest defraction of any grill.
Like all floor standing designs, cabinet noise becomes more problematic when the cabinet surface area increases, this must be managed and controlled carefully. In the Square Two a multitude of new technologies counter the problem to defeat cabinet resonance before it begins.
[/size]
We've only heard a handful of speakers that come close to the Square Two's almost supernatural ability to respond to the leading edge of notes
[size][size]
What HiFi Magazine, 2007, Original Square Two
Visible at the rear Impact Zone of the cabinet, Assisted Bass Radiators, developed by Wilson Benesch, absorb the energy from the powerful Tactic Drive Units and dissipates it as heat, significantly reducing cabinet noise.
[/size][/size]
Perfectly manufactured, beautifully designed, integrating very high quality transducers, the Wilson Benesch Square Two speakers suit perfectly any home interior. They deliver a musical message with a surprisingly extended bass presentation and have the ability to be adapted to the tastes of the listener by simply altering their position…
[size][size]
Patrice Philippe, Haute Fidelite, France, 2013
Internally, the carbon composite technologies that are used in the Odyssey Range have been added to the Square Series in the form of internal bracing. High and Medium mass alloy pads, add critical mass damping to the Square Two cabinet panels. These measures reduce the noise floor, and allow the listener to hear the subtleties of the high performance drive units, all of which come from the same shelf as the highly acclaimed, award winning Odyssey Series.
2 way, floor standing speaker 
Drivers: 1 x 25mm (1 ") Wilson Benesch specification soft dome tweeter 
1 x 170mm (7") Wilson Benesch Tactic I mid / bass drive unit 
2 bass 
ports with an Assisted Bass Radiator Spinner Cabinet reinforced with carbon frame 
Impedance : 6Ω Nominal / 4Ω minimal 
Efficiency: 87dB 
Frequency range: 42Hz - 24kHz 
Crossover: 5kHz 
Recommended amplifier power: 100 W 
Dimensions: H 975mm x W 200mm x D 255mm 
Weight: 18.5kg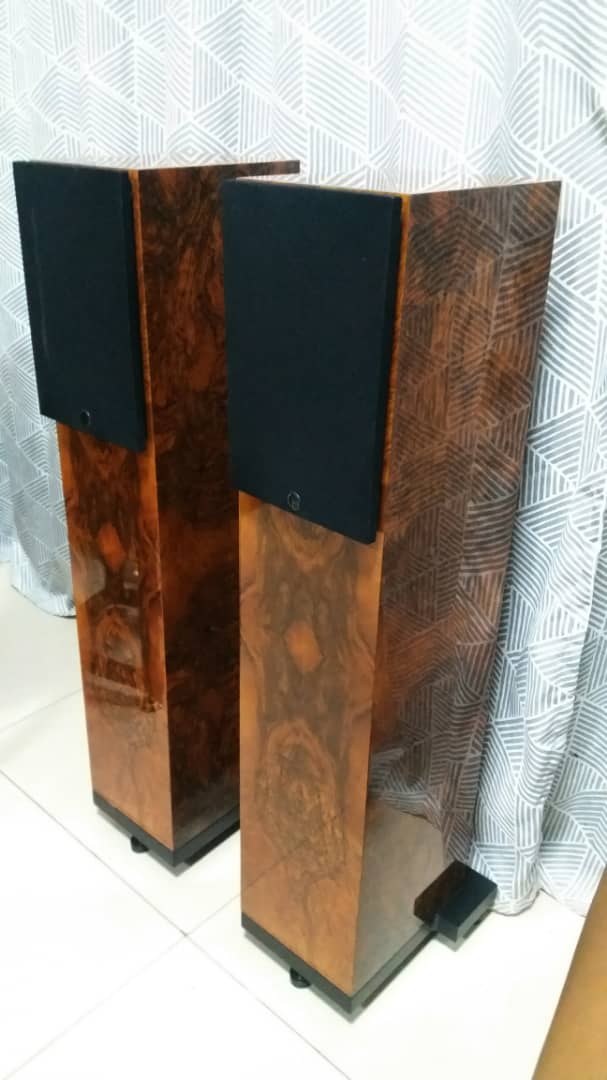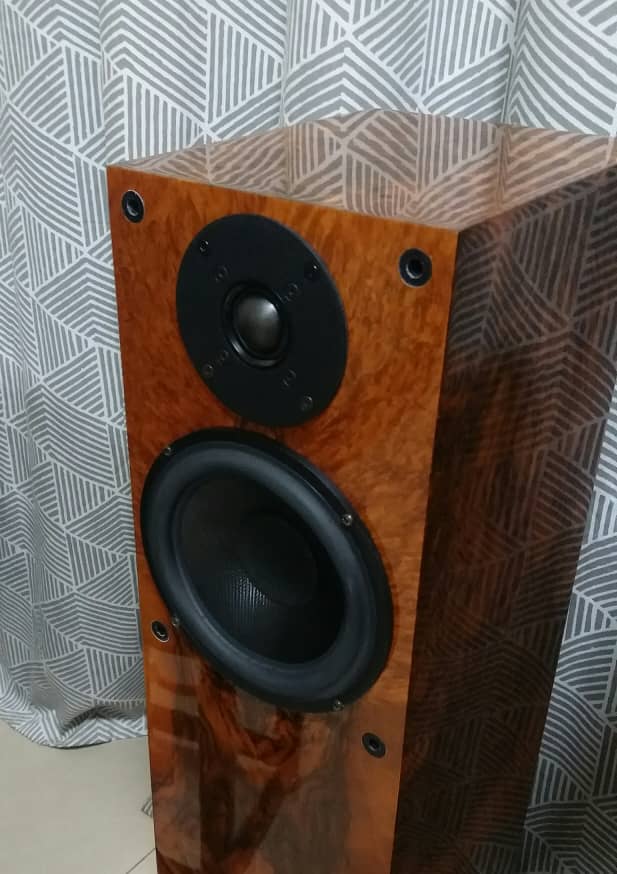 Websites:
https://www.whathifi.com/wilson-benesch/square-two/review
http://wilson-benesch.com/square-two-floor-standing-loudspeaker/
https://www.melbournehifi.com.au/products/wilson-benesch-square-2-floor-standing-loudspeaker
https://hi-fi.com.pl/kolumny-testy-lista/923-wilson-benesch-square-two.html
http://www.realfineaudio.nl/producten/wilson-benesch-square-2/
SEE ALL MY ITEMS HERE:
http://www.hifi4sale.net/st/raymond88
Thanks for viewing[/size][/size]
Last edited by raymond88 on Tue Oct 30, 2018 10:41 pm; edited 4 times in total
Similar topics
---
Permissions in this forum:
You
cannot
reply to topics in this forum