Item: AMC 2445 Power Amplifier
Condition: Item in very good working condition. In very good physical condition as well. Comes with original box.
This amplifier is designed to be used as either a traditional 2 channel or 4 channel stereo mode. 
Its mid-range has the same warm overtones as the NAD amps but has a brighter high and a tighter bass. Individual level controls on the back allows for volume control of each channel
Price:
sold
Contact: 012-3816611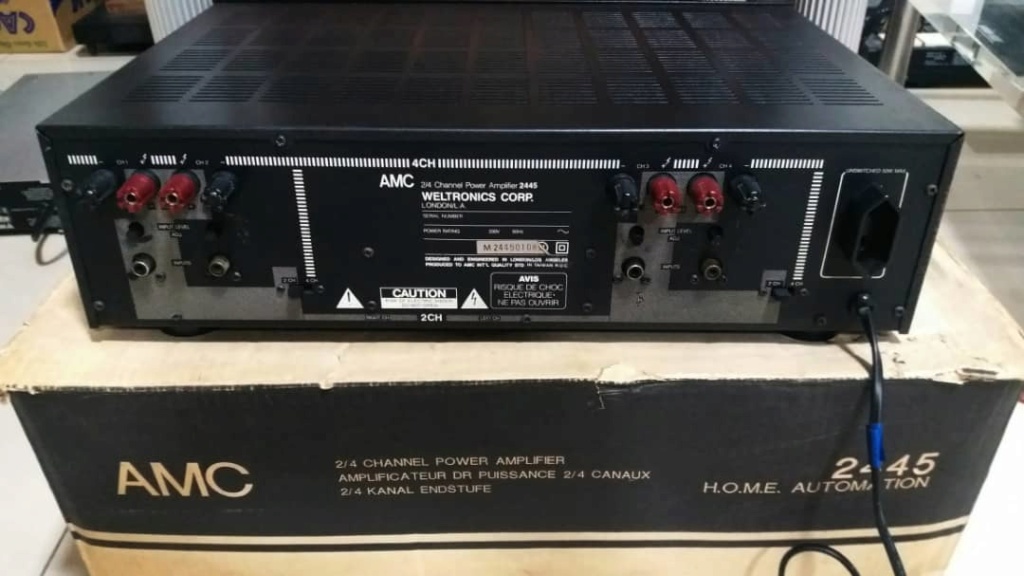 Specifications
Power output: 90 watts per channel into 8Ω (stereo), 45W (4 channel)
Frequency response: 20Hz to 20kHz
Total harmonic distortion: 0.03%
Damping factor: 100
Input sensitivity: 0.866V
Speaker load impedance: 4Ω (minimum)
Dimensions: 430 x 112 x 288mm
Weight: 9.5kg
AMC 2445 Power Amplifier Four Channel Audiophile Quality
The bass is powerful yet subtle, the highs are clean and bright, without being brazen.

there's plenty of power to make my speakers sing with well amplified delight

Audiophile AMC Power Amplifier designed in London and in USA but assemble in Taiwan. 
This amp produce 90 watts in to 8 ohms running two channel in stereo
and 45 watts in 8 ohms running into 4 channel at the same time. 
This power amp is built with American parts, e.g all the transistors made in the U.S. It's look like and is 
very similar built like NAD or Proton amplifiers
.
WHAT HI*FI AWARD:
POWER!
The best way to describe AMC's power amplifier, the 2445.
This amplifier offers power in multi-channel mode. In 2 channel, AMC 2445 provides 90 watts; in 4 channel, it provides 45 watts across the board; in 3 channel, which is a combination of both, it will provide one channel of 90 watts, and two channels of 45 watts each. Is flexible a good enough word!
This amplifier functions well in all systems from the simplest audio setup to and elaborate home theater multi-amplifier installation. By using two power supplies and discreet output devices, like the Motorola T03 200 volt, 30 amp, the 2445 has the power, headroom to deliver detailed sound with punch. Filling a environment with over 115 db of dynamic range, gives you a sense of unlimited power.
The 2445 was also designed to be value-oriented, AMC chose to place the value and cost on the inside components, but still creating a simple, clean overall design. You will not find a amplifier with the same value on the market today.
The 2445 provides a quick, musical sound with very responsive bass octave reproduction for a very reasonable price.
Thank you.
Last edited by raymond88 on Sun Oct 28, 2018 10:57 pm; edited 1 time in total
Similar topics
---
Permissions in this forum:
You
cannot
reply to topics in this forum