Item: Shunyata Research SHUNYATA - HYDRA 4

Condition: 8.5/10. Item in very good working condition and appearance.

Price: sold

Contact: 012-3816611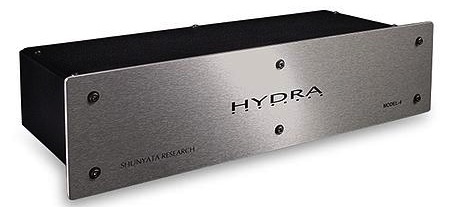 [size=16][size=18]Hear What a Difference Pristine Power Makes!
Shunyata Hydra 4 offers individually filtered outlets, with the power distributed via massive copper buss bars, 2 cryogenically treated proprietary Shunyata SR-Z1 duplex outlets provide clean, safe power for any mix of 4 digital or analog components.
The Hydra Model-4 Trident Defense System provides noise-reduction with Shunyata's best five-element Venom filter array, isolating and protecting each duplex outlet as independent power-sources. Statement-making surge and spike protection is passively implemented and totals a line-popping 60,000-amps of peak current protection. Rounding out the Hydra six package is enormous over-current protection in the form of Carling's best hydraulic electromagnetic breaker.
NOTE: Hydra Power conditioners do NOT come with power cords. This is because Shunyata believes that power cords are a component not a throw-away. We highly recommend that a Shunyata Hydra 6 be used with a 20Amp Shunyata AC cable to the wall for best performance. However, we understand that sometimes buying an additional power cord can put a strain on your budget, so upon request we can provide an inexpensive 14Ga power cord with a 20Amp IEC for only $20 that can be used until a better power cord can be purchased.
Features:
[/size][/size]



4 proprietary Shunyata outlets





"Trident Defense System"





2400 watts @ 20 amps continuous





Surge protection (20,000A)





Individually filtered outlets





7 element Venom Noise Filter





Solid copper buss bars





Detachable 20A inlet





All metal chassis




Outlets: 4x 
Shunyata SR-Z1
Power Output: 2400 Watts unregulated
Current Rating: 20A continuous / 50A peak
Trident Defense System:
Noise Reduction: Two VF filters (6-element)
Surge Protection: 20,000A
Over-current: Electromagnetic breaker
Each outlet individually filtered
Power Distribution:
Outlets: US
Wiring: UL Listed Shunyata Research 12-gauge
Bus: Pure CDA-101copper bars
20A detachable inlet
Construction: 14-gauge powder-coated steel chassis
No Faceplate: 12" x 5.5" x 3.25"
With Faceplate: 12.75" x 5.6" x 3.6"
Website:
https://www.musicdirect.com/power/shunyata-hydra-4
http://www.audioreview.com/product/accessories/others/shunyata-research/hydra-model-4.html
SEE ALL MY ITEMS HERE:
http://www.hifi4sale.net/st/raymond88
Thanks for viewing
Last edited by raymond88 on Fri Dec 21, 2018 7:24 pm; edited 3 times in total
---
Permissions in this forum:
You
cannot
reply to topics in this forum