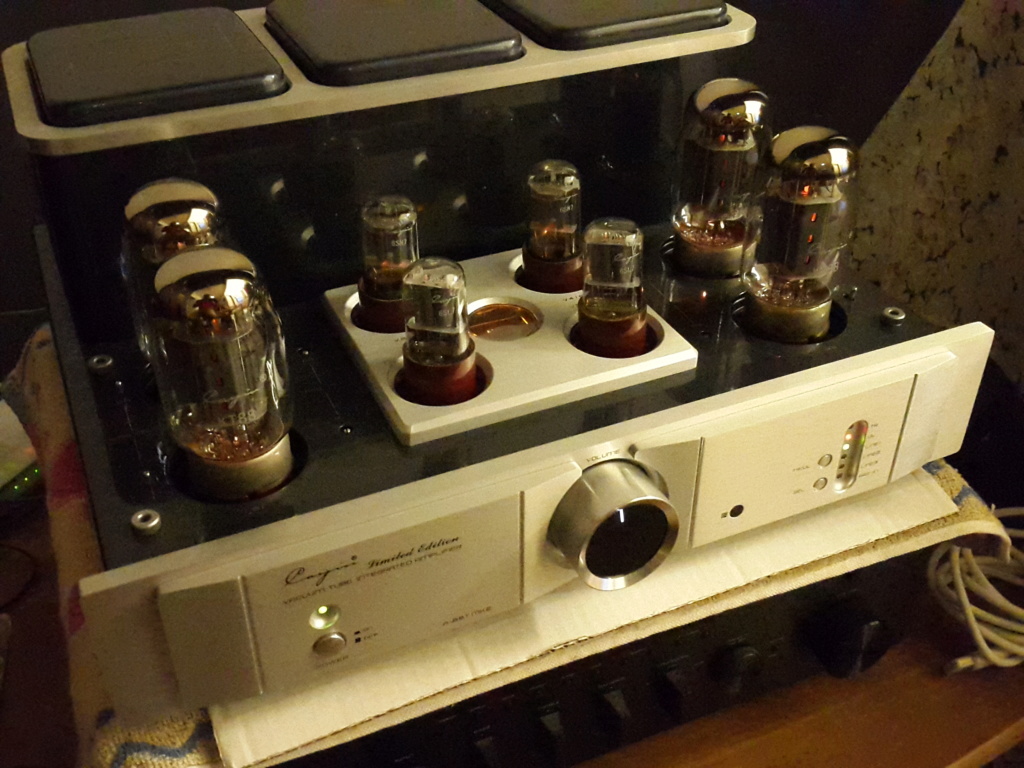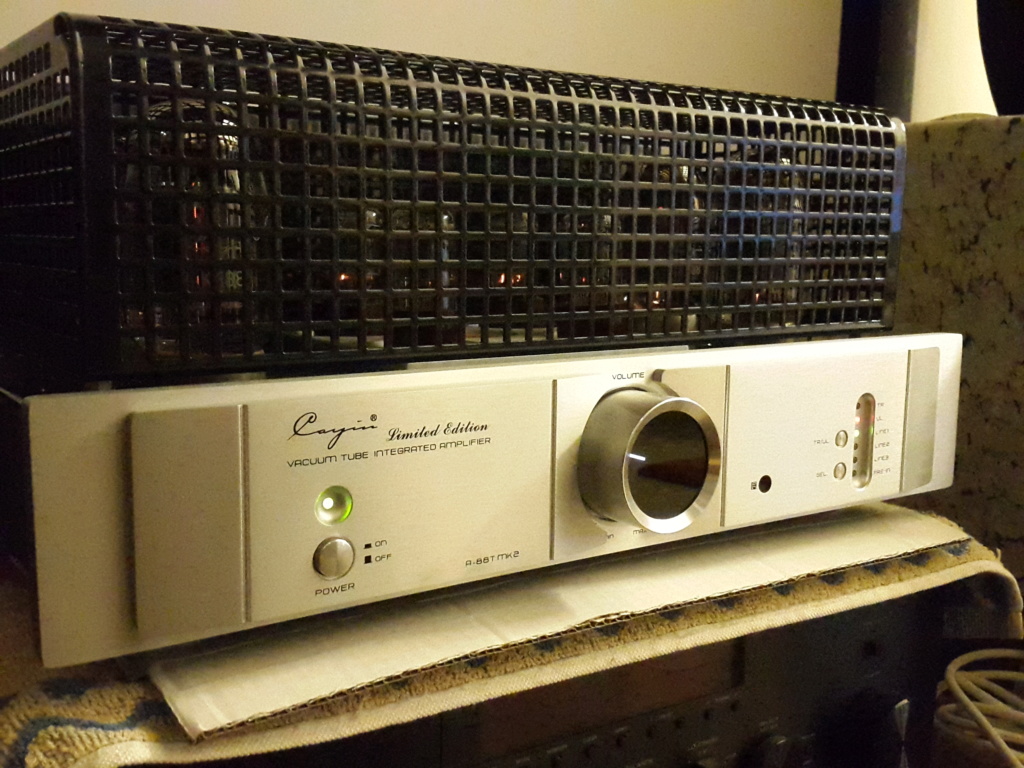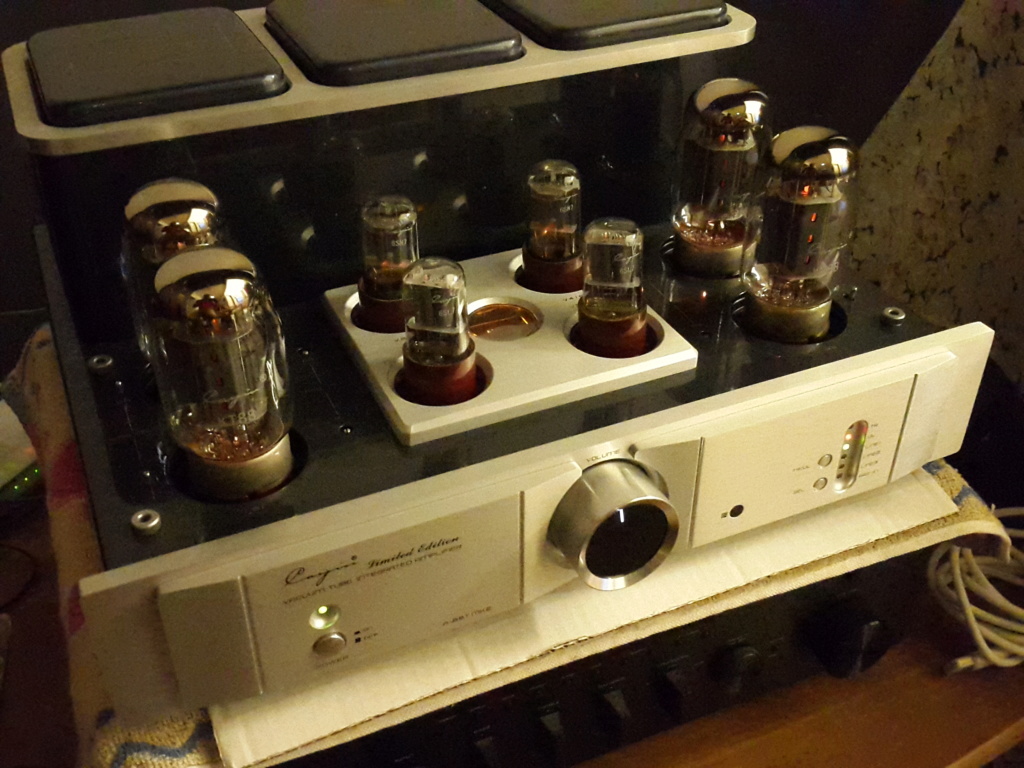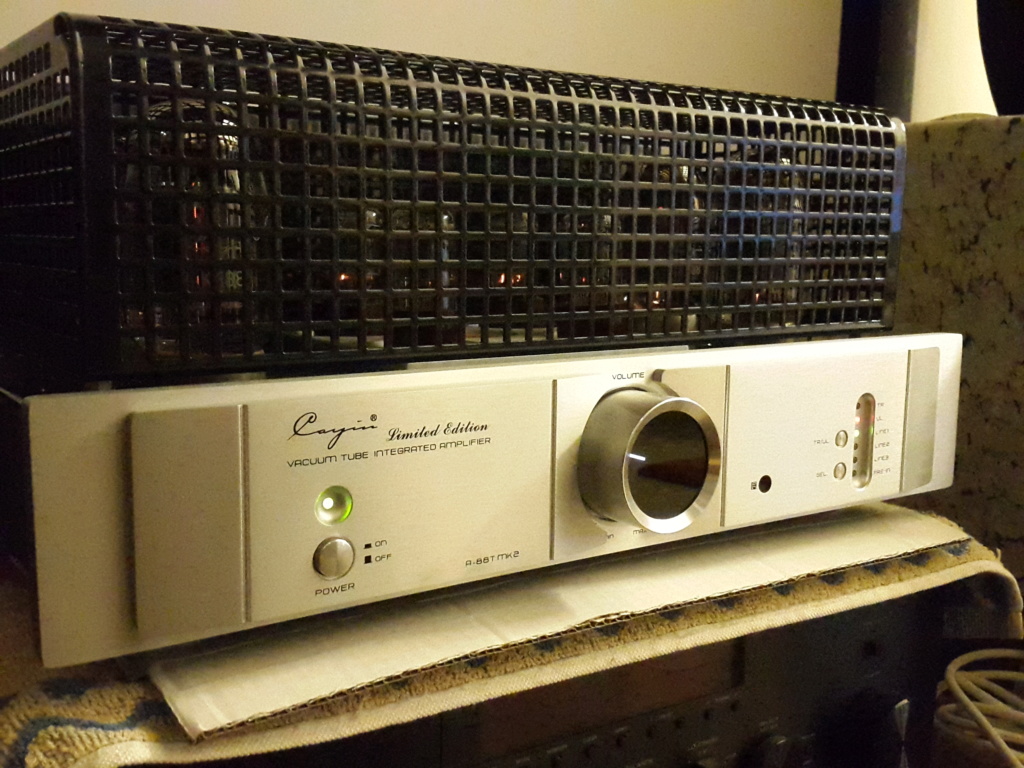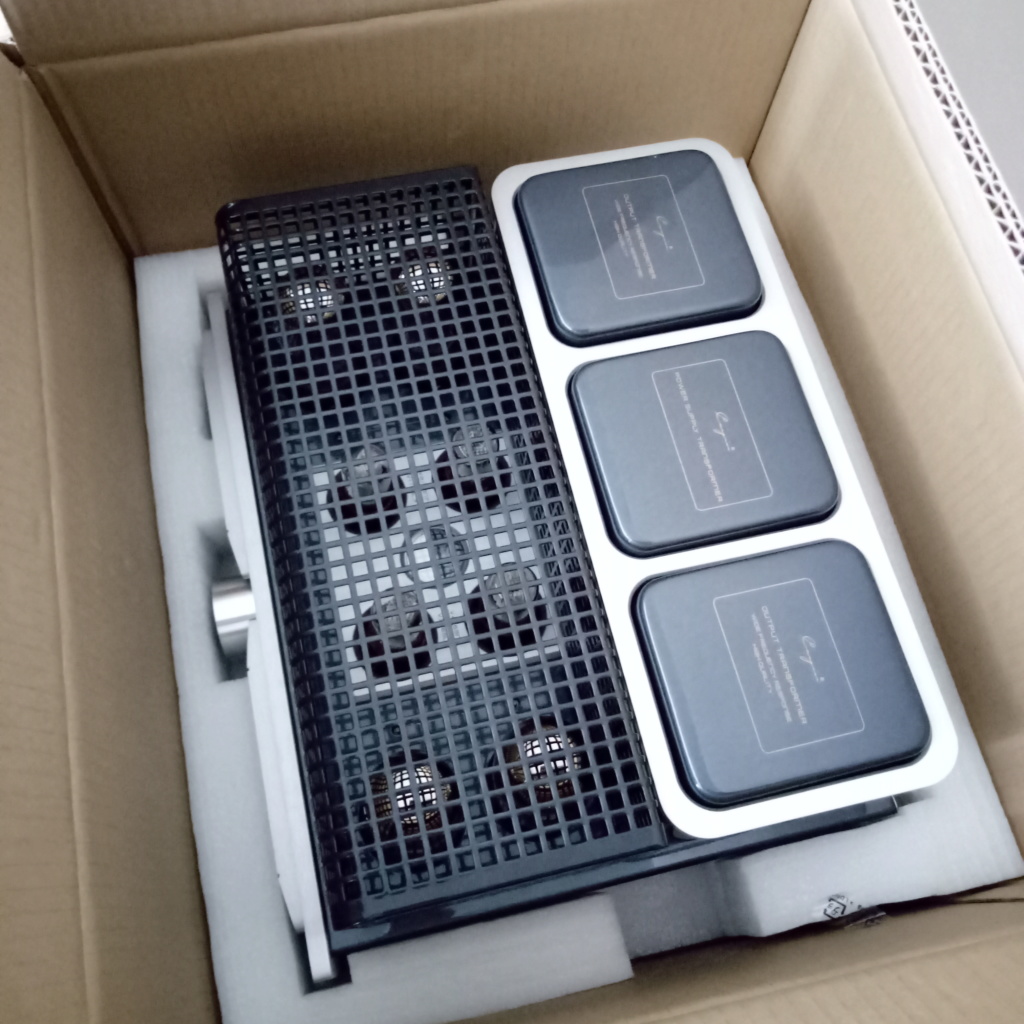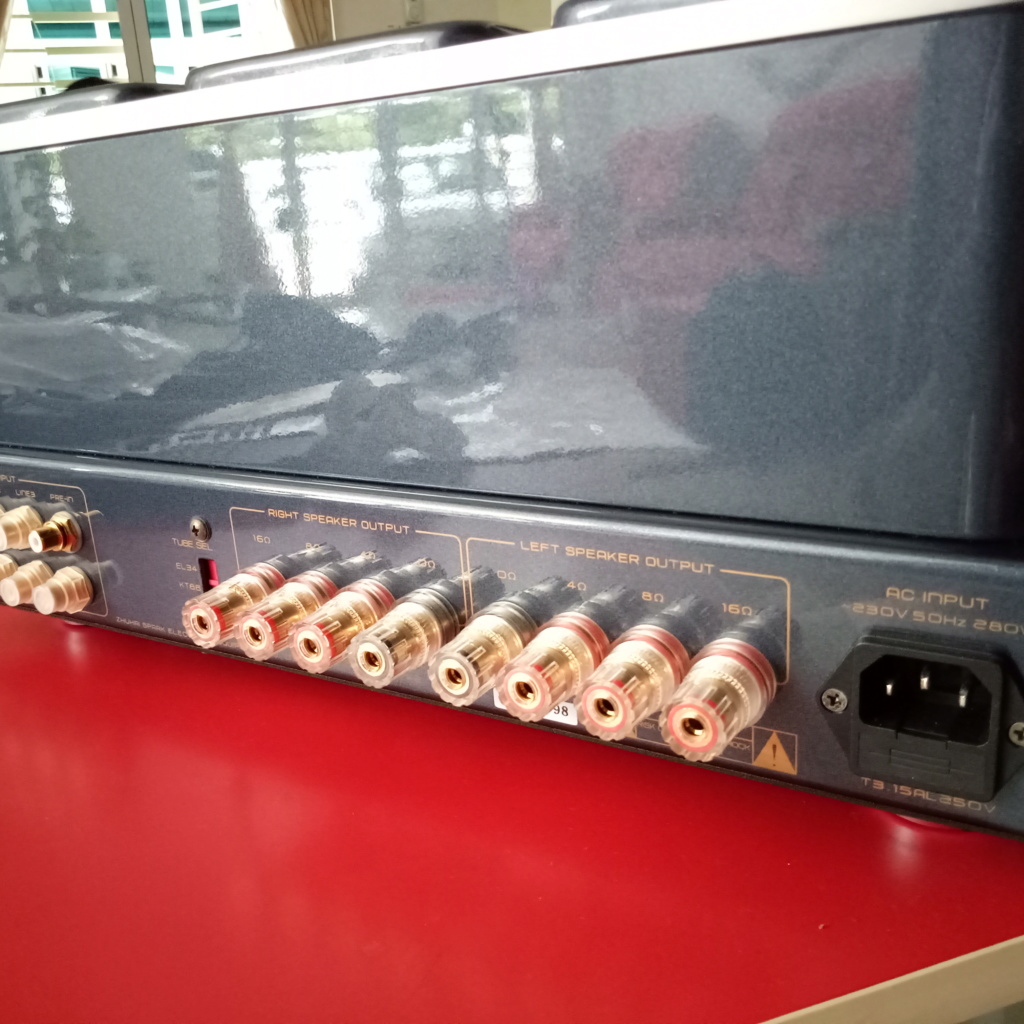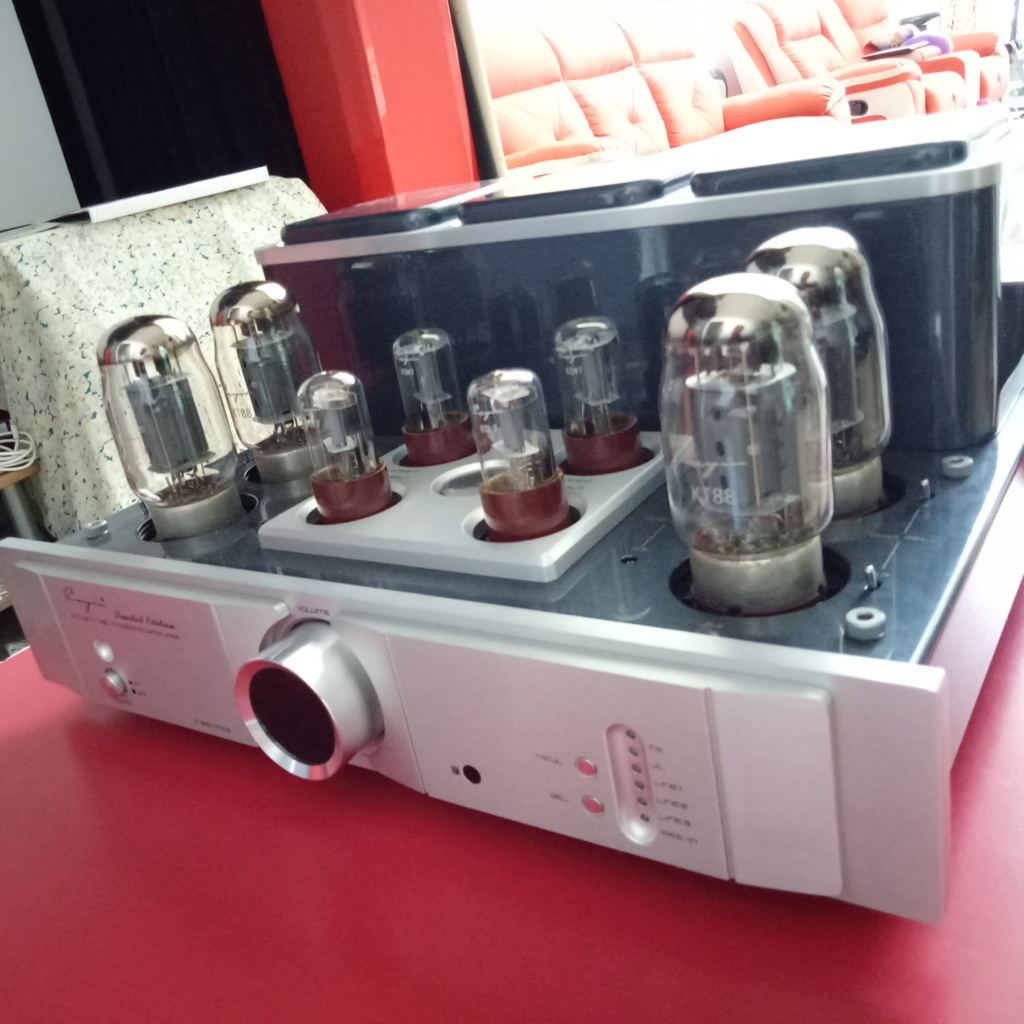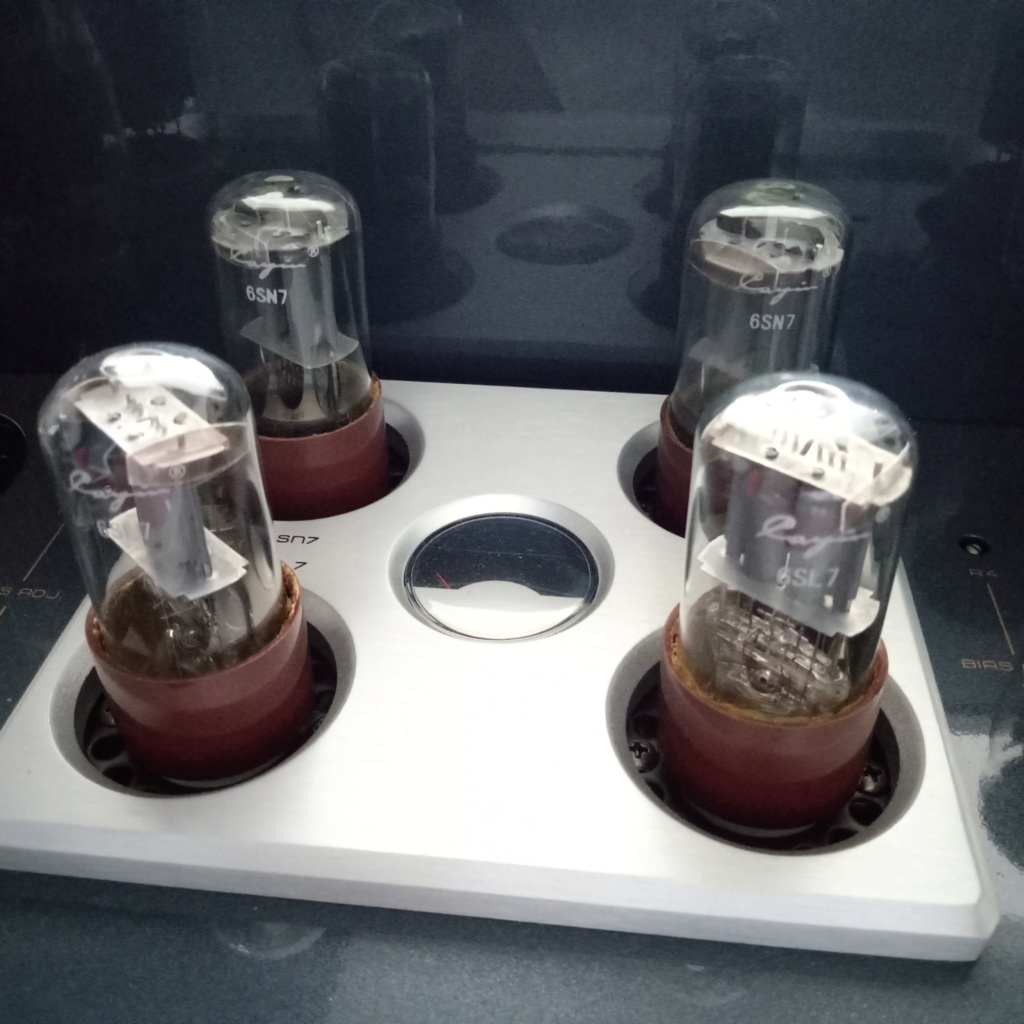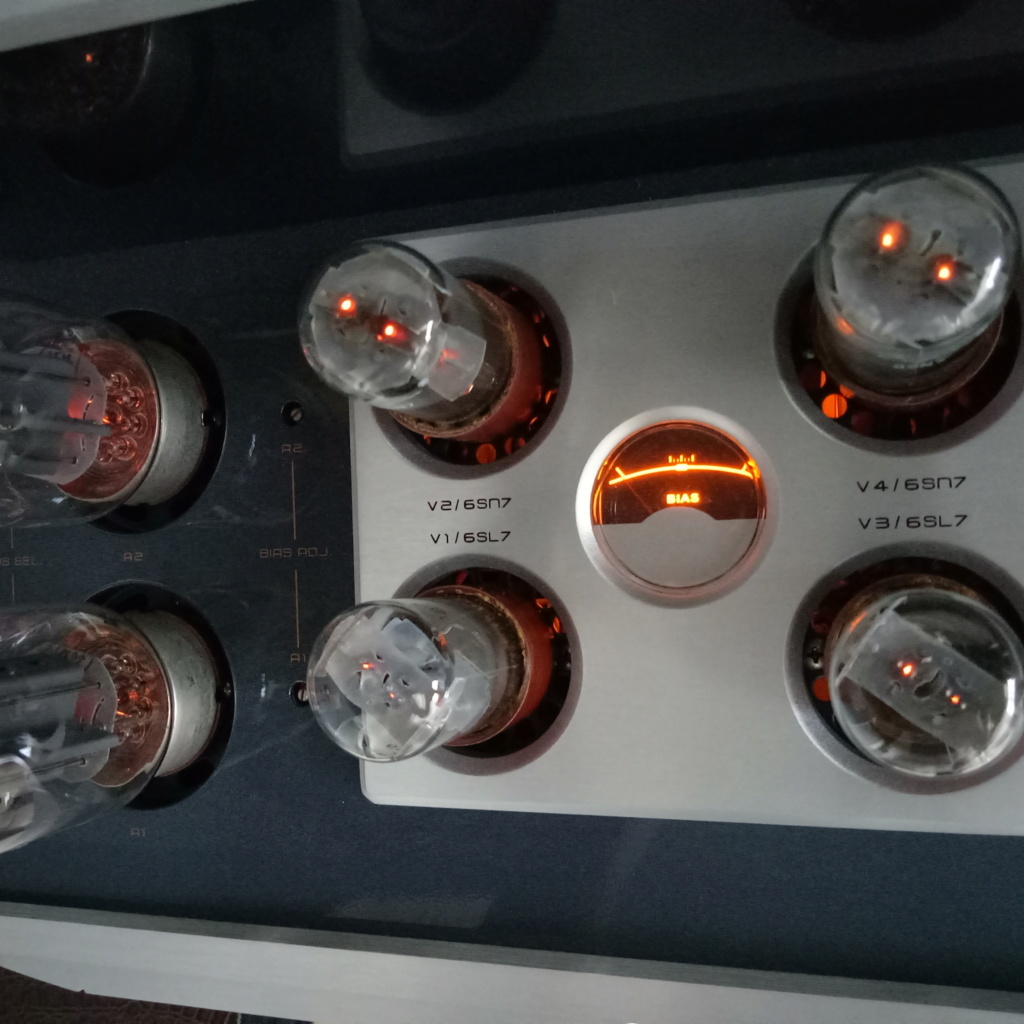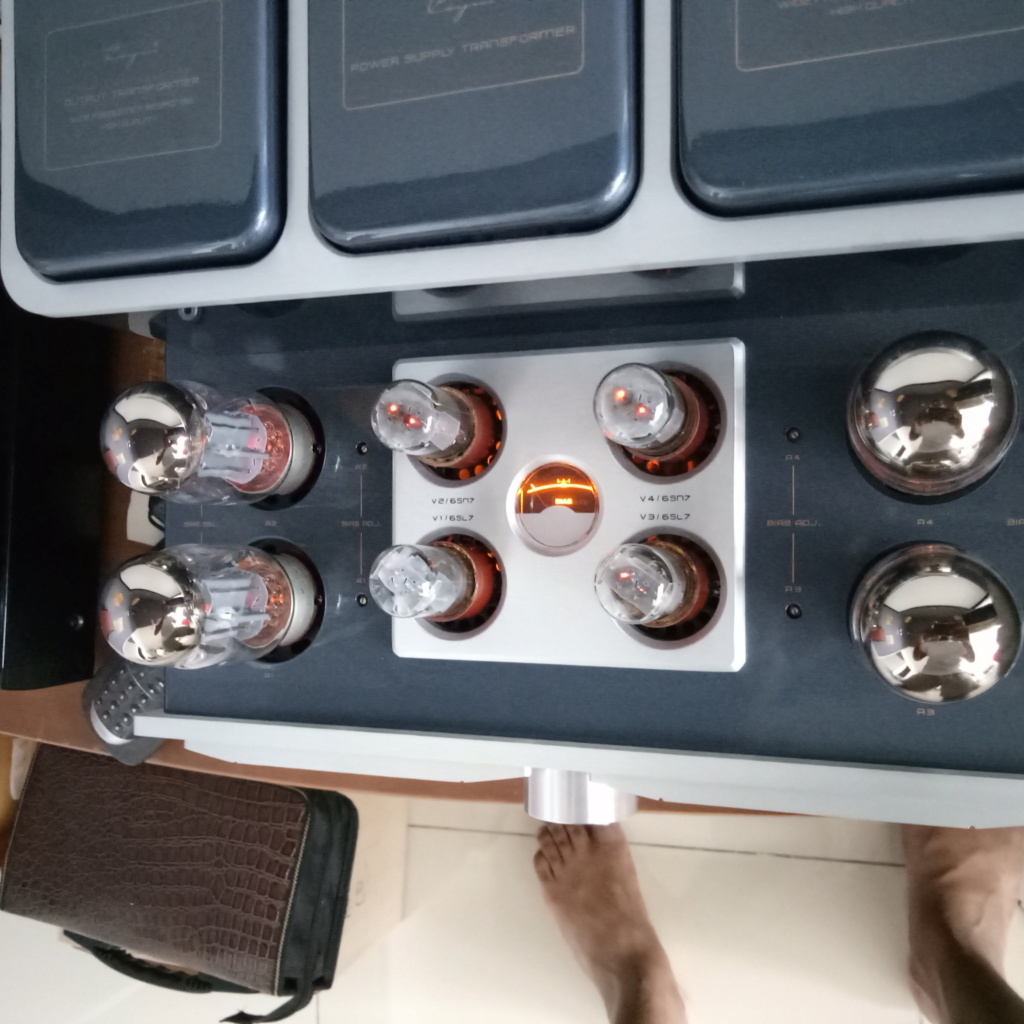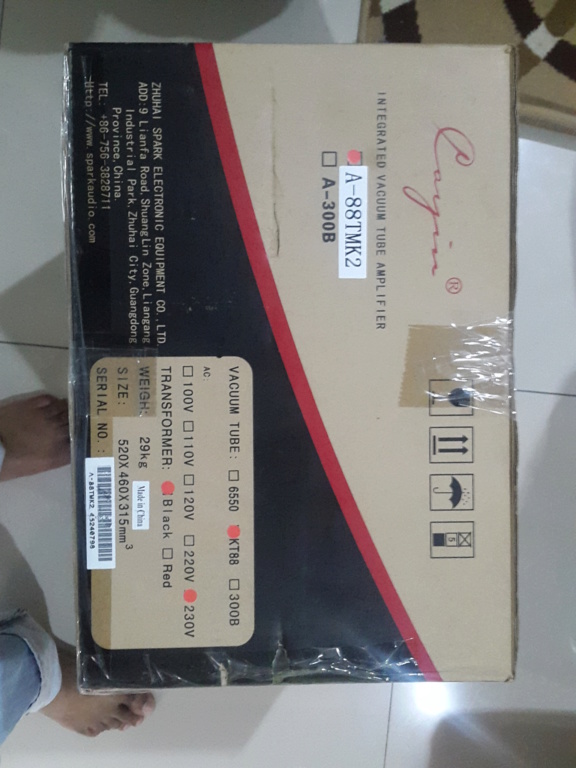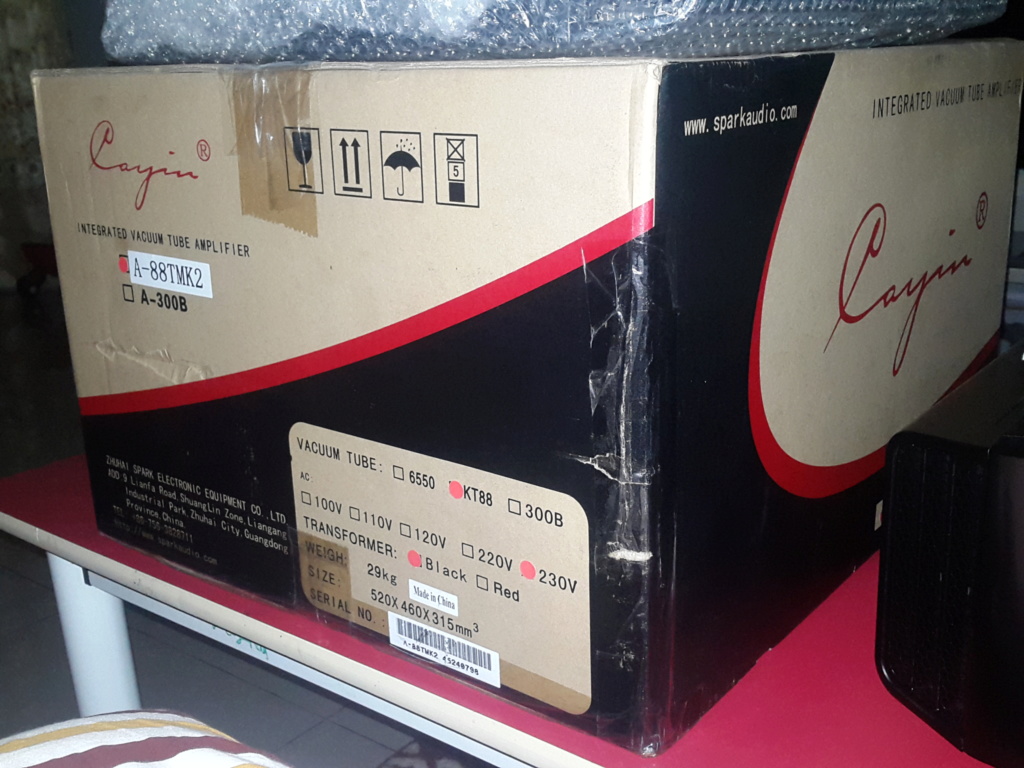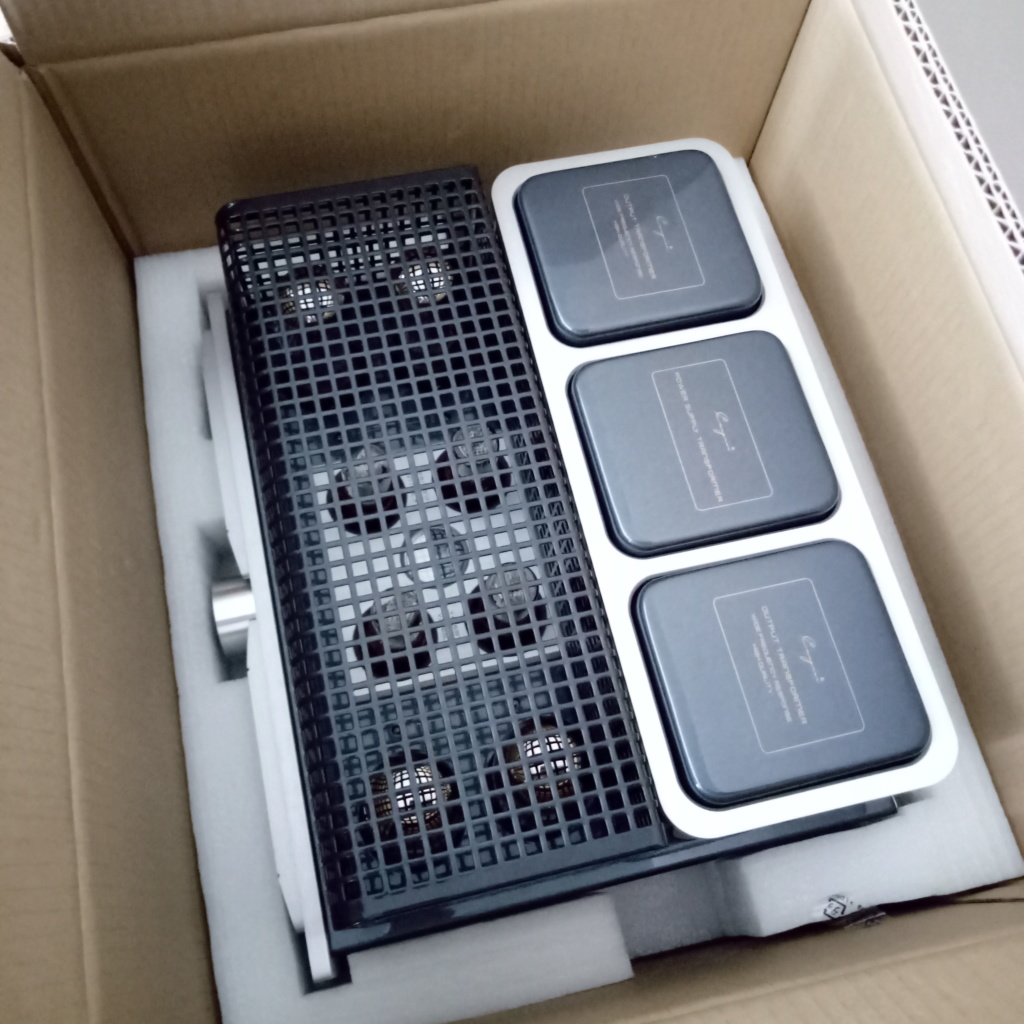 Cayin's beautiful new A-88T Mk2 integrated amplifier ($2500) is rated to deliver 25Wpc in triode mode or 45Wpc in ultralinear and uses pairs of 6SL7, 6SN7, and KT88 tubes. Fit and finish were excellent. 
Read more at
https://www.stereophile.com/content/cayins-88t-mk2-integrated-amplifier#AjU3SXQv7lAivE2f.99 
Used and in new condition. This Cayin amp is amazing for its money. 
Condition is easily 9/10 with complete set of original double box, remote with rubber casing, manual, etc. All in very new condition due to very less use as i travel outstation mostly. 
Many award winning model and quite well known brand in many countries now. 
Please check online reviews for this well known model of Cayin Tube Amps.
Compared it against numerous other amps prior to purchase, and none came anywhere near. I mean within this price range models. 
I feel this amp is a great value for the money. My biggest concern was the power rating @ just 45 watts ulterlinear and 22 watts triode, but this amp has suprised me, it drives my Gallo ref. 3.1 @ 89 spl quite nicely. The amp could be described as warm in it's presentation.
The sound is warm, spacious and clean. It responds well to tube rolling. 
This amp excels at acoustical, jazz, classical & of course the blues. I know how-about rock? I would perfer a good solid state amp over this one -but I'm not disappointed at all with it's ability to rock & roll. It is a very versitale amp. So to rap this up this amp looks great, it will drive most speakers and the sound is big. I would strongly recommend this amp @ this price point. 
This is my first tube amplifier and it cannot be compared to any other solid state or hybrid amplifier I've ever had. Finally my music got 'flesh and bones'. The voices that sounded mechanical now have become lively and present, and I don't miss the bass I had with my old Primare at all. 
I think the Cayin A 88T's greatest charm is its big, lively and spacious personality. Not only does the amp play music but it infuses the music with a delightfully addictive air of frivolity and merriment that makes it great fun to listen to. And in its class, if that's all it did, it would be a great little amplifier. In the end, I have to concur with the famous US manufacturer's quote. As I sit here listening to the Cayin A 88T, I feel no need move it out of my system in search of something better. It is a great little amplifier!" - John Potis, Six Moons 
Feel free to sms or whatsapp for further details or more photos.
Anand 012-5885 270 
Well maintained in pet free and smoke free condition. 
Giving personal warranty of 1 month as this set is in real good working condition. 
Super new condition as this amp is just 1 year plus old. 
Worth more than RM10k earlier, selling for RM5900 now (nego) Can FOC a very suitable and matching speaker cables pair for this amp 
Item is in Penang but can deliver to other places. 
Thank you

anandfm

Frequent Contributor





Number of posts

: 411


Age

: 44


Location

: KL


Registration date :

2014-09-08




anandfm

Frequent Contributor





Number of posts

: 411


Age

: 44


Location

: KL


Registration date :

2014-09-08



Bump with negotiable price

anandfm

Frequent Contributor





Number of posts

: 411


Age

: 44


Location

: KL


Registration date :

2014-09-08



Similar topics
---
Permissions in this forum:
You
cannot
reply to topics in this forum