Shunyata Research SHUNYATA - HYDRA 4 Power Distribution, USA
Shunyata Research pioneered the original concept of a pure performance based, high-current power distributor.
Founder Caelin Gabriel had designed an entire series of Hydra products that quickly became the most professionally and critically acclaimed components of their kind, with lots of awards and endorsements worldwide.
Shunyata Hydra 4 is
*4 individually filtered outlets.
*Power distributed via massive copper buss bars.
*2 cryogenically treated proprietary Shunyata SR-Z1 (duplex outlets) provide clean and safe power for any mix of 4 digital or analog components.
The Hydra Model-4 Trident Defense System provides noise-reduction with Shunyata's best five-element Venom filter array, isolating and protecting each duplex outlet as independent power-sources.
Statement-making surge and spike protection is passively implemented and totals a line-popping 60,000-amps of peak current protection.
Rounding out the Hydra 4 package is enormous over- current protection in the form of Carling's best hydraulic electromagnetic breaker.
Features:
-4 proprietary Shunyata outlets (Shunyata SR-Z1)
-"Trident Defense System"
-2400 watts @ 20 amps continuous (50A peak)
-Surge protection (20,000A)
-Hydraulic electromagnetic circuit breaker (over current protection)
-Shunyata designed Venom filters
-NextGen thermally protected TMOVs
-Individually filtered outlets
-7 element Venom Noise Filter
-Solid copper buss bars
-No point-point wiring
-Detachable 20A inlet
-All metal chassis
Hydra's long-standing success:
*DTCD (Dynamic Transient Current Delivery) Analyzer
*MPDA Multi Phase Differential Array
*Patented noise-reduction materials — US#6,545,213
*Noise Isolation Chambers
*All Brass Buss System
*VTX Wire Geometry
*Time-Tested Protection
*Shunyata Research's SR-Z1 AC Outlets
*Custom manufactured Electromagnetic Breaker
*Base Metals: CDA 101 Copper
*Alpha Cryogenic Process
*The Sum Of Innovation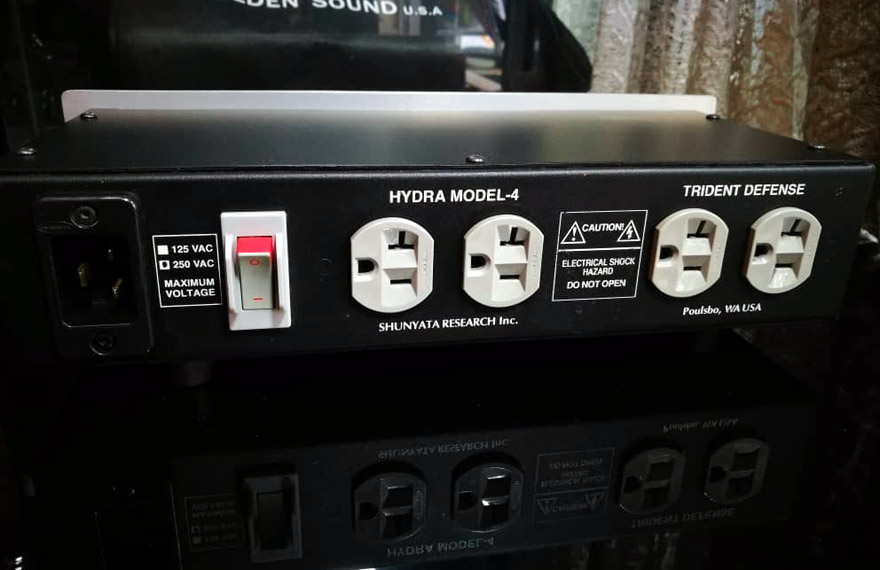 Good working condition with some signs of usage.
RM1850
Credit cards accepted.
Subang Jaya ss14.
Contact 0126116917
https://actsessory.com/pre-owned-used/
Similar topics
---
Permissions in this forum:
You
cannot
reply to topics in this forum