As many know tube amps are making a strong resurgence especially with the China manufactured ones. You have brands like Cayin, Yaqin, Line Magnetic and many more.
The factory that manufactures Cayin, build for PrimaLuna. Line Magnetic comes from a facility that has vast experience and has been around a long time.
China amps are very much cheaper than the Western counter parts. A PrimaLuna will set you back around RM10,000 for starters.
I was curious about these China made tube amps, was wondering if they sound good at all. While browsing hifi4sale I stumbled upon the Yarland. The FV-34B-IV in particular. Hell ... only RM1,400 and it looks great too!
So I took the plunge after reading up a little on it.
The Yarland is a 40 wpc tube amp. The styling takes cue from Unison Research tube amps. It has the same design flavour. I particularly like the wood facia and how they laid out the tubes.
It runs on 2 pairs of EL34s with 3 pieces of 6N3s for the pre and driver stages.
EL34s are abundant whilst the 6N3s are cheaper than your 12AX7 or 12AU7. 6N3s are widely used  in small tube pre-amps and amps.
Straight out of the box, the Yarland sounded decent. You won't feel that money was wasted but it's not going to give you the sound of something in the range of RM10,000 for sure.
The highs and mids were acceptable, mildly harsh but not grainy. Bass went low enough but had that boominess of a tube amplifier.
So I decided to do some tube rolling. Got myself a set of Electro-Harmonix EL34s from Music Bliss (RM350). Then checked the internet for the 6N3s. Found a nice gentleman who was selling some NOS ones. They were GE JAN 5670W (RM50 ea).
After replacing the tubes, the sound was a good improvement over the Yarland's stock Chinese tubes.The Yarland now has some mettle.
You get a decent amount of the airy sound that one expects from a tube amp. What sounded obvious were the highs that smoothen out quite a bit and mids are slightly sweeter. Both highs and mids are more etched.
Bass was not as boomy as before but did not really tightened up that much.
Listening to
Ode To Billy Joe
(Patricia Barber's Cafe Blue), you can enjoy the crisp finger snaps. The twang of the double bass was clear. Her voice was just airy. Not harsh but it's not syrupy either. It's above average. Most acceptable.
During the drum solo of the track
Nardis
, the drum kit is recreated well. Rimshots are defined, you can hear the timbre of the drum skins clearly. Cymbals have an almost natural ring to it with an acceptable amount of decay.
Now switching to Eagles' Hell Freezes over, the kick drum of
Hotel California
 has a decent amount of weight. 
Guitars on
Love Will Keep Us Alive
 had a nice glassy tone with a hint of shimmer. Vocals as usual is just above average.
The highs are nice but mid highs lacks a slight bit of finesse and clarity. If it had that, the Yarland will give tube amps in the RM10,000 a real run for their money.
I have to say that the Yarland in stock form is a decent tube amp. With the tubes replaced and careful pairing it is a very nice amp.
My Proac Tablette Anniversary paired well with the Yarland. The Yarland's slightly weak mid range was more obvious on the Harbeth P3ESR. Guess the Proac was more forgiving.
With a total investment of RM1,900 you get an amp that will rival most costing 3 times more.
Specs:
- 40 wpc Class A
- EL34 (x4)
- 6N3/5670 (x3)
- 2 line inputs, 1 pre input
- 4ohm and 8ohm taps
- rotary volume, rotary input selector and selector for pre-input or line input
Speakers: Proac Tablette Anniversary & Harbeth P3ESR
Source: Cambridge Audio CXC
DAC: Chord Qutest
Speaker cable: Nordost Blue Heaven
Interconnect: The Chord Company C-line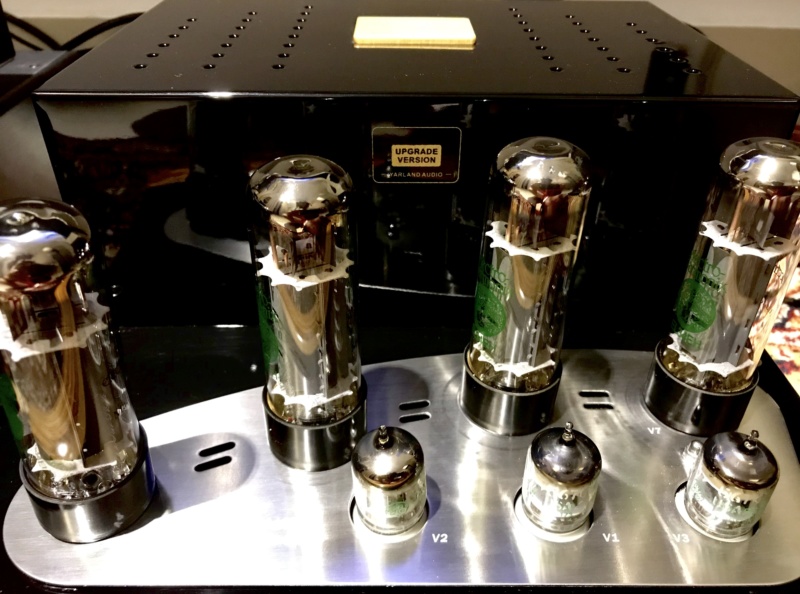 WillT

Regular





Number of posts

: 95


Age

: 50


Location

: PeeJay


Registration date :

2018-11-22

Character sheet
Source(s): Cary Audio CD 500 and Mytek Brooklyn Bridge
Amplification: Cary Audio SLP-05 & Audia Flight FLS 10
Speakers: Marten Duke 2, ProAc Response D2, Harbeth P3ESR & KEF LS50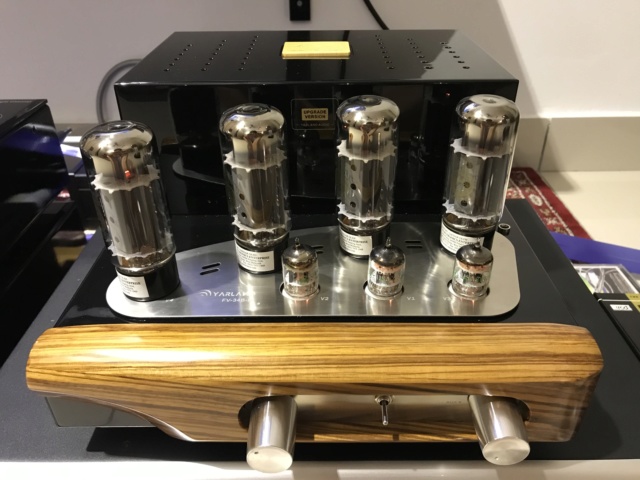 Sent the little Yarland to get some mods done by Octave Electronics. 
Changed some of the stock caps and resistors to Mundorf, Solen and Kiwame ones. Replaced the EL34 with Electro Harmonix 6CA7EH.
The Good News:
- sound stage opened up
- sound is more lush, tonally richer
- highs and mids are much smoother
- bass is a bit tighter, not so boomy now
- detail is above average
Despite the mods, I would not say it's a totally amazing amp.
What's Lacking:
- no extra deep sound stage like what I get from my Cary SLP-05 + Audia Flight FLS-10 combo
- mids are smoother but of course they are not going to be as sweet as amps in the much higher priced range
- not that much extended highs that many audiophiles like
- bass may be tighter but it's not slamming. But again, it's an amp with EL34/6CA7, not KT88s or KT120s. Nothing a good small sub won't easily cure.
Listening at low to moderate level gives you some very satisfying music. You get that sense of air that tube amps are known for.
Push it and female vocals will start to get a little harsh. Eventually, male ones will too. Guess the mid range is still a slight issue for above moderate volume listening.
When you consider that the total investment is slightly less than rm3k it's definitely worth every sen.
Equipment:
Cary Audio CD500
Marten Duke 2
ProAc Response D2
Nordost Blue Heaven speaker cables
Chord C-Line interconnect
Isotek Evo 3 Premier mains cable

WillT

Regular





Number of posts

: 95


Age

: 50


Location

: PeeJay


Registration date :

2018-11-22

Character sheet
Source(s): Cary Audio CD 500 and Mytek Brooklyn Bridge
Amplification: Cary Audio SLP-05 & Audia Flight FLS 10
Speakers: Marten Duke 2, ProAc Response D2, Harbeth P3ESR & KEF LS50


---
Permissions in this forum:
You
cannot
reply to topics in this forum