Hardly used. Condition 8.5/10
The iconic Denon DL103r moving coil cartridge.
With original box, brush, mounting screws and Eq.
Reason for sale : Too many carts and not enough time
Reviews

Music simply sounds more right through this cartridge. I almost hate to dissect it, frog-like, into the usual audiophile categories. Yes, it has prodigious bass when called upon to display it on a thunder of a track like Prokofiev's Russian Overture, from an unopened Living Stereo recording I found waiting for me one late winter day in a dusty old shop in the Hudson River Valley. This is definitely better bass than my reference. Not more in an absolute sense, just more richness


Audiogon Discussion of Denon DL-103R
The sound of the regular DL-103R is outstanding, and a super bargain at it's price point. Many have heard of it referred to as a super-cart, or giant-killer. And it is. It has the wonderful characteristic of allowing the music to come across as a composition, and not as a group of disjointed parts. This is not as common as we would like in cartridges today. Many carts will give great separation of instruments and holographic imaging and detail, but they never seem to merge as a musical whole. The Denon carts excell in this area of making the parts merge into a full musical presentation, and still retains the detail and delineation of the instruments and voices. This is one of the major reasons why the DL-103R is such a desireable cartridge.

Price :SOLD
PM or Whatsapp Wong 012 613 5188
Free Postage locally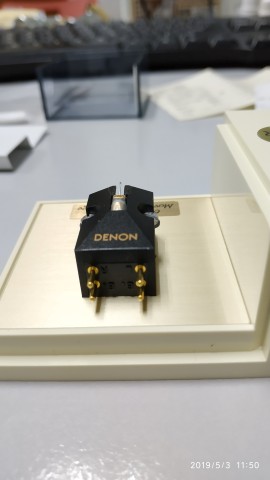 Last edited by klimal on Sun Jun 02, 2019 2:16 pm; edited 1 time in total

klimal

Frequent Contributor





Number of posts

: 189


Age

: 62


Location

: Kuala Lumpur


Registration date :

2009-11-11

Character sheet
Source(s): SLAT L75, OPPO 203D, Creek Evolution 2 CD, Asus TinkerBoard / SMSL M8
Amplification: AHT Non Sig., Schitt Mani, BAT VK-3000SE, Denon X4300H, Anthem PVA5 power amp.
Speakers: All Epos & Monitor Audio BX1, Subwoofer SVS PB13Ultra, PC13Ultra


A great cart at a great price.
Still available

klimal

Frequent Contributor





Number of posts

: 189


Age

: 62


Location

: Kuala Lumpur


Registration date :

2009-11-11

Character sheet
Source(s): SLAT L75, OPPO 203D, Creek Evolution 2 CD, Asus TinkerBoard / SMSL M8
Amplification: AHT Non Sig., Schitt Mani, BAT VK-3000SE, Denon X4300H, Anthem PVA5 power amp.
Speakers: All Epos & Monitor Audio BX1, Subwoofer SVS PB13Ultra, PC13Ultra


A legendary cart still available for the lucky owner to claim her

klimal

Frequent Contributor





Number of posts

: 189


Age

: 62


Location

: Kuala Lumpur


Registration date :

2009-11-11

Character sheet
Source(s): SLAT L75, OPPO 203D, Creek Evolution 2 CD, Asus TinkerBoard / SMSL M8
Amplification: AHT Non Sig., Schitt Mani, BAT VK-3000SE, Denon X4300H, Anthem PVA5 power amp.
Speakers: All Epos & Monitor Audio BX1, Subwoofer SVS PB13Ultra, PC13Ultra



klimal

Frequent Contributor





Number of posts

: 189


Age

: 62


Location

: Kuala Lumpur


Registration date :

2009-11-11

Character sheet
Source(s): SLAT L75, OPPO 203D, Creek Evolution 2 CD, Asus TinkerBoard / SMSL M8
Amplification: AHT Non Sig., Schitt Mani, BAT VK-3000SE, Denon X4300H, Anthem PVA5 power amp.
Speakers: All Epos & Monitor Audio BX1, Subwoofer SVS PB13Ultra, PC13Ultra


Similar topics
---
Permissions in this forum:
You
cannot
reply to topics in this forum