I have a Magnepan 1.7 in immaculate condition for sale. Comes in black cloth and black trims with all the original box and packaging intact.
These magnificent speakers have to be heard to appreciate its transparency, speed and coherence. All reviewers can't be wrong!!
Jonathan Valin of Absolute Sound
had this to say:
" ..
Bottom line? I think you already know .. the 1.7s are the most life-like speakers I have heard in their price range--or anywhere near it. I could live with them (and did) in a system that costs 150 times more than they themselves do. IMO, they're just plain great
."
"Not just The Absolute Sound's Affordable Loudspeaker of the Year, the 1.7 is the affordable loudspeaker of the decade" The Absolute Sound magazine, January, 2011
Enjoy The Music.com
has this to say:
"
Its greatest strength is its lack of personality, excellent coherence and low coloration. Every thing about it tells you everything you hear is the truth. In my room the 1.7 can be intimate or they can be an exciting and formidable presence easily able to take control of the listener and the listening space. Finally, I can only echo what others have said before me, the Magnepan 1.7 speakers are unique, an amazing performance, nothing near this price can compare."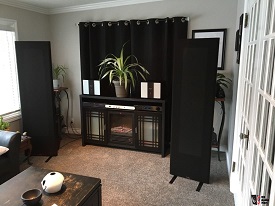 I have used several Maggies before & love the sound but a move to a smaller environment force this reluctant sale. So these Maggies need a new home.
So, to make it more interesting and to find a good home for these Maggies, I'm going to give a
hefty reduction in price
. Get it while you can. You'll simply love the lifelike sounds they generate.
Condition:8.5
Price:
RM7k only
..
NOW RM6k ONLY!
Interested? Let's talk .. call or whatsapp me at 016-2620488
Thanks for viewing.
(BTW the 1.7 needs a powerful amplifier to drive it optimally and I have an ideal amp for them ie. the Gato Audio DIA-400, a 400w@8ohms and 800w@4ohms Danish beast. See in my next post
. I'd be willing to give a package price too if you'd like to take both Maggies & Gato! Only RM13.8k for both!!
from RM15.5K as originally advertised)
Last edited by izamjazz on Mon Aug 19, 2019 9:10 pm; edited 6 times in total (Reason for editing : correct grammar)

izamjazz

Frequent Contributor





Number of posts

: 223


Age

: 58


Location

: Kajang


Registration date :

2009-12-29




izamjazz

Frequent Contributor





Number of posts

: 223


Age

: 58


Location

: Kajang


Registration date :

2009-12-29



A hi-end speaker at a reasonable price. Call me

izamjazz

Frequent Contributor





Number of posts

: 223


Age

: 58


Location

: Kajang


Registration date :

2009-12-29




izamjazz

Frequent Contributor





Number of posts

: 223


Age

: 58


Location

: Kajang


Registration date :

2009-12-29




izamjazz

Frequent Contributor





Number of posts

: 223


Age

: 58


Location

: Kajang


Registration date :

2009-12-29




izamjazz

Frequent Contributor





Number of posts

: 223


Age

: 58


Location

: Kajang


Registration date :

2009-12-29




izamjazz

Frequent Contributor





Number of posts

: 223


Age

: 58


Location

: Kajang


Registration date :

2009-12-29




izamjazz

Frequent Contributor





Number of posts

: 223


Age

: 58


Location

: Kajang


Registration date :

2009-12-29




izamjazz

Frequent Contributor





Number of posts

: 223


Age

: 58


Location

: Kajang


Registration date :

2009-12-29



Similar topics
---
Permissions in this forum:
You
cannot
reply to topics in this forum