Item: Musical Fidelity 750K Supercharger Monoblock Power Amplifier 
Condition: 8.5/10. Item is in excellent condition. Comes with original boxes.
Price: sold
Contact: 012-3816611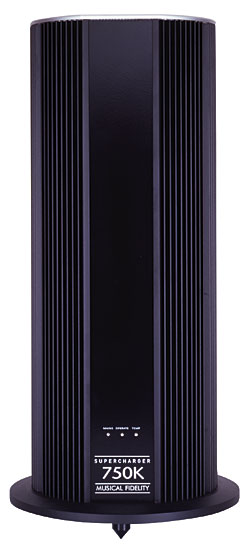 Description:
Solid-state, monoblock power amplifier with balanced and unbalanced line-level inputs and 1 pair speaker-level inputs.
Maximum power output: 750W into 8 ohms (28.75dBW), 1150W into 4 ohms (24.7dBW).
Maximum output voltage: 78V RMS, 20Hz–20kHz; 222V peak–peak.
Maximum current: 250 amps peak–peak.
Frequency response: 20Hz–30kHz, +0/–0.2dB.
THD+noise: <0.01%, 20Hz–20kHz.
Damping factor: 220.
Input impedance: 50k ohms (line), 50 ohms (speaker).
Input sensitivity for full power out into 8 ohms: 2.5V (line), 35V (speaker).
Signal/noise (no reference level quoted): >120dB (line), >115dB (speaker), both figures A-weighted.
The original 550K Power Amplifier created a huge stir and got great reviews. Little wonder since the improvement it made to general sound quality and dynamic range was outstanding.
The 750K Power Amplifier is an even bigger version using exactly the same circuitry as our kW750. And it measures almost identically as well.
The 750K has an extraordinary sound. It is sweet and light with very extended and tight bass. The soundstage is deep and wide. The dynamics are awe inspiring. Because the 750K has such a sweet and almost unassuming, sound it's all too easy to forget the impact that over 1kW of dynamic power can have. We think the 750K has it all; neutral sweet uncoloured sound with massive headroom.
The load driving ability is virtually limitless. 260 amps peak to peak current with a peak 120 volts capacity. 3kW peak is quite reachable for this huge amplifier.
The 750K offers effortless performance. Driven by a super integrated such as an A1 the results are spectacular.
The 750K Power Amplifier has 3 inputs; line level, fully balanced and loudspeaker level. This gives great flexibility of usage. The 750K uses the same proven music sensing circuit as employed in the 550K Power Amplifier.
The 750K Power Amplifier represents extraordinary value for money. There are few amplifiers, regardless of price, which come anywhere near the performance potential of the 750K.
It achieves its extraordinary performance at such a competitive price by being an extremely efficient design. There is no compromise whatever in the electronics, the components inside are top quality. The efficiency comes in the metalwork/heatsink design. The metalwork is the heatsink. This saves huge amounts of money on unnecessary metalwork and "bling" factor. The 750K Power Amplifier has two fans inside which have temperature controlled continuously variable speed.
Output

Power

750 Watts into 8 Ohms (29 dBW)
1150 Watts into 4 Ohms

Voltage, RMS

78 Volts 20 Hz to 20 kHz

Voltage, Peak-to-peak

222 Volts

Current peak-to-peak

260 amps

Damping factor

220

Output devices

20

Thermal cut out (internal temp)

70°C

Line input [ Balanced and RCA ]:

THD + noise, 20 Hz to 20 kHz

<0.010%

Signal / noise ratio

> 120 dB 'A'-weighted

Input sensitivity for 750 watts

2.5V

Input impedance

50k Ohms

Frequency response

20 Hz to 30 kHz, +0, -0.2 dB

Speaker input

Signal / noise ratio

> 115 dB 'A'-weighted

Input sensitivity for 550 Watts

35V

Input impedance

50 Ohms

Connections

Line level inputs

1line level RCA connector

Balanced inputs

1 line level XLR DIN socket

Speaker inputs

1 pair 4 mm banana plug/binding posts

Speaker outputs

2 pair 4 mm banana plug/binding posts

Power requirement

100 / 115 / 230Volts AC 50 / 60 Hz (factory pre-set),
1000 Watts maximum into 8 Ohms, 53 watts idle



17.2 kg, 37 3/4 lbs

unit only, unboxed

19.5 kg, 43 lbs

in shipping carton

Dimensions

215 mm, 8 1/2 inches diameter

 

560 mm, 22inches high including feet

 

220 mm, 8 3/4 inches deep (front to back) including terminals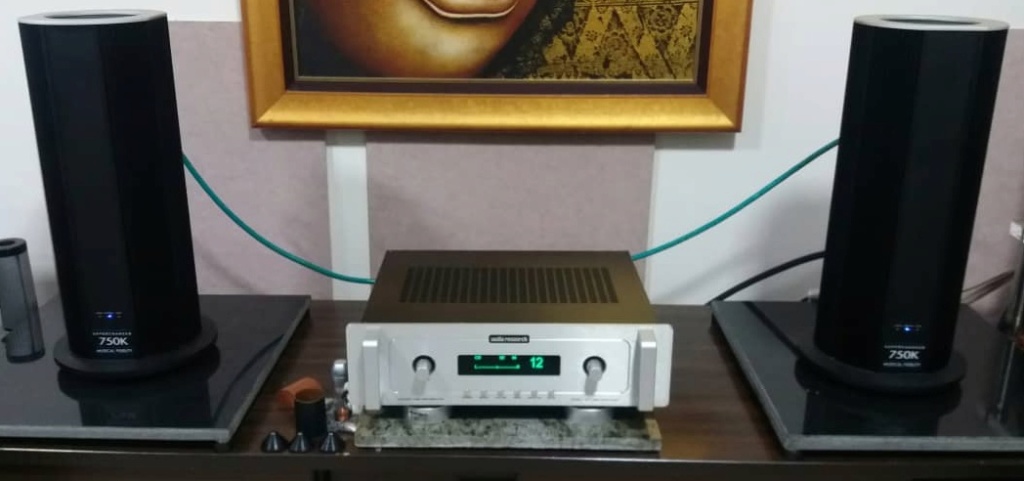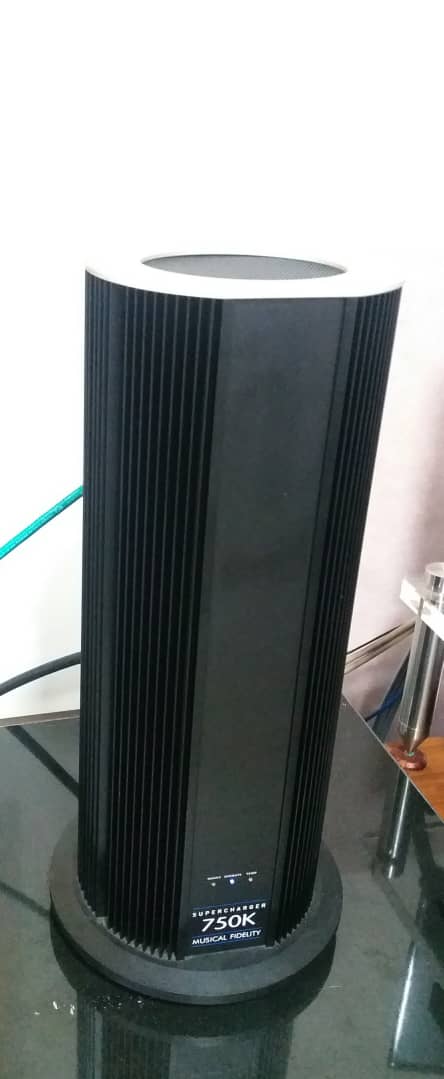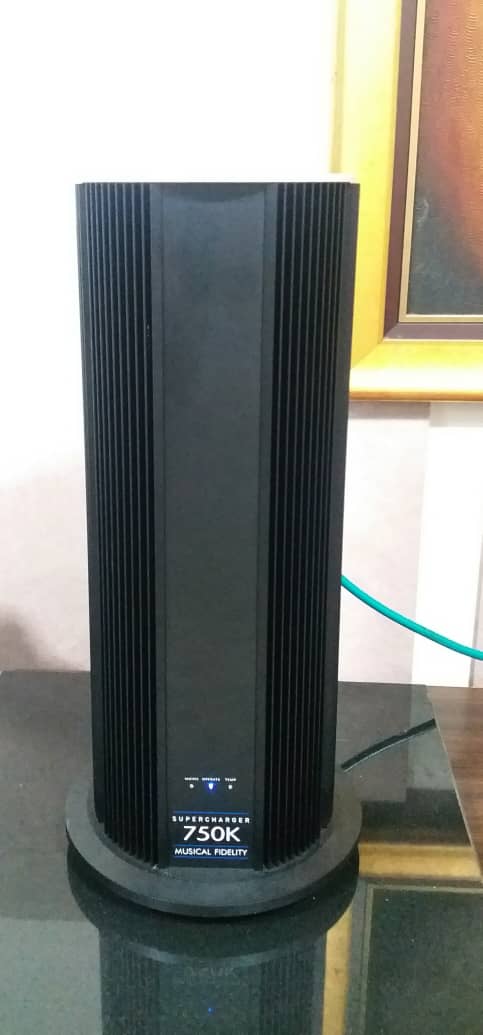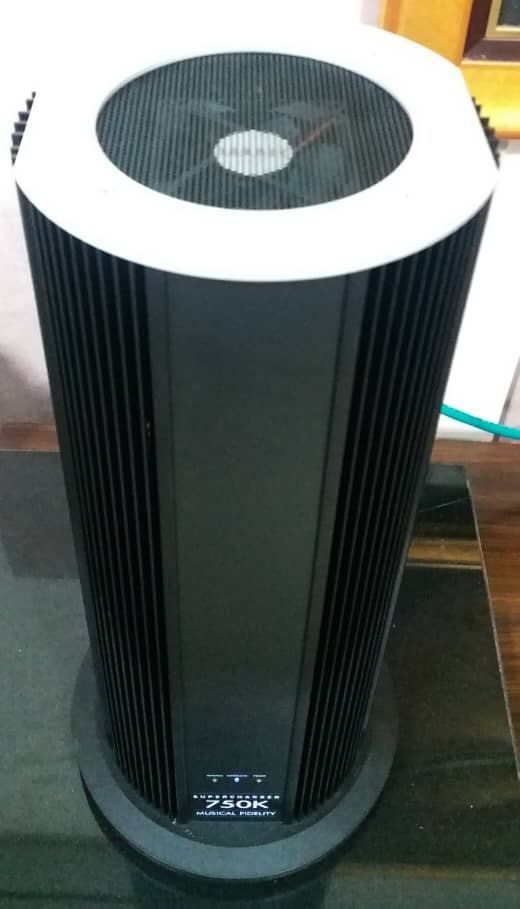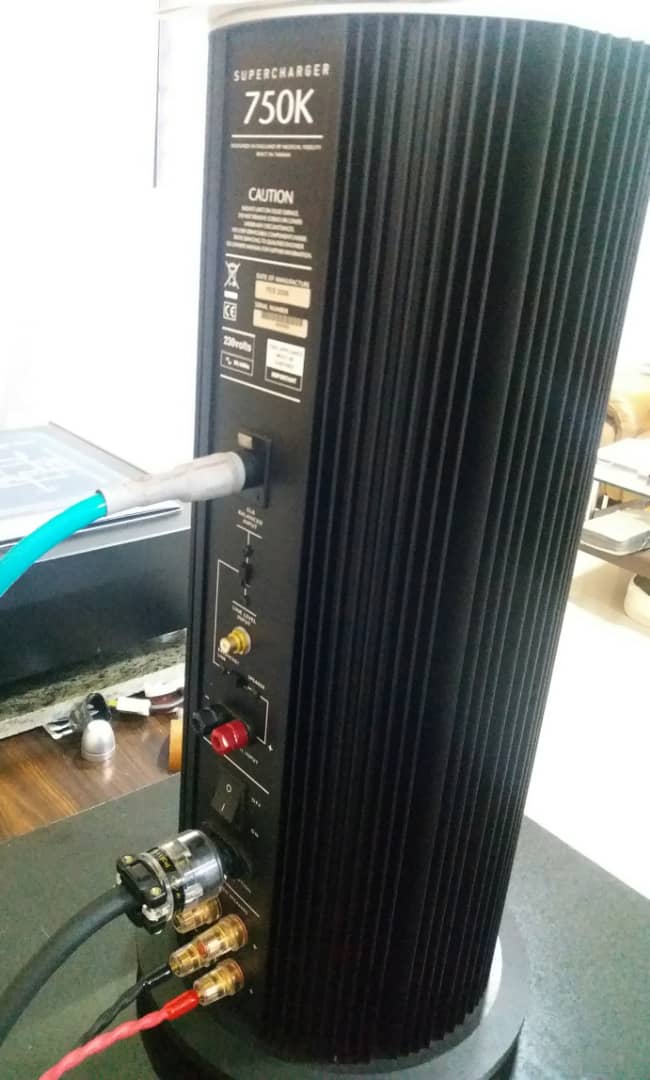 Websites:
https://www.stereophile.com/solidpoweramps/1208mf/index.html
https://www.studio-22.com/musical_fidelity/750k.htm
https://www.ebay.co.uk/itm/323853524264
https://hifiwigwam.com/forum/topic/66834-musical-fidelity-750k-super-chargers/
https://www.canuckaudiomart.com/details/649474301-musical-fidelity-750k-supercharger-amplifiers/
https://www.musicalfidelity.com/uploads/manuals/English/750k_manual_english.pdf
Thank you
---
Permissions in this forum:
You
cannot
reply to topics in this forum