The SoulNote is a solid state integrated amplifier from Japan that outputs only 10W and they are quality 10W. It is a fully balanced Class A design. The amplifier is neutral with a sweet high, a good mid-range and a very solid bass. Surprisingly, for its mere 10W output.
Read the review below, they are totally accurate about this little gem of an amplifier.
The amplifier is approximately 1.5 years old, hardly used and comes with its box and accessories.
Note: this amplifier is best with speakers of no less than 88dB for moderate levels of listening in a small to medium small area. Speakers with 90dB or more would be a perfect match.
Price:
RM3,000
(firm). Retails for approximately RM7,500. PM if interested. Thanks! -
SOLD
Reviews:
https://hifipig.com/soulnote-sa-710-integrated-amplifier/
http://highfidelity.pl/@main-477&lang=en
http://av2day.com/2015/12/soul-notes-precise-monitor-amplifier/
http://notanotherhifiblog.blogspot.com/2016/12/soulnote-sa710-watts-matter.html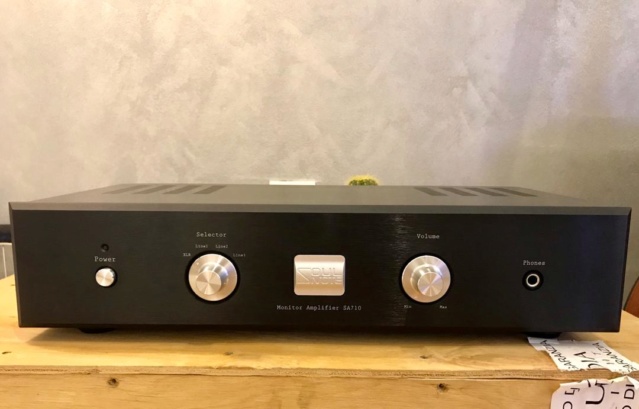 Last edited by WillT on Sat Nov 23, 2019 11:03 pm; edited 2 times in total

WillT

Frequent Contributor





Number of posts

: 109


Age

: 51


Location

: PeeJay


Registration date :

2018-11-22

Character sheet
Source(s): Cary Audio CD 500 and Mytek Brooklyn Bridge
Amplification: Cary Audio SLP-05 & Audia Flight FLS 10
Speakers: Marten Duke 2, ProAc Response D2, Harbeth P3ESR & KEF LS50



WillT

Frequent Contributor





Number of posts

: 109


Age

: 51


Location

: PeeJay


Registration date :

2018-11-22

Character sheet
Source(s): Cary Audio CD 500 and Mytek Brooklyn Bridge
Amplification: Cary Audio SLP-05 & Audia Flight FLS 10
Speakers: Marten Duke 2, ProAc Response D2, Harbeth P3ESR & KEF LS50



WillT

Frequent Contributor





Number of posts

: 109


Age

: 51


Location

: PeeJay


Registration date :

2018-11-22

Character sheet
Source(s): Cary Audio CD 500 and Mytek Brooklyn Bridge
Amplification: Cary Audio SLP-05 & Audia Flight FLS 10
Speakers: Marten Duke 2, ProAc Response D2, Harbeth P3ESR & KEF LS50



WillT

Frequent Contributor





Number of posts

: 109


Age

: 51


Location

: PeeJay


Registration date :

2018-11-22

Character sheet
Source(s): Cary Audio CD 500 and Mytek Brooklyn Bridge
Amplification: Cary Audio SLP-05 & Audia Flight FLS 10
Speakers: Marten Duke 2, ProAc Response D2, Harbeth P3ESR & KEF LS50



WillT

Frequent Contributor





Number of posts

: 109


Age

: 51


Location

: PeeJay


Registration date :

2018-11-22

Character sheet
Source(s): Cary Audio CD 500 and Mytek Brooklyn Bridge
Amplification: Cary Audio SLP-05 & Audia Flight FLS 10
Speakers: Marten Duke 2, ProAc Response D2, Harbeth P3ESR & KEF LS50



WillT

Frequent Contributor





Number of posts

: 109


Age

: 51


Location

: PeeJay


Registration date :

2018-11-22

Character sheet
Source(s): Cary Audio CD 500 and Mytek Brooklyn Bridge
Amplification: Cary Audio SLP-05 & Audia Flight FLS 10
Speakers: Marten Duke 2, ProAc Response D2, Harbeth P3ESR & KEF LS50



WillT

Frequent Contributor





Number of posts

: 109


Age

: 51


Location

: PeeJay


Registration date :

2018-11-22

Character sheet
Source(s): Cary Audio CD 500 and Mytek Brooklyn Bridge
Amplification: Cary Audio SLP-05 & Audia Flight FLS 10
Speakers: Marten Duke 2, ProAc Response D2, Harbeth P3ESR & KEF LS50


hi i am interested, can u contact me thru whatsapp 012-4678993 (david)

andrewlim8

Club Member





Number of posts

: 34


Age

: 50


Location

: ipoh


Registration date :

2014-11-26



---
Permissions in this forum:
You
cannot
reply to topics in this forum