Item: Audionet ART G2 CD Player and EPS External Power Supply
Condition: 8.5/10. Item is in pristine condition. Comes with original remote control and power cables.
Price: RM16.5k 
Contact: 012-3816611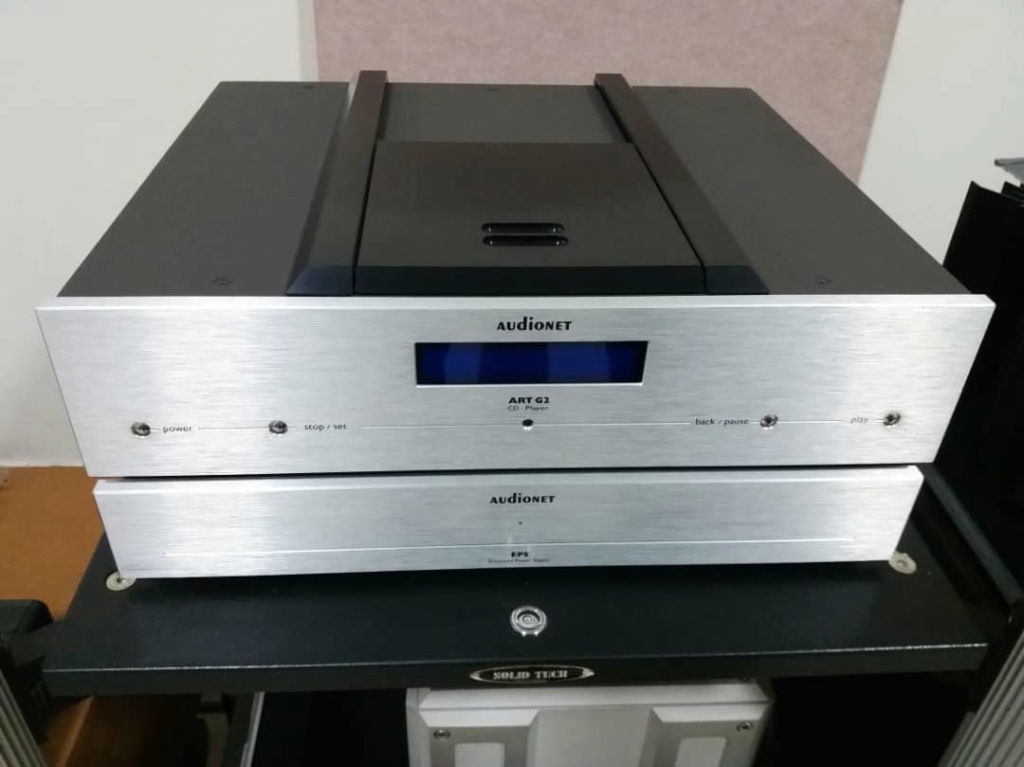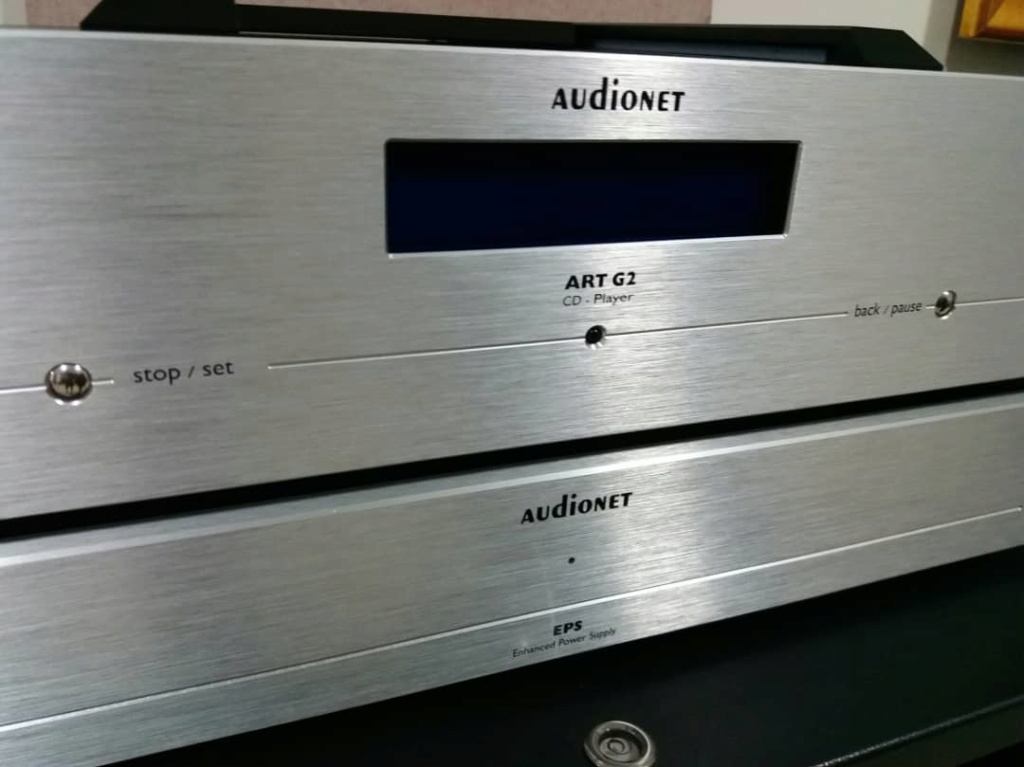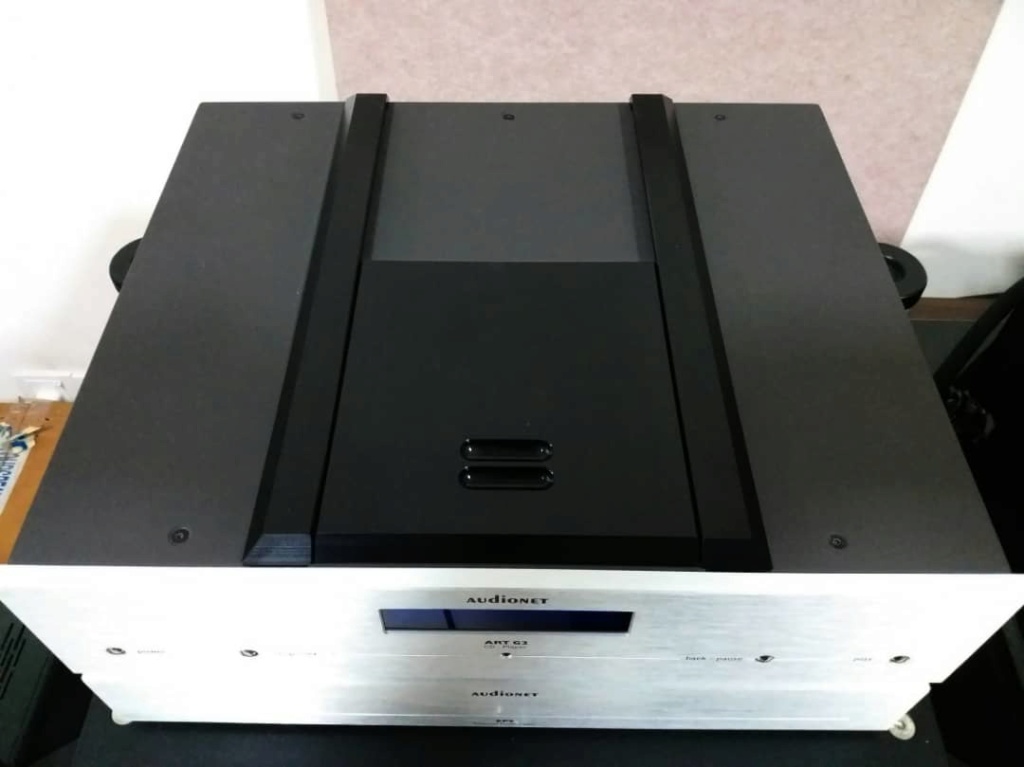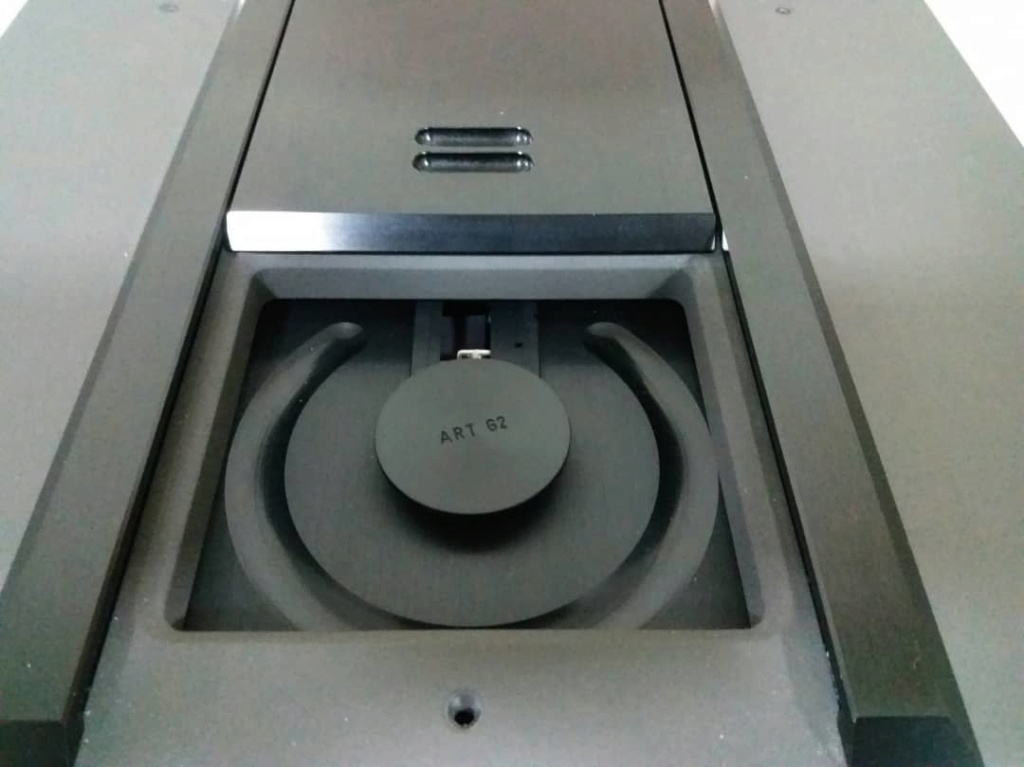 A 5 star review from What HiFi said: '
Inside that substantial cabinet there's a raft of sound-enhancing technology: Intelligent Sampling improves digital-to-analogue conversion and an upsampling system to take CD data up to 192kHz/24-bit resolution before conversion, coaxial and USB inputs allow the digital section to work on data from other sources, too'.
'The Audionet sings in a clean, detailed, uncoloured voice. Whether scaling the dynamic heights of Prokofiev's Montagues and Capulets, unearthing the barely-there details of Kate Bush's King of the Mountain, or charging through The Go! Team's grubby Junior Kickstart, the ART G2 exhibits the sort of unruffled resolve that's the mark of a great player. This is a self-effacing machine, concerning itself solely with extracting and reproducing every last drop of information from a disc'.
Experiencia excepcional
Many CD players are a bit too helpful. Anxious to please the listener, they interpret the encoded data of a CD. The ART G2, by contrast, means business. It takes the information offered by the disc, and reveals it in a way other systems are unlikely to match: with categorical precision, maximum delicacy, transparent vitality and absolute purity. But because words don't even begin to convey the ART G2 experience, you really need to hear it rendering your favourite recordings. You'll find that music sounds like it never did before – goose-pimples and shivers down the spine included.
The ART G2 (= second generation) is specially designed for classical stereophony and caters to all connoisseurs of superlative music reproduction. It seemingly effortlessly unfolds undreamt-of musical scenarios and enables fantastic aural experiences. Thanks to skill, precision and presence, the ART G2 pushes back the quality frontiers of classical CD playback.
The CD player is lavishly equipped. With the clear lines of the re-designed front panel and the large-size, informative display, the ART G2 unmistakably speaks the language of a reference-quality component. Incidentally: the ART G2 is also a D/A converter, meanings its qualities can equally be exploited for external digital sources as well as, via USB connection, computers.
For many years, the predecessor of ART G2 enjoyed worldwide prestige as the best-sounding CD player of all. This exceptional status is documented by a long list of test victories and awards from notoriously critical trade journals. The ART G2 is now set to outdo the forerunner model, and in the process establish a further audiophile milestone (hewn in granite, of course, to match the casing construction).
ART G2 is a wholly new construction, based on an uncompromising concept implemented with maximum attention to detail. Every phase of retrieval and playback was subjected to rigorous testing and optimisation.
Once entrusted to the ART G2, the securely mounted discs are read free from unwanted external influences. The casing ingeniously combines amorphous granite, steel, aluminium and low-resonance medium-density fibreboard. Audionet Aligned Resonance technology additionally decouples from the casing the transport unit which is mounted on a sturdy aluminium plate, thus systematically absorbing parasitic momentum. The disc is fixed in position by a special puck made of POM, a Teflon-like material.
Running smoothly and solidly in thick aluminium rails, a sturdy aluminium cover seals off the disc drawer and imparts additional stability to the MDF casing. Parasitic vibrations and noise stand no chance.
ART G2 spares no effort to improve the acoustic possibilities of the CD. With innovative engineering, excellent components, and audiophile passion we have re-defined the boundaries of feasibility.
Procesado de datos de sonido
Audionet Intelligent Sampling technology guarantees the wholly accurate recovery of the analog signal from the digital data stream. The PCM data runs through a sophisticated two-stage filtration and decoupling process. First, the initial data is filtered and synchronously upsampled by proprietary Audionet software running on a powerful digital signal processor. The filters are designed for maximum possible accuracy of impulse and frequency response. Thus optimized, the audio data is rendered to 192 kHz/24 bits by an asynchronous upsampler, and is completely decoupled from the input clock in the process.
The data are then transferred in separate channels to two high-performance converters and processed into analog streams. The digital-to-analog converters are clocked by an interference-free, stress-isolated, high-precision clock generator and powered by high-accuracy sources.
The analog processing is performed by differential current-voltage converters and extremely complex filter/amplifier circuits. Designed for exceptional impulse accuracy and extremely high cut-off frequency, these electronic circuits are composed of discrete components, with two dual-FET inputs, boot-strapped cascode and audiophile adjustment.
This extended design guarantees optimum channel separation, maximum dynamic range and minimum distortion, eliminating jitter artefacts to levels below that which can be detected.
The digital audio transmission is likewise unique. The PCM data are processed and decoupled by Audionet Intelligent Sampling technology, then routed to a powerful output transmitter via a low-jitter LVDS data link which is non-sensitive to interference.
Audionet's proprietary HighBit interface permits provision of all data at rates up to 192kHz/24 bits, while LowBit mode offer rates up to 96 kHz/24 bits. Thus, the best possible PCM output data is digitally available on a permanent basis.



Top loader with damping MDF, aluminium and granite casing construction





Solid aluminium cover (10 mm), run on Teflon bearings





Audionet proprietary Aligned Resonance technology additionally decouples transport unit and boards as well as the clock generator





Disc stablizer (puck) made of POM





Separate power supplies for read-out and converter unit





Completely DC-coupled, no capacitors in the signal path





Discrete, extremely fast and stable filter and output stages





D/A converter function with USB/SPDIF digital input





Audionet Intelligent Sampling technology with 192 kHz / 24 bits





Audionet HighBit-Interface with 192 kHz / 24 bits output





AES-EBU output with 96 kHz / 24 bits





Digital outputs can be switched off





Professional operating concept





Remote control (included)





Optional: Audionet external precision power supply EPS for the analog section




Estándares



CD | CD-R in conformance with Redbook, Orangebook and Bluebook standards




Conversión



Stereo channels: 192kHz/24 bits, Dual-Mono-DAC, Multibit-Delta-Sigma





Sampling rates: 44.1 kHz




Entradas y salidas



Analog audio outputs:




6-cinch line, gold-plated




2 XLR, gold-plated




Digital audio outputs:




2-cinch, 600 mVs into 75 ohms, gold-plated




1 AES/EBU, 110 ohms, gold-plated




1 Audionet HighBit interface




1 optical (TosLink)



Digital audio inputs:
1 USB, for USB-Audio and SPDIF
Remote activation:
1 Audionet-Link in, optical (TosLink)
2 Audionet-Link out, optical (TosLink)
External power supply:
5-pin input
Datos técnicos



Bandwidth: 0 – 22,000 Hz (-3 dB), 0 – 90.000 Hz (-3 dB) analog




THD + N: typ. 100 dB;(A weighted) @ -60 dBFs




SNR: > 110 dB




Channel separation: > 130 dB @ 10 kHz




Output impedance: 33 ohms




Output voltage: 3.5 Veff.




Dimensions: W 430 mm * H 120 mm * D 360 mm




Weight: 22 kg




Mains connection: 120 or 230 V, 50...60 Hz




Power input: 5 W standby, max. 40 W



Acabados



Front panel: brushed aluminium, black anodized, white printing brushed aluminium, silver anodized, black printing




Display: red or blue




Cover: MDF, Nextel coated, grey




Slide: aluminium (10 mm), black anodised




Chassis: granite, sheet steel, black



Website:
https://www.studio-22.com/audionet/art-g2.htm
http://www.newaudio.it/audionet.htm
VIEW ALL MY OTHER STUFFS BY CLICKING BELOW:https://my.carousell.com/hifijunction/https://my.carousell.com/hifijunction/https://my.carousell.com/hifijunction/
Thank you
---
Permissions in this forum:
You
cannot
reply to topics in this forum