Clearance Promotion 
Clearance Price : RM 18,500.00 (Cash & Carry) 
Promo Price : RM 22,000.00
Retail Pricing : RM 27,750.00
Condition : 9.0/10
INTRODUCTION
ACOUSTIC FIDELITY
The weakest element of any high-fidelity system is the room. Typical rooms introduce up to 10dB of distortion in the frequency response. Furthermore, loudspeakers with a perfect impulse response don't exist.
Trinnov's ST2-HiFi solves the acoustic equation. It takes your high-end system to a whole new level of accuracy, from high-fidelity to acoustic-fidelity.
IN A NUTSHELL
The ST2-HiFi is today's most advanced stereo processor, room optimizer & DAC. It offers Trinnov's patented loudspeaker/room optimization technology in a package specifically customized for Hi-Fi enthusiasts.
In a nutshell, the ST2-HiFi offers the following benefits:
-Easy Setup in 4 steps
-Powerful Algorithms: Multi-point measurements, time-frequency analysis, comprehensive graphs and much more…
-Flexible fine-tuning to meet your personal taste for sound balance
-High Performance Audio boards, designed and manufactured by Trinnov
-Multiple Remote Control options
FEATURES
EASY SETUP
-Insert the system between your player/pre-amplifier and the amplifiers, and connect the microphone
-Run the step-by-step calibration wizard
-Select one of the 5 automatically generated compensations
-Change the target curves and other optimization parameters
-Store up to 6 customisable profiles and 29 user-defined presets
POWERFUL ALGORITHMS
-Multi-point measurements of all loudspeakers
-Time-frequency analysis: the loudspeaker and the room are separately equalized
-Automatic optimization of amplitude and phase response according to Target Curves
-Intelligent active crossovers: automatic alignment of delays and gains for every driver
FLEXIBLE FINE-TUNING
-Comprehensive acoustical graphs
-Optimization parameters: maximum boost, maximum attenuation…
-Manual FIR, parametric and graphic EQs
REMOTE CONTROL
-From any PC, Mac, iPad, iPhone or Android phone (from a VNC client application, through the network)
-Using external monitor, mouse and keyboard
-Real-time control of the processor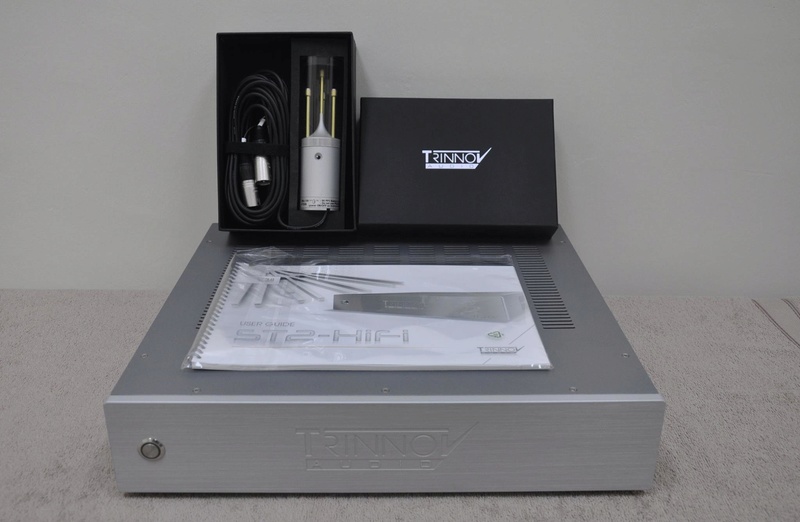 SPECIFICATIONS
HIGH PERFORMANCE AUDIO
ADC RESOLUTION / SAMPLING RATE=>24 bits/96 kHz
DAC RESOLUTION / SAMPLING RATE=>24 bits/192 kHz
A/D SIGNAL-TO-NOISE RATIO=>119 dB (A-Weighted)
THD+N ADC=>-103 dB
D/A SIGNAL-TO-NOISE RATIO=>118 dB (A-Weighted)
THD+N DAC=>-98 dB
CLOCK / JITTER=>Variations under 25ps are recovered, jitter attenuation superior to 50 dB is achieved above 100Hz
POWER SUPPLY=>Independant for audio and processing sections
SAFETY COMPONENTS=>AntiPop relays on each analog output
DESIGN AND ASSEMBLY=>All Audio boards designed and manufactured in France by Trinnov Audio
CONNECTIVITY
ANALOG I/O=>
4 single-ended channels inputs via 4 x cinch (10k Ohms)
4 single-ended channels outputs via 4 x cinch (100 Ohms)
4 balanced channels inputs via 4 x XLR (20k Ohms)
4 balanced channels outputs via 4 x XLR (100 Ohms)
AES I/O=>
2 channels input via 1 x XLR (110 Ohms)
2 channels output via 1 x XLR (110 Ohms)
SPDIF=>
2 channels inputs via 1 x cinch (75 Ohms)
2 channels outputs via 1 x cinch (75 Ohms)
PROCESSING SECTION
PROCESSOR=>Intel Dual-Core 1,8 GHz
DATA WIDTH=>64 bits, floating point
RAM=>1 Go DDR3
STORAGE=>Flash Drive 1 GB
COOLING SYSTEM=>Custom heat sinks + additionnal slow fans
MAXIMUM NUMBER OF PROCESSING CHANNELS=>4 channels at 96 kHz
PHYSICAL CHARACTERISTICS
Chassis: 2U
Power supply: 240V AC / 50-60 Hz. Option: 130V AC
Consumption: 90 W max.
Weight: ∼9,4kg
Environnemental conditions:
– Operating : 0°C – 40°C (32°F – 104°F)
– Humidity : 20% – 80% relative humidity (without condensation)
Please Contact us at 016-725 5372 (Wendy) or 012-614 3049 (Ms.Wee) for further detail or to arrange for a demo in our showroom situated at Taman Melaka Raya , Melaka.
Mode of payment :
- COD Anywhere in Melaka town area
- PBB / MBB of  purchase outside Melaka.
Last edited by WTL_Trading on Fri Jun 14, 2019 11:58 am; edited 3 times in total

WTL_Trading

Dealer\Reseller\Trader\Service Provider





Number of posts

: 402


Age

: 30


Location

: malaysia


Registration date :

2016-06-29




WTL_Trading

Dealer\Reseller\Trader\Service Provider





Number of posts

: 402


Age

: 30


Location

: malaysia


Registration date :

2016-06-29




WTL_Trading

Dealer\Reseller\Trader\Service Provider





Number of posts

: 402


Age

: 30


Location

: malaysia


Registration date :

2016-06-29




WTL_Trading

Dealer\Reseller\Trader\Service Provider





Number of posts

: 402


Age

: 30


Location

: malaysia


Registration date :

2016-06-29




WTL_Trading

Dealer\Reseller\Trader\Service Provider





Number of posts

: 402


Age

: 30


Location

: malaysia


Registration date :

2016-06-29




WTL_Trading

Dealer\Reseller\Trader\Service Provider





Number of posts

: 402


Age

: 30


Location

: malaysia


Registration date :

2016-06-29




WTL_Trading

Dealer\Reseller\Trader\Service Provider





Number of posts

: 402


Age

: 30


Location

: malaysia


Registration date :

2016-06-29




WTL_Trading

Dealer\Reseller\Trader\Service Provider





Number of posts

: 402


Age

: 30


Location

: malaysia


Registration date :

2016-06-29



---
Permissions in this forum:
You
cannot
reply to topics in this forum