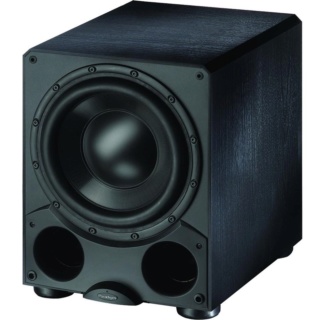 [You must be registered and logged in to see this link.]
DSP-3200
12-inch single driver, bass-reflex, dual high-velocity low-turbulence resistive ports, built-in amplifier, USB Port / PBK Interface. 900 watts Dynamic Peak / 300 watts RMS.

Product details of PARADIGM DSP-3200 12" 900 WATTS POWERED SUBWOOFER
Big Bass for a Small Space
High-power DSP Series subwoofers are the result of Paradigm's multi-year R&D effort to achieve exceptional high performance while accommodating the growing desire for installation flexibility. Not everyone wants a high-performance subwoofer on full display, so models are front-firing and front-ported with removable grilles, making them ideal for "hidden" installations. For those who want it all … exceptional high performance (including the sonic benefits of digital signal processing!), a smaller footprint, flexible placement options and killer price points, DSP subwoofers fit the bill.
Control Facilities:
• Auto On/Off
• Subwoofer Level
• Subwoofer Cut-Off Frequency (continuously variable 35 Hz – 150 Hz); 

Bypass Option
• Sub/Sat Phase Alignment (0° to 180°)
• USB Port/PBK Interface
Input Facilities:
• Line-level Inputs
Advanced High-Power Class-D:tm: Amplifiers deliver massive amounts of high-current power with minimal distortion. 900 watts Dynamic Peak / 300 watts RMS.
Forward-Firing Drivers with Advanced CAP:tm: Carbon / Aramid-Fiber Polypropylene Cones. Advanced cone material combines exceptional stiffness/low mass with excellent internal damping for tremendous freedom from unwanted resonances.
Advanced Suspension Design and Large Magnet Structures encourage extended cone excursion while maintaining superb control over cone movement.
High-Efficiency Dual-Ported Design. High-velocity low-noise ports with critically flared openings serve to reduce turbulence distortion. Front-ported design accommodates installation flexibility.
Removable Grilles with AVS:tm: Airflow Ventilation System allow release of the enormous air pressure generated by these high-output designs.
Acoustically Inert MDF Enclosures serve to limit unwanted panel resonances and vibrations, ensuring clean, clear and very articulate bass performance.
DSP-3200 Specifications
Design                                       
Single driver, bass-reflex, dual high-velocity low-                                                     turbulence resistive ports, built-in amplifier, USB                                                     Port / PBK Interface
Amplifier                                    900 watts Dynamic Peak / 300 watts RMS
Amplifier Features                       Auto-On / Off, soft clipping
Room Correction                          pbk-1
Low Pass Filter Frequency             Variable 35 Hz - 150 Hz; Bypass Option
Frequency Driver                         
305-mm (12 in) CAP:tm: cone, ceramic / ferrite                                                          magnet, 50-mm (2 in) 4-layer voice-coil, AVS:tm:                                                      die-cast heatsink 
chassis
Low Frequency Extension             22 Hz (DIN)
Sub / Sat Phase Alignment           0° - 180°
Finishes                                      
Black Ash
Inputs                                       
RCA (L/R-Mono) for L/R Line-Out or Sub-Out /                                                       LFE-Out of receiver, processor or other line-level                                                     source
Weight                                       
54 lbs. (24.5 kg)
Dimensions   
HxWxD                   
18.25" × 14" × 19.5"
Includes grilles and feet              (46.4cm × 35.6cm × 49.5cm)
Conditions: 10/10 (New Ready Stock)
Price: RM3678 exclusive postage
Whatsapp: Choy 012-5685484

choyaudiovisual

Dealer\Reseller\Trader\Service Provider





Number of posts

: 2056


Age

: 39


Location

: Perak


Registration date :

2012-07-11

Character sheet
Source(s):
Amplification:
Speakers:



choyaudiovisual

Dealer\Reseller\Trader\Service Provider





Number of posts

: 2056


Age

: 39


Location

: Perak


Registration date :

2012-07-11

Character sheet
Source(s):
Amplification:
Speakers:



choyaudiovisual

Dealer\Reseller\Trader\Service Provider





Number of posts

: 2056


Age

: 39


Location

: Perak


Registration date :

2012-07-11

Character sheet
Source(s):
Amplification:
Speakers:



choyaudiovisual

Dealer\Reseller\Trader\Service Provider





Number of posts

: 2056


Age

: 39


Location

: Perak


Registration date :

2012-07-11

Character sheet
Source(s):
Amplification:
Speakers:



choyaudiovisual

Dealer\Reseller\Trader\Service Provider





Number of posts

: 2056


Age

: 39


Location

: Perak


Registration date :

2012-07-11

Character sheet
Source(s):
Amplification:
Speakers:



choyaudiovisual

Dealer\Reseller\Trader\Service Provider





Number of posts

: 2056


Age

: 39


Location

: Perak


Registration date :

2012-07-11

Character sheet
Source(s):
Amplification:
Speakers:



choyaudiovisual

Dealer\Reseller\Trader\Service Provider





Number of posts

: 2056


Age

: 39


Location

: Perak


Registration date :

2012-07-11

Character sheet
Source(s):
Amplification:
Speakers:



choyaudiovisual

Dealer\Reseller\Trader\Service Provider





Number of posts

: 2056


Age

: 39


Location

: Perak


Registration date :

2012-07-11

Character sheet
Source(s):
Amplification:
Speakers:


can sell at RM 3050..

cod at ipoh weekend

ikah

New Member





Number of posts

: 16


Age

: 40


Location

: perak


Registration date :

2010-05-27




choyaudiovisual

Dealer\Reseller\Trader\Service Provider





Number of posts

: 2056


Age

: 39


Location

: Perak


Registration date :

2012-07-11

Character sheet
Source(s):
Amplification:
Speakers:



choyaudiovisual

Dealer\Reseller\Trader\Service Provider





Number of posts

: 2056


Age

: 39


Location

: Perak


Registration date :

2012-07-11

Character sheet
Source(s):
Amplification:
Speakers:



choyaudiovisual

Dealer\Reseller\Trader\Service Provider





Number of posts

: 2056


Age

: 39


Location

: Perak


Registration date :

2012-07-11

Character sheet
Source(s):
Amplification:
Speakers:


---
Permissions in this forum:
You
cannot
reply to topics in this forum