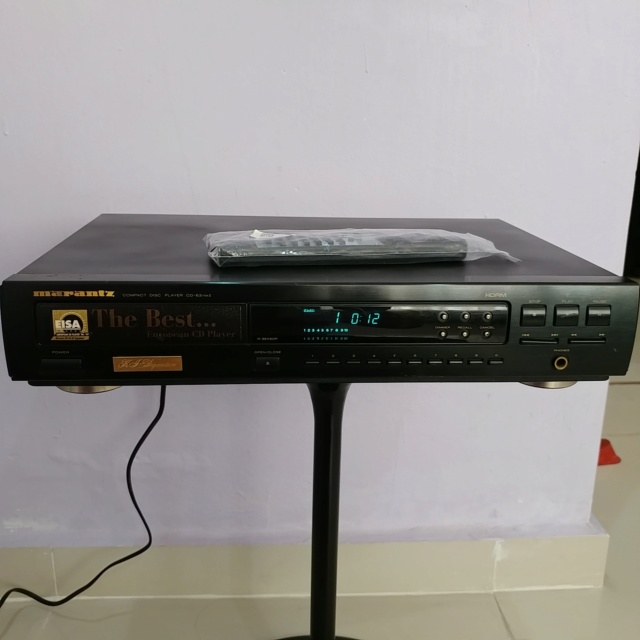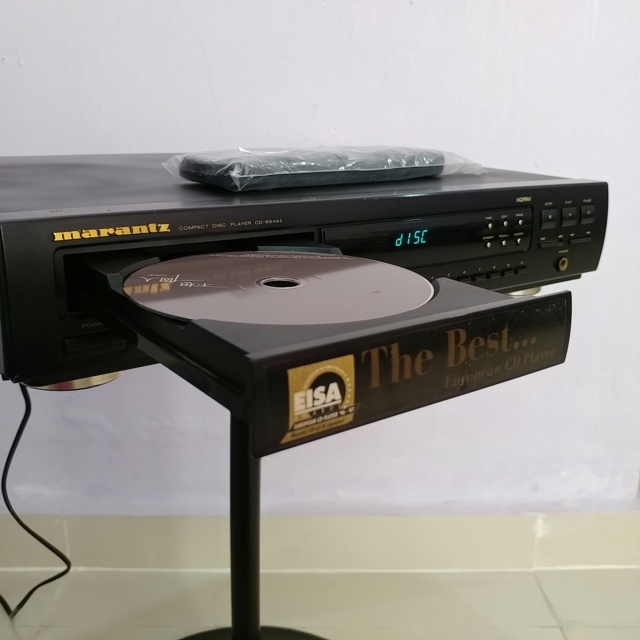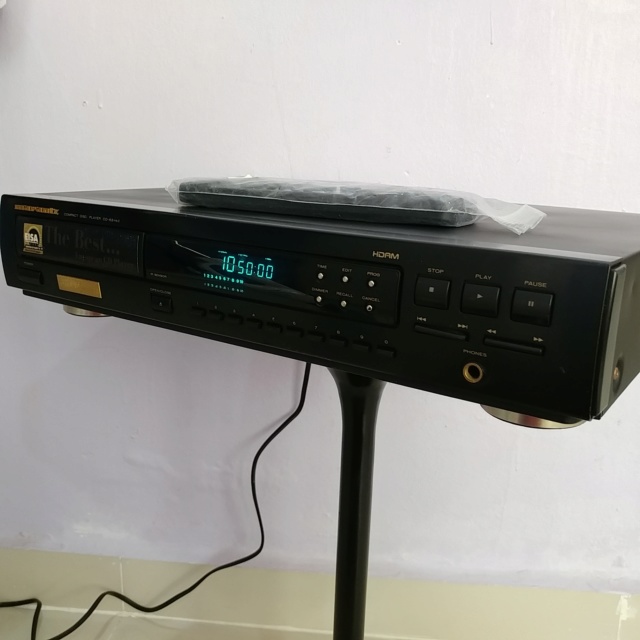 Made In England
Price : RM 1550
Contact Simon Ting : 012-3612507
The player in good working condition
CD laser lens and Tray loading gear just replaced NEW
Come with remote control
Marantz CD-63 MKII K.I. Signature Compact Disc Player
Anyone who recognises the KI signature range of Marantz products will not need this introduction.
The CD-63 MK II KI is known for its very detailed and neutral sound yet amazingly tight and powerful bass.
Although built by Marantz of Japan these players were heavily modified in the UK before being distributed for sale.
The changes Included fitting a British made OFC toroidal transformer and high-end audio grade capacitors for the digital to analogue stages.
Improvements to the
master clock as well as the addition of a copper-plated chassis, these were just a few of many changes made to an already superb CD player.
This player won many awards and was rated with 5 stars on many occasions.
But the best feature of all in my opinion, is the in-built volume control in the cd player. You can read all the reviews about this player on the net, but experimenting
with this feature seems to have the most effect on the sound, as you can turn down the volume on the player, which allows you to crank your amp right up and
bring out a lot of the detail on your recordings which was previously hidden! Everyone knows that amps operate better at what might be called anti-social levels,
but unless you have a bit of space between yourself and your neighbours, this is usually not possible.
Often a good set of attenuators will help, reducing the input to your amp from your source, but these can often degrade the sound. Tha Marantz however has this
problem totally licked! I'm writing this with the player rocking away in front of me, with my amp at volume 60 (out of 99), higher than it has ever been, and it sounds
incredible! All in all, this is a CD-Player that is certainly way better than average and it fully deserves all the (almost) cult following, it has achieved among music
lovers worldwide (and even among magazine reviewers).
The CD-63 is also a modders delight, and probably has more pages dedicated to upgrades than any other player on the net. This is basically because the players
are very well put together, easy to work with, straightforward, and already sound great, so provide a good starting point.
"CD-63 MkII Ken Ishiwata Siganture - Sep 96 - £500 - This is a rare player, greater than the sum of its parts." - Hi-Fi World.
The CD63 MkII KI, or the Ken Ishiwata Signature, to give it its full name, is considered by many as Marantz's jewel in the mid-priced crown. Designed by the master
of Marantz himself, it's the final initiation before the beguiling arms of high-end hi-fi.
The 'Ken Ishiwata Signature' models offer unparalleled quality. Ken Ishiwata, who created the SE concept, is a gifted audio designer who believes sound reproduction
should touch the listener in a way no other sensation can. His personal signature on a Marantz product is the sign of no-compromise high fidelity.
Review:
Perhaps because of its populist beginnings, the CD63 ended up being the item of choice for the conversion. Retained from the stock CD63 MkII are all the on-board
features, and there are enough to attract even the most die-hard gizmo-gadget maven. Just to recap, for those who haven't ever seen or gone through a CD63, are the
following points. Program, random, repeat, edit and peak functions are all here, making the CD63 KI a sonic swinger with features up to par with the rest of the mass-
market boys.
The best part is that all these functions are accessible through the fascia. The epitome of user-friendliness, if you ask me. There's also a nifty A-B repeat mode included
for those of us who just want to listen to a particular part of a song or piece of music. Useful for those of us who're trying to memorise a particular part of a song or want
to torture our neighbours with a particularly loud part of the latest Nine Inch Nails oeuvre.
Turning the CD63 KI over you'll find that the rear of this player is quite well endowed. Apart from the RCA analogue outputs, the CD63 KI has two types of digital outputs
available (co-axial and optical) and remote control in/out jacks. I'm impressed with the remote control jacks. When you connect this player to another Marantz device via
a D-BUS remote control cable, you can control both devices through this unit. Truly excellent if you want to synchronise the CD63 KI with, say, the Marantz SD60 tape
deck for instance.
So what is different here? The use of higher quality capacitors, better power supply regulation, among quite a number of other things. Suffice to say that the KI is significantly
tweaked, and most importantly, musically retuned. Having had a musical diet of mass-produced Japanese players, I was initially taken aback by how the CD63 KI sounded.
Previous to this, my only brush with a Marantz was the CD46, and that was with me all too briefly to really discover what Marantz has to offer in way of sonics. Having said
that, I have to say that the CD63 KI gave me an interesting insight into what kind of music Ken Ishiwata enjoys.
The KI Signature series, as I mentioned earlier, is a stock CD63 redesigned by the man himself to his specifications. And as the classy ad proclaims, you can now obtain
what he listens to. So, being the young fool that I am, instead of feeding slow stuff, I fed the CD63 KI an initial diet of fast and loud music. Very fast and very loud music.
And some interesting things happened.
The first thing I noticed was how clear the vocals sounded; voices came across slightly forward, but with amazing clarity and detail. And I mean detail, I actually heard the
intake of breath on some of the songs I fed it. There's just so much detail. Both male and female vocals benefited from this new arrangement. And, mind you, all this was
on loud and beaty tracks. But there's more. It's not just vocals that gain from this tweaking. Just listen to a guitar track and be prepared to be blown away. The guitars are
just so clear, especially on acoustic guitar sections. The resolution here is downright amazing. Fret noises, harmonics and plucking are just so "there".
And it's no slouch with an electric guitar either. The electric axe comes across with just the right amount of energy and presentation without drowning out either the voice
or an acoustic guitar playing in the background. Try this on any CD that has both electric and acoustic guitar playing in tandem if you need further proof. In case you're
wondering, the CD63 KI is no slouch on the low level resolution front too. Background electronic washes and vocals are quite clear and distinct. I mean, I could actually
hear the raindrops falling on concrete distinctively in the background on Vangelis's Tears In The Rain. This level of detail is something I haven't observed on other players
that I've encountered.
All this led me to believe that Mr Ishiwata probably likes his music live, late night, laidback and jazzy. In went Astrud Gilberto's Girl From Ipanema, a live recording with
some feedback and some hi-hat fumblings. Wow, wow and I mean wow. I was left speechless. I know I'm going to get crucified for this, but having heard a vinyl version
of the same performance, I have to say that the CD version through the CD63 KI comes pretty close to sounding just like it. Gilberto's voice grabbed me and sucked me
into the recording. This machine is such a jazz hound. So much so, I suddenly had a desire to go out and buy lots of jazz CDs.
Conclusion:
The Marantz CD63 MkII KI Signature CD player is a classy machine. It's excellent for slow, involving music like laid-back jazz and classical tracks. More than pleasing
with vocals, the CD63 KI provides excellent detail and clarity for guitars and incidental background washes. Truly one of the times when the reality is worthy of the hype!
Reviews from CD-63 KI owners:
"I have owned the standard CD-63mkII and the KI Sig version sounds nothing like it, the KI is in a much higher class in terms of sound quality and can often rival many
more expensive players."
"The Marantz CD63 KI signature is definitely the best cd player I've ever owned, having previously owned Denon, it is clear to see why so many people
choose Marantz."
"CD63 KI. This is a fabulous player!"
"I purchased this gem from my friend, I was using a sony CDP90 , but when I connected 63MK2 I can hear some difference between the two. Marantz is
very detailed and the bass is tight. Though the features are quite a few when compared with sony, I like this player and am very much pleased with it."
"Great Value for money. If you're looking for a smooth, detailed and superb sounding player this has got to be it for the price range. Vocals are extremely pleasing. Definitely,
a recommended product and well received by various magazines."
"Fantastic, reproduction of sound. It excells with classical music, and jazz."
"Great quality and sound for the money."
"Enormously engaging and fun, fun, fun! I use it with a Marantz PM-16 amplifier, B&W P6s and the AudioTruth Lapis. Great combo thanks to this fine CD-player."
"This is the best CD player ever made at this price range. Higher priced players should be compared to the 63KIS. The Sony DVD 7XX for example sounds thin and aggresive
compared to the K.I.S. I don't believe that it is worth spending a penny more for something more exotic."
"A great cd player for jazz and acoustic music. Deep bass, image, clear sound!"
"I upgraded to the KI from a basic 67 MK2, and after trading my old player against the new, had to pay just £200 difference. What an improvement it made - I had no idea
just how much information I was missing out on before. The sound is very direct but not fatiguing as the mainstream press have made it out to be in comparison with, say,
an Arcam. This player has made me go back through my music collection - it's like buying new CDs all over again! If you can pick one up cheap then do so; Marantz are
discontinuing this model. It's a future classic."
"Imaging, depth, very enjoyable and exciting listen."
"This is a wonderful product. Sounds great, detailed and extremely musical. Compared to other sources I have listened to, both CD and LPs, it is always a pleasure to again
listen to the 63 KI. Had mine now for two years and use it with a Audiolab 8000S, 8000P and B&W CDM 7s."
"The Marantz CD-63II KI-Signature is a very fine mid-price cd player. It has a slightly rich tonal balance, but can still reproduce a variety of deep tonal colours.
It has excellent soundstaging, with outstanding resolution powers - especially in the bass. Dynamics and impact are also very good."
"It exhibits some real analogue-like touches of magic about it, that other similarly priced players can only dream about it. Enjoy."
"I ran a burn-in test of 48 hours with the player on auto-replay - as recommended by the dealer. After which a real improvement on vocal clarity and sweet
treble came out. Bass is tight and really controlled. I had listened to the Cyrus dAD3 and Marantz CD67SE. Over these two players the 63KI sounded more
warm and open - its high and vocals are just sweeter!"
"The sound is at the highest level possible in its range. Perfect with the music genres I usually listen to, classic and jazz."
"If you can get one second hand grab it as this player will become a collectors item."
"Amazing sound, amazing player, amazing looks! Bass, treble, quality, looks, sound, speed, functions!"
"I have tried many CD players but in the end, I always go back to my faithful CD63KI. I believe this is the best CD player tweaked by Ken Ishiwata. Tried the
newer 6000KI and CD17KI, both can't come close to the extremely lifelike portrayal of the vocals and great sense of atmospheric details. The CD17KI sounded
too smooth and unexciting and the CD6000KI lacks the attack, making some music sound out of place."
"Superb vocal rendition, very lifelike presentation, strong bass."
"I always wanted one but it was a little out of my price range....until recently. It sounds great, nice and detailed, great soundstage, good bass weight."
"Crisp uncoloured tone, build quility, Price."
"A good value cd player I have been using mine for more than a year, it's a generally good cd player to match amps and speakers 2-3 times its price."
"I have been using the Marantz CD-63 mk-II KI-Signature cd-player since a little more than a year. It sounds smooth, can extract fine details, has strong well-defined bass
and fairly clean mid and high range. Also it is able to create a wide sound stage. This is the creme-de-la-creme of Marantz's mid hi-fi designs. All the good qualities present
in Marantz's 63-series CD players are fine-tuned and refined. Music sounds clear and lively with good pace and rhythm, which makes listening a very involving experience."
"Ken Ishiwata and the rest of the boffins at Marantz have struck a fine balance between offering qualities present in a high-end player whilst maintaining
an affordable price for the budget-conscious audiophile. Kudos to Marantz!"
"Clean sound; excellent on vocal and instrumental textures; good pace and rhythm."
"Purchased new last year for a bargin £299GBP. Worth every penny - If I had known it was this good, I would have paid the full £499 when it was first released!
A quantum leap over the standard CD63. Buy one before they sell out. Insight, clarity, musicality."
"I recently bought the 63 KI in order to upgrade from my 67 SE. I must say I am not disapointed: the difference is nearly like night and day, even if the 67 SE is a good basic
player. But I presume "basic" is its weakness compared to the 63 KI."
"The first impression I had was the dynamics: from bass to highs, the sound became alive! I realised then how flat was the 67 SE... Second, came the sound-
stage and details. It is the first time I "heard" depth, discovering many hidden details. Moreover, the heat of sound I had with the 67 SE was still there, and better."
"This cd player performs way above its price. I listened to a number of players that were 3-4 times the price that I felt couldn't compete with this. Buy this player if you want a
great deal, a classic cd player for sure! Thanks Marantz!"
"Incredibly clear. Impressive detail and soundstage."
"All round enduring ability to induce an emotional response of the 'inane grin' variety with most listeners... regardless of musical genre."
"Haven't found any weaknesses yet after three years listening... and believe me, many friends of an 'audiophile' disposition have spent many hours trying, with
all but the true audiophile snobs having to reluctantly conclude that the KI is indeed a rare and exceptional bit of kit."
"For this kind of money, it really kills off the competition. I dare to say this 'cos I have been listening to all kind of players over the years. I will never regret this purchase."
"Accurate treble, sweet mid & good low."
"I can only replace it with something much more expensive (over £2000). It is the only player (and I have listened to many, from £400 to £60,000) at that price range that you can
experience all the emotions of a recording. I can not forget the 3 dimensional sound stage in which I could pinpoint the exact position of the musicians. It really plays music as
an analogue source."
"The outgoing midband is so lifelike that you can almost touch the singer! The transparencey is excellent for the price."
"The 63KI works for me big time. It's very detailed, yet smooth, and very transparent. Bass is a bit light, but pacy. Where this player really shines for me is vocal and acoustic
instruments."

HiFiLab

Dealer\Reseller\Trader\Service Provider





Number of posts

: 2736


Age

: 41


Location

: klang


Registration date :

2011-03-12

Character sheet
Source(s):
Amplification:
Speakers:



HiFiLab

Dealer\Reseller\Trader\Service Provider





Number of posts

: 2736


Age

: 41


Location

: klang


Registration date :

2011-03-12

Character sheet
Source(s):
Amplification:
Speakers:



HiFiLab

Dealer\Reseller\Trader\Service Provider





Number of posts

: 2736


Age

: 41


Location

: klang


Registration date :

2011-03-12

Character sheet
Source(s):
Amplification:
Speakers:


---
Permissions in this forum:
You
cannot
reply to topics in this forum