Item: OPPO BDP-83SE Special Edition Universal Audiophile 3D Blu-ray Disc Player

For those unfamiliar with the Oppo BDP-83 Special Edition, when introduced it commanded an additional $400 over the $499 price of the Oppo BDP-83. For the asking price of $899.00, the BDP-83 Special Edition included an upgraded power supply and incorporated the ES9016 Sabre 32 Ultra 8-channel DAC configured in Quad Differential Stereo mode for the stereo output and an ES9006 DAC for the 7.1 channel outputs. The addition of the ESS DAC's, upgraded analog output stage and power supply elevated the Oppo BDP-83 Special Edition to an audiophile-grade component. The Oppo BDP-83 Special Edition compatible disc types are Blu-ray video, DVD video, DVD audio, SACD audio, CD audio, and AVCHD high definition digital video camera format.

Condition: 8/10. Item is in very good working condition. Comes with original remote control and power cable.

Price: sold

Contact: 012-3816611

The OPPO BDP-83 Special Edition Region Free Blu-ray Disc Player is an exciting upgrade based on the highly acclaimed BDP-83. Already well known for its exceptional audio and video performance, the BDP-83 is upgraded with an all new analog audio stage and improved power supply to become the Special Edition. Designed for the discerning audio enthusiast, the OPPO BDP-83 Special Edition Blu-ray Disc Player delivers an exceptionally wide dynamic range, ultra low distortion, accurate sound stage and jitter-free music clarity via its dedicated stereo and 7.1ch analog audio output.
The OPPO BDP-83 Special Edition uses the state-of-the-art Sabre32 family of Digital-to-Analog Converters (DAC) from ESS Technology. The Sabre32 family is known as one of the industry's highest performance audio DACs and are often found in high-end audiophile and professional equipments. The OPPO BDP-83 Special Edition uses an 8-channel Sabre Premier (ES9006) DAC chip for its 7.1 multi-channel output. The dedicated stereo output uses another 8-channel Sabre32 Ultra (ES9016) DAC chip by stacking 4 DACs for each of the Left and Right channels to achieve even greater audio performance.
Just like the BDP-83 it is based on, the OPPO BDP-83 Special Edition is a Profile 2.0 Blu-ray player featuring bit-stream and full decoding capability for high resolution audio tracks such as Dolby TrueHD and DTS-HD Master Audio. Designed for both home theater viewers and music listeners, it plays DVD-Video, DVD-Audio, Super Audio CD (SACD) and standard CD with excellent video and audio performance in addition to Blu-ray Discs. For a detailed list of features, please refer to the BDP-83 Features and Specifications page.
OPPO Digital recommends the BDP-83 Special Edition to customers who primarily use the analog audio output to connect to either a dedicated stereo or a multi-channel surround system. For customers who primarily use the HDMI output to connect to an A/V receiver or directly to a TV/projector, and for customers who primarily use the optical/coaxial digital audio output, the standard BDP-83 is recommended.
[size=48]Key Features:

[/size]




















Model: Oppo BDP-83SE (Special Edition)

Plays DVD from any and all regions

Plays Blu Ray from any and all regions

Works on any TV: PAL or NTSC

Works on any TV. Plays PAL and NTSC movies on a American, Canadian, Mexican TV (also known as a NTSC TV). The player has a built-in Memory Free Video Converter to play PAL movies on a NTSC TV, NTSC movies on a PAL TV without any loss of video quality.

Playback of regular (standard definition) PAL or NTSC DVDs from all regions: 
Regions 1,2,3,4,5,6,8. Region Code Chart by Country

Playback of Blu-Ray DVDs PAL or NTSC from all regions A, B, C. Region Code Chart by Country

Also plays , DIVX, AVI, MPEG-4, XVID, MKV, VCD, SACD, DVD-Audio, DVD-R, DVD-RW, DVD+R, DVD+RW, MP3 on CD-R/CD-RW, JPEG

Plays Blu-ray high-definition discs with selectable output resolution of 1080p signals available through HDMI only or 720p/1080i signals available through HDMI or component video.

plays DVD-Video, DVD-R & DVD-RW, and DVD+R & DVD+RW

plays high-def AVCHD files on home-burned DVDs

plays MP3 and JPEG files recorded to DVD

plays CDs

Selectable 720p/1080i/1080p video up-conversion for DVD (upconverted video available through HDMI output only)

Video Characteristics: 
- Composite Video Amplitude: 1.0Vp-p (75Ω)
- Composite Video Amplitude: 1.0Vp-p (75Ω)

Audio Characteristics
- Frequency: Stereo 20Hz - 44kHz (

At A Glance: Reference Blu-ray and DVD performance • Significant audio upgrade at a reasonable price • Excellent speed and ergonomics • Terrific disc compatibility
The Best Has Gotten Better
image: https://www.soundandvision.com/images/archivesart/410oppo.1.jpg

With all of the resources that are available to the Blu-ray Disc Association's major manufacturers, it's remarkable that the first company to cure the ills of standalone Blu-ray players was Oppo Digital with its $499 BDP-83 (HT, September 2009). Upon that player's release, many enthusiasts were using the PlayStation 3 for its speed and reliability. Standalone players were too slow and prone to disc incompatibility issues. They also had a hodgepodge of hardware profiles and decoding and interactivity features that bewildered consumers. When Oppo's BDP-83 came along, it did everything that a Blu-ray player should do, and it did it right and fast. In short, it was a next-gen Blu-ray player that acted like one. That player earned Home Theater's Top Pick of the Year in Source Components and overall Product of the Year for 2009 (HT, November 2009). Plus, it earned a check from me to Oppo. The BDP-83 I bought last year as a reference has been bulletproof during the time I've owned it. Compatibility issues have been few and far between. But when they've come up, Oppo has acted swiftly with hassle-free firmware updates from the Internet. It has been so bulletproof that it's difficult to imagine changing it out or upgrading it.
Enter the Oppo BDP-83SE Special Edition Blu-ray player. According to the company's Website, this upgraded player is for "customers who primarily use the analog audio output to connect to either a dedicated stereo or a multichannel surround system." Hey, that's me! So, the obvious question is just what that extra $400 buys a two-channel audio druid like me?
Audiophile Home Theater 
It's confession time. I am an avid two-channel audio enthusiast, and I've essentially built a high-end home theater around my high-end stereo. I use a 92-inch-wide front projection screen, but I'd have a larger one if it didn't interfere with optimizing placement of my floorstanding left and right loudspeakers, which are out in the room a good ways. I use a surround processor for video sources, but I also have an Audio Research REF5 two-channel analog preamplifier for dedicated audio sources, including disc players, a turntable, and now a USB DAC fed by a music server. A unity-gain processor pass-through input for the left and right channels on the REF5 preamp lets the surround processor implement volume control on the signal passing through the preamp. I've done many direct comparisons, and I prefer the sound of a dedicated, analog, two-channel preamp with high-resolution audio sources to the sound I hear from even the best surround processors. Although this is a purist approach, it's resulted in the greatest satisfaction for me when I listen to music. Plus it's had virtually no negative impact on my home theater experience.
image: https://www.soundandvision.com/images/archivesart/410oppo.rear.jpg

The New Boss, (Almost) the Same as the Old Boss 
Before I get to what's new in the BDP-83SE, most of what's happening here is the same as the BDP-83, which is a very good thing. Aesthetically, the two players are virtually identical. It's reasonably sturdy and functional. The BDP-83SE is a universal player that plays Blu-ray Discs, CDs, DVDs, and the all-but-defunct SACD and DVD-Audio formats. It decodes Dolby TrueHD and DTS-HD Master Audio to PCM over HDMI, or to analog over its 7.1-channel analog outputs. It can also transmit Dolby TrueHD and DTS-HD Master Audio as native bitstreams over HDMI, which you can quickly and easily change in the setup menu. When you choose bitstream output, you lose secondary audio, which includes PiP commentary streams and disc menu sound effects
New and exclusive to the BDP-83SE is an upgraded power-supply board and voltage regulation. It also features improved digital-to-analog conversion. While the original BDP-83 used a Cirrus Logic solution with a single DAC per channel, the BDP-83SE uses an eight-channel, 32-bit ESS Technology solution for the 7.1-channel analog outputs that it claims is superior. And it goes further still. It also uses a dedicated eight-channel ESS Technology DAC for the left- and right-channel analog outputs, which stacks four DACs on each channel. While this kind of configuration could theoretically support a full dual-differential output, the Oppo's output is single-ended. Oppo claims an S/N increase of 7 decibels with the BDP-83SE—that's 117 dB compared with the BDP-83's 110 dB. This is where your $400 goes. To be crystal clear, aside from the improved power supply, the BDP-83SE's aural improvements apply strictly to its analog outputs, and its two-channel analog outputs especially. The BDP-83SE is aimed at two-channel audiophiles or those who aspire to be.
Pure Audio Performance 
I stacked up the BDP-83 and BDP-83SE and ran them over identical sets of AudioQuest Sky interconnects to my two-channel preamp, using the Pure Audio mode on both players. The differences between the two weren't subtle. The BDP-83SE had better detail resolution and overall clarity with CDs and SACDs. In fact, the BDP-83SE sounded so good, I had to look above its price range to nail it down
Conclusion 
Oppo clearly has another dominant performer on its hands. It will only appeal to a select group of audiophile-oriented videophiles whose systems can take advantage of this player's two-channel analog outputs. But you know who you are. You also know that it's common for incremental increases in performance to involve exponential cost expenditures. The BDP-83SE is an outright steal at $899. No matter how much money you've got to throw at a BD player, you need to look at an Oppo.
image: https://www.soundandvision.com/images/archivesart/410oppo.vid.jpg
image: https://www.soundandvision.com/images/archivesart/410oppo.rat.jpg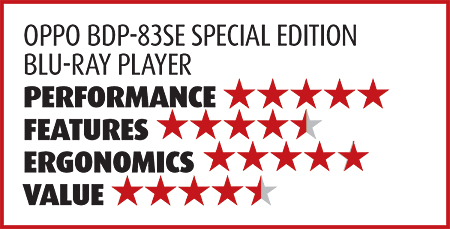 Oppo BDP-83SE Special Edition Blu-ray Player Features
Features 
BD-Live: Yes (1 GB onboard, expandable via USB) 
Bonus View: Yes 
Firmware Version: BDP83-48-1224 
Audio Decoding: 
Dolby: TrueHD, Dolby Digital Plus, Dolby Digital, 
DTS: DTS-HD Master Audio, DTS-HD High Resolution Audio, DTS 
HDMI Video Resolutions: 1080p/24/60, 1080i, 720p, 480i/p 
Compatible Playback Formats: BD-Video, BD-R/RE, DVD-Video, AVCHD, DVD-Audio, SACD, CD, Kodak Picture CD, CD-R/RW, DVD±R/RW, DVD±R DL, MKV 
Dimensions (W x H x D, inches): 16.88 x 3 x 13.25 
Weight (pounds): 11.2 
Price: $899
Connections
Outputs: Video: HDMI 1.3 (1), component video (1), S-video (1), composite video (1) 
Audio: Coaxial digital (1), optical digital (1), stereo analog (1), 7.1-channel analog (1) 
Additional: Ethernet (1), USB (2), RS-232 (1)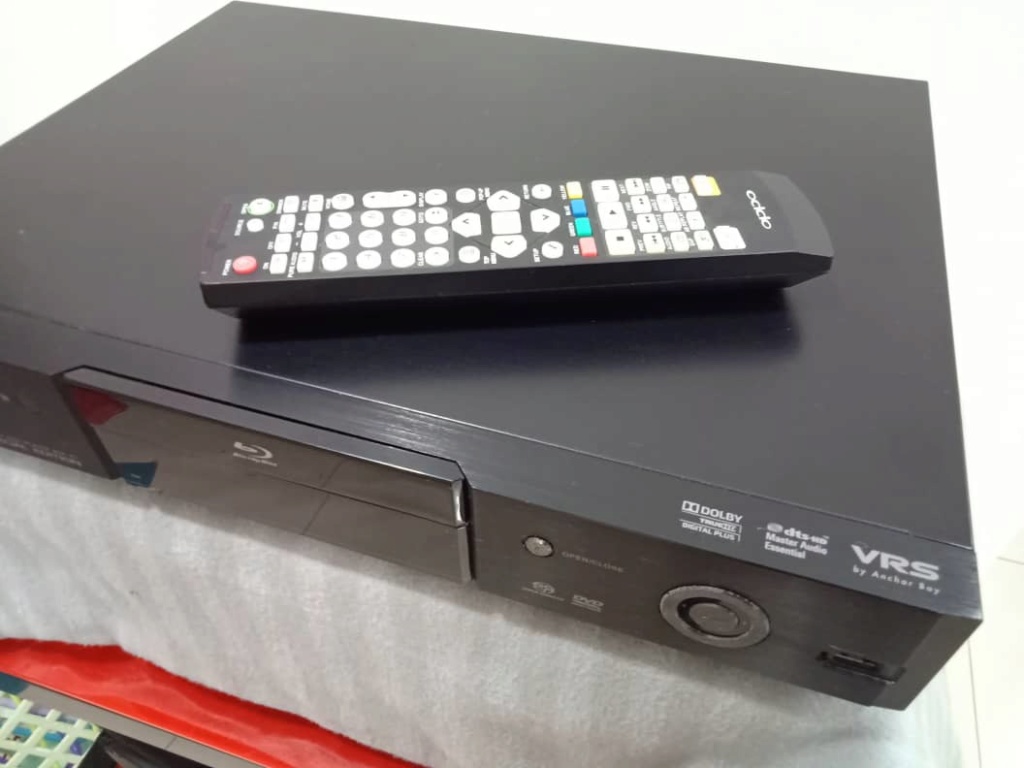 Website:
https://www.world-import.com/OPPO_BDP83SE_Region_Free_Blu_Ray_DVD_with_RS232_Built_In_Video_Converter.htm
https://www.soundandvision.com/content/oppo-bdp-83se-special-edition-blu-ray-player
https://www.hifiplus.com/articles/oppo-bdp-83se-special-edition-universal-blu-ray-player-the-perfect-vision-86/
http://www.audiophilia.com/reviews/2016/5/28/2p87oninqyvf2gkdlcup1ab1ybzh0u
Thank you
Last edited by raymond88 on Wed Oct 30, 2019 11:14 am; edited 3 times in total
---
Permissions in this forum:
You
cannot
reply to topics in this forum