Item: Onkyo TX-NR 809 7.2-Channel Network A/V Receiver
Condition: Item is good working condition except the HDMI port not working. All else working fine. Too lazy to get it fixed. Comes with original remote control and power cord.
Price:
sold
Contact: 012-3816611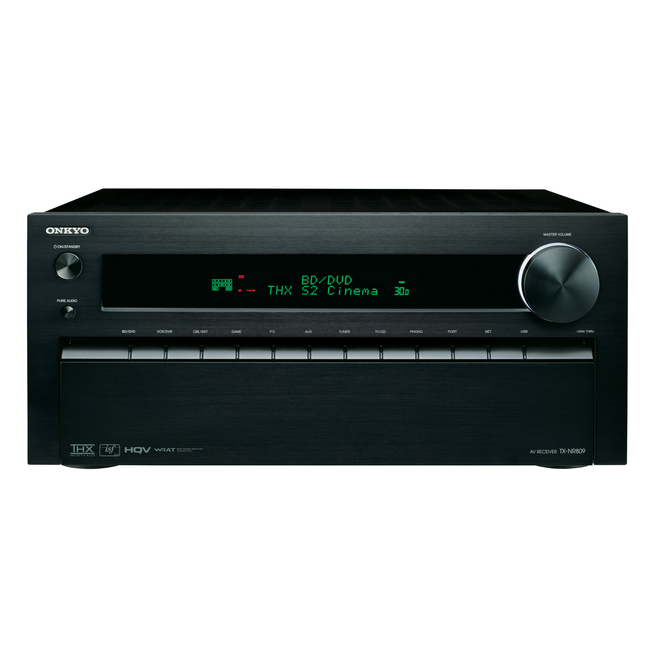 Executive Overview
My God! It's full of buttons!
Okay, sorry, had to get that out of my system. Onkyo has been releasing a lot of receivers with features at surprising price points in the last few months. This newest release is at a fairly competitive and popular price point. At just over $1k ($1,099 MSRP), there are a lot of offerings to compete with. The question is how Onkyo's offering is going to stand out other than by simply out-buttoning them. In Onkyo's defense, I used a picture of the receiver with the front panel open. With it closed, most of those buttons are hidden.
The Onkyo TX-NR809 has THX Select2 certification which means that, among other things, it has been tested in medium sized rooms. Along with that, it has both the Mavell Qdeo and IDT's HQV Vida video upscaling and processing circuits. Vida offers upscaling of all 480i/p, 576p, and 720p video sources to high-resolution 1080p. Qdeo, meanwhile, performs full 4K (3840 x 2160) upscaling of 1080p sources. The Vida processor incorporates Auto HQV and HQV StreamClean to enhance video images in real time and eliminate noise in compressed video. With multi-cadence tracking, expanded 12-bit color processing, and four-field motion-adaptive de-interlacing, Vida optimizes the quality of both standard- and high-definition video images. In English this means you can have the receiver do the video scaling and upcoversion rather than at the source with some of the most advanced technologies on the planet. For those that are saddled with a limited number (usually one) of DVR or cable box options, this can be the difference between a blurry picture full of artifacts and a truly high definition one. The 4k conversion looks good on paper but for most doesn't have a real-world application yet.
For the tweaker and custom installer the Onkyo TX-NR809 includes Imaging Science Foundation's ISF Video Calibration technology for the first time at this price point. What is unclear is if the ISF settings are global or can be configured for each input. At the time of this writing the user manual isn't online and the press material and website doesn't specify. If the settings are global, it is much less useful. If you can calibrate for each inputs (or some select number of them), it is quite the coup. This would allow users to adjust the calibration of each video inputs at the receiver, a very powerful tool for getting the best picture possible.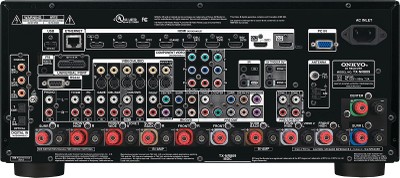 All the features in the world aren't worth much if you can't connect all your gear. That's not going to be a problem with the Onkyo TX-NR809. Sporting seven HDMI inputs on the back, one on the front all supporting 3D and Audio Return Channel, and dual HDMI outputs, all you high def needs are covered. If you have legacy gear, you have two component, and a slew of composite and s-video inputs. For those looking for seven channel analogue RCA inputs, the TX-NR809 has you covered as well as 7.2 channel outputs for integrating external amplifications and two subs. There is even a Phono input for those truly old school. If you have multiple zones the TX-NR809 supports audio to three zones with line outs can can assign the surround back channels to power a second zone. There are 11 pairs of binding posts on the back of the receiver so that you can set up different configurations without having to manually switch wires.
Speaking of amplification, the Onkyo TX-NR809 has seven internal channels that will pump out 135 watts into 8 ohms measured 20-20kHz, 0.08%, 2 Channels Driven, FTC. Each of the seven amplifier sections employ the company's low-negative feedback Wide Range Amplifier Technology (WRAT), three-stage inverted Darlington circuitry, and the High Current Power Supply (HCPS) uses a massive transformer (the receiver weighs an impressive 40.3 lbs). In addition, TI Burr-Brown 192 kHz/24-bit DACs are used on each channel to ensure that all digital signals are converted perfectly to analog sound. 
For those that are worried about advanced features, the TX-NR809 has both front and back panel USB ports. Onkyo specifies that a direct digital connection via the front-panel USB port lets you access MP3, WMA, WMA Lossless, FLAC, WAV, Ogg Vorbis, and AAC audio files stored on a USB flash drives or iPod/iPhone. We assume that the back USB port will do the same but the way it is worded, maybe not. Audyssey MultEQ XT room correction is on board along with Dynamic EQ, Dynamic Volume, and DSX. Audyssey DSX gives you the option of height or wide channels. Also included is Dolby's ProLogic IIz with its height channels and Dolby Volume, a volume control solution like Audyssey's. While you may not think you need both, the fact is that people have preferences for one over the other. You'll only know which you like by testing them out. With the Onkyo TX-NR809, you can.
It wouldn't be a networked receiver without networking and the Onkyo TX-NR809 is both Windows 7 and DLNA certified. This allows access to the content on any compatible device on your network. The network connection also gives you access to Internet radio and streaming music services, with preformatted service packages for Mediafly, Pandora, Slacker, Napster, Rhapsody, vTuner, SIRIUS XM Internet Radio, and Last.fm. In an interesting move, the TX-NR809 is the first to sport Onkyo's new bidirectional, preprogrammed, and customizable RI remote control. When connected to the Internet, it maintains up-to-date RC control codes for connected devices. With the receiver's Overlaid Graphical On-screen Display, users can speed through on-screen setups while still viewing their program. The remote also includes Macro presets for four activities. Additionally, the receiver has bi-directional Ethernet and RS232 ports for control, IR input and output, two 12-V triggers, firmware updates via Ethernet and USB, GUI Navigation via HDMI
Conclusion
When we get information about a new receiver, we're often hesitant. We know the manufacturer is going to try to impress us and consumers. Many times they do but sometimes they don't. The Onkyo TX-NR809 surely is an impressive receiver for the price. With all the usual features included plus top level video processing and ISF calibration controls, videophile are sure to be giddy. Those more worried about audio will be pleased by the amount of power  not to mention just about about every audio processing option available today. The networked features, unique remote, GUI over HDMI, and tons of connections will appeal to both camps. What we're wondering is what they'll do with a receiver that is priced over $1,100 as the TX-NR809 has just about everything we can think of.
Website:
https://www.intl.onkyo.com/products/av_components/av_receivers/tx-nr809/index.html
https://www.whathifi.com/onkyo/tx-nr809/overview
https://www.audioholics.com/av-receiver-reviews/onkyo-tx-nr809-fl
https://www.bhphotovideo.com/c/product/755660-REG/Onkyo_TX_NR809_TX_NR809_Network_A_V_Receiver.html
VIEW ALL MY OTHER STUFFS BY CLICKING BELOW:https://my.carousell.com/hifijunction/https://my.carousell.com/hifijunction/https://my.carousell.com/hifijunction/
Thanks for viewing
Last edited by raymond88 on Mon Aug 10, 2020 2:31 am; edited 1 time in total
Hi 
Is this still available ?
All HDMI ports not functioning, input and output?

sindhikid

New Member





Number of posts

: 4


Age

: 47


Location

: Kuala Lumpur


Registration date :

2009-03-15



---
Permissions in this forum:
You
cannot
reply to topics in this forum