This vintage system 5500 was produced by Bang & Olufsen (B&O) in 1986-1989. B&O is the big name for HiFi in Denmark. They are very famous worldwide who now focus on manufacturing the lifestyle HiFi system. Some of their old lifestyle products back in 40 years ago. Still looks very fascinating in today's modern design standard.
If you are looking for a lifestyle system to put in you living room. This system sure will fit into the space with sound & visually "Wow Effects" to your guests & family. I have a matching B&O S45-2 speaker on sell too, which will match so well with the System 5500.
BeoGram 5500 (CDP)
The quality of this CD player took time to fully appreciate. Take, for example, the elegant disc tray with its completely smooth and silent drive. Or the way that the disc drive system was mounted to isolate it from vibrations. Perhaps you were most impressed by the way that a built-in circuit in the player compensated for the tiniest faults on the disc itself (contrary to popular belief they're not always perfect!) Finding tracks was fast and easy - just ask the 
Master Control Panel
 for the track number you wanted to hear. You could programme tracks to be played in any order, or sample each track briefly. There was a light display which shows you the length of the track you were playing, and the remaining time on the disc - invaluable for recording.
BeoMaster 5500 (Tuner/Amp)
This was the brains of the system. Connected by Datalink to the record player, tape recorder and CD player it allowed you to remote-control the whole system via the Master Control Panel. The 2 x 60 watt/8 ohm tuner/amplifier gave you true hi-fi quality. Bang & Olufsen's Automatic Power Handling Control system prevented overloading and distortion, regardless of how many speakers were connected. You could preset up to 20 stations on the tuner, and the frequency synthesizer would take care of automatic search and fine tuning of stations. The result - superb reception of LW, MW and FM wavebands, and impressive ease of use.
Master Control Panel MCP 5500 (Master Remote Control)
The operating panel MCP 5500 gave you access to the whole of Beosystem 5500. With this at hand, you could remote control all the units of the system and all of its functions. The infra-red two-way communications system ensured that you only had to look at the Master Control Panel to see what was happening and if your commands were being actioned upon. In other words, you were always in close contact with the system - no matter how far away it was... simple and logical. All the elements in Beosystem 5500 were connected by Bang & Olufsen data link which meant in effect that each unit had a built-in microcomputer that controlled all functions. When they were connected they became a system that communicated collectively with the Master Control Panel. In practise this meant that you could operate the system units from one location rather than operating each on its own. By enabling the units to communicate in this way, Bang & Olufsen devised very simple but effective operating procedure
Some of the info can be found from the following weblink. or just simply Google for more information.
https://www.beoworld.org/prod_details.asp?pid=717
https://www.beoworld.org/prod_details.asp?pid=940
https://www.beoworld.org/prod_details.asp?pid=354
https://www.beoworld.org/prod_details.asp?pid=699
https://beocentral.com/beosystem5500
Condition: 8/10
Voltage: 240VAC, 50Hz (Not Europe Voltage 220VAC)
Price: RM4850 (Selling together as a set)
SMS or WhatsApp only. Billy 012-2821295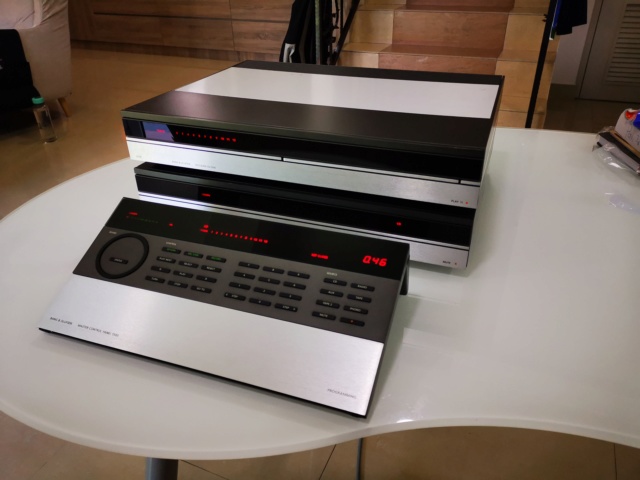 yppan

Frequent Contributor





Number of posts

: 388


Age

: 49


Location

: Cheras, KL


Registration date :

2009-03-06




yppan

Frequent Contributor





Number of posts

: 388


Age

: 49


Location

: Cheras, KL


Registration date :

2009-03-06




yppan

Frequent Contributor





Number of posts

: 388


Age

: 49


Location

: Cheras, KL


Registration date :

2009-03-06



---
Permissions in this forum:
You
cannot
reply to topics in this forum