Item: Nordost Norse Series Bi-Wire Jumpers

Condition: 8.5/10. Item is in excellent condition. Comes with original box.

Price: sold

Contact: 012-3816611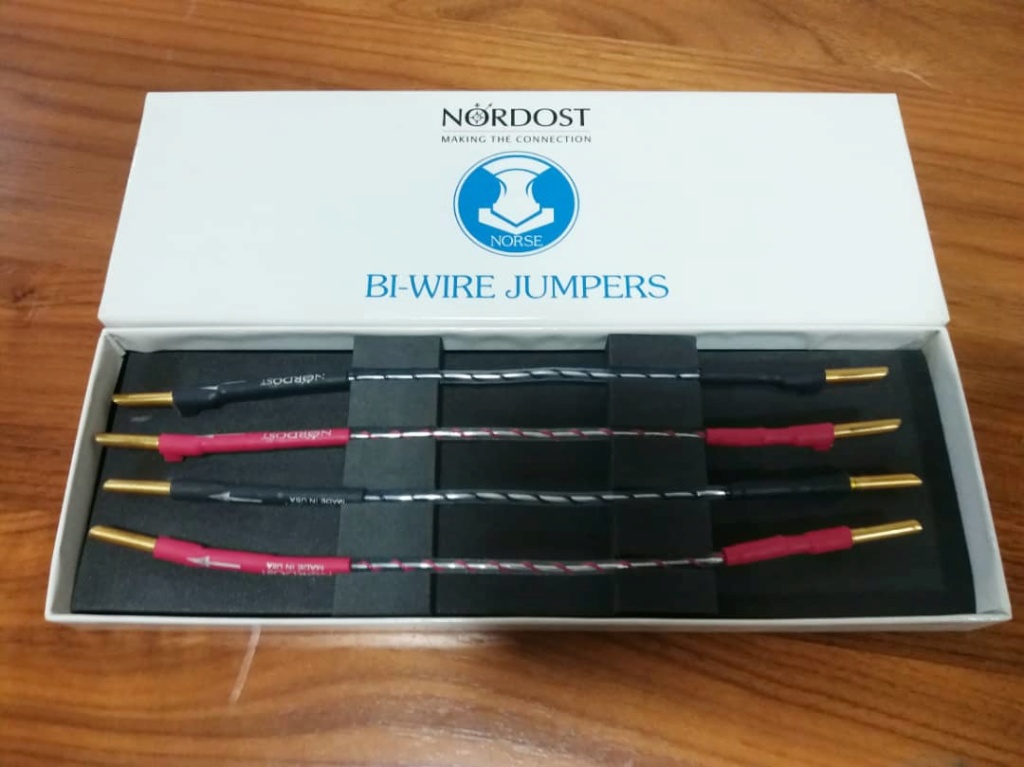 [size=14]• Dedicated bi-wire jumper replaces stock items
• Micro mono-filament technology
• Silver-plated OFC solid-core copper conductors
• Lightweight connectors in multiple configurations ensure optimum results.
[/size]
Although Nordost has always offered matching bi-wire jumpers for each of its speaker cables, now, for the first time, we are offering a dedicated design that offers superior performance for the price.
Based on micro mono-filament technology, each pair of jumpers takes a straight-line, low-loss approach to the problem of replacing the bent metal plates or generic wires supplied with most loudspeakers. Using high-quality, low-mass terminations, the standard configuration is spade to 4mm Z-plug, although any combination of those connectors is available at no extra cost.
Here, simplicity really is the key: replace standard bridging plates with Norse Series Jumpers and you'll be astonished at the difference. Do it with a speaker that's already hooked up with Nordost micro mono-filament speaker cable and that difference will be even more apparent.
The Norse Series Jumpers are supported by a detailed installation guide, which is available as a PDF download from the Nordost site. This outlines and illustrates the various options when it comes to connecting bi-wirable speakers, ensuring that you get every last ounce of performance from your Jumpers.
With technology plucked from Nordost's reference cables, each Norse Bi-Wire Jumper features a micro mono-filament conductor and high-quality low mass terminations. Designed to complement Nordost's Norse line, the Norse Bi-Wire Jumpers offer astounding clarity, excellent dynamic range and are extremely flexible.
Nordost Norse Bi-Wire Jumpers are designed to be easy to use, built with spades on the send side and bananas at the receive end, the Bi-Wire Jumpers are ideal for use with any bi-wirable or tri-wirable speaker. One set of Bi-Wire Jumpers upgrades one pair of bi-wirable speakers. Tri-Wiring? You'll need two sets.
Diagonal Bi-Wire
For those looking for maximum performance from their bi-wire speakers, Nordost has a recommendation. Connect your speaker wire to the speaker as follows: Red lead to the Red midrange/bass post, Black lead to the Black tweeter post. Then insert the Norse Jumpers as you normally would, sit back and hold on to your socks. The effect is astounding, with greater focus, detail and less haze and grain. We don't really understand how it works, but it does so try it for yourself!
Highlights


Dedicated bi-wire jumper replaces stock stamped metal hardware

Nordost's proprietary Micro mono-filament technology

High Resolution silver-plated OFC solid-core copper conductors

Lightweight connectors improve conductivity

Detailed, on-line installation guide


VIEW ALL MY OTHER STUFFS BY CLICKING BELOW:https://my.carousell.com/hifijunction/https://my.carousell.com/hifijunction/https://my.carousell.com/hifijunction/
Thank you
Last edited by raymond88 on Thu Apr 16, 2020 2:27 pm; edited 1 time in total
Similar topics
---
Permissions in this forum:
You
cannot
reply to topics in this forum