Not sure if this can be belonged here, but moderators, feel free to remove this post if it violates any rules of this forum.
I have with me
19
 14 boards of of WHAMMY ( pls read : https://www.diyaudio.com/forums/pass-labs/317803-whammy-pass-diy-headphone-amp-guide.html ) 
It made no financial sense to order these boards from the official diyaudiostore as shipping alone is 70USD and I couldn't get anyone to share. So I decided to make these boards as per Wayne's specifications (FR-4, HASL, 2Oz). He have provided the gerber files for us DIY-ers to make it ourselves. 
I'll be selling off the boards where the printing is wrongly done (at the bottom) for RM30 unshipped.
and the boards that are correct at RM50 unshipped. (would be willing to ship it but priority will be given to COD). 
These are all sold to just recoup my cost to manufacture this and hardly any profit is made. These boards sells for 15-20UKP on forums. And you can buy the official boards at diyaudiostore at 30USD but shipping will kill you.
I have the BOM (readily available with some googling actually)
and I have ordered my parts from Mouser (they are due for delivery next week or so). You can piggyback on my order if you are buying the boards but this offer is only available until Mouser ships out my parts (i.e i bear all the shipping cost, if you wish to share out the shipping cost, you're more than welcomed to do so
), PM me and we can arrange and I can walk you through the cost & build, and what parts to order from where.
 Cost build should be less than RM600-700 (including everything. You can buy than 1 and build and sell, no issues with me as another forummer have indicated interest if you follow my post at the DIY section of this forum (
https://www.hifi4sale.net/t74378-group-buy-passdiy-class-a-headphone-amp-whammy#199538
)
You can order some of the parts from elsewhere as you see fit but I have done the comparisons, it is more expensive to order from RS/Farnell
compared to Mouser + Shipping.
(Sorry guys, not true. our customs are bloodsuckers.)
Thanks!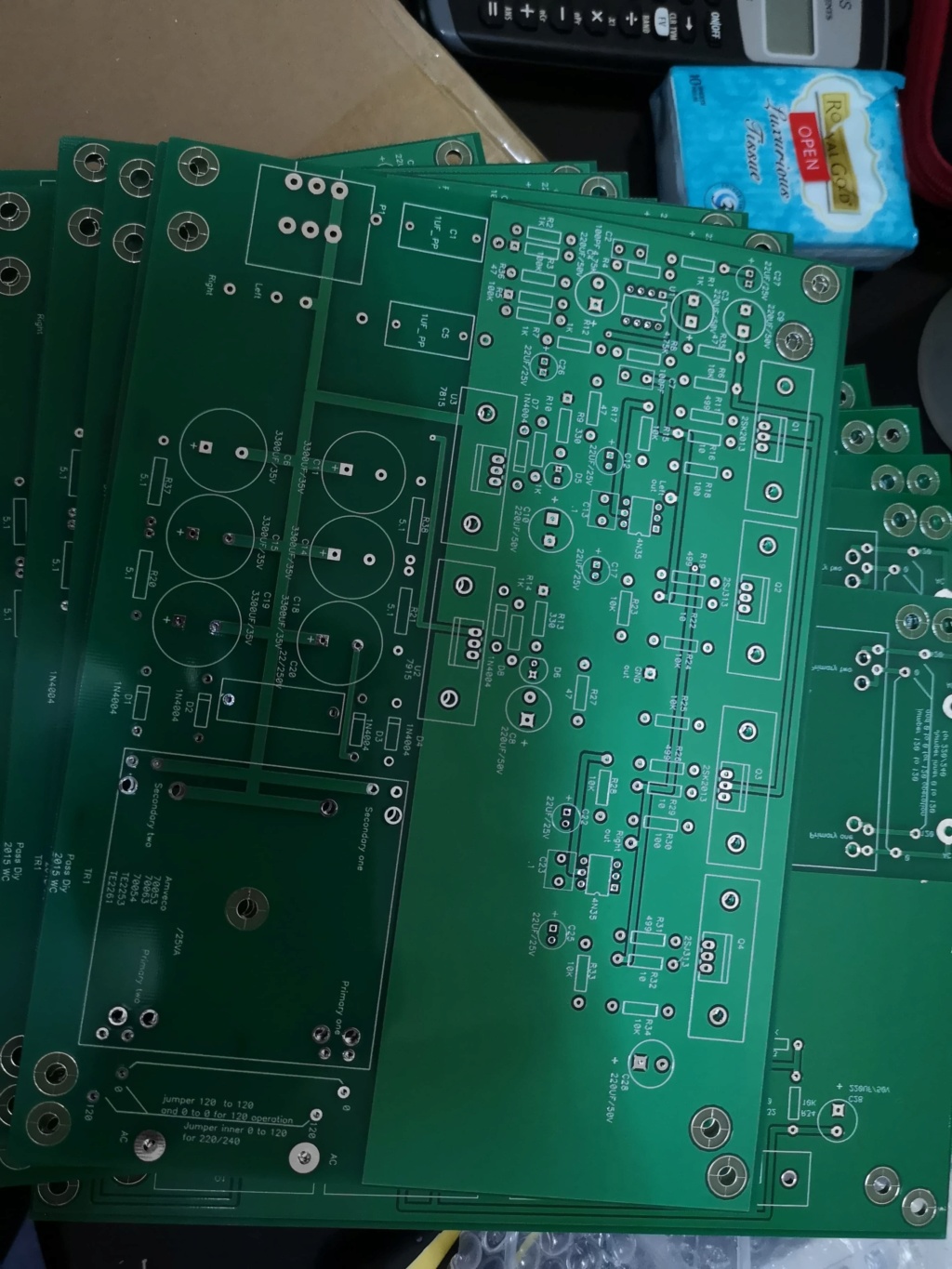 Last edited by terenceng94 on Mon May 11, 2020 9:35 pm; edited 1 time in total

terenceng94

Frequent Contributor





Number of posts

: 339


Age

: 31


Location

: Selangor - Kuala Lumpur


Registration date :

2013-09-11



Will you be making the built up kit for sales?

boxer

Frequent Contributor





Number of posts

: 579


Age

: 57


Location

: KL


Registration date :

2009-03-05



unlikely in the near future even if I can't sell off these remaining PCBs as i'm pretty occupied with other things. perhaps you can ask around and see if there's anyone that's able to do it?
maybe... in future and if there are still spare PCBs lying around....   
i'll be posting these PCBs up for sale in overseas forum if there's not enough interest here locally.
maybe... time to consider picking up a soldering iron? & a DMM? 
You can always think of chassis work later.

terenceng94

Frequent Contributor





Number of posts

: 339


Age

: 31


Location

: Selangor - Kuala Lumpur


Registration date :

2013-09-11



Bought the boards and shared shipping parts from OP. Boards are top quality I can confirm. 
Amp is very quiet with high impedance headphones. Sound is open and spacious, soundstage is correct and imaging is sharp. Quite surprised because it is simple to build correctly, but then again this is Pass Labs engineering after all
I've added a 2nd pair of RCA at the back for pre out to my power amp and I can confirm it sounds just as good as a preamp. No hums, buzz, and switching between headphone and preamp is silent unlike some that crackles a bit when plugging in headphones with the pre out connected.
All components are readily available and does not require unobtainium obsolete parts. Very begineer friendly.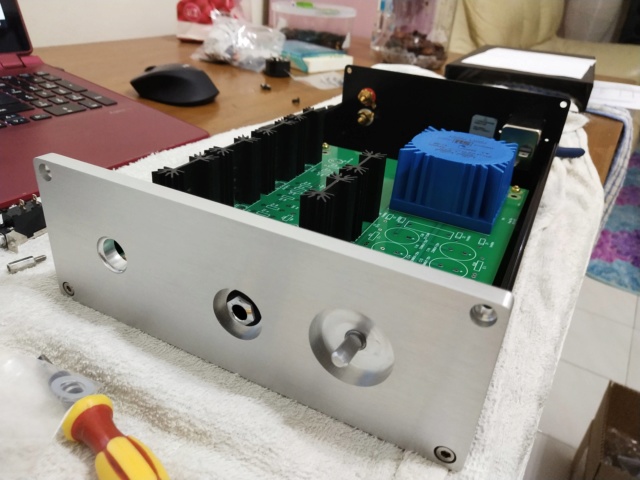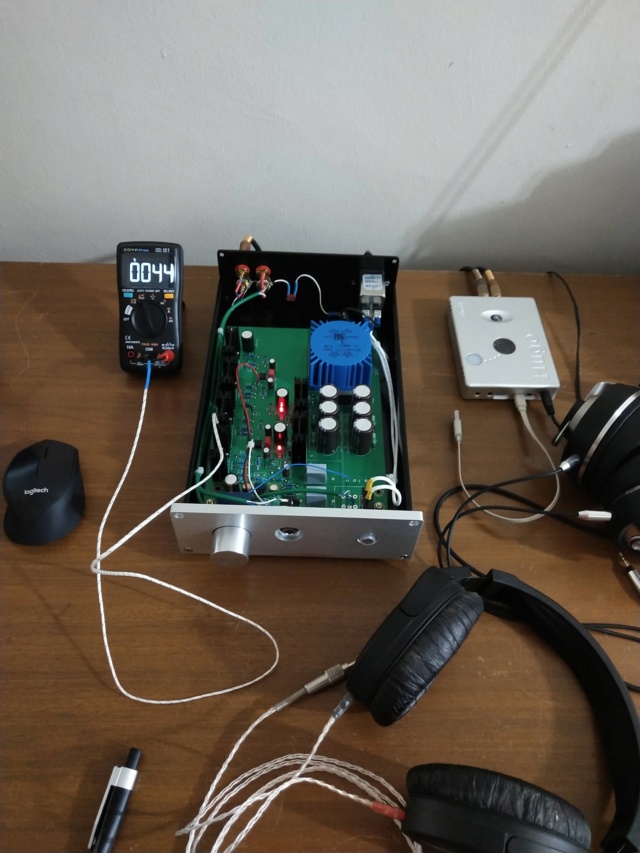 Ammar Mariti

New Member





Number of posts

: 6


Age

: 30


Location

: Cyberjaya


Registration date :

2014-11-04



---
Permissions in this forum:
You
cannot
reply to topics in this forum