Item: Densen DM-10 MKII Version Integrated Amplifier
Condition: Item is in very good working condition. Was fully serviced last year by a reputable technician and unit have been working flawlessly till now. 
Price:  sold
Contact: 012-3816611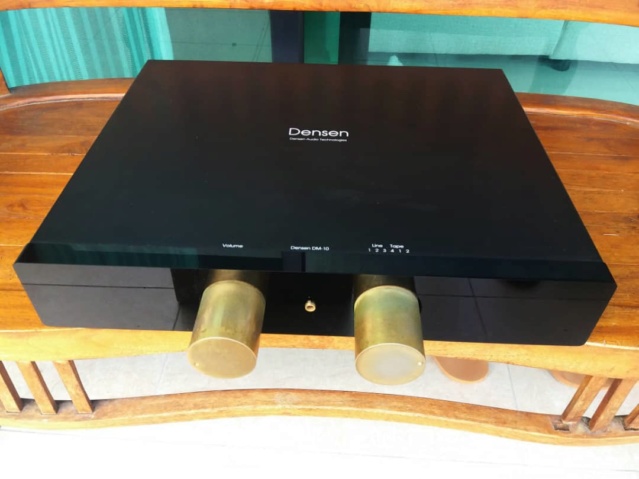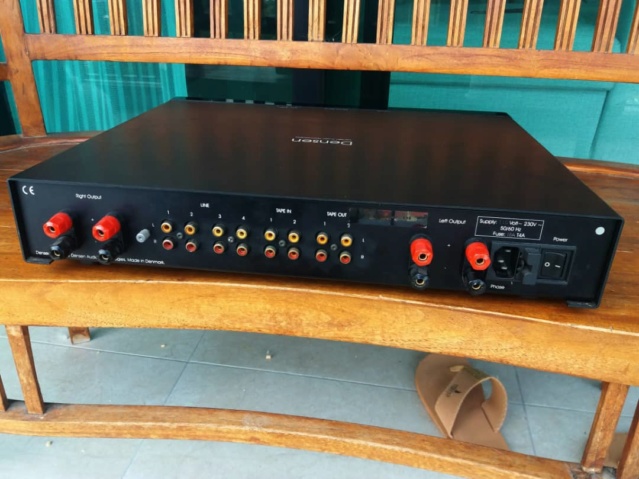 This is the much sought after MKII version with additional power output to 75 watts per channel.  Comes with printed serial number a the back. (MK1 version is with handwritten serial number)
Description :

The Densen DM-10 mk2 is an improved version of the highly successful DM-10 with additional power output to 75 watts per channel. Densen Audio Technologies was officially founded in September 1992, and at the same time the first Densen product, the Densen DM-10 integrated amplifier, was launched at the HiFi Show in London. It was the amplifier that started it all. Created with a passion for music and a love for audio, the DM-10 still defines the word musicality in the Densen vocabulary. When introduced, the DM-10 created a stir as it was perhaps the most expensive integrated amplifier of its time. Till today, many are more expensive, but the DM-10 has shown the way for affordable high-end audio and can give the user many sleepless nights in audio nirvana. Keywords to the design are zero feedback, fast, dynamic, detailed, precise and transparent circuitry. Built with the best components, the Densen DM-10 employs a teflon PCB, gold plated input and output socketry, custom made capacitors and massive dual-mono power supplies. These design features contribute to making an amplifier that will drive loads with stability and remain musically superb.
The Densen DM-10 mk2's trademark of solidity and strong timing gives some fine sensitivity to all inputs. Dynamics are always forcefully portrayed, and fine detail are extracted in abundance - to the extent that some familiar discs yielded up previously unsuspected depths. The DM-10 is a 'fine grain' amplifier that adepts in allowing individuals in a group of similar instruments to be identified and followed. It has a great cocktail party effect, or rather provides the cues that help the listener use his own cocktail party effect to best advantage. Bass is also a singular strength. The Densen plumbs the depths, but it does so with no hint of excess or overhang with any of the loudspeakers tried, and this helps generate a fuller and more varied tonal quality than with lesser amplifiers. However, the DM-10 is not an especially forgiving amplifier, though, and loudspeakers or recordings that tend towards the coarse are revealed all too brutally. The Densen DM-10 mk2 is strong medicine. It is the kind of amplifier the user might buy not because it goes louder than the next or has features that are not generally found elsewhere, but perhaps because it is a system of unrealized potential where the existing amplifier sounds out of its depth when stretched. The DM-10 is quick, lucid and detailed. It has a full and trauma-free bass, and a colourful and engaging tonal quality. It goes louder than its 75 watts power rating implies, and with greater consistency and less ducking under load than most, including Densen's own Beat B100, which is itself no slouch in this respect. It won't cover up for faults elsewhere in the system, but its strong resolution of detail, timing and propulsive quality with the most difficult source material to make it the kind of product to deliver long-term satisfaction rather than a short term hit.
Specifications :

Input Sensitivity...............................280mV
Input Impedance..............................22 Kohm
Frequency Response.......................2 - 400000Hz
THD + Noise @ Rated Output...........Less than 0.01%
Signal to Noise("A" Weighted)..........more than 95db
Power Consumption.........................10-15W (Idle)
                             .........................250W (Maximum)
Power Output...................................75W/C @ 8 ohm
                   ...................................150W/C @ 4 ohm
Power Supply Transformer................2 x 300VA
Storage Capacity.............................80000uF
Amount of Power Supplies................8
DC Output Offset..............................Less than 20mV
Dimensions(w x d x h)......................44.5 x 44 x 11 cm
Weight............................................11kg
VIEW ALL MY OTHER STUFFS BY CLICKING BELOW:https://my.carousell.com/hifijunction/https://my.carousell.com/hifijunction/https://my.carousell.com/hifijunction/
Thank you
Last edited by raymond88 on Sun May 24, 2020 11:08 pm; edited 1 time in total
---
Permissions in this forum:
You
cannot
reply to topics in this forum