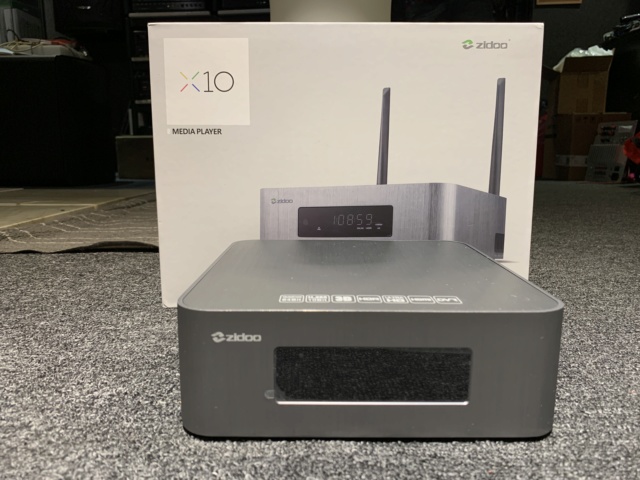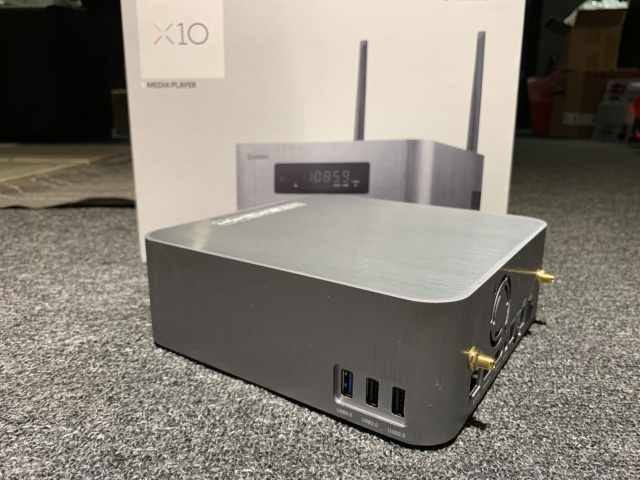 *  Customized Android system and it is perfectly combined with media play and openness of system;
* Supports HDR10 technical, and also supports Ycbcr/4:4:4/ 12 bits/ 4K@60HZ outputs;
* Powerful decoding capability and supports 4K UHD H.265/10bit and maximum with 400Mbps streams
* Zidoo exclusive media center; supports SAMBA/ NFS. It is also the same as PC, which supports some normal operations of the file like copy, paste and delete, etc;
* Support USB mobile HDD player, and with NSS patent metal built-in and 3.5 inches HDD BAY.Harmless of plug in and out over 100,000 times and supports SATA 3.0 hardware over to 10T GPY format;
* The first one developed 23,.976, 59.94HZ frame-rate auto switch ;
* Supports all 3D formats playback (Including MKV MVC 3D), clean picture, appropriate depth, adjustable depth of field and support 3D subtitle
* Supports Blu-ray menu (IGS+ BDJ); supports POPUP menu and DIY subtitle.
* Powerful subtitle system with subtitle downloader built-in, and automatically online subtitle searching based on the current movie. Supports any kind of subtitle effects (Size, Color, Frame, Shade etc); exclusive function of supporting customized ASS font;
* Powerful internet performance; 1000M self-adaptive cable network and 802.11AC dual-frequency Wi-Fi and can meet all kinds of environment;
* 4.0 Bluetooth low power chips built-in and able to connect speakers, keyboards, mouse and other peripherals;
* Configuration full-function backlight remote control, complete media playback control, you can a key POPUP, switch tracks, subtitles, stop and other functions.

* Perfectly support RAW outputs and Zidoo exclusive lip sync technology;
* Unique HDMI IN 2.0 port, and able to achieve PIP and support recording function;
* Unique timing hibernates and shut down;
* Oversize LED display and gets to know the working condition of the machine; able to shut it down through software;
* Aluminum alloy CNC shell, 5DB higher gain double antenna;
* With global CDN OTA upgrade system built in; timely firmware updates;
* ZIDOO exclusive music player, support APE, WAV, FLAC and other music formats, support CUE track. Build your own PLAYLIST.
https://www.zidoo.tv/Product/index/model/X10/target/xqwZ8QMj6ZVKKmVViAFMcQ%3D%3D.html
Conditions: 9/10 (USED)
Price: RM790 inclusive postage to West Malaysia
Postage Method: Citylink Courier or Poslaju
Whatsapp: Choy 012-5685484

choyaudiovisual

Dealer\Reseller\Trader\Service Provider





Number of posts

: 2072


Age

: 39


Location

: Perak


Registration date :

2012-07-11

Character sheet
Source(s):
Amplification:
Speakers:



choyaudiovisual

Dealer\Reseller\Trader\Service Provider





Number of posts

: 2072


Age

: 39


Location

: Perak


Registration date :

2012-07-11

Character sheet
Source(s):
Amplification:
Speakers:



choyaudiovisual

Dealer\Reseller\Trader\Service Provider





Number of posts

: 2072


Age

: 39


Location

: Perak


Registration date :

2012-07-11

Character sheet
Source(s):
Amplification:
Speakers:



choyaudiovisual

Dealer\Reseller\Trader\Service Provider





Number of posts

: 2072


Age

: 39


Location

: Perak


Registration date :

2012-07-11

Character sheet
Source(s):
Amplification:
Speakers:



choyaudiovisual

Dealer\Reseller\Trader\Service Provider





Number of posts

: 2072


Age

: 39


Location

: Perak


Registration date :

2012-07-11

Character sheet
Source(s):
Amplification:
Speakers:



choyaudiovisual

Dealer\Reseller\Trader\Service Provider





Number of posts

: 2072


Age

: 39


Location

: Perak


Registration date :

2012-07-11

Character sheet
Source(s):
Amplification:
Speakers:



choyaudiovisual

Dealer\Reseller\Trader\Service Provider





Number of posts

: 2072


Age

: 39


Location

: Perak


Registration date :

2012-07-11

Character sheet
Source(s):
Amplification:
Speakers:



choyaudiovisual

Dealer\Reseller\Trader\Service Provider





Number of posts

: 2072


Age

: 39


Location

: Perak


Registration date :

2012-07-11

Character sheet
Source(s):
Amplification:
Speakers:



choyaudiovisual

Dealer\Reseller\Trader\Service Provider





Number of posts

: 2072


Age

: 39


Location

: Perak


Registration date :

2012-07-11

Character sheet
Source(s):
Amplification:
Speakers:


---
Permissions in this forum:
You
cannot
reply to topics in this forum