Item:Audioquest Black Lab 3M Subwoofer Cables
Condition: 8.5/10. Item is in excellent condition. Comes with the original box
Price: sold
Contact: 012-3816611
Click here to Whatsapp: 
http://wasap.my/60123816611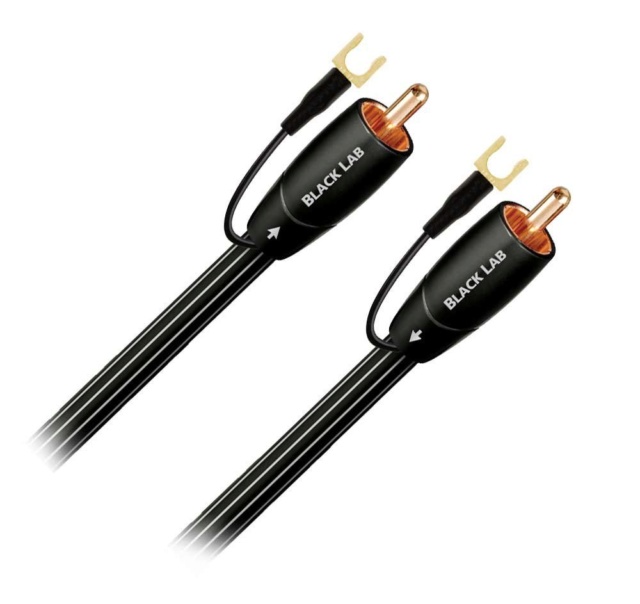 [size=52]AudioQuest Black Lab Subwoofer Cable[/size]
Contrary to their name, Black Labs' heritage actually traces back to Newfoundland in the 1700s, when they were first known as "Saint John's Dogs." When this large Newfoundland-based breed was mixed with smaller water dogs, the result is the dog now known as the Labrador. Labradors (Black or otherwise) are known for their dedication to duty, their highly developed sense of smell and hearing, and their endless capacity for playing "fetch" (they are "retrievers" after all!). These traits combine to make Labradors excellent service dogs for the handicapped as well as wonderful pets.
[size=39]Features :[/size]


Solid Long-Grain Copper (LGC) Conductors


Foamed-Polyethylene Insulation


Metal-Layer Noise-Dissipation System (NDS)


Symmetrical Coax Geometry


Cold-Welded Gold-Plated Plugs


Grounding


[size=39]Solid Long-Grain Copper (LGC) Conductors :[/size]
Strand interaction is the single greatest cause of distortion in a cable. Semi-Solid Concentric Packed Conductors avoid many strand-interaction distortion mechanisms. Solid-core conductors offer a complete and compelling solution to this problem.
Conductor metal quality is critical for the best cable performance. The conductor surface is the only area of the conductor with 100% current density at all frequencies. The smoothness of the conductor surface is imperative because the surface is a guide rail for the entire energy envelope. The best copper and silver conductor metals have fewer grain boundaries and low oxygen content for low distortion and high performance.
Solid conductors eliminate strand-interaction distortion. Black Lab's solid Long-Grain Copper allows a smoother and clearer sound than cables using regular OFHC (Oxygen-Free High-Conductivity) copper. OFHC is a general metal industry specification regarding "loss" without any concern for distortion. LGC has fewer oxides within the conducting material, less impurities, less grain boundaries, and definitively better performance.
[size=39]Foamed-Polyethylene Insulation :[/size]
Insulation is necessary to keep the positive and negative conductors separate and to give stability to cable geometry. Insulation is also a "dielectric" because it is inside the conductor's magnetic field. Dielectrics absorb energy, which after a delay is then released in the signal, causing smearing and distortion. Better insulation reduces distortion by absorbing less energy.
Black Lab uses air-filled Foamed-Polyethylene Insulation on both conductors because air absorbs next to no energy and Polyethylene is low-loss and has a benign distortion profile. Thanks to all the air in Foamed-PE, it causes much less of the out-of-focus effect common to other materials.
[size=39]Metal-Layer Noise-Dissipation System (NDS) :[/size]
100% shield coverage is easy. Preventing captured RF Interference from modulating the equipment's ground reference requires AQ's Noise-Dissipation System. Noise-Dissipation System prevents a significant amount of RFI from reaching the equipment's ground plane.
AudioQuest's Noise-Dissipation System (NDS) offers a compelling solution to this challenge by using metal-only or alternating layers of metal and carbon-loaded synthetics to effectively "shield the shield," absorbing and reflecting the Radio Frequency (RF) energy before it reaches the layer attached to the ground.
The Black Lab ultilises the Metal-Layer Noise-Dissipation System (NDS) to prevent most RFI from reaching the equipment's ground plane.
[size=39]Symmetrical Coax Geometry :[/size]
Geometry is the physical relationship of the conductors to one another within a cable and determines a cable's most basic electrical values (capacitance and inductance). Different cable applications have different/specialized geometry requirements, and so these applications do not merely follow a 'one size fits all' approach. Better geometry leads to lower levels of distortion.
Identical + and – conductors prevent the shield being used as an inferior audio conductor.
[size=39]Cold-Welded Gold-Plated Plugs :[/size]
AudioQuest specifies materials and designs each of its own connectors from the ground up, resulting in the long-lasting quality and exceptional performance you deserve. These components are crucial to the overall performance of a cable. 
To provide the best possible performance for each application, AudioQuest designs each of its connectors from the ground up. These components are crucial to the overall performance of the cable. Painstaking care is taken to evaluate the highest quality materials and design for every application.
AudioQuest pays special attention to the plating it uses over its connectors' carefully crafted base metals. Wherever possible, gold connectors are plated directly over the copper, with no destructive intermediate layer of nickel or alloy, while all silver-plated connectors are Direct-Silver plated.
AudioQuest has incorporated Cold-Weld connection technology into most of their interconnects and all prepared speaker cables..
Joining conductors to plugs requires every bit as much care and precision as any other aspect of cable manufacture. AudioQuest's Cold-Weld System uses several tons of pressure to make a near-perfect connection that ensures that the structural integrity of the conductor and plug is kept completely intact, all without the damaging effect of heat. 
Cold-Welding avoids the introduction of heat and extra materials like solder, which change the character of the wire at the point of termination.
This plug design allows for a connection devoid of solder, which is a common source of distortion. Because the ground shells are stamped instead of machined, the metal can be chosen for low distortion instead of machinability.
[size=39]Grounding :[/size]
Sometimes there is a hum problem unless the subwoofer and AV receiver (or surround-sound processor) are attached to each other using a separate wire. If your system has a hum problem, try attaching the little spade-lug tails to the metal chassis of the subwoofer amplifier and to the chassis of the sending component. Usually, this extra wire will not be needed.
[size=39]Specification :[/size]


Metal: Solid Long-Grain Copper (LGC)


Geometry: Symmetrical Coax


Dielectric: Foamed-Polyethylene


Noise-Dissipation System: Metal-Layer Noise-Dissipation System


Termination: Cold-Welded, Gold Plated RCA


Jacket Colour: Black, White stripes CL3/FT4 Rated PVC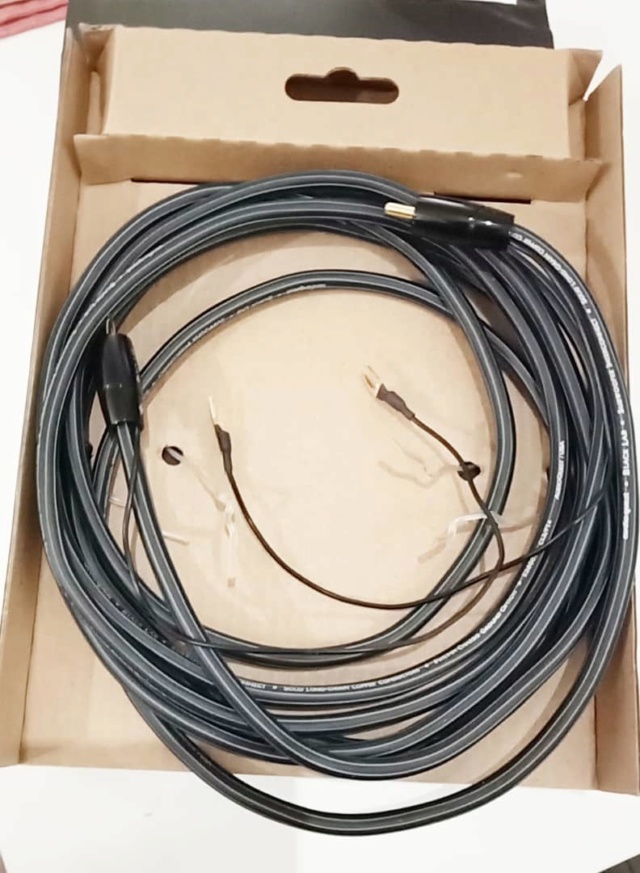 VIEW ALL MY OTHER STUFFS BY CLICKING BELOW:
https://my.carousell.com/hifijunction/https://my.carousell.com/hifijunction/https://my.carousell.com/hifijunction/
Thank you
---
Permissions in this forum:
You
cannot
reply to topics in this forum