Item: Chord Epic Speaker Cables (Made In England) - 2.5m pair
Condition: 8.5/10.Item is as new condition. Bought 3 months ago. Not used.
Price: RM1200 or swap/topup
Retail Price: RM1599
https://www.lazada.com.my/products/chord-epic-speaker-cables-6m-3m-x-2-made-in-england-i640398482-s1343898399.html?exlaz=d_1:mm_150050845_51350205_2010350205::12:1032211143!54400014687!!!pla-296303633664!c!296303633664!1343898399!135763466&gclid=CjwKCAjw57b3BRBlEiwA1Imytl7WwPyTzkZaivMMPYQbGh6HJmnyEYXuAfy_c2qGqAZZ2sPUScuK-BoCwcEQAvD_BwE
Contact: 012-3816611
Click here to Whatsapp: 
http://wasap.my/60123816611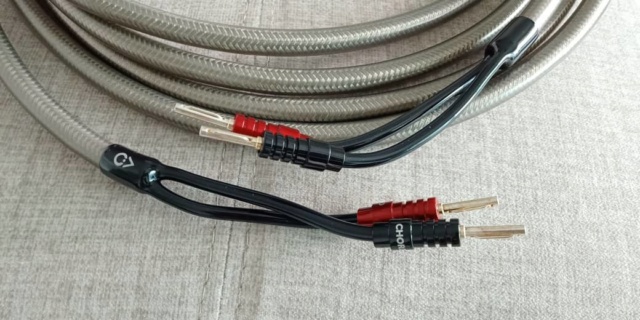 Chord Epic Speaker Cable
Epic has been part of Chord's speaker cable range for around ten years – it's a shielded cable that works with pretty much every style of speaker. From mid-price to high end, Epic brings detail, dynamics, resolution and coherence to every speaker it's used with. It's particularly good at bringing control and definition across the bass frequencies as well and can be a really good solution for floor standing speakers.
Epic is based on Chord's multi-award-winning Chord Odyssey speaker cable. Both cables actually have identical conductors, they use 12 AWG oxygen free copper negative and positive conductors which are silver plated and insulated with PTFE before an outer PVC jacket is applied. The key difference is that Epic then has a very effective high frequency combination shield applied, surrounded by a translucent PVC jacket. So the improvements that Epic brings primarily come down to the shielding but the outer jacket also provides an extra degree of mechanical damping.
ChordOhmic Silver-Plated Banana & Spade Plugs
Chords ChordOhmic silver-plated loudspeaker plugs are designed to bring both the electrical and sonic benefits of silver to speaker cables.
Silver-plating not only makes sense from an electrical point of view, it can give an audibly superior result during listening tests, when compared with gold plated connectors. Plugs will also benefit from a major clean, using a good contact cleaner or enhancer.


Conductor: Silver-plated OFC


Insulation: PTFE


Configuration: Twisted pair


Shielding: High density foil and 93% coverage metal braid. Translucent PVC outer jacket


AWG: 12


mm2: 3.31


Diameter: 11mm



Website:
https://www.thecableco.com/epic-speaker-cable-pair.html#:~:text=Epic%20is%20based%20on%20our,outer%20PVC%20jacket%20is%20applied.
VIEW ALL MY OTHER STUFFS BY CLICKING BELOW:https://my.carousell.com/hifijunction/https://my.carousell.com/hifijunction/https://my.carousell.com/hifijunction/
Thank you
---
Permissions in this forum:
You
cannot
reply to topics in this forum