Item: Yamaha RX-V1067 AV Receiver 7.1 3D Ready Home Cinema AV Receiver with HD Audio
Condition: 8/10. Item is in excellent working condition. Comes with original remote and box.
Price: RM1600 or swap/topup
Contact: 012-3816611
Click here to Whatsapp: 
http://wasap.my/60123816611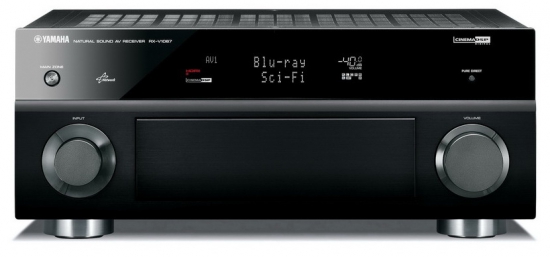 "The Yamaha's a seriously capable surround sound demon. Get it auditioned."
 What Hi-Fi Sound & Vision magazine.
The five-star Yamaha RXV1067 AV receiver is one of the best in its class. With a thunderous 105 watts per channel, the RXV1067 offers serious muscle and the ability to drive a wide range of speakers. The dynamic scale is broad and low bass notes are sustained for longer than lower powered rivals. Yet, it's not just about the sheer amount of power, it's about quality, too. With Yamaha's Low Jitter PLL circuitry, discrete amp configuration with vibration damping heat sink and Pure Direct control, the RXV1067 offers serious hi-fi sound quality. The sonic results are sensational, as What Hi-Fi magazine went on to discover:
 "The ease with which you're dropped into a movie or concert is remarkable: you feel like you're right in the middle of the action."
In terms of processors, the RXV1067 comes fully equipped with Dolby Digital Plus, TrueHD and DTS Master Audio and DTS High Resolution Audio. Backing this up is an HDMI interface with a class-leading 8 inputs and 2 outputs. What's more, these HDMI sockets are all the latest 1.4 specification, meaning that they are all 3D TV capable. A further advantage is the audio return function. This lets you both access the sound from the TV whilst outputting the video to it - with just one HDMI cable. Another great feature with this HDMI interface is the ability to up-convert and up-scale from component or other video inputs to HDMI at 1080p. This not only ensures the highest quality link to your TV for all sources but it also cuts down on the cabling still further. Key to the RX-V1067 receiver's appeal over lesser models is the network capability. Connect to the Internet via the Ethernet cable and you can enjoy the massive choice offered by Internet Radio. Furthermore, DLNA compatibility lets you stream your music from your PC or NAS drive.
If you have an iPod or MP3 player, you'll appreciate the front panel-mounted mini jack, too. When this is combined with the compressed music enhancer you have a home system that will make the most of your iPod or MP3's music content. The Yamaha RXV1067 is also equipped with a special socket that allows for the connection of optional YDS-12 or YDS-11 iPod docks. Once connected, you can control and display your iPod information via the Yamaha's remote control. Finally, there's also full compatibility with the optional Yamaha Bluetooth Wireless Audio Receiver (YBA-10) for seamless device integration.
As this is a Yamaha you'd expect plenty of DSP (Digital Signal Processor) modes, and the RXV1067 doesn't disappoint; a choice of 17 DSP 3D settings provide a wide choice of audio effects. Furthermore, Silent Cinema provides enhanced headphone listening whilst night time listening can also be enhanced without disturbing the neighbours. A further advantage of the RXV1067 over lesser models is the inclusion of a second output. This secondary output zone is available in either passive or active forms and is ideal for running a pair of speakers in another room.
Setting up and using the Yamaha RXV1067 is easy thanks to YPAO and new SCENE PLUS. YPAO is an Automatic System Calibration that uses sophisticated equalisation to set the best sound for your room where ever your speakers are placed. SCENE PLUS allows one-button access to the perfect settings for various sources with different requirements, such as Blu-ray viewing or music listening.
We're really impressed by the Yamaha RXV1067 and think it's one of the best in its class. 
"If you want a fulfilling cinematic experience, the RX-V1067 won't disappoint: a fully justified five stars."
 Seems like What Hi-Fi agrees, too!
High Sound Quality


7-channel powerful surround sound


(735W=105W x 7 RMS, 1,015W=145W x 7 max)


HD Audio format decoding: Dolby TrueHD and DTS-HD Master Audio; Dolby


Digital Plus and DTS-HD High Resolution Audio


Symmetrical power amplifier layout


New heat sink with anti-vibration and anti-thermal properties


Rigid chassis with additional bottom frames


High speed thermal feedback power amplifier


DAC on Pure Ground circuitry with high quality Burr-Brown DACs


Ultra Low Jitter PLL circuitry


Intelligent Assignable amplifiers


High Picture Quality


Analogue and HDMI video upscaling to full HD 1080p


1080p-compatible HDMI: 8 inputs (1 on front) and 2 outputs (simultaneous)


Supports Deep Colour (30/36 bit), x.v.Colour, 24Hz Refresh Rate and Auto Lip-


Sync compensation


High quality video processing with precise deinterlacing:


-Motion adaptive and edge adaptive deinterlacing
-Multi-cadence (incl. 3-2 pull-down) detection
Advanced Features


New SCENE PLUS - simple and versatile functionality


-12 SCENE buttons (4 on front panel and others on GUI)
-Zone SCENE - 4 SCENE buttons for each Zone
-Versatile parameters can be stored into each SCENE


HDMI (V.1.4a with 3D and Audio Return Channel)


HDMI CEC functionality


Network functions


-Access to Internet Radio (MP3/WMA) and music files on PC (WAV, MP3, WMA,
AAC, FLAC 96/24)
-Web Browser Control via PC or PDA
-Receiver Manager through network connection
-DLNA 1.5 certified


YPAO sound optimisation with multi-point measurement


New on-screen display GUI with album art and 6 languages (English, French,


German, Spanish, Russian and Japanese)


Flexiblly assignable component video and optical/coaxial (except Video Aux)


inputs allow use of a wide range of source components


Ability to change HDMI input while in Standby Through mode


USB port for portable audio players and flash drives (MTP/MSC)


iPod/iPhone compatibility with optional YDS-12 Universal Dock


iPod song titles displayed in English and Western European languages on the


front panel and on-screen display


Wireless connection for iPod/iPhone with optional YID-W10


Bluetooth (A2DP) compatibility with optional Yamaha Bluetooth Wireless Audio


Receiver YBA-10


Dialogue Lift


Auto power down function


Surround Realism


HD Audio decoding with CINEMA DSP 3D (17 DSP programmes)


Compressed Music Enhancer with CINEMA DSP


Virtual Presence Speaker function for CINEMA DSP 3D surround without Front


Presence Speakers


Channel expandability with external amplifier (7 channel expandability


(bi-amping))


Adaptive DRC (Dynamic Range Control) and Adaptive DSP Level


Versatile Zone Control


Zone 2 on/off and control on front panel


Zone video assign (Zone 2)


System Backup / Recovery function


Multi-channel output in main Zone plus 2-channel HDMI output


in a second Zone


Zone MONO, Zone volume and tone controls


Party mode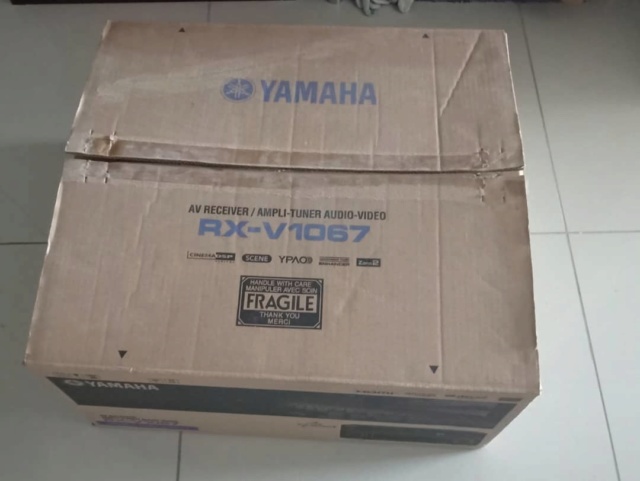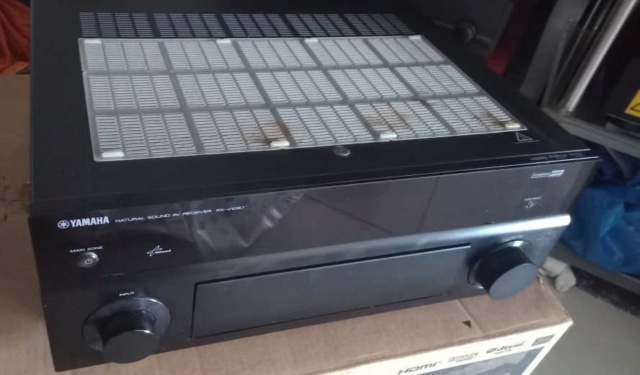 Website:
https://www.whathifi.com/yamaha/rx-v1067/review
https://ca.yamaha.com/en/products/audio_visual/av_receivers_amps/rx-v1067/specs.html
http://www.hifi-review.net/84-yamaha-rx-v1067.html
VIEW ALL MY OTHER STUFFS BY CLICKING BELOW:https://my.carousell.com/hifijunction/https://my.carousell.com/hifijunction/https://my.carousell.com/hifijunction/
Thank you
---
Permissions in this forum:
You
cannot
reply to topics in this forum