A pair of Wharfedale denton 80th anniversary bookshelf. <---sold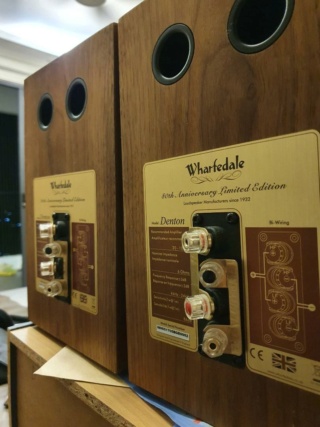 a pair of working perfectly condition used bookshelf speakers which perform very musical and smooth flow speakers with bass. Do not under estimate of this little bookshelf, you could be surprised of its bass performance. Good listening to blues, vocals and jazz music. 
Price is inclusive postage within east and west Malaysia.   i will pack with bubble wrapping, strerched film, corrugated paper, then put into a carton box and fill in with old newspaper. so you dont have to worry the shipping. feel free to dropby msg for audtion if you are in my location. 
item sold
Whatsapp me at 0193234662
Location of seller : Kota Kinabalu, Sabah
Last edited by chinprada on Mon Nov 09, 2020 4:57 pm; edited 2 times in total (Reason for editing : Item sold)

chinprada

Regular





Number of posts

: 82


Age

: 37


Location

: KL


Registration date :

2009-05-09

Character sheet
Source(s): Laptop Jplay + ifi iusb3.0
Amplification: KTB DAC + CXA81 + A2540
Speakers: Dynaudio S40 + super tweeter



chinprada

Regular





Number of posts

: 82


Age

: 37


Location

: KL


Registration date :

2009-05-09

Character sheet
Source(s): Laptop Jplay + ifi iusb3.0
Amplification: KTB DAC + CXA81 + A2540
Speakers: Dynaudio S40 + super tweeter



chinprada

Regular





Number of posts

: 82


Age

: 37


Location

: KL


Registration date :

2009-05-09

Character sheet
Source(s): Laptop Jplay + ifi iusb3.0
Amplification: KTB DAC + CXA81 + A2540
Speakers: Dynaudio S40 + super tweeter



chinprada

Regular





Number of posts

: 82


Age

: 37


Location

: KL


Registration date :

2009-05-09

Character sheet
Source(s): Laptop Jplay + ifi iusb3.0
Amplification: KTB DAC + CXA81 + A2540
Speakers: Dynaudio S40 + super tweeter



chinprada

Regular





Number of posts

: 82


Age

: 37


Location

: KL


Registration date :

2009-05-09

Character sheet
Source(s): Laptop Jplay + ifi iusb3.0
Amplification: KTB DAC + CXA81 + A2540
Speakers: Dynaudio S40 + super tweeter



chinprada

Regular





Number of posts

: 82


Age

: 37


Location

: KL


Registration date :

2009-05-09

Character sheet
Source(s): Laptop Jplay + ifi iusb3.0
Amplification: KTB DAC + CXA81 + A2540
Speakers: Dynaudio S40 + super tweeter



chinprada

Regular





Number of posts

: 82


Age

: 37


Location

: KL


Registration date :

2009-05-09

Character sheet
Source(s): Laptop Jplay + ifi iusb3.0
Amplification: KTB DAC + CXA81 + A2540
Speakers: Dynaudio S40 + super tweeter



chinprada

Regular





Number of posts

: 82


Age

: 37


Location

: KL


Registration date :

2009-05-09

Character sheet
Source(s): Laptop Jplay + ifi iusb3.0
Amplification: KTB DAC + CXA81 + A2540
Speakers: Dynaudio S40 + super tweeter


welcome PM , price negotiatable
bump

chinprada

Regular





Number of posts

: 82


Age

: 37


Location

: KL


Registration date :

2009-05-09

Character sheet
Source(s): Laptop Jplay + ifi iusb3.0
Amplification: KTB DAC + CXA81 + A2540
Speakers: Dynaudio S40 + super tweeter



chinprada

Regular





Number of posts

: 82


Age

: 37


Location

: KL


Registration date :

2009-05-09

Character sheet
Source(s): Laptop Jplay + ifi iusb3.0
Amplification: KTB DAC + CXA81 + A2540
Speakers: Dynaudio S40 + super tweeter


bump, further price reduced

chinprada

Regular





Number of posts

: 82


Age

: 37


Location

: KL


Registration date :

2009-05-09

Character sheet
Source(s): Laptop Jplay + ifi iusb3.0
Amplification: KTB DAC + CXA81 + A2540
Speakers: Dynaudio S40 + super tweeter



chinprada

Regular





Number of posts

: 82


Age

: 37


Location

: KL


Registration date :

2009-05-09

Character sheet
Source(s): Laptop Jplay + ifi iusb3.0
Amplification: KTB DAC + CXA81 + A2540
Speakers: Dynaudio S40 + super tweeter


---
Permissions in this forum:
You
cannot
reply to topics in this forum