Item: Nordost Red Dawn LS Speaker Cables - 2m

Condition: 8/10. Item is in excellent condition. Comes with original box.

Price: RM2800 RM2500 or swap/topup. Bought new RM5k+.

Contact: 012-3816611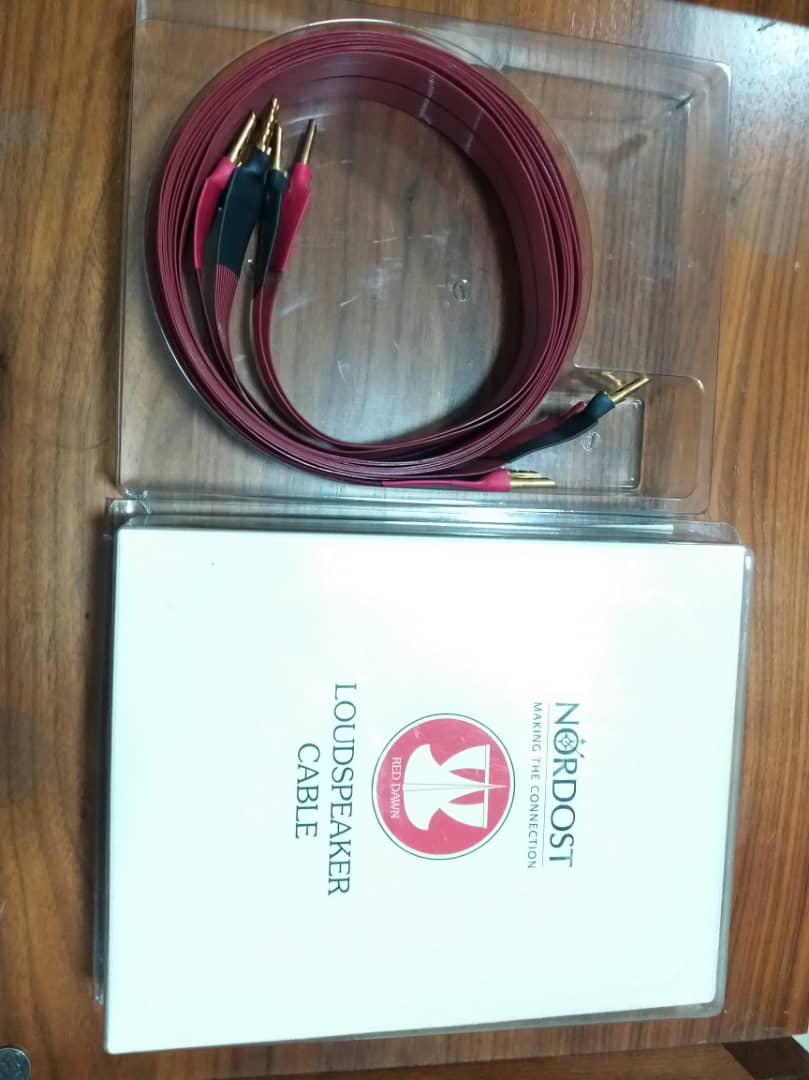 [size=12]RED DAWN SPEAKER CABLE
Nordost's original Flatline loudspeaker cable introduced the audio world to an entirely new level of performance and a unique production technique. Our proprietary, extruded FEP cables, with their thin, flat profile don't just look different - their deceptive simplicity is a uniquely elegant answer to the conflicting requirements for low resistance, capacitance and inductance that limit the performance of more conventional cable configurations. Now, the Red Dawn LS takes the benefits even further. By reducing dielectric effects still further as well as optimizing the physical spacing of the 20 heavy-gauge 26 AWG, silver-plated OFC solid core conductors, we have produced a cable capable of phenomenal phase accuracy and detail, speed and dynamic range. From the quietest, most delicate note to the power of a thundering orchestral crescendo or driving rock track, the Red Dawn LS Speaker Cable spans the range with effortless grace and deft control, allowing music to seduce when it wants to, or be savage when it must. Sitting at the top of the Leif Series, Red Dawn LS bears comparison with competing cables irrespective of price. The Red Dawn Speaker Cable yields the best performance possible from a speaker cable without using Micro Mono-Filament/TSC cable design.
SPECIFICATIONS
[/size]


Insulation:   Fluorinated Ethylene Propylene (FEP)


Construction:   Mechanically tuned spacing


Conductors:   20 x 26 AWG


Material:   Silver-plated 99.9999% solid core OFC 


Capacitance:   10.0pF/ft 


Inductance:   0.155μH/ft 


Velocity of Propagation:   95%


Termination:   Gold-plated Spade or Z-plug Banana 


RED DAWN
Nordost's Red Dawn range is the top tier of our entry-level, Leif family. Thanks to Nordost's core cable design, including silver-plated, solid core conductors and FEP extrusion, as well as patented Micro Mono-Filament technology integrated throughout the line, Red Dawn cables provide a natural and articulated performance from your home audio system. Red Dawn cables allow your system to take that final leap from creating enjoyable music to experiencing a true performance that will make standard cabling seem intolerable.
LEIF CABLES
Nordost's entry level cable ranges are perfect examples of quality cabling set at an affordable price range. The Leif family uses scientifically proven methods and technology derived from the development of our Valhalla and Odin ranges and applies their basic principles to create cables which evoke dynamic, low-loss and realistic performances from even modest components and Loudspeakers.
Leif cables are constructed using silver-plated, OFC solid core conductors, which form the basis of Nordost's great sound. The conductors are then treated with Nordost's innovative precision FEP extrusion process, where each conductor is individually enclosed in FEP insulation. This technique greatly reduces the dielectric properties of the cables in order to increase signal speeds and accuracy in signal transfer.
To build upon this foundation, Leif cables are designed with a mechanically tuned construction that optimizes the dimensions and spacing of conductors to reduce dielectric effects even further.
Website:
https://www.lelong.com.my/nordost-red-dawn-ls-speaker-cable-banana-terminated-2-meters-pair-bluezircon-210673663-2020-12-Sale-P.htm
https://www.lazada.com.my/products/nordost-red-dawn-ls-30m-banana-speaker-cable-i453137066-s691570407.html
https://www.futureshop.co.uk/nordost-red-dawn-ls-loudspeaker-cable-pair
http://www.audioreview.com/product/cables/speaker-cables/nordost/red-dawn.html
VIEW ALL MY OTHER STUFFS BY CLICKING BELOW:https://my.carousell.com/hifijunction/https://my.carousell.com/hifijunction/https://my.carousell.com/hifijunction/
Thank you
window.dataLayer = window.dataLayer || [];
function gtag(){dataLayer.push(arguments);}
gtag('js', new Date());
gtag('config', 'UA-172659890-2');
window.dataLayer = window.dataLayer || [];
function gtag(){dataLayer.push(arguments);}
gtag('js', new Date());
gtag('config', 'UA-172659890-2');
---
Permissions in this forum:
You
cannot
reply to topics in this forum