Item: Audioengine D2 24-BIT Wireless USB DAC (Remote-output 24-bit/96kHz DAC)
Condition: 8/10. Item is in good working condition
Price: RM950 or swap/topup
Retail Price: USD599
Contact: 012-3816611
Click here to Whatsapp: 
http://wasap.my/60123816611
What is it and how to use?? Watch below video
https://www.youtube.com/watch?v=zuuaBE7277A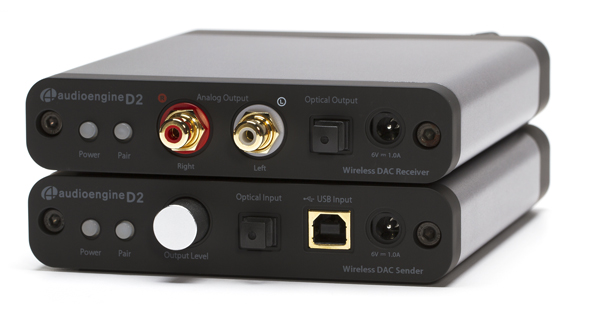 If you store your music on a computer, the Audioengine D2 wireless DAC makes it easy to transmit audiophile-quality...
Read more from Crutchfield writer, 
Dave B.

"REVIEWERS' CHOICE" AWARD WINNER, SOUNDSTAGE.COM
---
"ONE OF THE BEST"
Audioengine's D2 24-bit wireless DAC allows you to stream wireless HD audio from your computer to any music system, independent of your Wi-Fi network. D2 includes USB and optical inputs, a high-performance DAC, plus the isolation benefits of wireless. Set-up is fast and simple, with no software to install and without the frustration that can come from trying to connect to your network.
"The Audioengine D2 is not only one of the most innovative products I've reviewed in a long time, it's also one of the best," raves Doug Schneider in his April 2012 review for Soundstage.com, which honored the D2 with a "Reviewers' Choice" award. "The fact that it's so affordably priced makes this game-changing DAC all that much easier to buy."
"At any price, the Audioengine D2 is a great DAC," notes Ken Rockwell in his February 2012 review for KenRockwell.com. "It also has an excellent volume control to let you completely bypass a preamplifier for even better sound."
"The Wireless Part Is Just a Splendid Bonus"
"This DAC sounds great, and the wireless part is just a splendid bonus," reports Dean Seislove in Issue 60 of PositiveFeedback. "Audioengine has delivered yet another excellent audio product at a very competitive price."
"The plug-and-play Audioengine D2 is fun to use, is super reliable, is affordable, and sounds great. Admit it: you want one," says Tom Lyle in his April 2012 review for EnjoyTheMusic.com.
Game-Changing Computer Audio
The D2 offers audio fidelity and features of DACs costing several times more, but with one very important feature - it's wireless! D2 is a simple to use yet powerful digital-to-analog converter with performance and features generally found in much more expensive DACs. The D2 processes digital audio at any bit depth up to 24 bits and sample rates to 192 kHz, then sends your music over-the-air at 24/96. It accepts USB or PCM-stereo optical digital and will automatically configure to match either of these inputs.
Easy Setup and Simple Operation
Bypass your computer's sound card or headphone jack and send wireless HD audio to any music system. D2 transmits all music file formats from any computer media player and can simultaneously transmit HD audio to up to three D2R wireless receivers. The 100ft typical range, low latency, built-in DAC, and resistance to interference and dropouts makes D2 a great-sounding HD wireless system.
Want music in more than one room of your house or apartment? Just add more D2R wireless receivers.
Digitally Versatile
The D2 is actually three products in one. It's a high-quality USB wireless computer DAC, a wireless USB-to-SPDIF converter, and a wireless optical PCM-to-stereo link. The ability to stream HD audio wirelessly from your computer direct to your music system not only keeps your computer away from your audio gear, but it also minimizes nagging problems such as ground loops, induced cable noise, and jitter. And if you already have a favorite DAC, the D2 can provide bit-perfect wireless USB-to-SPDIF conversion or serve as a wireless link for your PCM-stereo stream.
Data Integrity is Assured
The D2 sends a 24-bit, 96 kHz PCM stereo digital stream over-the-air in a 'closed-system' Wi-Fi configuration. The system's proprietary RF technology ensures data integrity with no impact on existing routers or networks. The volume control on the D2 Sender is transmitted over an entirely separate channel so there is no impact on the digital audio stream.
See and Hear the Difference
Audioengine designers, with their attention to audio quality as well as visual aesthetics, have created a feast for both the eyes and ears. The rounded anodized aluminum case of the D2 reflects traditional Audioengine design and the audio fidelity is typical of Audioengine's commitment to great sound at an affordable price. The Audioengine D2 continues to close the gap between your computer music and home hi-fi and even if you're not an audio enthusiast we guarantee your music will sound better!
Website:
https://audioengineusa.com/product_tech_specs/d2-24-bit-wireless-dac/
https://www.kenrockwell.com/audio/audioengine/d2.htm
https://www.crutchfield.com/S-7SmFUNxjAlO/p_772D2/Audioengine-D2.html
VIEW ALL MY OTHER STUFFS BY CLICKING BELOW:https://my.carousell.com/hifijunction/https://my.carousell.com/hifijunction/https://my.carousell.com/hifijunction/
Thank you
---
Permissions in this forum:
You
cannot
reply to topics in this forum