The Audia Flight FLS10 is a 200wpc fully balanced integrated amplifier that is equipped with a 2KVA transformer and 288.000µF (only on the main power suppliers). Very few amplifiers at 200wpc will have such specifications.
The sound is refined, lush with a lovely grip on the bass. It has a wide and deep soundstage and you will enjoy the ambience and air that the FLS10 is able to produce.
This unit is only 18 months old and is in mint condition. Reluctant sale as am upgrading to another amplifier. 
This amplifier retails for RM34,000.
Price:
RM24,000
(firm)
Hit me up on 0126372813 if you are keen. TQ!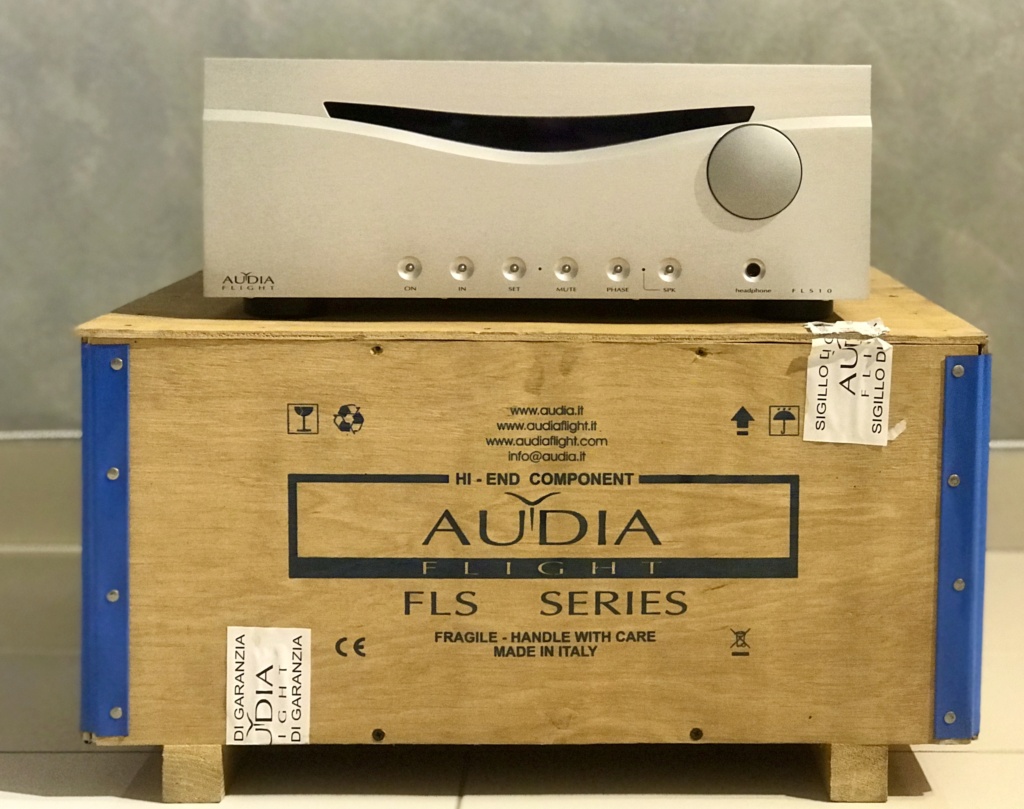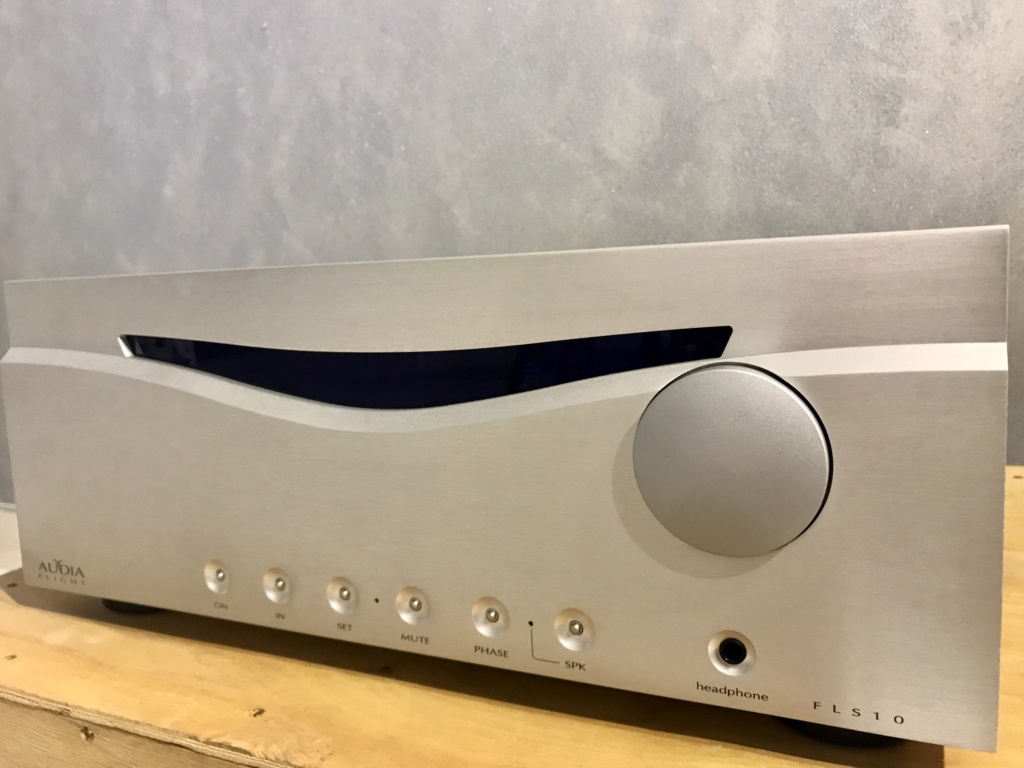 WillT

Frequent Contributor





Number of posts

: 226


Age

: 52


Location

: JayBee


Registration date :

2018-11-22

Character sheet
Source(s): Lumin U1 Mini, Mytek Brooklyn Bridge
Amplification: Silbatone JL-107 & Audia Flight FLS10
Speakers: AudioSolutions Figaro M & Harbeth P3ESR ... Rythmik F12 sub



WillT

Frequent Contributor





Number of posts

: 226


Age

: 52


Location

: JayBee


Registration date :

2018-11-22

Character sheet
Source(s): Lumin U1 Mini, Mytek Brooklyn Bridge
Amplification: Silbatone JL-107 & Audia Flight FLS10
Speakers: AudioSolutions Figaro M & Harbeth P3ESR ... Rythmik F12 sub



WillT

Frequent Contributor





Number of posts

: 226


Age

: 52


Location

: JayBee


Registration date :

2018-11-22

Character sheet
Source(s): Lumin U1 Mini, Mytek Brooklyn Bridge
Amplification: Silbatone JL-107 & Audia Flight FLS10
Speakers: AudioSolutions Figaro M & Harbeth P3ESR ... Rythmik F12 sub



WillT

Frequent Contributor





Number of posts

: 226


Age

: 52


Location

: JayBee


Registration date :

2018-11-22

Character sheet
Source(s): Lumin U1 Mini, Mytek Brooklyn Bridge
Amplification: Silbatone JL-107 & Audia Flight FLS10
Speakers: AudioSolutions Figaro M & Harbeth P3ESR ... Rythmik F12 sub



WillT

Frequent Contributor





Number of posts

: 226


Age

: 52


Location

: JayBee


Registration date :

2018-11-22

Character sheet
Source(s): Lumin U1 Mini, Mytek Brooklyn Bridge
Amplification: Silbatone JL-107 & Audia Flight FLS10
Speakers: AudioSolutions Figaro M & Harbeth P3ESR ... Rythmik F12 sub



WillT

Frequent Contributor





Number of posts

: 226


Age

: 52


Location

: JayBee


Registration date :

2018-11-22

Character sheet
Source(s): Lumin U1 Mini, Mytek Brooklyn Bridge
Amplification: Silbatone JL-107 & Audia Flight FLS10
Speakers: AudioSolutions Figaro M & Harbeth P3ESR ... Rythmik F12 sub



WillT

Frequent Contributor





Number of posts

: 226


Age

: 52


Location

: JayBee


Registration date :

2018-11-22

Character sheet
Source(s): Lumin U1 Mini, Mytek Brooklyn Bridge
Amplification: Silbatone JL-107 & Audia Flight FLS10
Speakers: AudioSolutions Figaro M & Harbeth P3ESR ... Rythmik F12 sub



WillT

Frequent Contributor





Number of posts

: 226


Age

: 52


Location

: JayBee


Registration date :

2018-11-22

Character sheet
Source(s): Lumin U1 Mini, Mytek Brooklyn Bridge
Amplification: Silbatone JL-107 & Audia Flight FLS10
Speakers: AudioSolutions Figaro M & Harbeth P3ESR ... Rythmik F12 sub



WillT

Frequent Contributor





Number of posts

: 226


Age

: 52


Location

: JayBee


Registration date :

2018-11-22

Character sheet
Source(s): Lumin U1 Mini, Mytek Brooklyn Bridge
Amplification: Silbatone JL-107 & Audia Flight FLS10
Speakers: AudioSolutions Figaro M & Harbeth P3ESR ... Rythmik F12 sub



WillT

Frequent Contributor





Number of posts

: 226


Age

: 52


Location

: JayBee


Registration date :

2018-11-22

Character sheet
Source(s): Lumin U1 Mini, Mytek Brooklyn Bridge
Amplification: Silbatone JL-107 & Audia Flight FLS10
Speakers: AudioSolutions Figaro M & Harbeth P3ESR ... Rythmik F12 sub



WillT

Frequent Contributor





Number of posts

: 226


Age

: 52


Location

: JayBee


Registration date :

2018-11-22

Character sheet
Source(s): Lumin U1 Mini, Mytek Brooklyn Bridge
Amplification: Silbatone JL-107 & Audia Flight FLS10
Speakers: AudioSolutions Figaro M & Harbeth P3ESR ... Rythmik F12 sub


---
Permissions in this forum:
You
cannot
reply to topics in this forum