Item: Musical Fidelity A-220 Class A Integrated Amplifier
Clearly Musical Fidelity has a way with high end integrated amplifiers. The Musical Fidelity A 220 is an extraordinary example of this fine type of integrated amplifier.Produced in 2001, the A 220 is a cutting edge design operating in Class A output at 50 Watts RMS per side into 8 ohms and can double that to 100 Watts per side into 4 ohms, and can easily drive 87 dB speakers with uncanny ease.There are very few integrated amplfiers that operate in Class A output stage, but due to thoughtful design, circuit boards and parts usually found only in upper end components. Large torodial transformer and craftsmanship and build quality that is seldom seen at this price level. The Musical Fidelity A 220 is a UK Made unit, and not some off shore made unit bearing the Musical Fidelity name. No this isn't a mil-spec type of product. With that being said, it is far better built than a vast majority of integrated amps in the market place today.When released the retail price was $1,000.00 and was and remains one of high ends true values. Present resale value is $540.00 and at that price is one of audios great used value.The cosmetic appearance is visually stunning with its semi gloss back finish and large volume and input selector knobs, that are trimmed in gold. This is a without question a luxury finish integrated with the liquid sonics of Class A out put.The inputs are Phono,CD,Tuner,Aux,Tape,Video and a Tape Monitor push button. Very unsually to find a phono section today, but the MF A220 has one,it is for MM or high output MC. Worked very well with the Denon DL 160 MC cartridge it was reviewed with.On the back there is in addition the inputs a set of pre outs, so another amplifier or subwoofer can be used, nice touch there.Volume and Input selectors have that solid silky feel and operate silently and with out noise of any kind. Plus each knob has a lighted red LED, so one can easily see volume and input settings from across the room. Also a red LED lights above the power switch.This is a heavy unit and should be placed on a solid resting place. Due to its operating temperature nothing should be placed on top of the unit. The heat sinks extend all the way from the bottom of the cabinent to the top of the cabinent. Do not block these openings as the amplifier needs to vent the heat through these openings.The A220 is a new development of the A2 concept with a higher power output giving increased dynamic and drive abilities.Class A output stage This gives the highest quality sound availableTwo pairs of output transistors per channel Excellent load driving characteristics, consistent performance with a wide range of loudspeakers, high reliabilitySophisticated fully symmetrical circuit Ensures the music is amplified perfectly under all circumstances.Massive stabilty margins The A220 is stable into any load whether capacitive, inductive or resistive. You can depend on the A220 to faithfully reproduce any signal into any loudspeaker.High current delivery The A220 is rated at 50 watts into 8 ohms and will comfortably deliver 100 watts into 4 ohms.Very large internal heatsink Allows Class A operation without excessive heat. It should be noted that the A 220 is not a pure Class A amplifier, but is biased heavily into Class A. By the size of the heat sinks I would say they can only take about 25 watts of Class A output. This is more than enough Class A output with 87dB speakers in a moderate size room. This review, the A 220 was in a 10' x 12' room, driving Alon Model 1 speakers.Sophisticated printed circuit board layout with great attention paid to earthing and supply eddy currents Absolutely consistent sound, stabilty, reliabilty and longevity. It also means rock solid imaging.
Condition: 8/10. Item is in excellent working condition. No dents or scratches. This unit have been fully serviced by a reputable technician and will last you for many years to come.
Price: sold
Contact: 012-3816611
Click here to Whatsapp: 
http://wasap.my/60123816611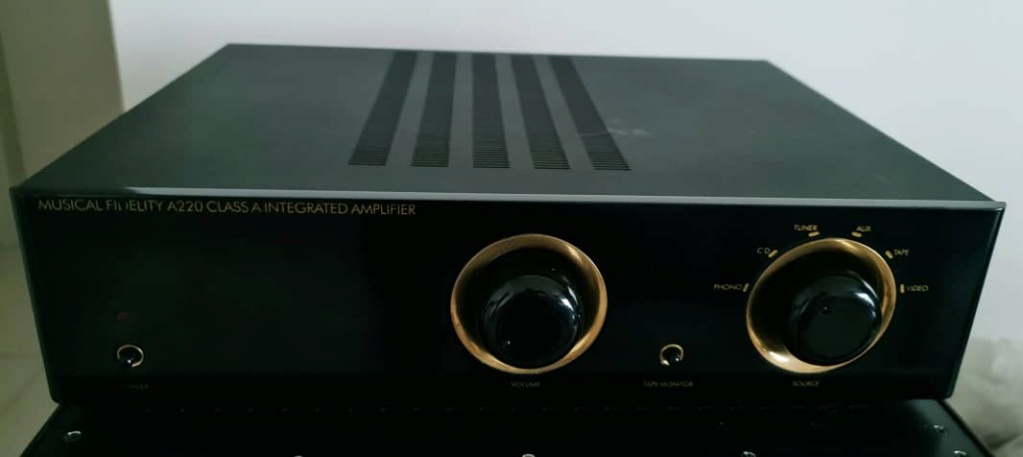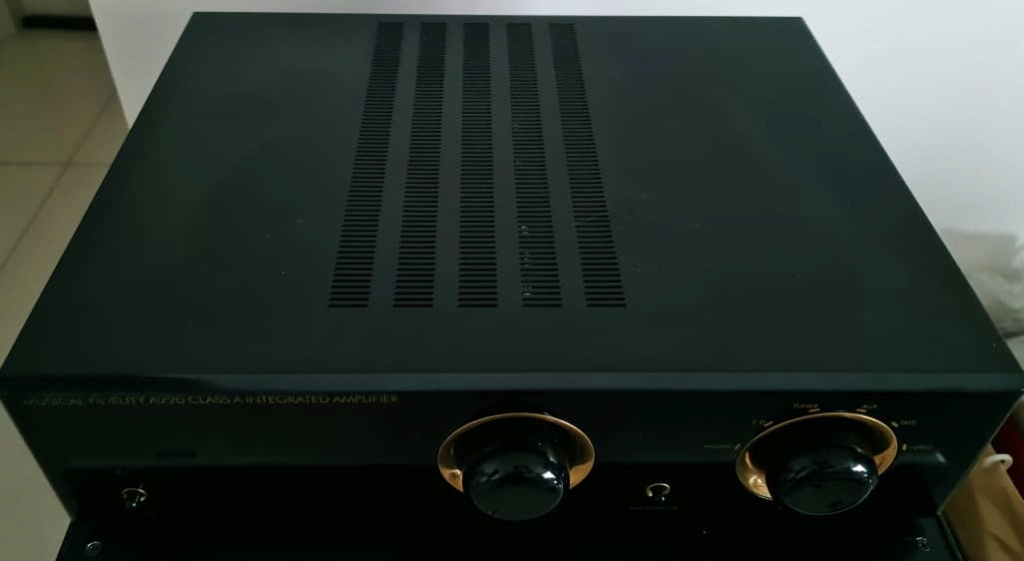 Specifications:
Power output: 50 watts per channel into 8 Ω or 100 watts per channel into 4 Ω
THD: < 0.01% at 1kHz
Frequency response: 10Hz - 20kHz +1dB
Inputs: MM Phono, 5 Line
Input sensitivity MM phono: 3.5mV 47 kΩ.
Input sensitivity line inputs: 300mV 47 kΩ.
S/N ratio line inputs: -77dB Unweighted; -88dB A weighted
S/N ratio MM phono: -65dB Unweighted; -73dB A weightedDimensions
Power requirements: 100/115/230V AC 50/60Hz (Factory preset)
Power consumption:350 Watts
Dimensions: 440x120x360mm (WxHxD) Height includes feet, depth includes terminals
Weight: 12 kg (unpacked)
Website:
http://www.audioreview.com/product/amplification/integrated-amplifiers/musical-fidelity/a220.html
http://www.puresound-uk.com/index.php?option=com_hikashop&ctrl=product&task=show&cid=539&name=musical-fidelity-a220-class-a-integrated-amplifier&Itemid=2
VIEW ALL MY OTHER STUFFS BY CLICKING BELOW:https://my.carousell.com/hifijunction/https://my.carousell.com/hifijunction/https://my.carousell.com/hifijunction/
Thank you
---
Permissions in this forum:
You
cannot
reply to topics in this forum