Monitor Audio Bronze 6G 200 floorstanding speakers (New)
** New Open Box **
Price : Sold
Please Contact : 0174365998
NOTE : The loundspeaker is in Kuala Lumpur Cheras. (My friend's house for demo and testing).
Blending audiophile performance with graceful proportions these sleek floor standing speakers are equipped with our 25 mm C-CAM Gold Dome tweeter 
featuring a Uniform Dispersion (UD) Waveguide and dual 5½" C-CAM mid-bass drivers. The Bronze 200s are real crowd pleasers and deliver a stunning clear, 
open and detailed sound.
They are kept perfectly in place by sturdy steel outrigger feet and wherever you choose to position them their elegant styling will ensure they will 
receive admiring glances.
**Key Features**
- Monitor Audio signature C-CAM Gold Dome Tweeter upgraded with the new Uniform Dispersion (UD) Waveguide for an incredibly lifelike sound.
- C-CAM mid-bass driver featuring updated cone geometries and Damped Concentric Mode (DCM) technology which allows the speaker to have a deeper, 
  fuller sound while retaining a clean and precise presentation.
- Designed for performance – intricately optimised listening experience for music and movies.
- Hive II rear port tuned for ease of positioning without affecting sound performance.
- Acoustically transparent hexagonal dispersion pattern grille also featured on our award-winning Silver and Gold Series, 
  for the Monitor Audio family look.
- High-quality gold-plated bi-wire terminals.
- Pureflow silver-plated oxygen-free copper internal cabling for highest quality current transfer through the signal chain.
- Audio transparent bespoke cloth covered magnetic grilles for a more discreet appearance.
- Add Bronze AMS Dolby Atmos
enabled speakers atop for use in any AV home cinema system.
- Sturdy steel outrigger feet to ensure a stable platform. Designed for use on carpeted (spikes) or hard floors (rubber feet).
** Specification **
System Format
2.5-Way
Frequency Response (-6 dB)
45 – 25,000 Hz (Free field)
35 – 30,000 Hz (In room)
Sensitivity (2.83v @ 1m)
88 dB
Nominal Impedance
8 ohms
Minimum Impedance
4.4 ohms
Maximum SPL
112 dBA (pair)
Power Handling (RMS)
120 W
Recommended Amplifier Requirements
40 — 120 W
Bass Alignment
Bass reflex Dual HiVe II port system
Crossover Frequency
700 Hz
2,400 Hz
Drive Unit Complement
2 x 51/2" C-CAM midbass driver
1 x 25 mm C-CAM Gold Dome tweeter with UD Waveguide
External Dimensions (Including Grille and Terminals (H x W x D))
886 x 166 x 265 mm (347/8 x 69/16 x 107/16")
External Dimensions (including Outrigger Feet and Spikes (H x W x D))
909 x 229 x 304 mm (3513/16 x 9 x 1115/16")
Condition 98% Fully Boxed
Retail price : $4150/=
Price : 
RM3300
RM2950
 Make Offer Price
Please Contact : 0174365998
Postage can be arrange
** AWARDS SPEAKER **
https://www.monitoraudio.com/en/product-ranges/bronze-6g/bronze-200/
https://www.monitoraudio.com/en/blog/bronze-200-receives-the-red-fingerprint-award-from-high-fidelity/
https://www.monitoraudio.com/en/blog/fidelity-online-takes-a-listen-to-our-bronze-200-speakers/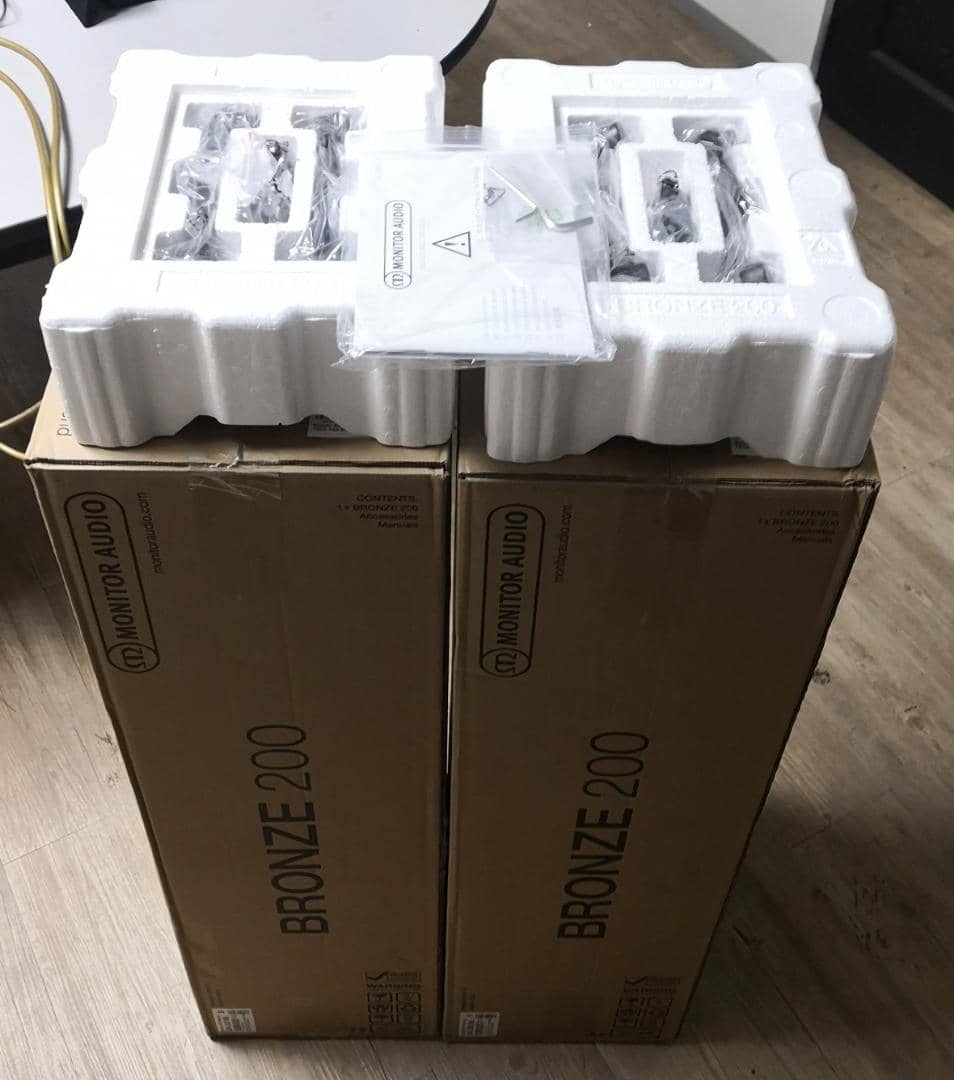 Last edited by Jason Eng on Fri Nov 27, 2020 9:25 pm; edited 8 times in total (Reason for editing : Update the price)

Jason Eng

New Member





Number of posts

: 17


Age

: 50


Location

: Penang


Registration date :

2020-09-09



Jason Eng wrote:Monitor Audio Bronze 6G 200 floorstanding NOS speakers

** New Open Box **

Blending audiophile performance with graceful proportions these sleek floor standing speakers are equipped with our 25 mm C-CAM Gold Dome tweeter 

featuring a Uniform Dispersion (UD) Waveguide and dual 5½" C-CAM mid-bass drivers. The Bronze 200s are real crowd pleasers and deliver a stunning clear, 

open and detailed sound.

They are kept perfectly in place by sturdy steel outrigger feet and wherever you choose to position them their elegant styling will ensure they will 

receive admiring glances.

**Key Features**

- Monitor Audio signature C-CAM Gold Dome Tweeter upgraded with the new Uniform Dispersion (UD) Waveguide for an incredibly lifelike sound.

- C-CAM mid-bass driver featuring updated cone geometries and Damped Concentric Mode (DCM) technology which allows the speaker to have a deeper, 

  fuller sound while retaining a clean and precise presentation.

- Designed for performance – intricately optimised listening experience for music and movies.

- Hive II rear port tuned for ease of positioning without affecting sound performance.

- Acoustically transparent hexagonal dispersion pattern grille also featured on our award-winning Silver and Gold Series, 

  for the Monitor Audio family look.

- High-quality gold-plated bi-wire terminals.

- Pureflow silver-plated oxygen-free copper internal cabling for highest quality current transfer through the signal chain.

- Audio transparent bespoke cloth covered magnetic grilles for a more discreet appearance.

- Add Bronze AMS Dolby Atmos

enabled speakers atop for use in any AV home cinema system.

- Sturdy steel outrigger feet to ensure a stable platform. Designed for use on carpeted (spikes) or hard floors (rubber feet).

** Specification **

System Format

2.5-Way

Frequency Response (-6 dB)

45 – 25,000 Hz (Free field)

35 – 30,000 Hz (In room)

Sensitivity (2.83v @ 1m)

88 dB

Nominal Impedance

8 ohms

Minimum Impedance

4.4 ohms

Maximum SPL

112 dBA (pair)

Power Handling (RMS)

120 W

Recommended Amplifier Requirements

40 — 120 W

Bass Alignment

Bass reflex Dual HiVe II port system

Crossover Frequency

700 Hz

2,400 Hz

Drive Unit Complement

2 x 51/2" C-CAM midbass driver

1 x 25 mm C-CAM Gold Dome tweeter with UD Waveguide

External Dimensions (Including Grille and Terminals (H x W x D))

886 x 166 x 265 mm (347/8 x 69/16 x 107/16")

External Dimensions (including Outrigger Feet and Spikes (H x W x D))

909 x 229 x 304 mm (3513/16 x 9 x 1115/16")

Condition 98% Fully Boxed

Retail price : $4150/=

Selling Price : RM3300/= (Free Postage)

Please Contact : 0174365998

Postage can be arrange

** AWARDS SPEAKER **

https://www.monitoraudio.com/en/product-ranges/bronze-6g/bronze-200/

https://www.monitoraudio.com/en/blog/bronze-200-receives-the-red-fingerprint-award-from-high-fidelity/

https://www.monitoraudio.com/en/blog/fidelity-online-takes-a-listen-to-our-bronze-200-speakers/

Jason Eng

New Member





Number of posts

: 17


Age

: 50


Location

: Penang


Registration date :

2020-09-09



ason Eng wrote:Monitor Audio Bronze 6G 200 floorstanding speakers (New)

** New Open Box **

Price :

RM3300

  RM3200(Negotiable)

Please Contact : 0174365998

NOTE : The loundspeaker is in Kuala Lumpur Cheras. (My friend's house for demo and testing).

Blending audiophile performance with graceful proportions these sleek floor standing speakers are equipped with our 25 mm C-CAM Gold Dome tweeter 

featuring a Uniform Dispersion (UD) Waveguide and dual 5½" C-CAM mid-bass drivers. The Bronze 200s are real crowd pleasers and deliver a stunning clear, 

open and detailed sound.

They are kept perfectly in place by sturdy steel outrigger feet and wherever you choose to position them their elegant styling will ensure they will 

receive admiring glances.

**Key Features**

- Monitor Audio signature C-CAM Gold Dome Tweeter upgraded with the new Uniform Dispersion (UD) Waveguide for an incredibly lifelike sound.

- C-CAM mid-bass driver featuring updated cone geometries and Damped Concentric Mode (DCM) technology which allows the speaker to have a deeper, 

  fuller sound while retaining a clean and precise presentation.

- Designed for performance – intricately optimised listening experience for music and movies.

- Hive II rear port tuned for ease of positioning without affecting sound performance.

- Acoustically transparent hexagonal dispersion pattern grille also featured on our award-winning Silver and Gold Series, 

  for the Monitor Audio family look.

- High-quality gold-plated bi-wire terminals.

- Pureflow silver-plated oxygen-free copper internal cabling for highest quality current transfer through the signal chain.

- Audio transparent bespoke cloth covered magnetic grilles for a more discreet appearance.

- Add Bronze AMS Dolby Atmos

enabled speakers atop for use in any AV home cinema system.

- Sturdy steel outrigger feet to ensure a stable platform. Designed for use on carpeted (spikes) or hard floors (rubber feet).

** Specification **

System Format

2.5-Way

Frequency Response (-6 dB)

45 – 25,000 Hz (Free field)

35 – 30,000 Hz (In room)

Sensitivity (2.83v @ 1m)

88 dB

Nominal Impedance

8 ohms

Minimum Impedance

4.4 ohms

Maximum SPL

112 dBA (pair)

Power Handling (RMS)

120 W

Recommended Amplifier Requirements

40 — 120 W

Bass Alignment

Bass reflex Dual HiVe II port system

Crossover Frequency

700 Hz

2,400 Hz

Drive Unit Complement

2 x 51/2" C-CAM midbass driver

1 x 25 mm C-CAM Gold Dome tweeter with UD Waveguide

External Dimensions (Including Grille and Terminals (H x W x D))

886 x 166 x 265 mm (347/8 x 69/16 x 107/16")

External Dimensions (including Outrigger Feet and Spikes (H x W x D))

909 x 229 x 304 mm (3513/16 x 9 x 1115/16")

Condition 98% Fully Boxed

Retail price : $4150/=

Selling Price : 

RM3300

  RM3200(Negotiable)

Please Contact : 0174365998

Postage can be arrange

** AWARDS SPEAKER **

https://www.monitoraudio.com/en/product-ranges/bronze-6g/bronze-200/

https://www.monitoraudio.com/en/blog/bronze-200-receives-the-red-fingerprint-award-from-high-fidelity/

https://www.monitoraudio.com/en/blog/fidelity-online-takes-a-listen-to-our-bronze-200-speakers/

Jason Eng

New Member





Number of posts

: 17


Age

: 50


Location

: Penang


Registration date :

2020-09-09



Jason Eng wrote:Monitor Audio Bronze 6G 200 floorstanding speakers (New)

** New Open Box **

Price : 

RM3300

  RM2950

Please Contact : 0174365998

NOTE : The loundspeaker is in Kuala Lumpur Cheras. (My friend's house for demo and testing).

Blending audiophile performance with graceful proportions these sleek floor standing speakers are equipped with our 25 mm C-CAM Gold Dome tweeter 

featuring a Uniform Dispersion (UD) Waveguide and dual 5½" C-CAM mid-bass drivers. The Bronze 200s are real crowd pleasers and deliver a stunning clear, 

open and detailed sound.

They are kept perfectly in place by sturdy steel outrigger feet and wherever you choose to position them their elegant styling will ensure they will 

receive admiring glances.

**Key Features**

- Monitor Audio signature C-CAM Gold Dome Tweeter upgraded with the new Uniform Dispersion (UD) Waveguide for an incredibly lifelike sound.

- C-CAM mid-bass driver featuring updated cone geometries and Damped Concentric Mode (DCM) technology which allows the speaker to have a deeper, 

  fuller sound while retaining a clean and precise presentation.

- Designed for performance – intricately optimised listening experience for music and movies.

- Hive II rear port tuned for ease of positioning without affecting sound performance.

- Acoustically transparent hexagonal dispersion pattern grille also featured on our award-winning Silver and Gold Series, 

  for the Monitor Audio family look.

- High-quality gold-plated bi-wire terminals.

- Pureflow silver-plated oxygen-free copper internal cabling for highest quality current transfer through the signal chain.

- Audio transparent bespoke cloth covered magnetic grilles for a more discreet appearance.

- Add Bronze AMS Dolby Atmos

enabled speakers atop for use in any AV home cinema system.

- Sturdy steel outrigger feet to ensure a stable platform. Designed for use on carpeted (spikes) or hard floors (rubber feet).

** Specification **

System Format

2.5-Way

Frequency Response (-6 dB)

45 – 25,000 Hz (Free field)

35 – 30,000 Hz (In room)

Sensitivity (2.83v @ 1m)

88 dB

Nominal Impedance

8 ohms

Minimum Impedance

4.4 ohms

Maximum SPL

112 dBA (pair)

Power Handling (RMS)

120 W

Recommended Amplifier Requirements

40 — 120 W

Bass Alignment

Bass reflex Dual HiVe II port system

Crossover Frequency

700 Hz

2,400 Hz

Drive Unit Complement

2 x 51/2" C-CAM midbass driver

1 x 25 mm C-CAM Gold Dome tweeter with UD Waveguide

External Dimensions (Including Grille and Terminals (H x W x D))

886 x 166 x 265 mm (347/8 x 69/16 x 107/16")

External Dimensions (including Outrigger Feet and Spikes (H x W x D))

909 x 229 x 304 mm (3513/16 x 9 x 1115/16")

Condition 98% Fully Boxed

Retail price : $4150/=

Price : 

RM3300

  RM2950

Please Contact : 0174365998

Postage can be arrange

** AWARDS SPEAKER **

https://www.monitoraudio.com/en/product-ranges/bronze-6g/bronze-200/

https://www.monitoraudio.com/en/blog/bronze-200-receives-the-red-fingerprint-award-from-high-fidelity/

https://www.monitoraudio.com/en/blog/fidelity-online-takes-a-listen-to-our-bronze-200-speakers/

Jason Eng

New Member





Number of posts

: 17


Age

: 50


Location

: Penang


Registration date :

2020-09-09



Jason Eng wrote:Monitor Audio Bronze 6G 200 floorstanding speakers (New)

** New Open Box **

Price : 

RM3300  RM2950

Make Offer Price

Please Contact : 0174365998

NOTE : The loundspeaker is in Kuala Lumpur Cheras. (My friend's house for demo and testing).

Blending audiophile performance with graceful proportions these sleek floor standing speakers are equipped with our 25 mm C-CAM Gold Dome tweeter 

featuring a Uniform Dispersion (UD) Waveguide and dual 5½" C-CAM mid-bass drivers. The Bronze 200s are real crowd pleasers and deliver a stunning clear, 

open and detailed sound.

They are kept perfectly in place by sturdy steel outrigger feet and wherever you choose to position them their elegant styling will ensure they will 

receive admiring glances.

**Key Features**

- Monitor Audio signature C-CAM Gold Dome Tweeter upgraded with the new Uniform Dispersion (UD) Waveguide for an incredibly lifelike sound.

- C-CAM mid-bass driver featuring updated cone geometries and Damped Concentric Mode (DCM) technology which allows the speaker to have a deeper, 

  fuller sound while retaining a clean and precise presentation.

- Designed for performance – intricately optimised listening experience for music and movies.

- Hive II rear port tuned for ease of positioning without affecting sound performance.

- Acoustically transparent hexagonal dispersion pattern grille also featured on our award-winning Silver and Gold Series, 

  for the Monitor Audio family look.

- High-quality gold-plated bi-wire terminals.

- Pureflow silver-plated oxygen-free copper internal cabling for highest quality current transfer through the signal chain.

- Audio transparent bespoke cloth covered magnetic grilles for a more discreet appearance.

- Add Bronze AMS Dolby Atmos

enabled speakers atop for use in any AV home cinema system.

- Sturdy steel outrigger feet to ensure a stable platform. Designed for use on carpeted (spikes) or hard floors (rubber feet).

** Specification **

System Format

2.5-Way

Frequency Response (-6 dB)

45 – 25,000 Hz (Free field)

35 – 30,000 Hz (In room)

Sensitivity (2.83v @ 1m)

88 dB

Nominal Impedance

8 ohms

Minimum Impedance

4.4 ohms

Maximum SPL

112 dBA (pair)

Power Handling (RMS)

120 W

Recommended Amplifier Requirements

40 — 120 W

Bass Alignment

Bass reflex Dual HiVe II port system

Crossover Frequency

700 Hz

2,400 Hz

Drive Unit Complement

2 x 51/2" C-CAM midbass driver

1 x 25 mm C-CAM Gold Dome tweeter with UD Waveguide

External Dimensions (Including Grille and Terminals (H x W x D))

886 x 166 x 265 mm (347/8 x 69/16 x 107/16")

External Dimensions (including Outrigger Feet and Spikes (H x W x D))

909 x 229 x 304 mm (3513/16 x 9 x 1115/16")

Condition 98% Fully Boxed

Retail price : $4150/=

Price : 

RM3300  RM2950

 Make Offer Price

Please Contact : 0174365998

Postage can be arrange

** AWARDS SPEAKER **

https://www.monitoraudio.com/en/product-ranges/bronze-6g/bronze-200/

https://www.monitoraudio.com/en/blog/bronze-200-receives-the-red-fingerprint-award-from-high-fidelity/

https://www.monitoraudio.com/en/blog/fidelity-online-takes-a-listen-to-our-bronze-200-speakers/

Jason Eng

New Member





Number of posts

: 17


Age

: 50


Location

: Penang


Registration date :

2020-09-09



Jason Eng wrote:Monitor Audio Bronze 6G 200 floorstanding speakers (New)

** New Open Box **

Price : 

RM3300  RM2950

Make Offer Price

Please Contact : 0174365998

NOTE : The loundspeaker is in Kuala Lumpur Cheras. (My friend's house for demo and testing).

Blending audiophile performance with graceful proportions these sleek floor standing speakers are equipped with our 25 mm C-CAM Gold Dome tweeter 

featuring a Uniform Dispersion (UD) Waveguide and dual 5½" C-CAM mid-bass drivers. The Bronze 200s are real crowd pleasers and deliver a stunning clear, 

open and detailed sound.

They are kept perfectly in place by sturdy steel outrigger feet and wherever you choose to position them their elegant styling will ensure they will 

receive admiring glances.

**Key Features**

- Monitor Audio signature C-CAM Gold Dome Tweeter upgraded with the new Uniform Dispersion (UD) Waveguide for an incredibly lifelike sound.

- C-CAM mid-bass driver featuring updated cone geometries and Damped Concentric Mode (DCM) technology which allows the speaker to have a deeper, 

  fuller sound while retaining a clean and precise presentation.

- Designed for performance – intricately optimised listening experience for music and movies.

- Hive II rear port tuned for ease of positioning without affecting sound performance.

- Acoustically transparent hexagonal dispersion pattern grille also featured on our award-winning Silver and Gold Series, 

  for the Monitor Audio family look.

- High-quality gold-plated bi-wire terminals.

- Pureflow silver-plated oxygen-free copper internal cabling for highest quality current transfer through the signal chain.

- Audio transparent bespoke cloth covered magnetic grilles for a more discreet appearance.

- Add Bronze AMS Dolby Atmos

enabled speakers atop for use in any AV home cinema system.

- Sturdy steel outrigger feet to ensure a stable platform. Designed for use on carpeted (spikes) or hard floors (rubber feet).

** Specification **

System Format

2.5-Way

Frequency Response (-6 dB)

45 – 25,000 Hz (Free field)

35 – 30,000 Hz (In room)

Sensitivity (2.83v @ 1m)

88 dB

Nominal Impedance

8 ohms

Minimum Impedance

4.4 ohms

Maximum SPL

112 dBA (pair)

Power Handling (RMS)

120 W

Recommended Amplifier Requirements

40 — 120 W

Bass Alignment

Bass reflex Dual HiVe II port system

Crossover Frequency

700 Hz

2,400 Hz

Drive Unit Complement

2 x 51/2" C-CAM midbass driver

1 x 25 mm C-CAM Gold Dome tweeter with UD Waveguide

External Dimensions (Including Grille and Terminals (H x W x D))

886 x 166 x 265 mm (347/8 x 69/16 x 107/16")

External Dimensions (including Outrigger Feet and Spikes (H x W x D))

909 x 229 x 304 mm (3513/16 x 9 x 1115/16")

Condition 98% Fully Boxed

Retail price : $4150/=

Price : 

RM3300  RM2950

 Make Offer Price

Please Contact : 0174365998

Postage can be arrange

** AWARDS SPEAKER **

https://www.monitoraudio.com/en/product-ranges/bronze-6g/bronze-200/

https://www.monitoraudio.com/en/blog/bronze-200-receives-the-red-fingerprint-award-from-high-fidelity/

https://www.monitoraudio.com/en/blog/fidelity-online-takes-a-listen-to-our-bronze-200-speakers/

Jason Eng

New Member





Number of posts

: 17


Age

: 50


Location

: Penang


Registration date :

2020-09-09



---
Permissions in this forum:
You
cannot
reply to topics in this forum