Item: JL Audio Dominion D108-Ash 8″ Inch Powered Subwoofer
Condition: NEW 
Price:
RM4600
RM4300 or swap/topup
Retail Price: RM6900
Contact: 012-3816611
Click here to Whatsapp: 
http://wasap.my/60123816611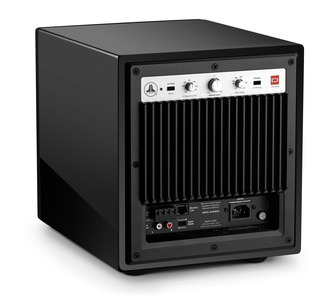 Powered Subwoofer with 8-inch Subwoofer, 500 watts
Born from JL Audio's vast collection of advanced technologies, Dominion:registered: powered subwoofers combine a state-of-the-art Subwoofer and an advanced Class D amplifier to deliver unmatched performance and value for a wide variety of compact applications.
Purpose-built to reproduce powerful low-frequency events with stunning impact and precision, the Dominion:registered: driver employs JL Audio's exclusive DMA (Dynamic Motor Analysis) technology to produce higher output levels with reduced distortion, as well as improved dynamic tracking and resolution. As a result, Dominion:registered: subwoofers are capable of peak-to-peak excursions well in excess of 2.5-inches (63 mm - d108), and 2.7 inches (68 mm – d110), without distress or audible distortion.
Dominion:registered: amplifiers utilize an advanced Class D design in order to extract the most from the long-excursion driver platform. This design features a tightly regulated switching power supply, allowing the amplifier to generate prodigious amounts of unclipped output voltages. These technologies ensure that the Dominion:registered: powered subwoofers remain in their comfort zone, which is well beyond the point where most small subwoofers run out of power or driver capability.
With a host of signal processing features included, Dominion:registered: powered subwoofers can be integrated into most systems with ease. Low-pass signals are precisely guided, thanks to the onboard crossover's 24 dB/octave Linkwitz-Riley alignment. Phase and polarity controls are onboard to aid in achieving the optimal acoustic transition between the subwoofer(s) and main speakers. Flexible input options are on-hand to accept either line-level or speaker-level signals. Connect a JLINK:tm: TRX system (sold separately) to the onboard Wireless Link port and enjoy the freedom to position your Dominion:registered: almost anywhere, up to 100 feet (30 meters) away from your source unit.
To contain the immense pressures created by the Dominion:registered: driver, each beautiful cabinet is carefully engineered and constructed using solid, CNC-cut, MDF material with extensive internal bracing and advanced assembly techniques. All Dominion:registered: powered subwoofers are built with pride and precision in JL Audio's U.S. factory to deliver years of listening enjoyment.
Finish: Ash Black
Grille Finish: Black Fabric
Enclosure Construction: MDF
Product highlights:


frequency response: 29-119 Hz (-3dB)


advanced 500-watt RMS Class D amplifier with tightly regulated switching power supply


front-firing, long-throw 8" woofer


sealed (acoustic suspension) enclosure


continuously variable master level volume control


continuously variable crossover (25-130 Hz)


continuously variable phase control (0-280°)


polarity switch (0°, 180°) can help smooth the transition between subwoofer and main speakers


grounded/isolated switch can reduce any low-frequency hum coming through the line-level audio inputs


crossover switch to turn subwoofer's internal crossover on or off


signal-sensing auto-on/standby power modes (this subwoofer does not have a power switch)


RCA line-level/LFE inputs


speaker-level inputs


compatible with the JL Audio JLINK TRX wireless audio adapter kit for an easy connection to a sound system


black ash vinyl finish


10"W x 11-3/8"H x 13-15/16"D


weight: 26.4 lbs.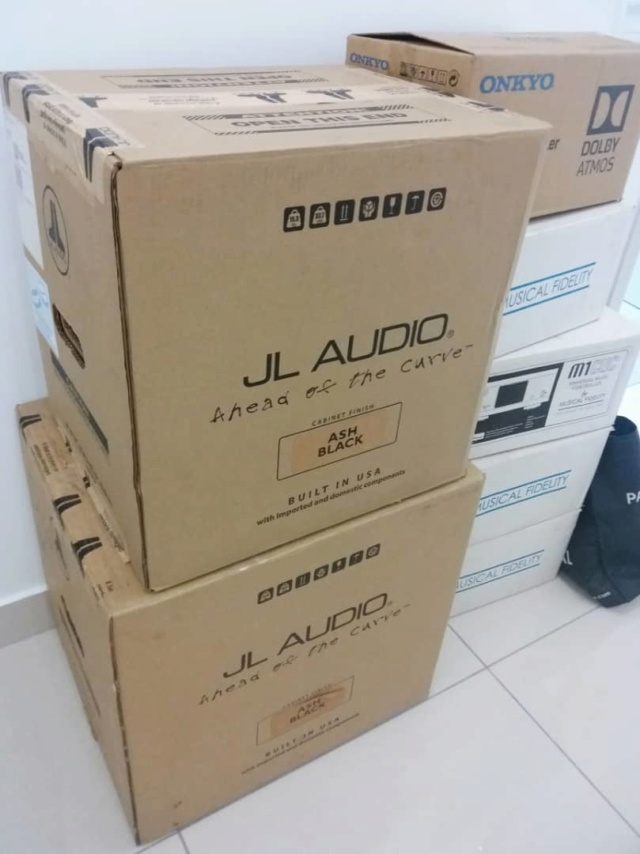 Website:
http://av2day.com/2016/04/jl-audio-dominion-sub-woofers-are-now-in-dream-audio/
https://www.jlaudio.com/products/d108-gloss-home-audio-dominion-powered-subwoofers-96282
https://www.homecinemachoice.com/content/jl-audio-dominion-d108-review
https://forums.stevehoffman.tv/threads/jl-audio-dominion-d108-subwoofer-review.519308/
https://www.ooberpad.com/products/jl-audio-dominion-d108-8-powered-subwoofer
https://www.youtube.com/watch?v=5RrVlen9V2U
VIEW ALL MY OTHER STUFFS BY CLICKING BELOW:https://my.carousell.com/hifijunction/https://my.carousell.com/hifijunction/https://my.carousell.com/hifijunction/
Thank you
---
Permissions in this forum:
You
cannot
reply to topics in this forum